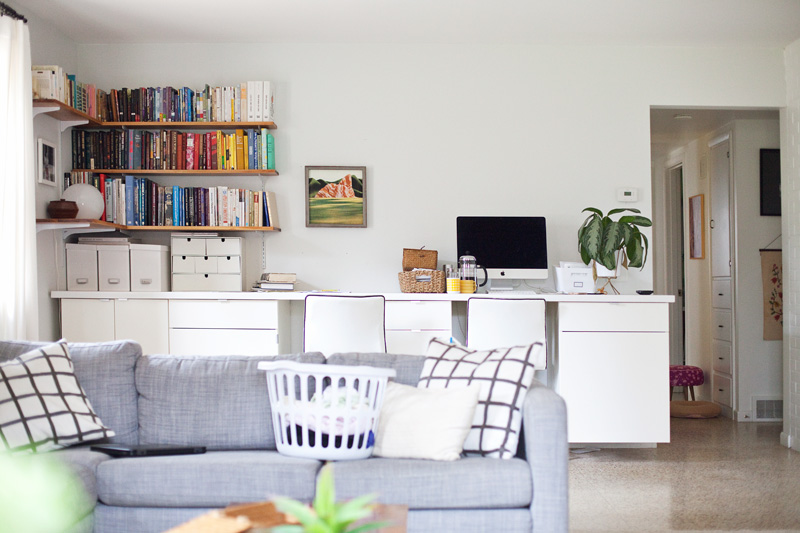 Life in the blogosphere can appear pretty editorialized most of the time, depending on where you're reading. I know I'm inundated with beautiful images of pristine homes with clean hard wood floors and elegant children's toys, decadent doughnut-eating women with trim figures and made-up faces, and let's not forget the $700 strollers filled with children wearing mid-level designer clothing. I honestly do love to look at those things— they're pretty, escapist, and inspiring in a way, but a reality check every now and then is great for the soul!
So here's my Saturday afternoon reality check. What did this Saturday look like? Well, it was very boring. And as wonderful as it was mundane. I thought I'd give you a peek into the reality of our perfectly normal and unexciting afternoon, with glimpses of our home, unstaged and not exactly photo ready. (Though I'll be honest— this is actually pretty clean as far as things tend to get with a toddler and a maker mom!) So allow me to get a little chatty, rambley, and most importantly— real— with you today!
Phil had come home from a morning business meeting and thought he'd take Lucy outside to rake leaves. We have lots of trees, so I figured that would keep them occupied for a while, and I could putz around the house picking up things from our chaotic week. Well, no such luck. Phil brought out the leaf blower and it was game over. (She doesn't like loud things.) So we sat down for a two hour lunch. That's how long lunches with Lucy usually last if you hold your ground as a parent and actually make her eat more than just half of a sandwich for lunch. During that time I nursed Juniper and put her in her swing for a nap. She's a terrifically easy baby, and usually falls asleep nicely in it.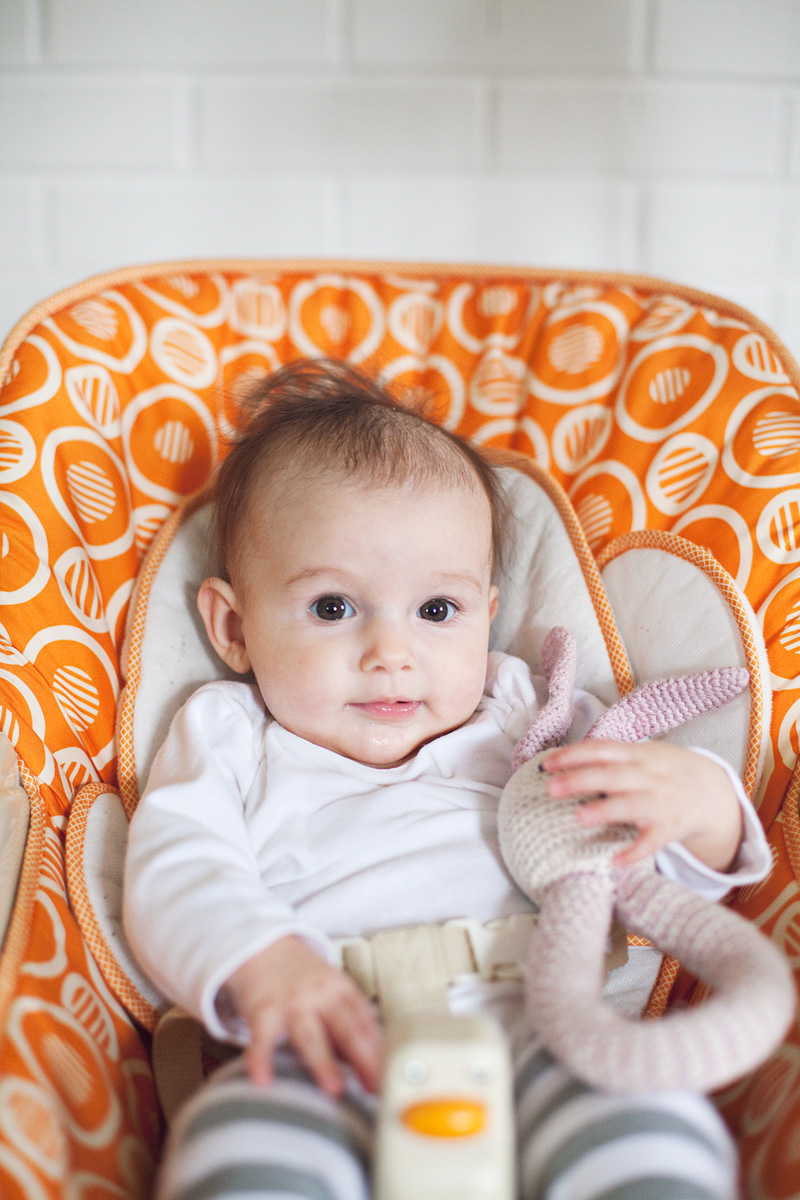 Hey sweet cheeks! Atta girl, just sit there nicely and drift off to dream land while mommy helps sis make a poop on the potty. How's that for glamorous living? Yeah, we have a training toilet right out in the open in our living room. Not to get too graphic, but it smells reeeeal nice after Lucy pays it a visit. But hey! This is a really good thing, because it means one less bottom to wipe and diaper. Potty training is going well. We think Lucy's probably 80% trained, but that's a story for another day. And don't worry— I won't be telling you about our potty training journey! I'm just thinking that content probably doesn't belong here. You're welcome.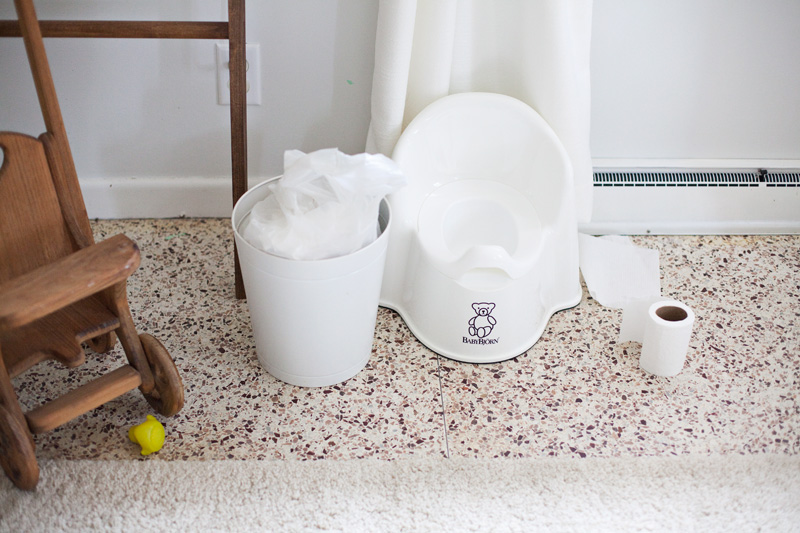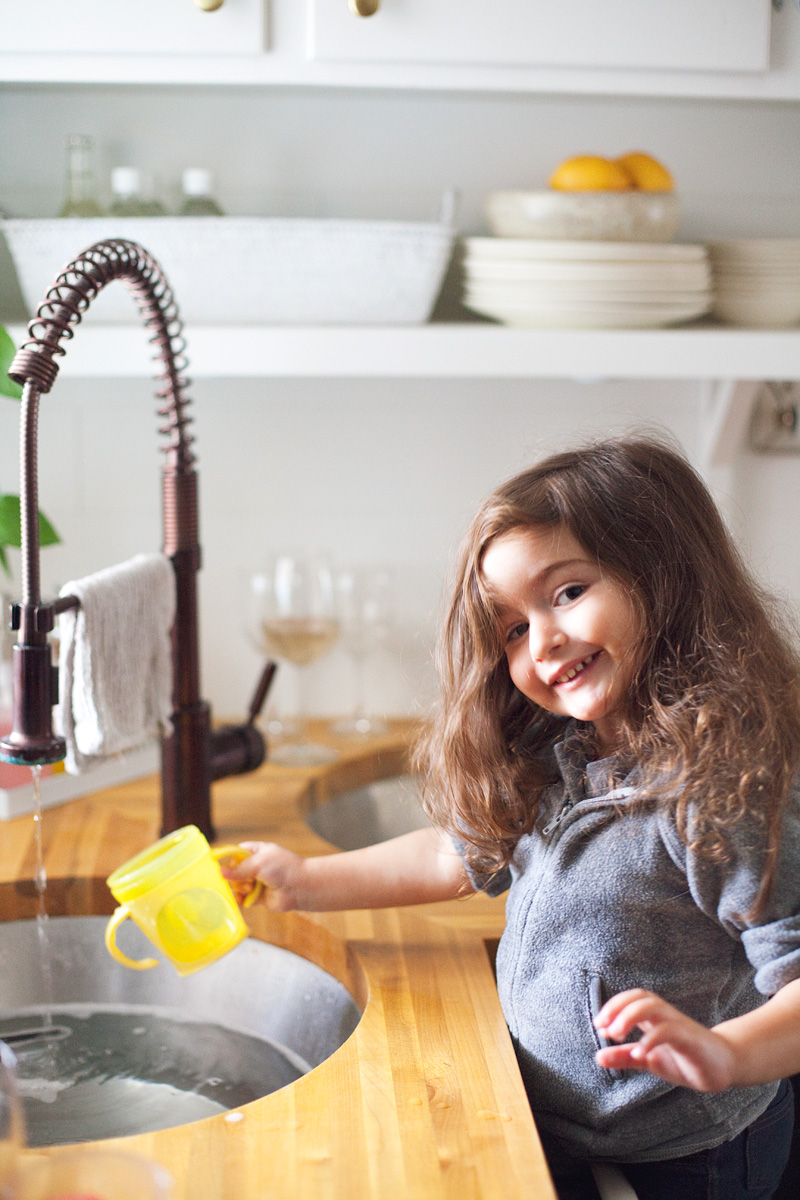 After lunch, Lucy wanted to wash dishes. I was glad to hear it, because "dish washing" is an activity that keeps her occupied for up to a couple of hours usually. She just likes to play in the water and dump out little cups of water into bigger cups of water. That sort of thing. I can't wait until this excitement for dish washing translates into actual clean dishes.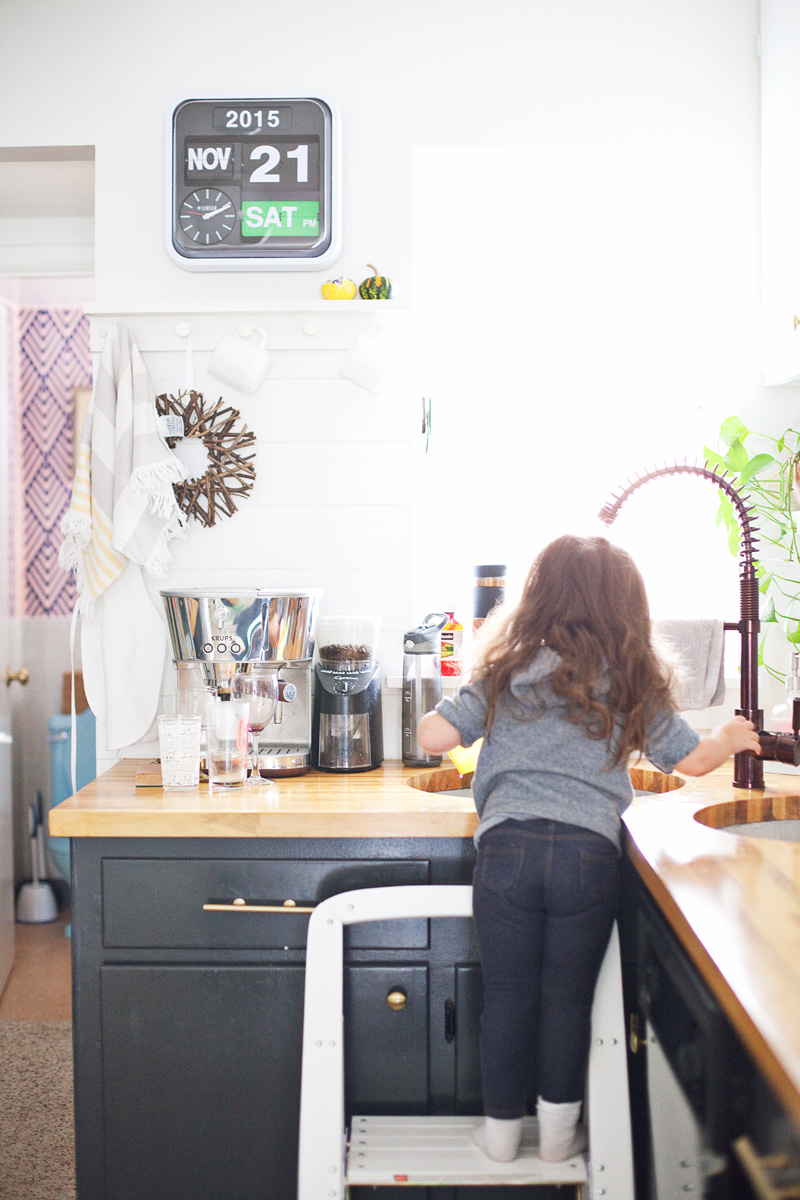 Lucy's wearing whatever Phil picked out for her in the morning, which actually sort of matches what I'm wearing— and that would be the same thing I wore to bed last night— Phil's Ohio State sweatshirt and some comfy black lounge pants. No face washed, no hairs brushed, and no teeth brushed. (That goes for both me and Lucy.) Hey, it's Saturday. No judging allowed. We're just takin' it easy and ignoring all of the actual dishes that need washed from the past few days. (…that are plentiful enough to be lining the window sill in the kitchen.)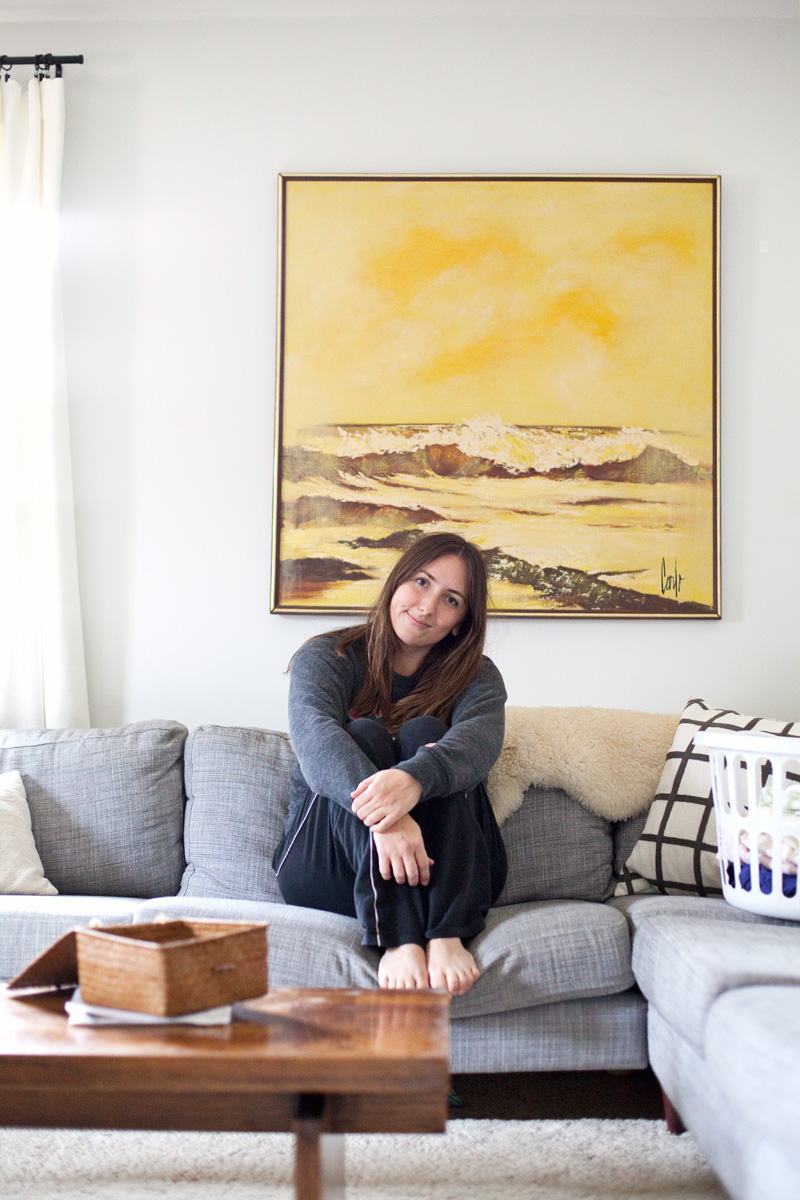 The laundry basket on the sofa is filled with my clothes that were cleaned and folded two days ago, and still haven't made it from the basket into my dresser drawers. But that's okay! Because I can just dash out to the living room to get underwear if I need to. Joys of living in a small house.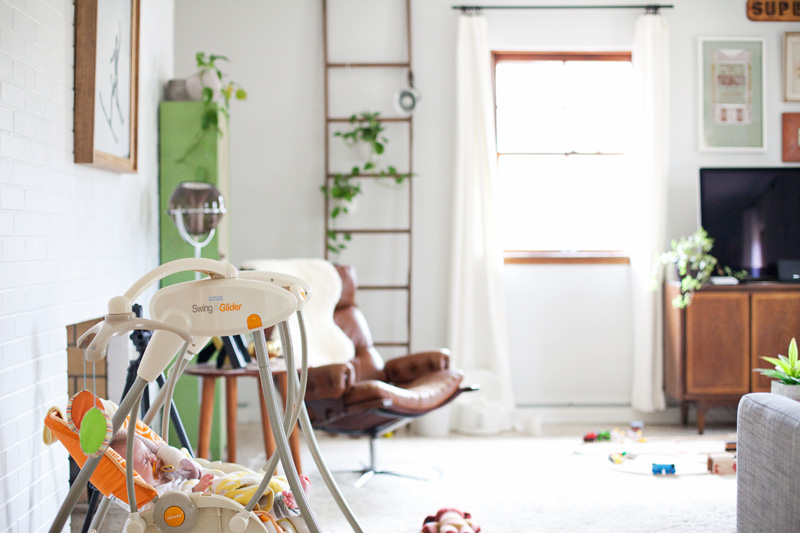 Uh, oh! Juniper isn't being her usual easy going self any more! She is tired, sad, and needs a little mommy time. So I set down the camera and took her into my bed to nurse her for a few minutes. She gets distracted out in the rest of our house, so sometimes we have to steal away and then she can focus and eat.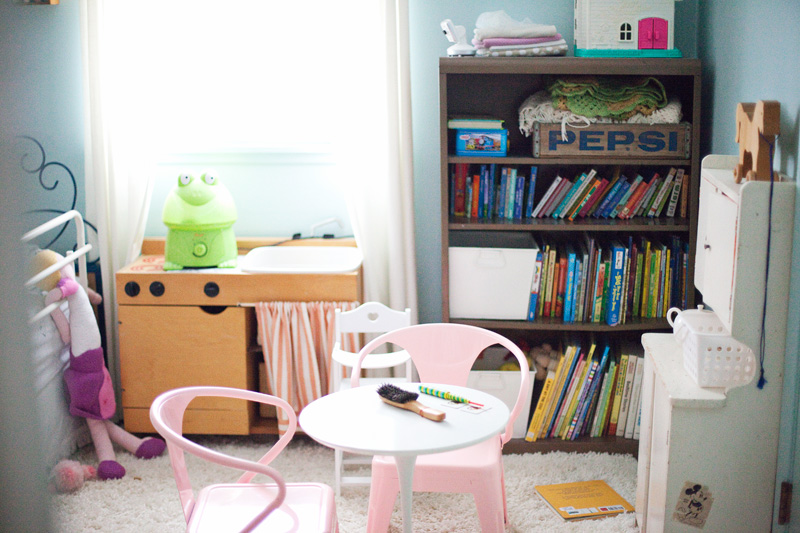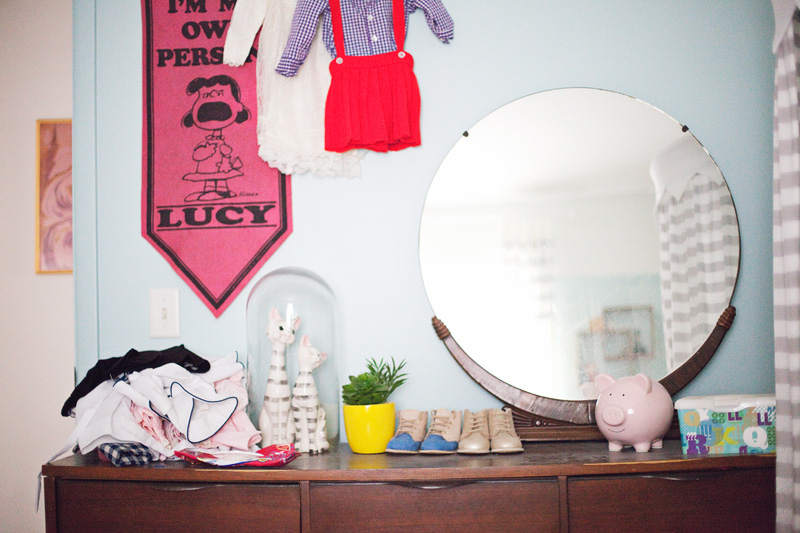 Speaking of laundry, I have no idea if that pile of clothes on Lucy's dresser is clean or dirty. I haven't gotten around to dealing with it— or to dusting the dresser, apparently. Note the box of wipes at the ready— you never know when you'll need cleaning supplies nearby when you're potty training a toddler!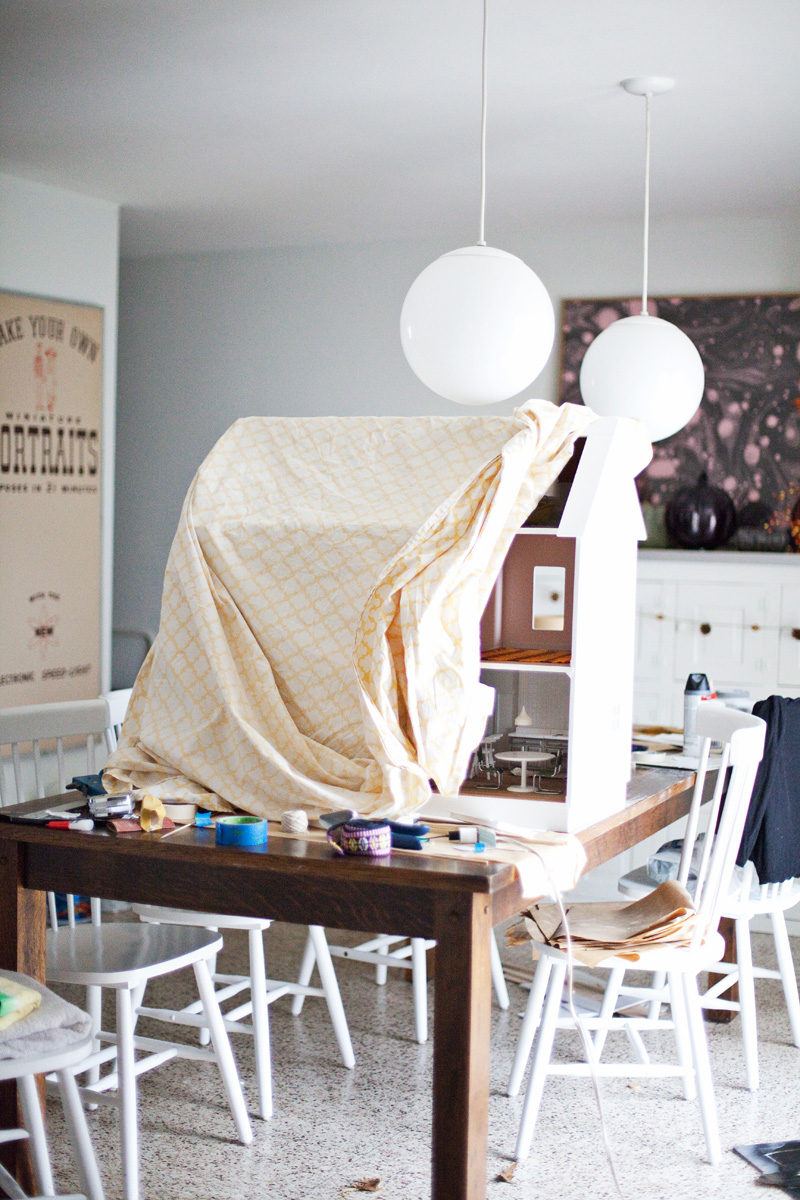 Check it out! My dining room has been a mess for the past month as I've been working on this dollhouse project. The mammoth thing has eclipsed my Fall decorations, and in order to prevent the same thing happening to Christmas decorations, I've set a deadline for Wednesday to complete the project. That deadline includes the structure, not the furnishings. While it's out and being photographed, I thought I'd pull back the sheet a bit to give you a peek inside!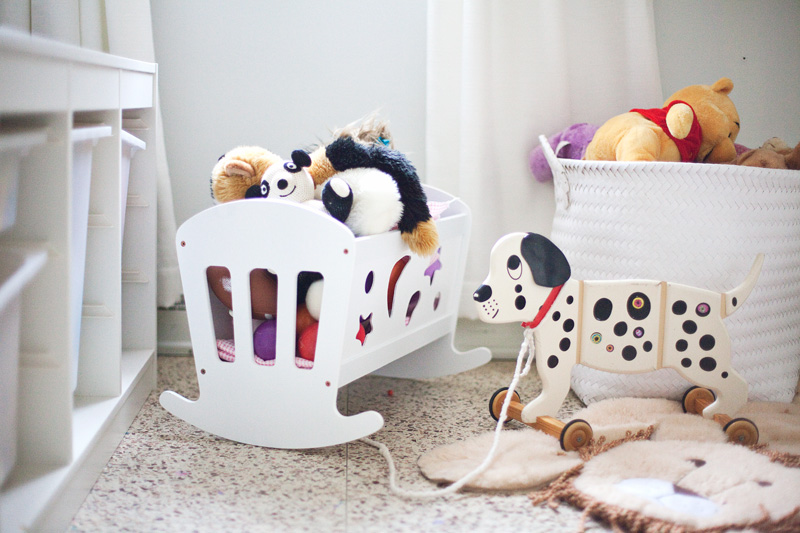 This corner of the living room is actually pretty clean. Lucy never played with any of her toys today. Just the garden rake and the dishes. Fine by me!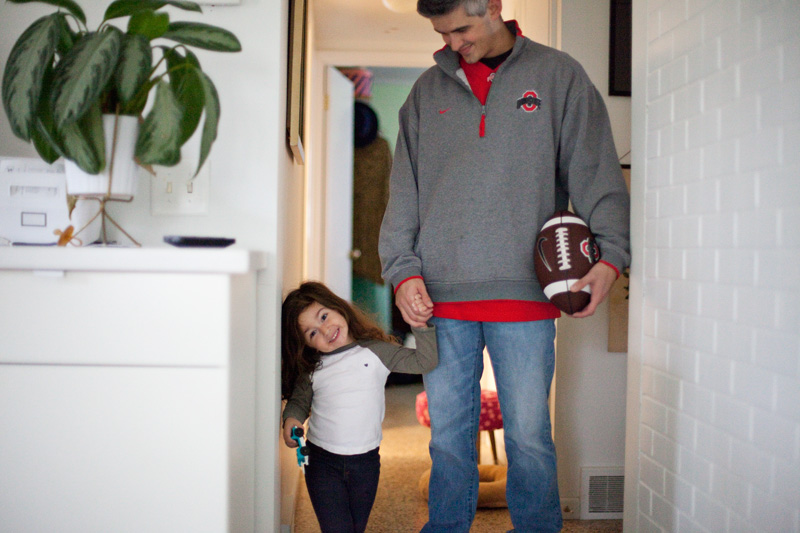 And now it's time for Lucy to go with Daddy to Grandma and Grandpa's house to watch the Ohio State game. They're both excited about it, and I'm looking forward to a little me-time. Time to go put on the kettle to make a pot of coffee and get cracking on this dollhouse before Juniper wakes up!
How was your Saturday?