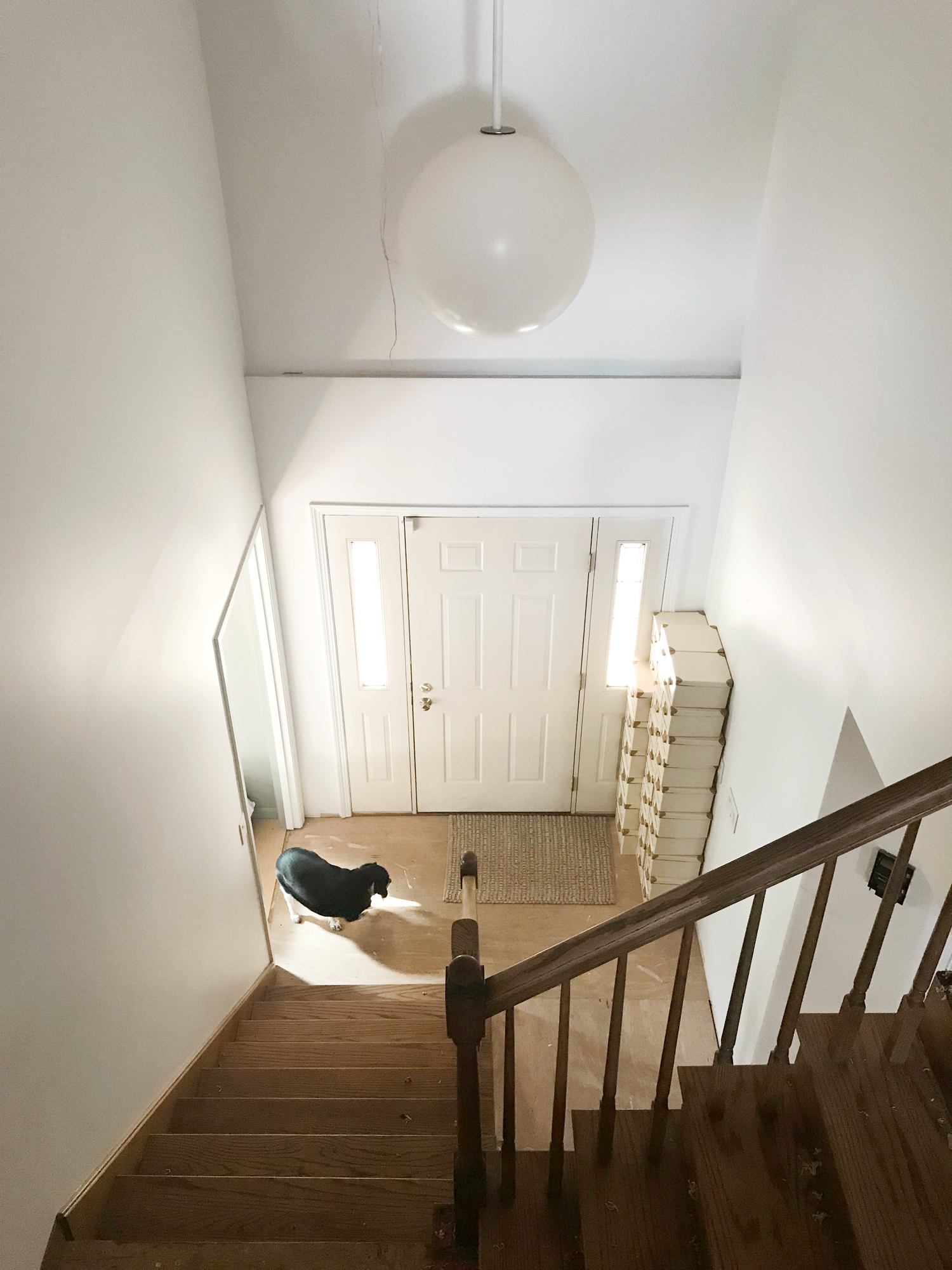 Being able to fix up this house over the past year and a half has been a dream come true! But it's a bit of a letdown when people enter through the front door and see this lackluster first impression of our home. Needless to say, I'm so excited to finally be moving forward with finishing up this space! It will be the last major project we work on for a while, because Phil and I need a break… like yesterday.
Over the past couple of months I've been working on making final decisions with flooring, stair finishes, and front door options. There is so much to consider, so I've been making a concerted effort not to rush the design process! Check out the before pictures below, and read on to see the finalists for each finish option.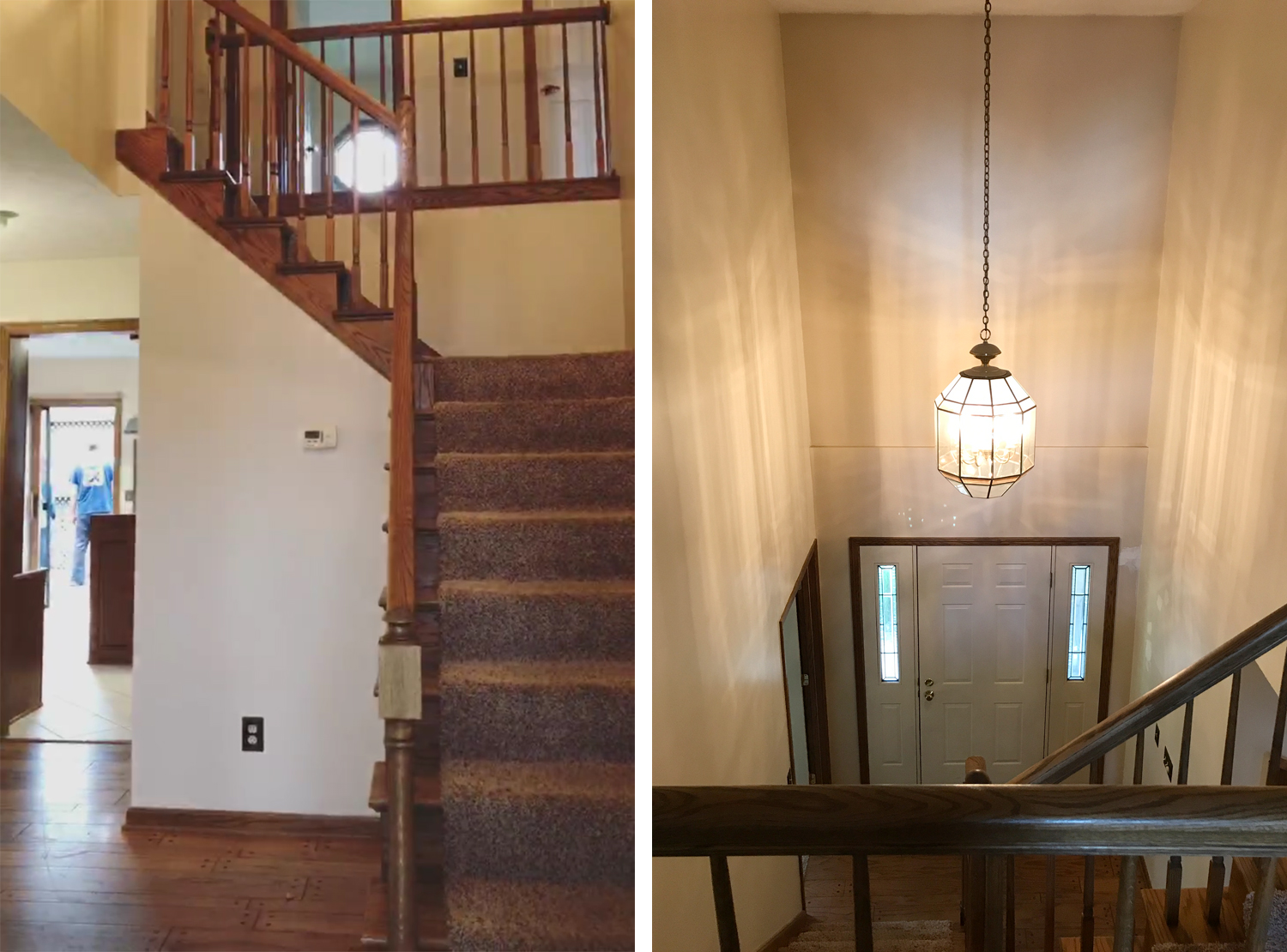 THE ENTRYWAY BEFORE
When we moved in, there was thin wood flooring in the entryway— all various widths with fake nail holes. The flooring was nowhere to be found in the rest of the home, so while I actually liked the look of it, we decided to rip it out. I had planned to install the same maple flooring here that I have done throughout most of the first floor, but the more I thought about it, the more I worried about excess moisture at our front door because of rainy and snowy Ohio weather.
In addition to the moisture issue, I began to get excited about the prospect of doing a fun patterned floor in here. It would be a great opportunity to do something interesting, especially since this floor would only be seen from behind the island of the kitchen as well as the study. I wouldn't have to worry about a pattern in here visually affecting any other major areas of the house.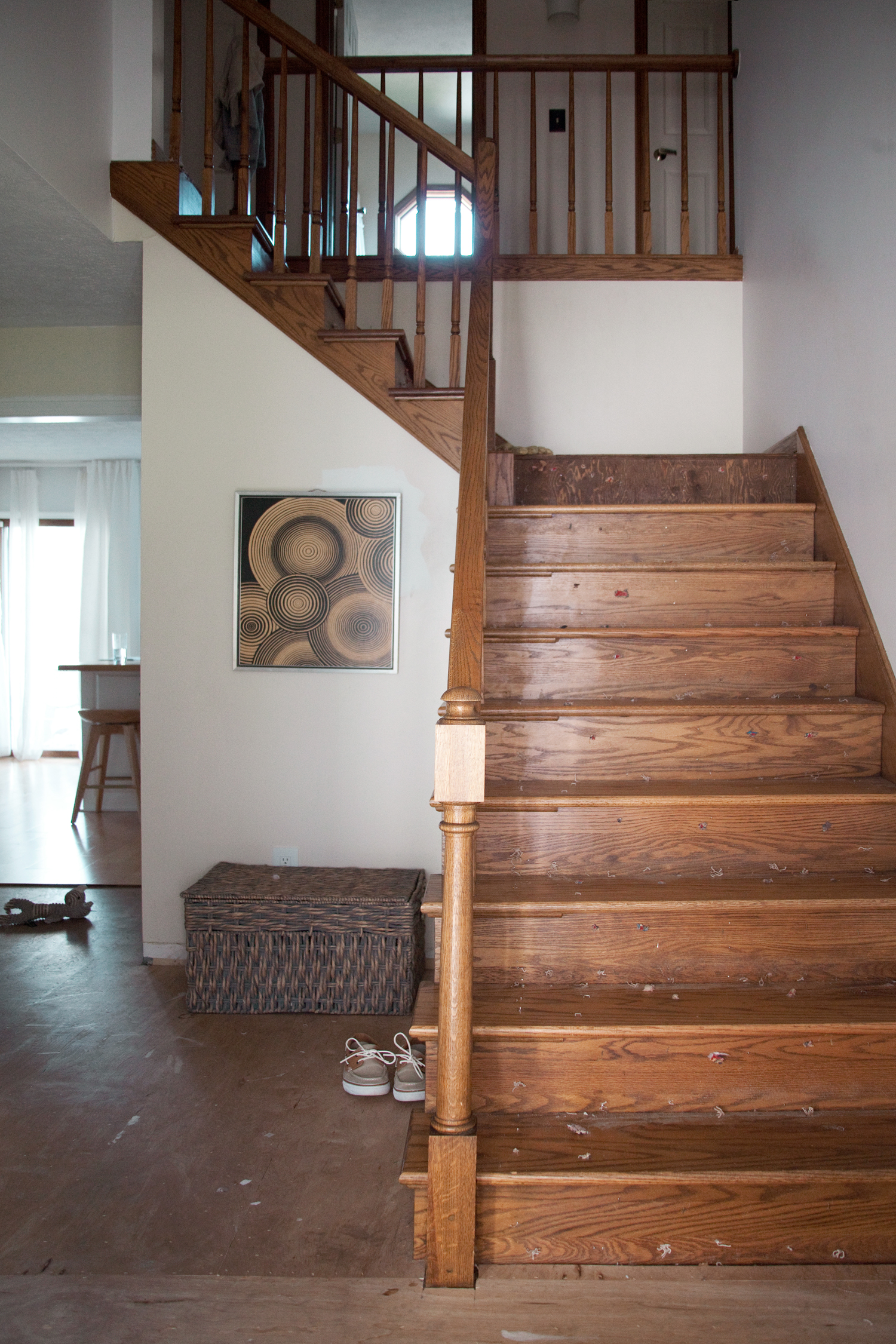 THE STAIRWAY
One thing I knew for sure about the stairway was that the shag carpet had to go! Phil ripped it out last weekend, and we'll be working on those staples next.
At first I wasn't sure if I wanted to have the stairs carpeted at all, but we talked about it as a family and decided it would be cozier and safer to go for carpet. So then I was left with two choices: What kind of finish to do on the stairs, and what kind of carpet.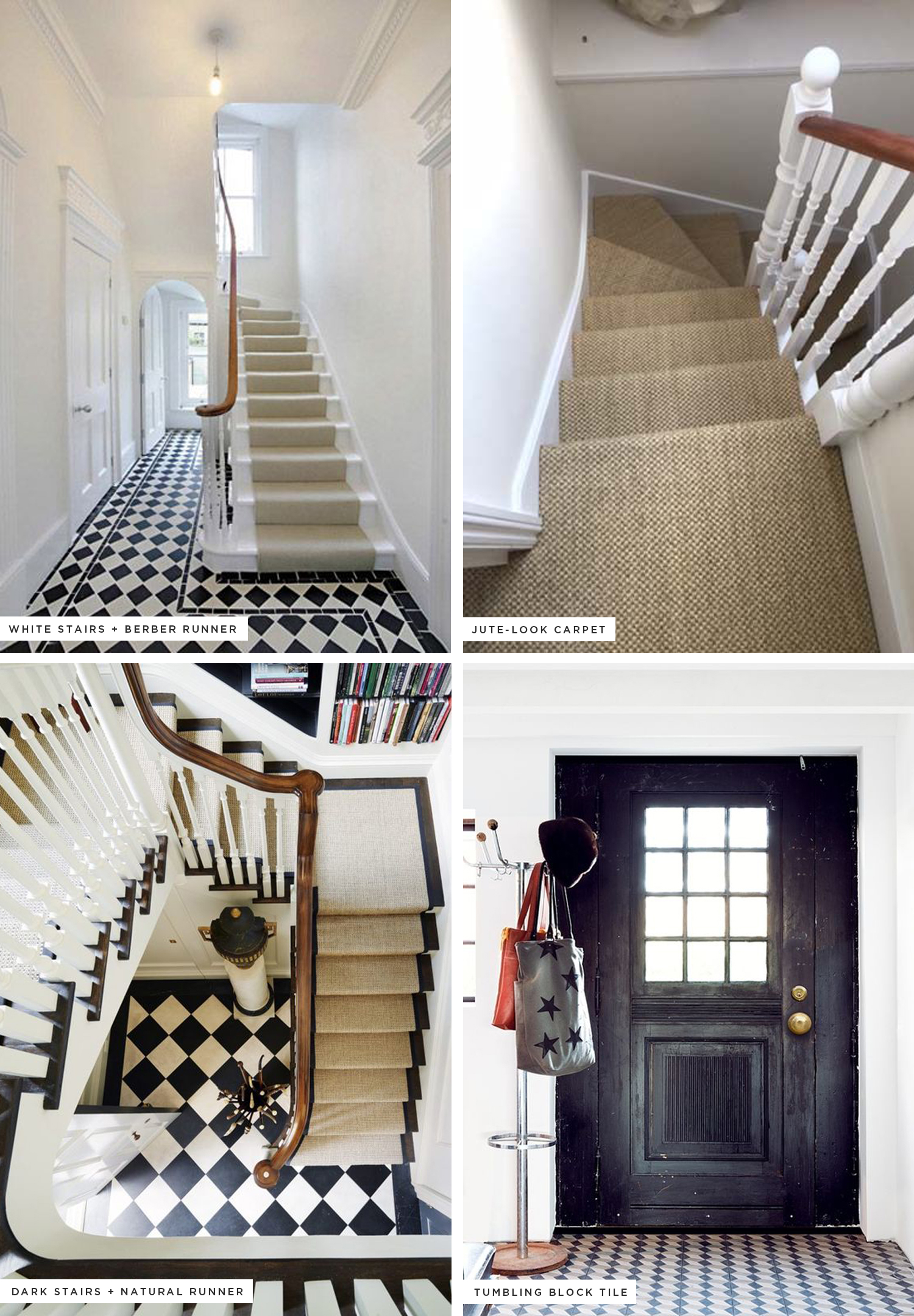 I love the idea of a natural wood tread, and white risers. The combination of wood and white adds interest and warmth. But the more I thought about doing a fun patterned tile on the floor, the more I thought a simple and low-contrast situation on the stairs would be best. So I decided to paint the treads, risers, and spindles white, and choose a berber carpet for the runner. The handrail will stay its original stained wood finish.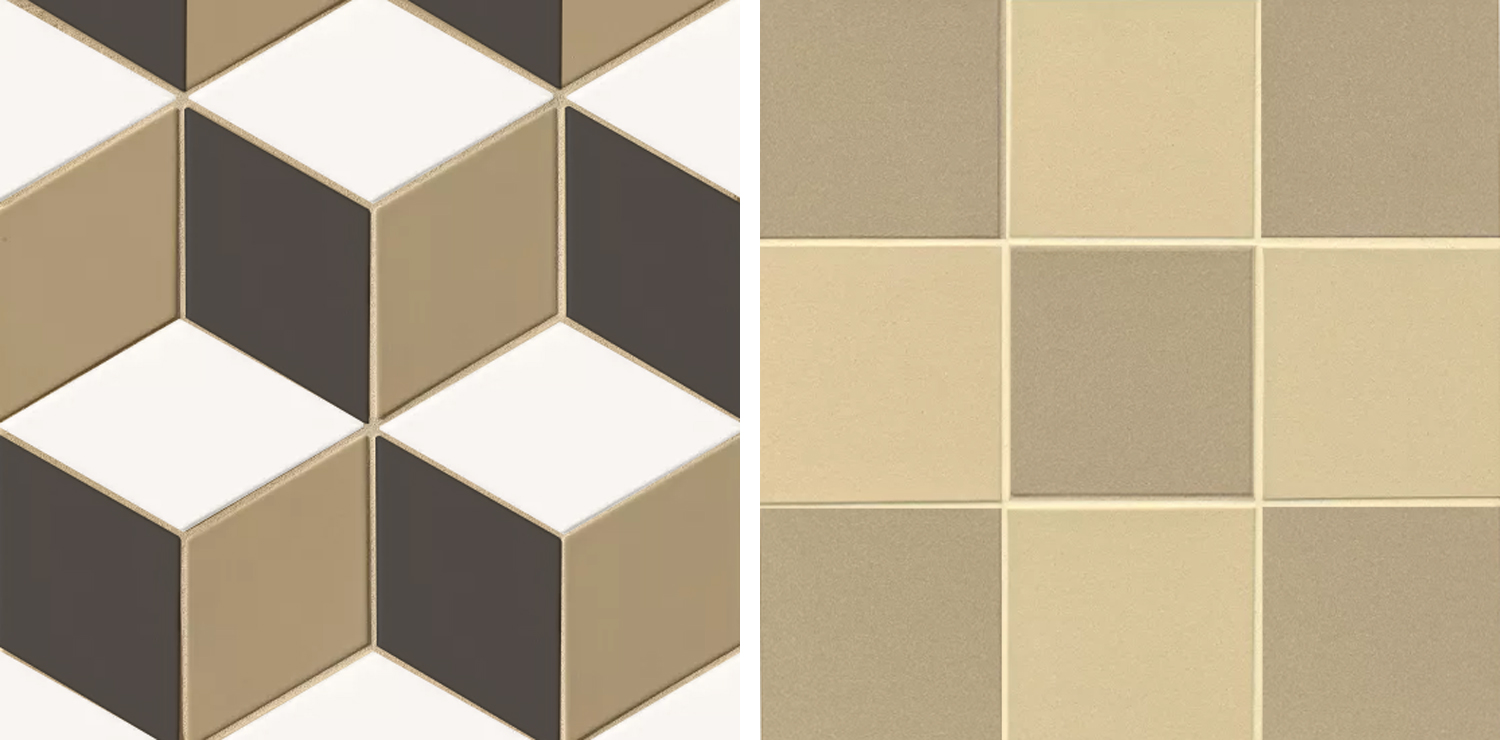 TILE OPTIONS
As far as the tile goes, I narrowed it down to either this tumbling block tile using the Costa Allegra diamond tiles from Bedrosians, or doing a tone-on-tone checkered tile using 6″ square tiles from Bedrosians. While it is indeed having a moment right now, the tumbling block pattern is a classic look and something I've loved for over a decade. I don't think I need to worry about its longevity. But if I wanted something a little less busy, and perhaps more classic and easy to work with, a checker pattern on a diagonal is a great choice too. Decisions, decisions!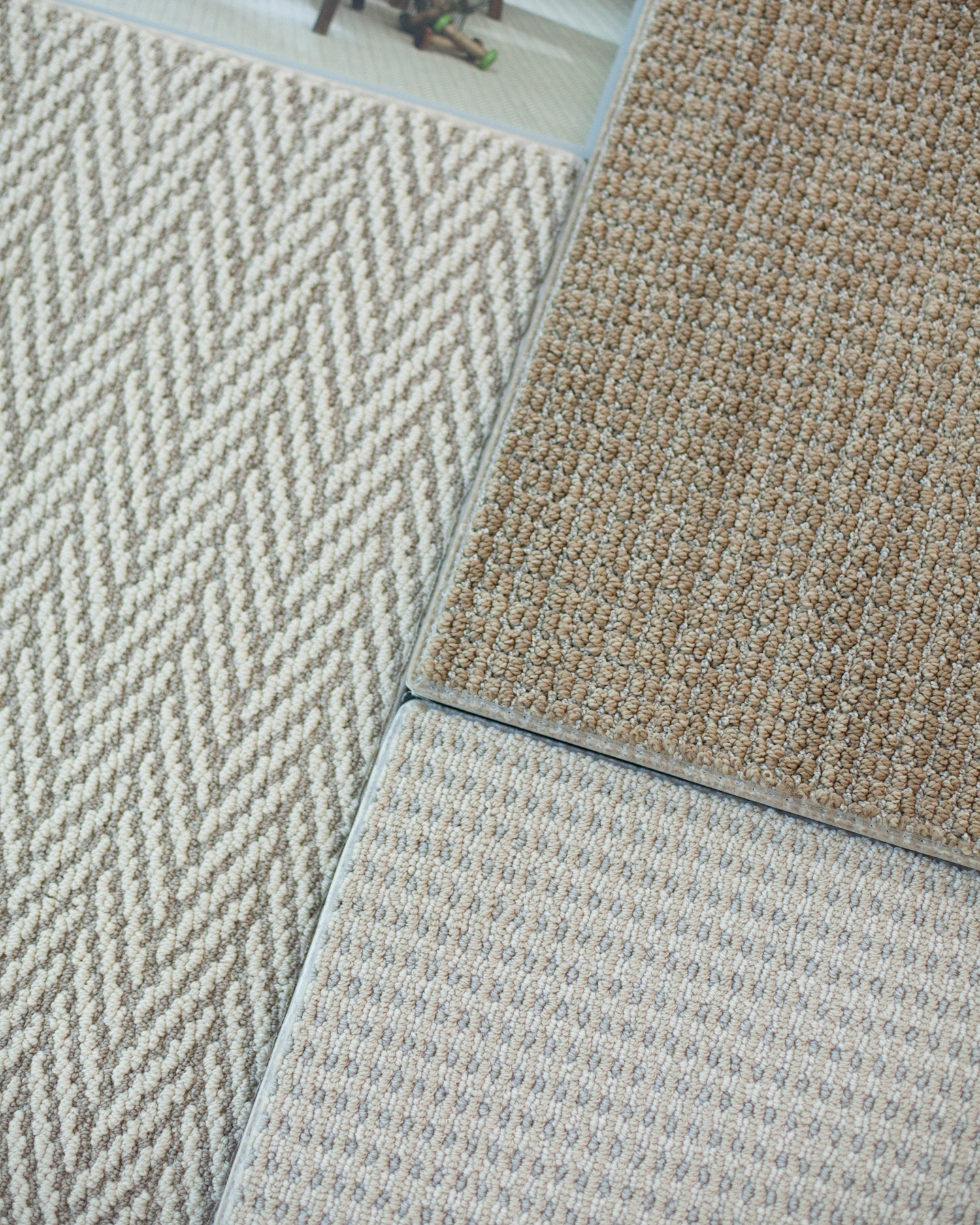 CARPET OPTIONS
I love the look of natural jute rugs, but let's be real— jute doesn't feel so good underfoot. In addition to finding something comfortable for bare feet, I also need a carpet that will be very durable. That excludes using a vintage runner, which had previously appealed to me. I have children and dogs, and I worry about staining and snagging. Because of their great reputation in the field, I began looking into Stainmaster carpet options. I was really happy to see some styles and textures that mimic the look of natural jute, but with the durability expected from Stainmaster.
After looking at carpet options at the National Design Mart showroom in Medina, Ohio, I narrowed down my choices to three Stainmaster Active Family options from the Anderson Tuftex line: "Only Natural;" "Abbey's Road;" and "St. Lucia." After a week with the samples, I decided to go with the St. Lucia carpet (seen below) because the texture reminds me most of a natural jute rug.
Originally I thought I'd choose the Wheat color (on the bottom left of the sample board below), but after considering how it would look on a stark white stairway, I decided to go for Macadamia (on the top left of the sample board). I have a steam cleaner for carpets, and since the Stainmaster carpet is stain resistant, I feel pretty good about choosing a light color, even on our stairs. I'm also considering taking this carpet into our hallway and bedrooms upstairs, and I like the idea of a lighter carpet in there, rather than the darker options.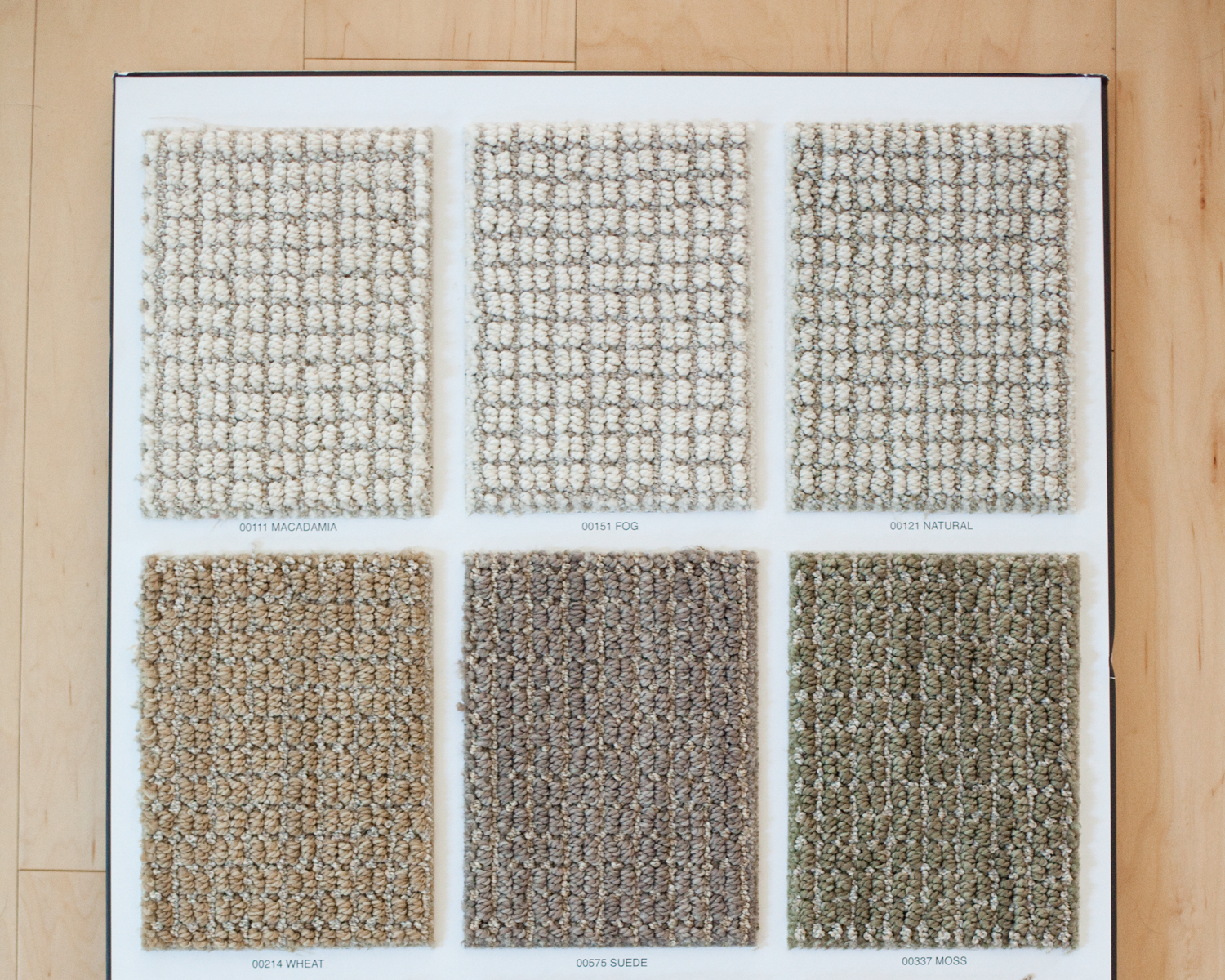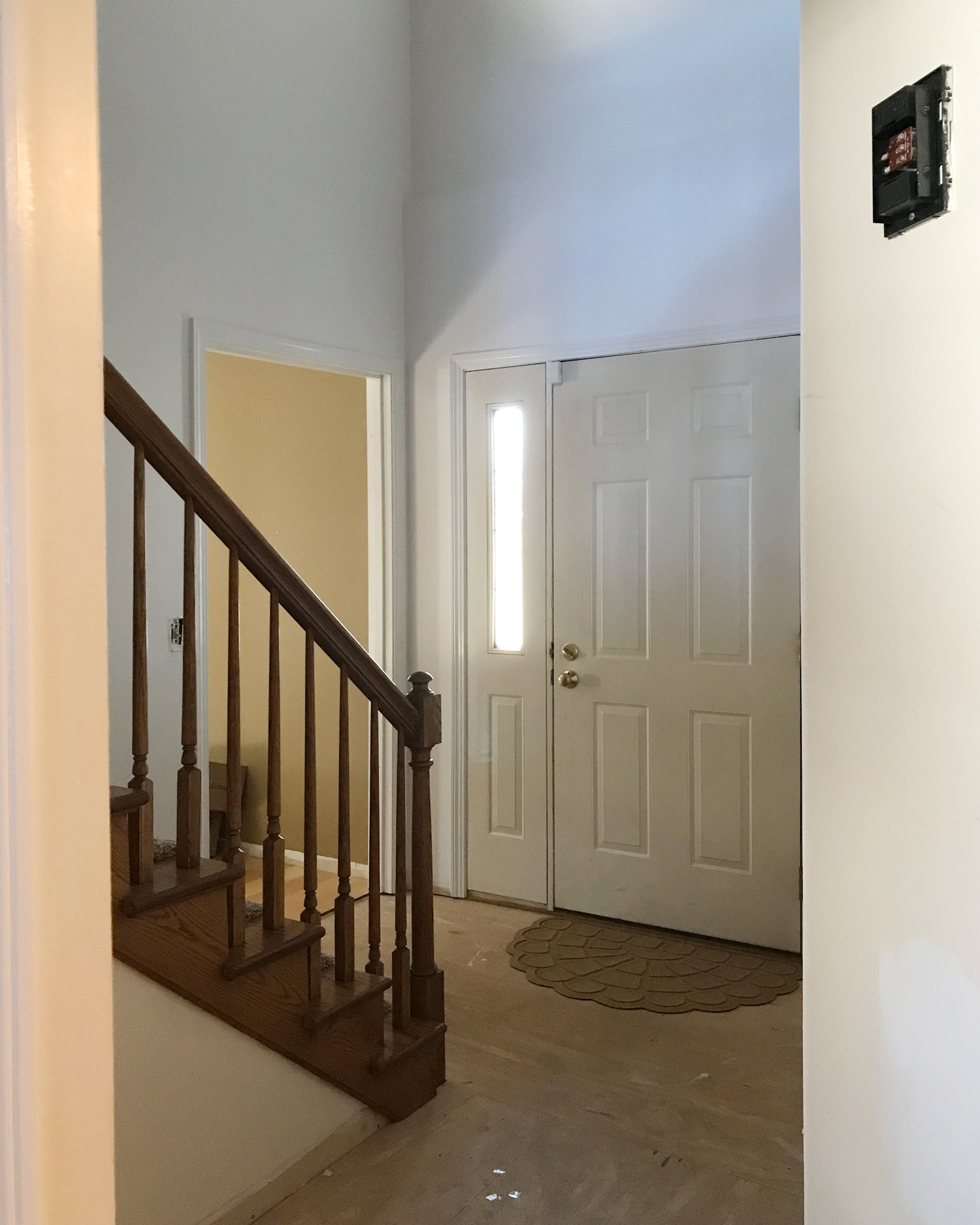 FRONT DOOR
I've been dreaming of replacing our front door ever since we first moved in! For one thing, the door that's currently in place is your basic run-of-the-mill door that most people buy straight from the hardware store. I thought about fixing it up by applying moulding details and paint, but when it came down to it, our entryway feels like a cave. A little more light would be so nice! (I had to do a lot of brightening on the photos that I took of the entryway!)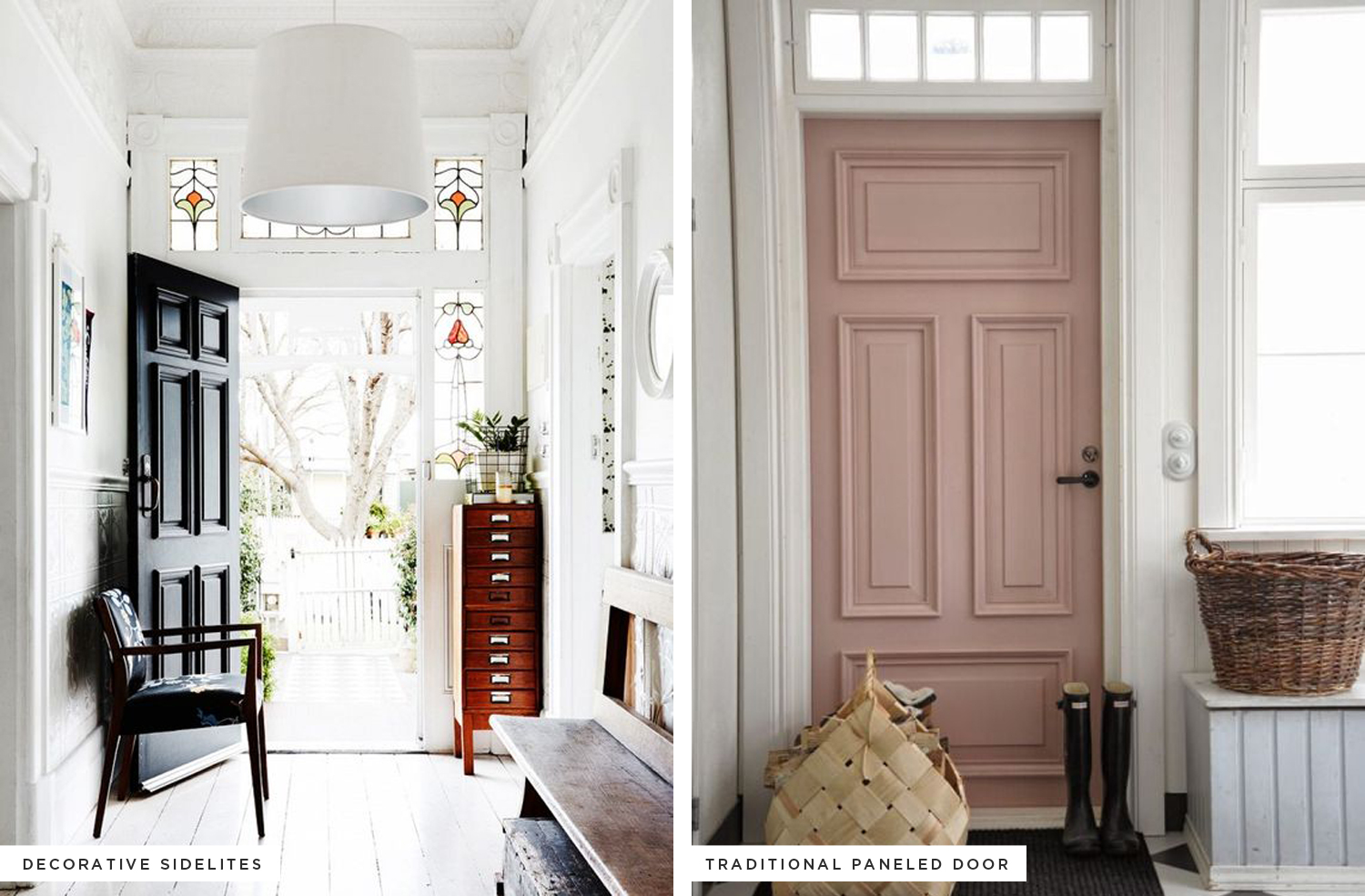 After looking over my inspiration images, I realized that I love a bold, contrasting door with sidelites that match the surrounding wall color. The question is, what color or finish do I choose for the door? And how much glass do I want in here?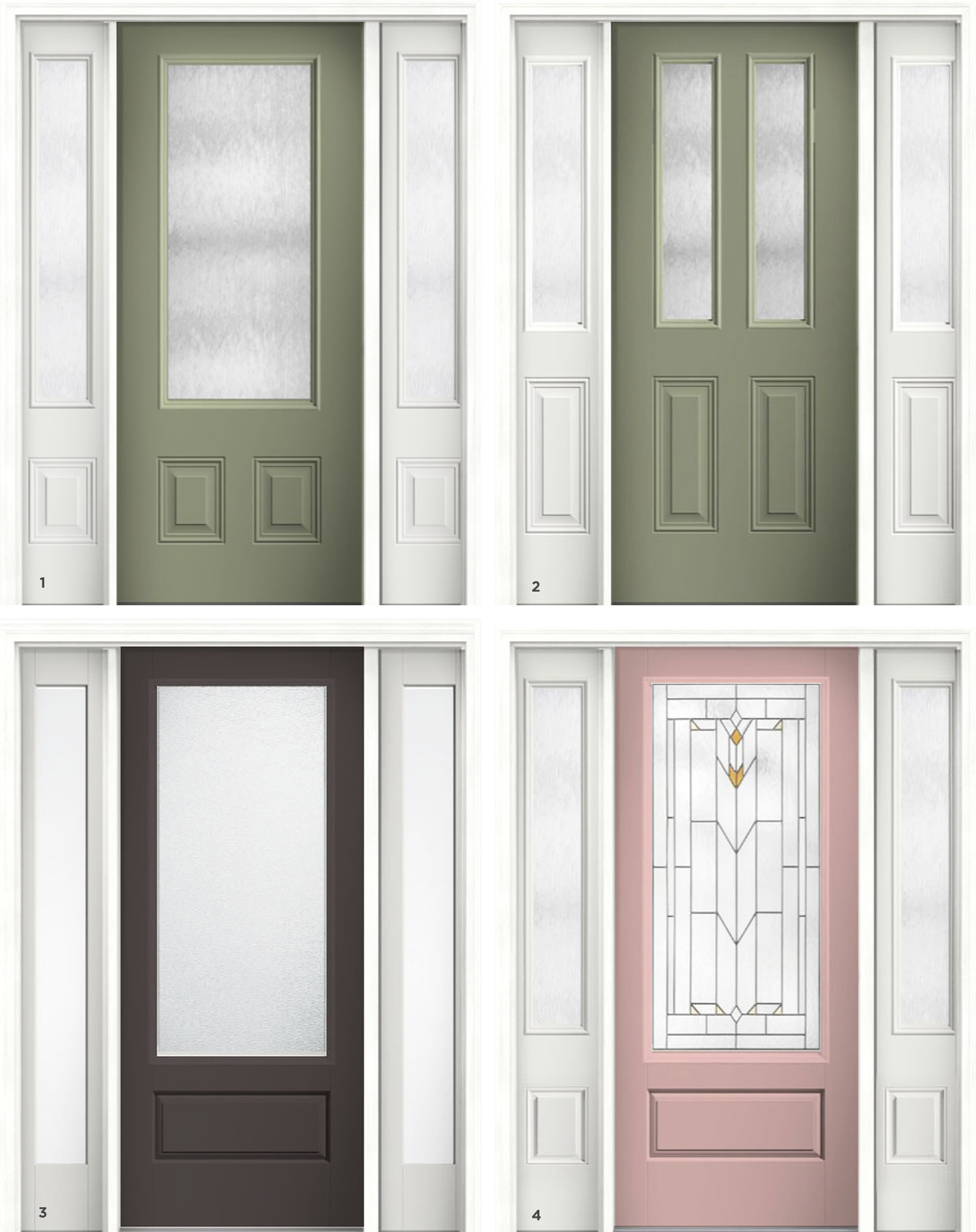 DOOR OPTIONS
I decided to go with Therma-Tru for our front door set because I loved all of the options for the door and sidelite combinations, as well as the ease of designing a set online using their Design Your Door tool. I went to check out the doors in person at the showroom at Hartville Hardware (my favorite local hardware store!), and was able to see the beautiful the wood-look finish of Therma-Tru fiberglass doors.
I love the look of a natural wood door, but a wood exterior door is simply not practical for the climate in Ohio. Wood expands across the grain during more humid times of year, and contracts in the winter, not only causing doors to stick, but also causing warping over time. Fiberglass is the best option for the look of wood, with superior insulation and durability.
Therma-Tru has a several collections, but I personally settled on two favorites.
The Classic-Craft Collection offers a wide variety of panel styles, configurations, glass options and five different wood grains to choose from. If I decided to go for a painted finish rather than the grained wood-look, Therma-Tru has some appealing pre-finish color options, or I could always choose to paint the doors myself with the color of my choice. The idea of doing a muted pink door really appeals to me!
The other collection I love is the Fiber-Classic Mahogany Collection. These doors look like real wood doors, but with all of the weather-resistant benefits of fiberglass construction. The Fiber-Classic Mahogany Collection also has several stain options aside from the traditional reddish mahogany look. As with all of the Therma-Tru collections, the Fiber-Classic Mahogany Collection offers lots of paneling styles, configurations and glass options, including decorative and privacy glass.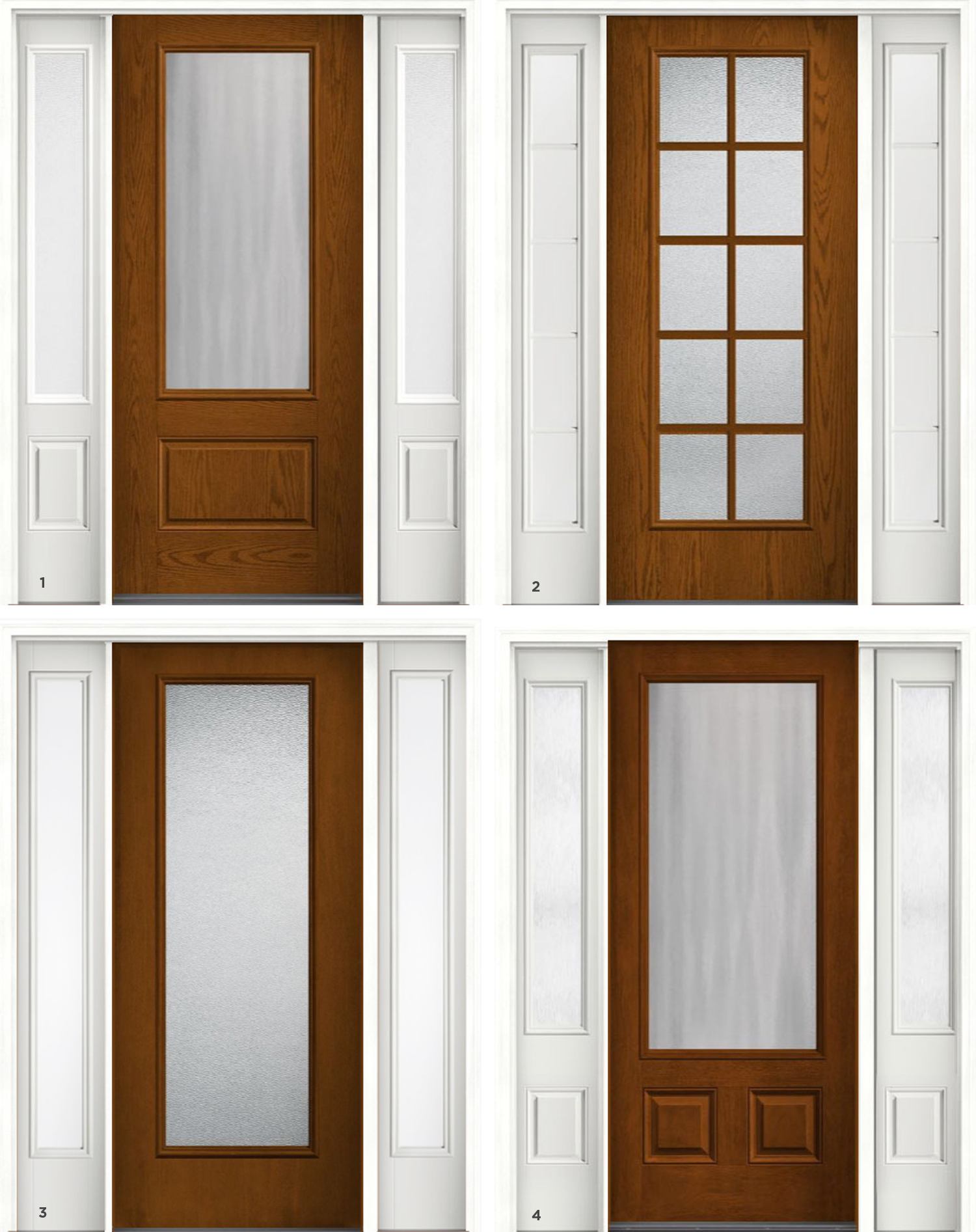 I used the Therma-Tru Design Your Door Tool to create eight door configurations I really love. I think I'd be happy with a solid color door, but my heart is telling me to go for the wood-look. It will tie in with the stair rail that I plan to leave its stained color, the wood shelving wall in the kitchen, plus the other wood glass-paneled doors I have elsewhere in my home (like in my nearby office as well as the sunroom doors pictured here.)
In the end I decided to definitely go with a wood-look door from the Fiber-Classic Mahogany Collection. I figure, if one day I wish for a solid-color door, I can always strip the finish and paint it!
Which configuration do you like best from the set above? I'm leaning towards #4.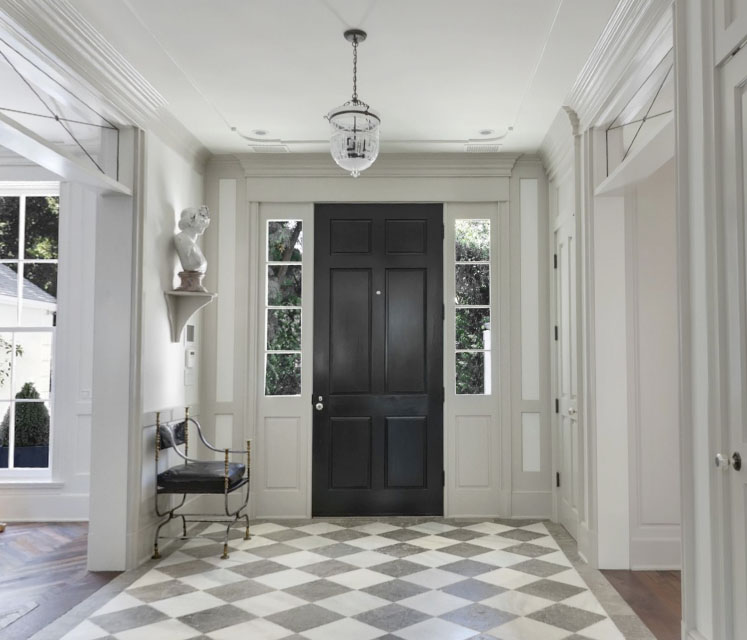 I'd love to hear all of your opinions of my finish options! If you want to check out my first round of entryway planning, read this post here! I have changed a few things since then, but the paint, door knob, and other accessories have stayed the same. So excited to begin work on this space!