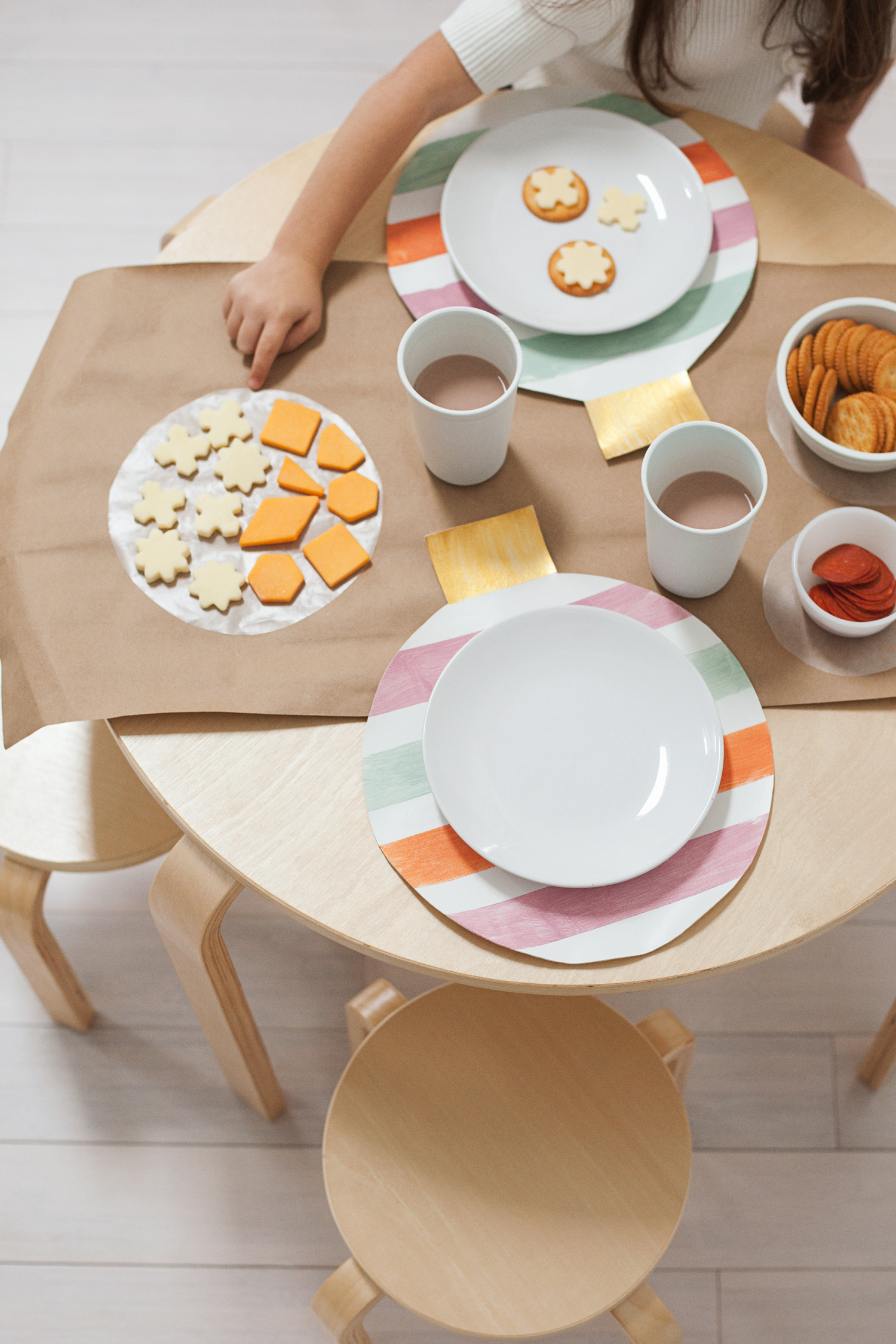 You guys! It's the eleventh hour. Advent season is almost over, and the kids won't stop asking me to do crafts and eat snacks. Literally. All day. Every day. I thought this week we'd whip together an easy craft that would harness our festive energy (errr… make that their festive energy!), satisfy their desire for cheese and crafts, with the added benefit of making the holiday kids table the happening place to be.
Lucy and I created these easy and fun ornament placemats with a bit of tablecloth vinyl and some acrylic paint we had on hand. It was so fast and easy, just like these fun cheddar and colby cheese shapes from Horizon Organic! This kids table was a breeze to create, but the make-your-own-cracker-sandwich spread was the real star of the show. Oh, and did I mention there was chocolate milk? Thanks, Horizon for partnering with me on this fun kid-centric activity! For two seconds the girls quit asking me for gingerbread cookies.
I hope this little craft can inspire you to have a little fun crafting with your kiddos before the big day.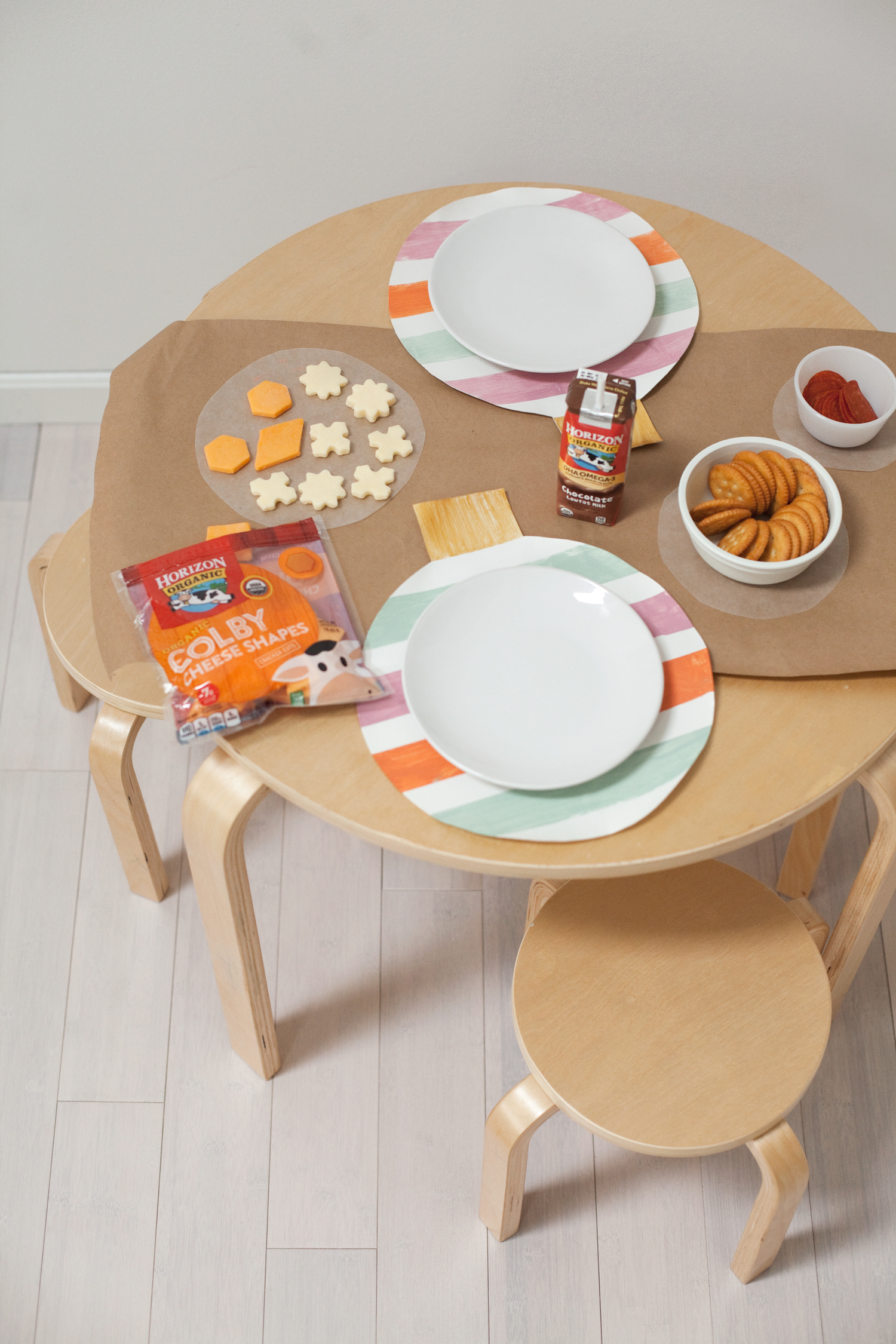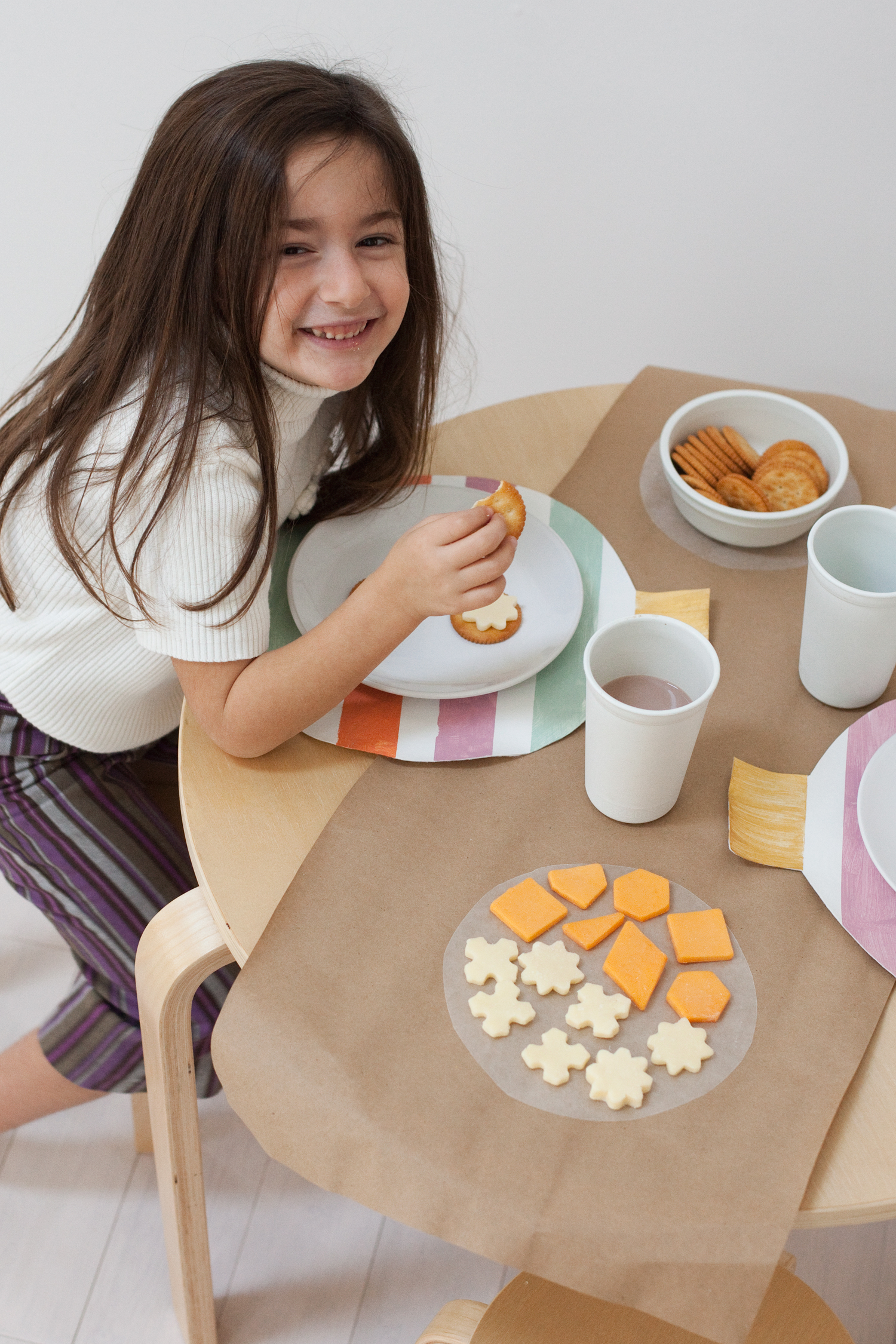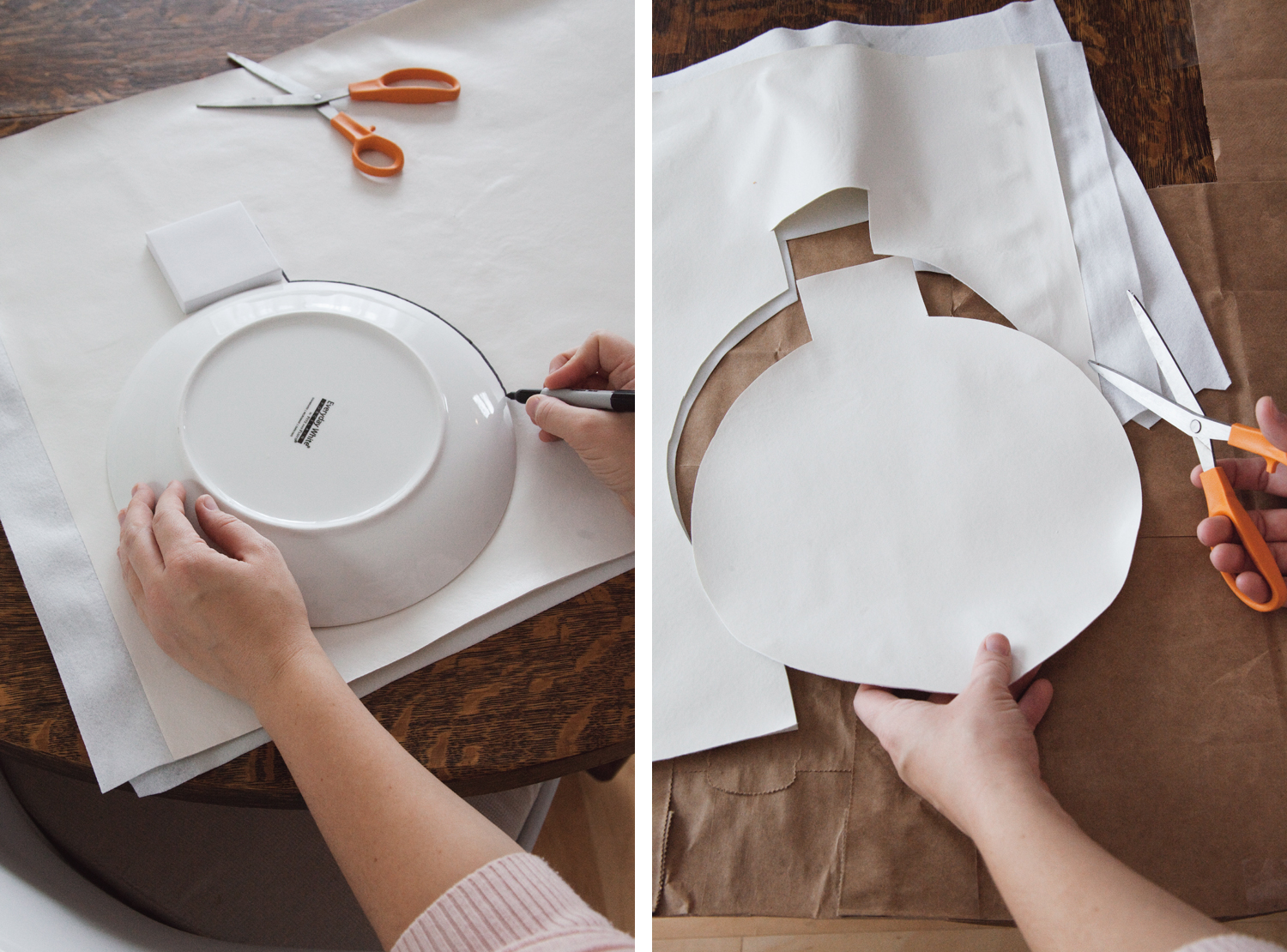 PAINTED ORNAMENT PLACEMATS

Supplies:
– vinyl fabric, such as the felt-backed material I used
– marker
– scissors
– painter's tape
– acrylic paint and brushes
STEP ONE: Trace a round plate or circular platter, adding a square object at one end for the top of your ornament. Be careful using a permanent marker, though I was able to remove some marks that I accidentally got onto my ceramic plate.
STEP TWO: Cut out the shape you traced in step one.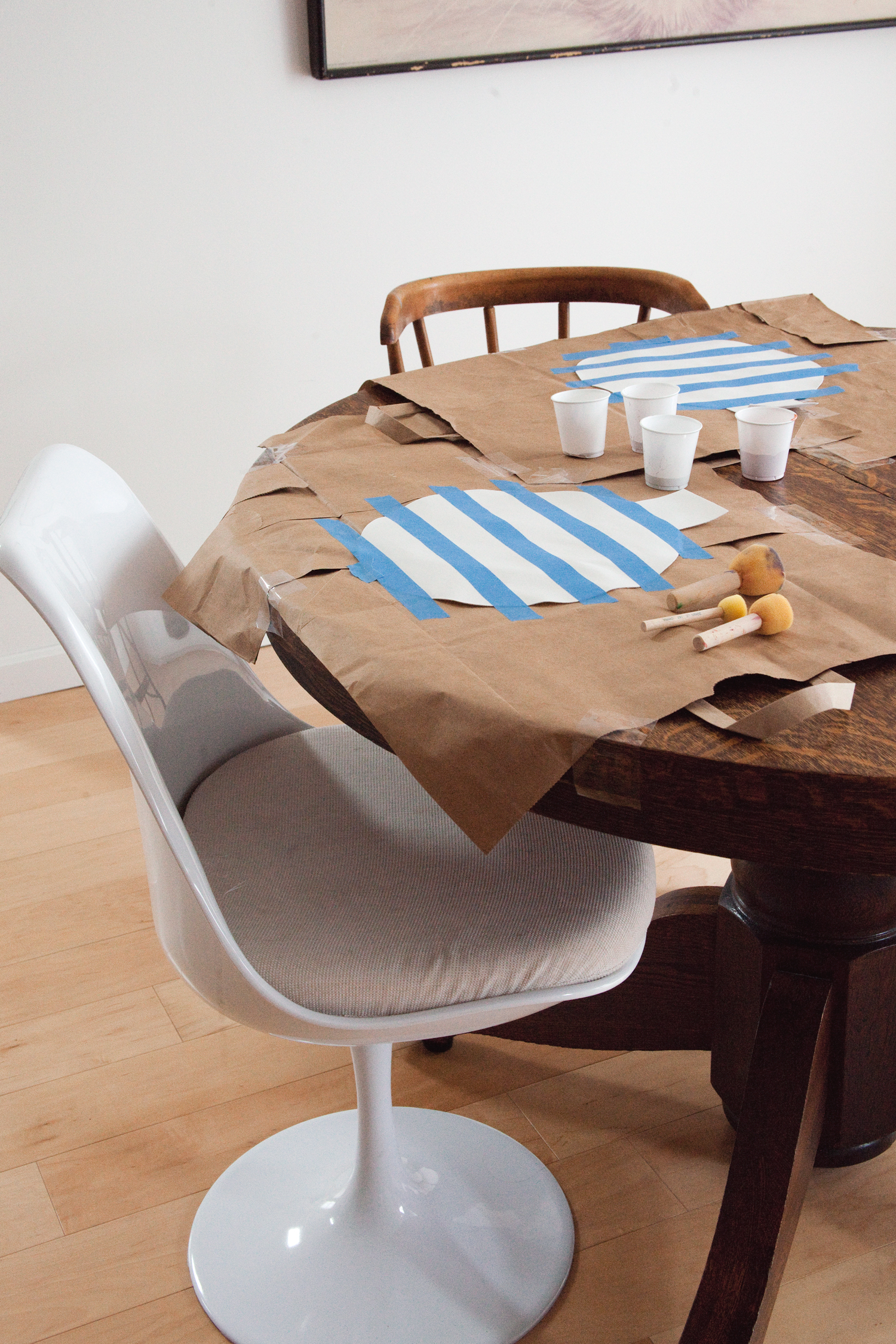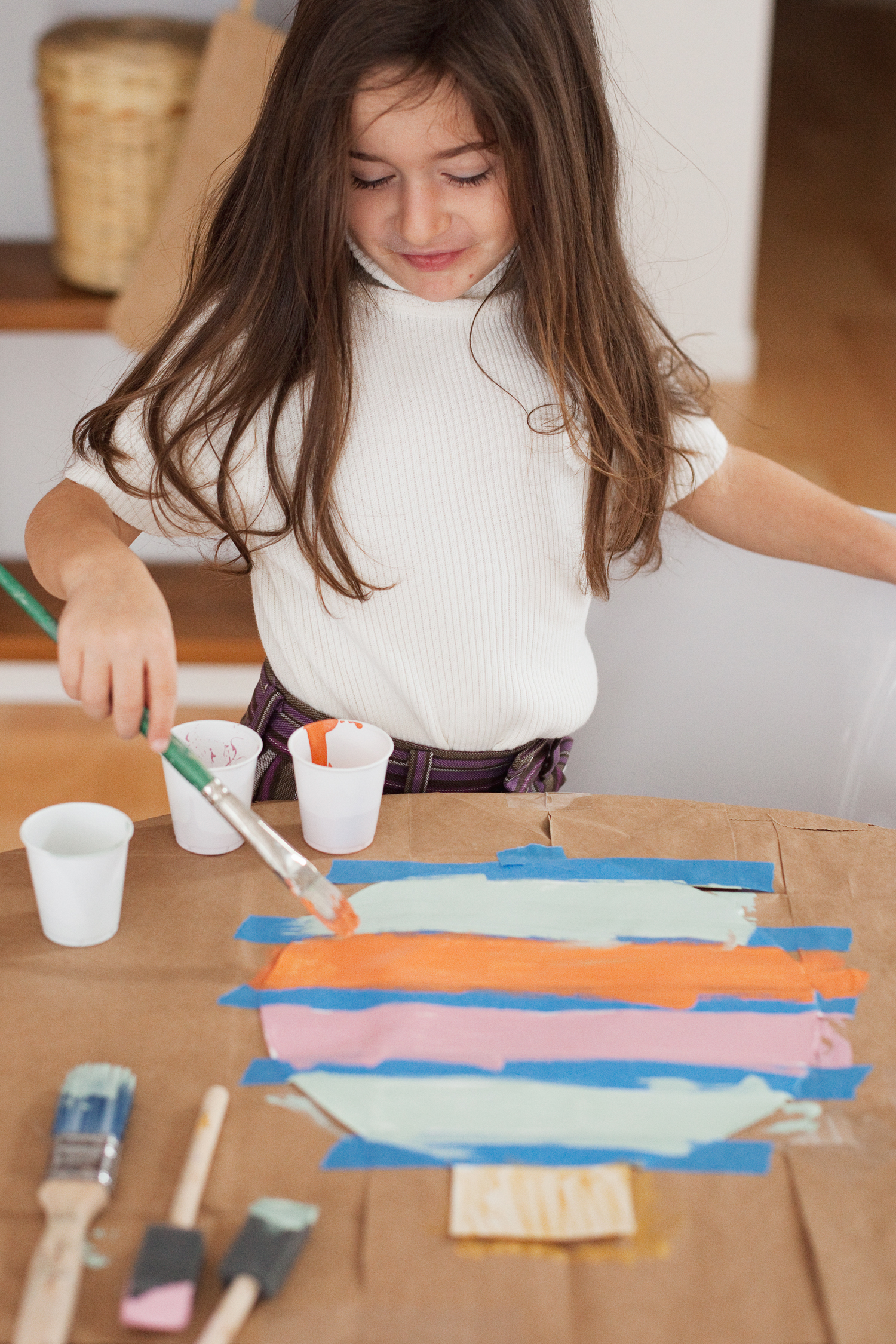 STEP THREE: Tape off Stripes on the vinyl fabric using painter's tape. This step was also handy to keep the placement securely in place on my paper-covered table. It made it easier for Lucy to paint.
I gave Lucy four paint colors to choose from and told her she could make each stripe one color, or have fun blending the colors together and painting it as crazy as she wanted. She decided to just do one color per stripe, as you can see!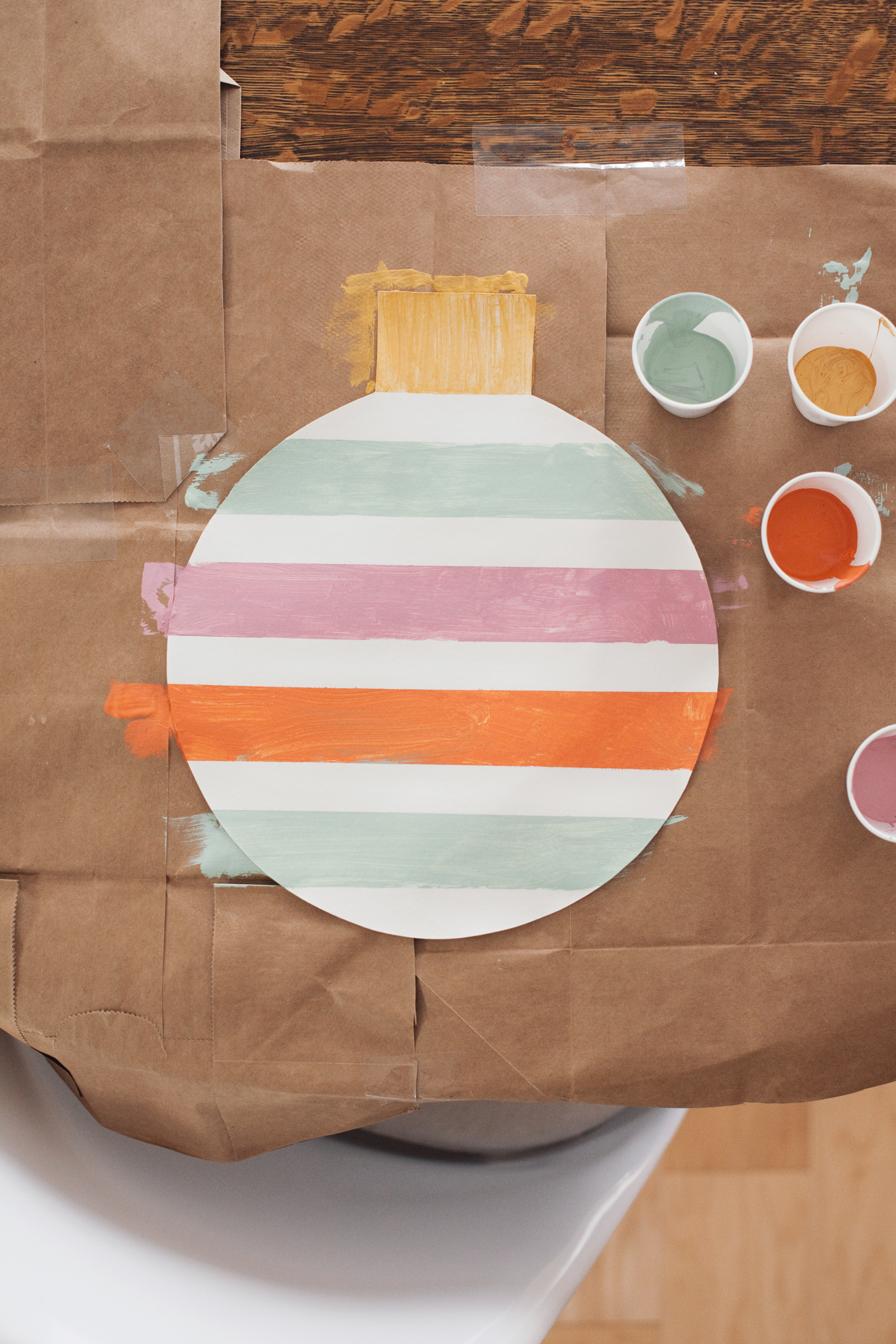 STEP FOUR: Remove the painter's tape and allow the acrylic paint to dry. It only take a few minutes if the paint isn't on there too thick.
I put a kraft paper table runner on the girls little table, and considered giving them markers to doodle on it. I may feel braver on Christmas day. But this time around I just cut out wax paper circles to display the fun cheese shapes I pulled right out of the Horizon Organic bags. No need to take the time to use cookie cutters and then figuring out what to do with the scrap pieces. I also placed bowls of organic nitrate-free pepperoni and crackers on the table so the girls could make their own cheese sandwich crackers. It's a favorite snack of theirs, and paired with chocolate milk, becomes a really special treat!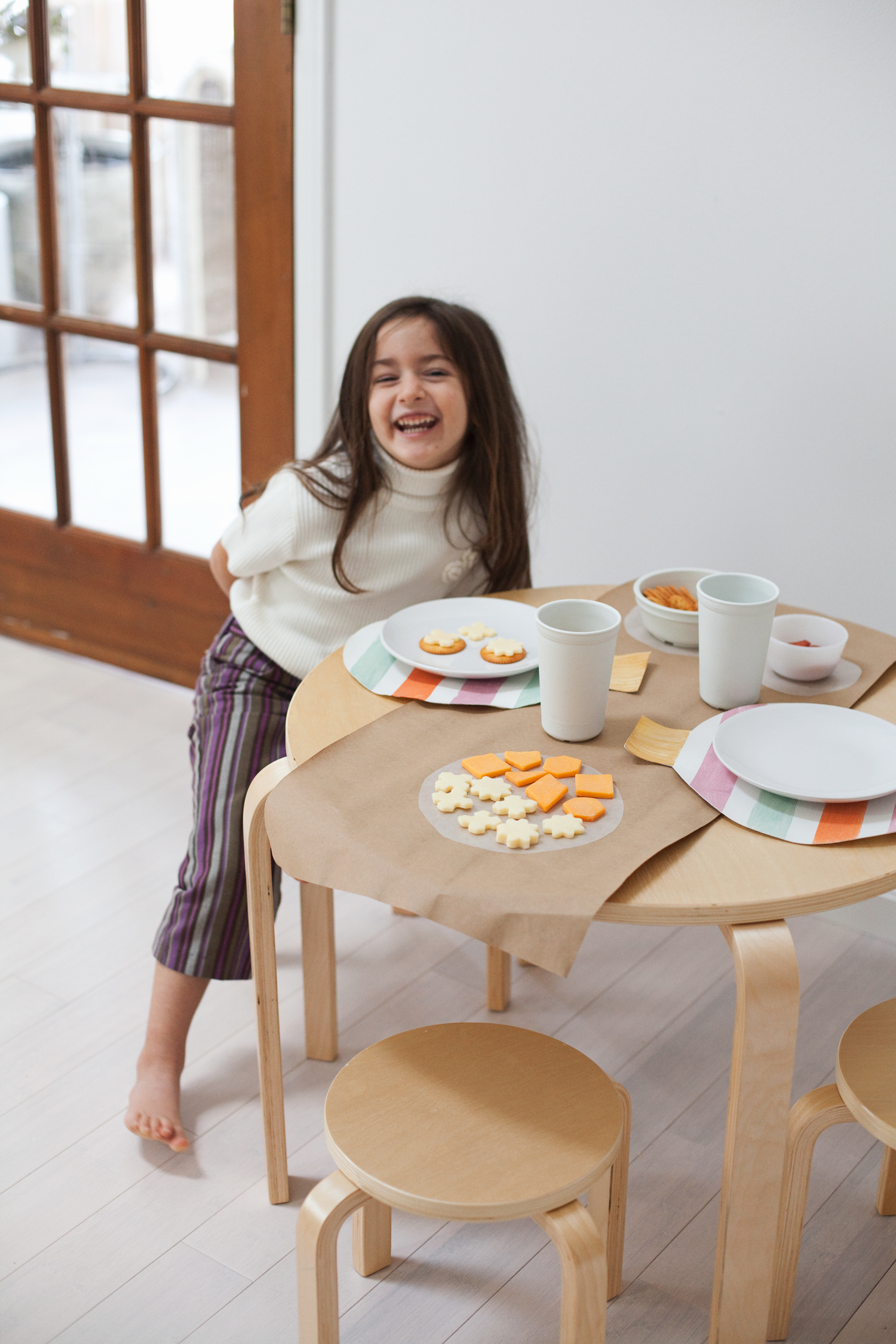 I have a feeling the girls won't mind being sent to the kids table when things get real crazy right before our Christmas feast. We're excited to bake a big ol' turkey in our brand new oven, but that doesn't mean I'm a little nervous about pulling everything off! And in the midst of the crazy, I'm ready to keep the children's bellies happy with a little snack to hold them over.
What are your go-to snacks to keep your kiddos happy before dinnertime? I'm telling you, cheese is a life-saver at our house! :)
Follow Horizon Organic on Instagram, Pinterest, and Facebook for more fun snacking ideas! This is a sponsored conversation written by me on behalf of Horizon. The opinions and text are all mine.