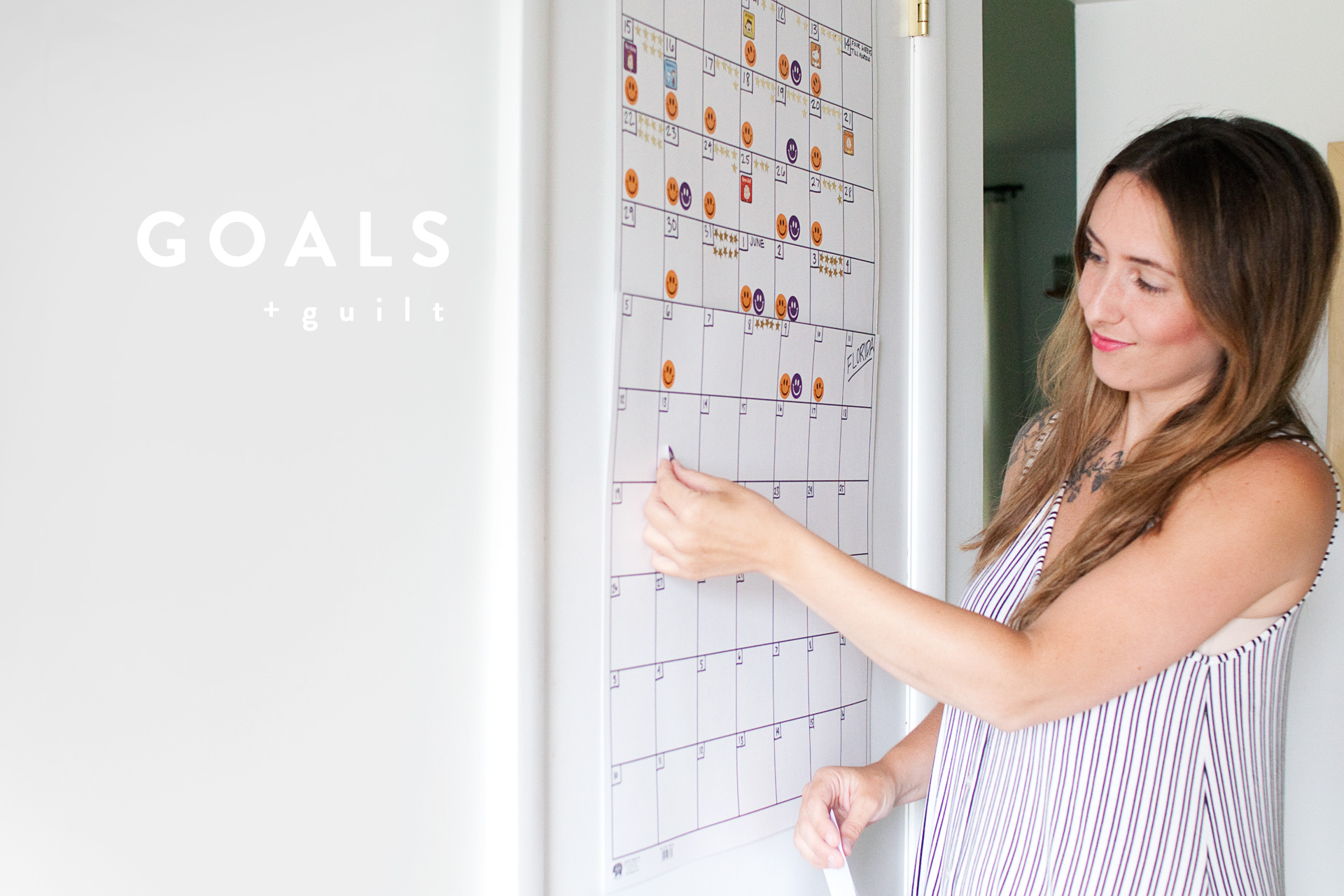 Whew! January is halfway over, and I still haven't made any New Year's resolutions! Have you? I tend to shy away from January resolutions because I figure if something is important enough to me, I wouldn't have waited until the new year to make a change. But last January I was so inspired by friends' journeys to becoming healthier (including losing weight for aesthetic purposes), that I decided to get a YMCA membership and work on my own fitness. One year later, and I'm still actually using that membership. Go me! But I have a little confession. I fell off the fitness wagon for a few months in the Summer and Fall. But I learned some things! I picked myself back up. And now I want to offer you some advice and encouragement in case you need it. (And don't we all?)

I told myself that my fitness journey didn't have an end date. This is a lifestyle. Blah, blah, blah… everybody says it. I shied away from setting goals and dates because I was worried I'd become so focused on the goals and dates that I would view the entire endeavor as a short-term project that should be completely full-steam ahead. I told myself it wasn't a race, but I still burned myself out! I was working out too much and being too strict with my nutritional intentions that I made myself feel like I failure when I slipped up or took a week off. One week off turned into three, which turned into four, and then I sort of just quit working out at all, which in turn made me much less likely to make good choices at the grocery store.
From July-November I did pop into the gym once or twice a month out of guilt. But I also engaged in quite a bit of overindulging in junk food and sweets to deal with my YOLO feelings when I thought perhaps my cancer had returned with a vengeance. (I had received bad results from a follow-up scan, which ended up being nothing to worry about, but that's a story for another day.) I became reacquainted with bad habits during this time, and in five months, I had gained back 10 of the 20 pounds I lost from January-June, and a decent amount of muscle mass. And, of course, I felt like a failure. Feeling like a failure isn't very motivating, turns out. Feeling like a failure kept me reaching for the Double Stuffed Golden Oreos.
After a while of being disappointed in myself, and frustrated with how my clothes were fitting, I figured the best thing to do was to pick myself back up and start up again where I had left off! I actually felt weird going into the gym again, like the regulars would judge me for my time off, or like they would actually notice I had to decrease the weight I had been using before. Ha! What a thought. I had to shake off those weird insecurities and shame and get back into beast mode where I didn't care about what anyone thought, and focus on my own goals.
Wait, goals? What goals? I thought unrealistic goals were what had knocked me down in the first place? It's difficult to say what happened, really. Maybe it was that I had achieved success to a certain degree, found it easier to back off, and then felt like I had backed off so far, it would be too difficult to get back into it. Or maybe it was that I thought my goals were unrealistic. Feelings of self-doubt told me I'd always have a big belly, I'd never be able to run that fast, or I'd never be able to squat like that one girl… I think it was a combination of a lot of things. But it came down to just settling for who I was, instead of who I could be.

I have decided to quit focusing on what I could look like in a year, and start thinking about what I can DO in a month. I've decided goal setting IS for me after all, but only when it comes to what I can achieve. Achievements don't define me, but they do empower me. The scale doesn't empower me. Looser pants don't empower me. Sure, those things can make me feel nice in the moment. But that doesn't hold up over time. So for 2017, I have decided to set one goal for each month which will encourage me to challenge myself with my fitness in a way that is attainable, but also requires me to be consistent with my workouts and push myself a little (not a lot).
January's goal is to run 80 miles. I decided this is achievable, because on good weeks, I've been able to run 20 miles. Multiply that by four, and I could get in 80 miles if I put in the work every week, even when I don't feel like it. So far I have ran 56 miles and am easily on target to reach my goal by the end of the month! I've also decided what February's goal will be. I'll still be running, though not as much (and I won't be tracking my mileage), because I'm aiming to do 2 leg days a week in addition to one day of biceps/triceps/shoulders and one day of back/chest. This is a big deal, because I work really hard on leg days in the weight room, and I usually have trouble walking and sitting down the next day. Two leg days a week would be a lot to stick to for a whole year, but I could do it for the shortest month of the year, right?!
Feeling successful by hitting smaller, achievable goals helps set me up to make good choices with my nutrition (allowing indulgences more than once a week), and in general gives me so much confidence! My body is continuing to change, which is wonderful to see, but more importantly I am proud of myself for what I can do, rather than how I look.
(P.S. The top photo is from last Summer. I'm finally back at that weight and feeling stronger than ever!)