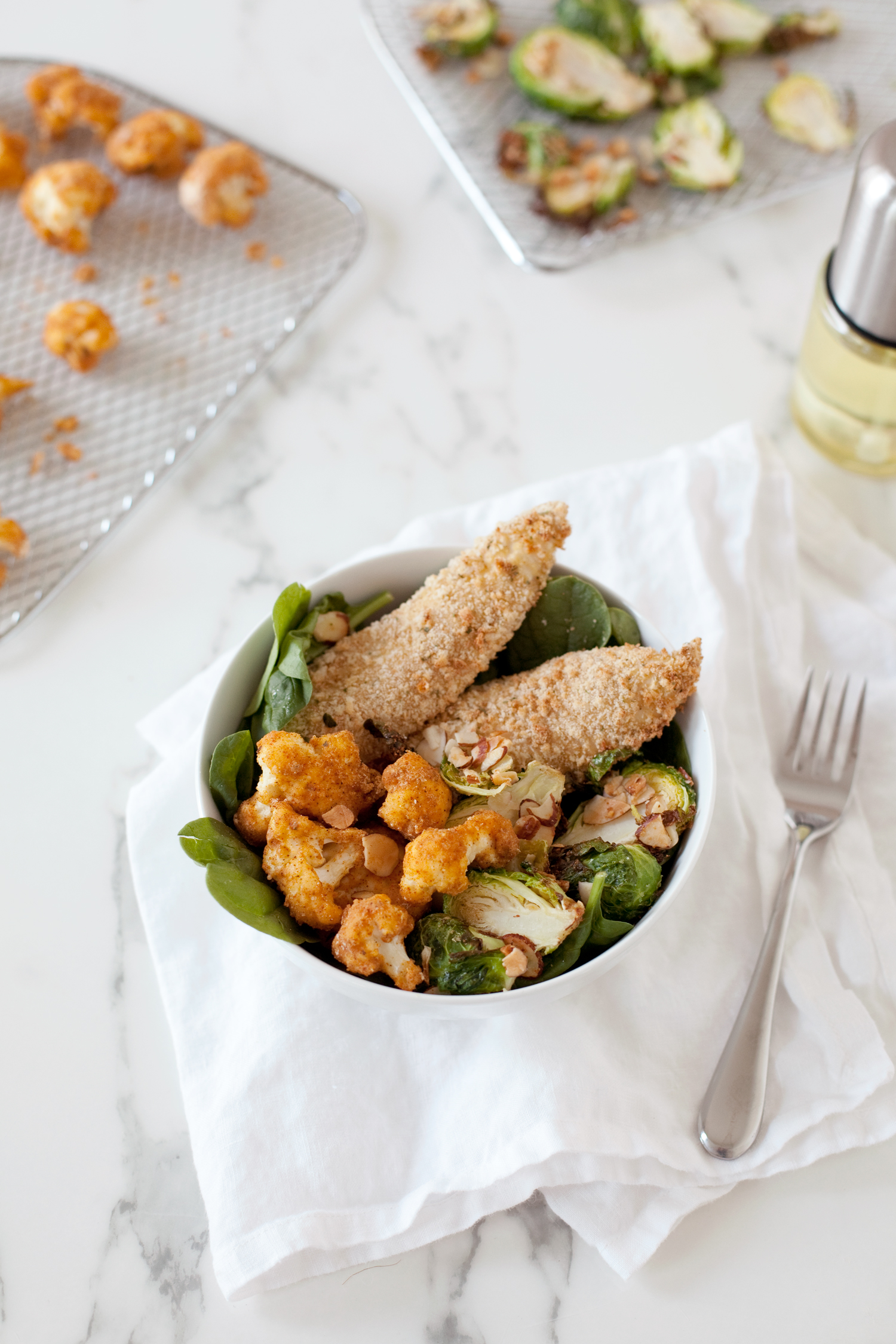 Thank you to Power AirFryer Oven for kindly sponsoring this post. All opinions are 100% honest & completely my own.
Power bowls are a great way to add nutritional and flavor variety to your meals, without a lot of fuss. Just throw a variety of tasty, nutrient-dense foods into a bowl, add your favorite topping or dressing, and dig in! It's the perfect healthy meal to enjoy in lieu of a salad. Power bowls are, in my opinion, much more satisfying than a salad. I always crave a crispy crunch with my power bowls, so I was really excited to use my new Power AirFryer Oven to give some of my mix-ins an extra crispy texture, without all of the oil and grease that comes with deep fried food. After all, I'm going for nutritious here, folks!
I teamed up with Power AirFryer to share my favorite way to jazz up some basic foods to make them more exciting to eat. With minimal food prep, everyone in our home is more interested in eating their veggies when they're air fried! I've left the AirFryer out on my counter and have literally made brussel sprouts in it every single day. Lucy even asked me to make it for a snack one day! I've never gotten them so crispy and light before trying this method. But since the Power AirFryer Oven comes with three trays, I can cook a variety of foods all at once to make a complete meal, without even firing up my oven.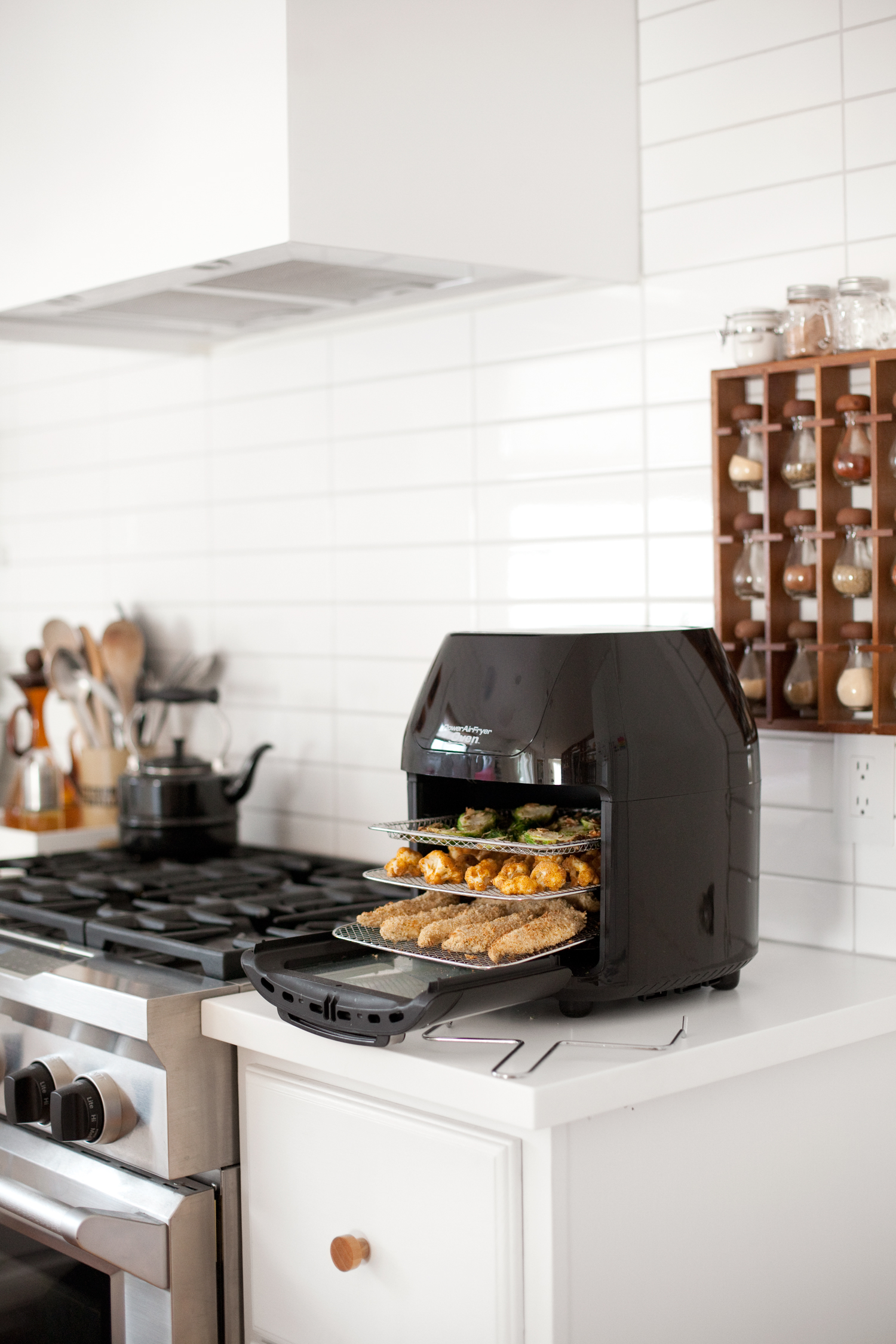 What makes the AirFryer special is the super hot air that blasts around the food on the metal trays, allowing the food to become extra crispy, especially when lightly sprayed with oil before cooking. The unit comes with a rotisserie basket, or the option to use the three trays. At the bottom of the oven is a non-stick tray for catching any crumbs and oil dripping so clean-up is a breeze.
I'm really just getting started, learning about fun recipes to make with my AirFryer, but the power bowl is now a regular in my meal rotation! I can change up the veggies, depending on what's in my fridge, and often choose to make my power bowls completely vegetarian. Just fill up all three trays with a variety of battered and/or oiled vegetables, select the temperature and time, and let her go! It cooks my food much faster and more evenly than the oven, which is great because I often wait too long to get dinner started at our house.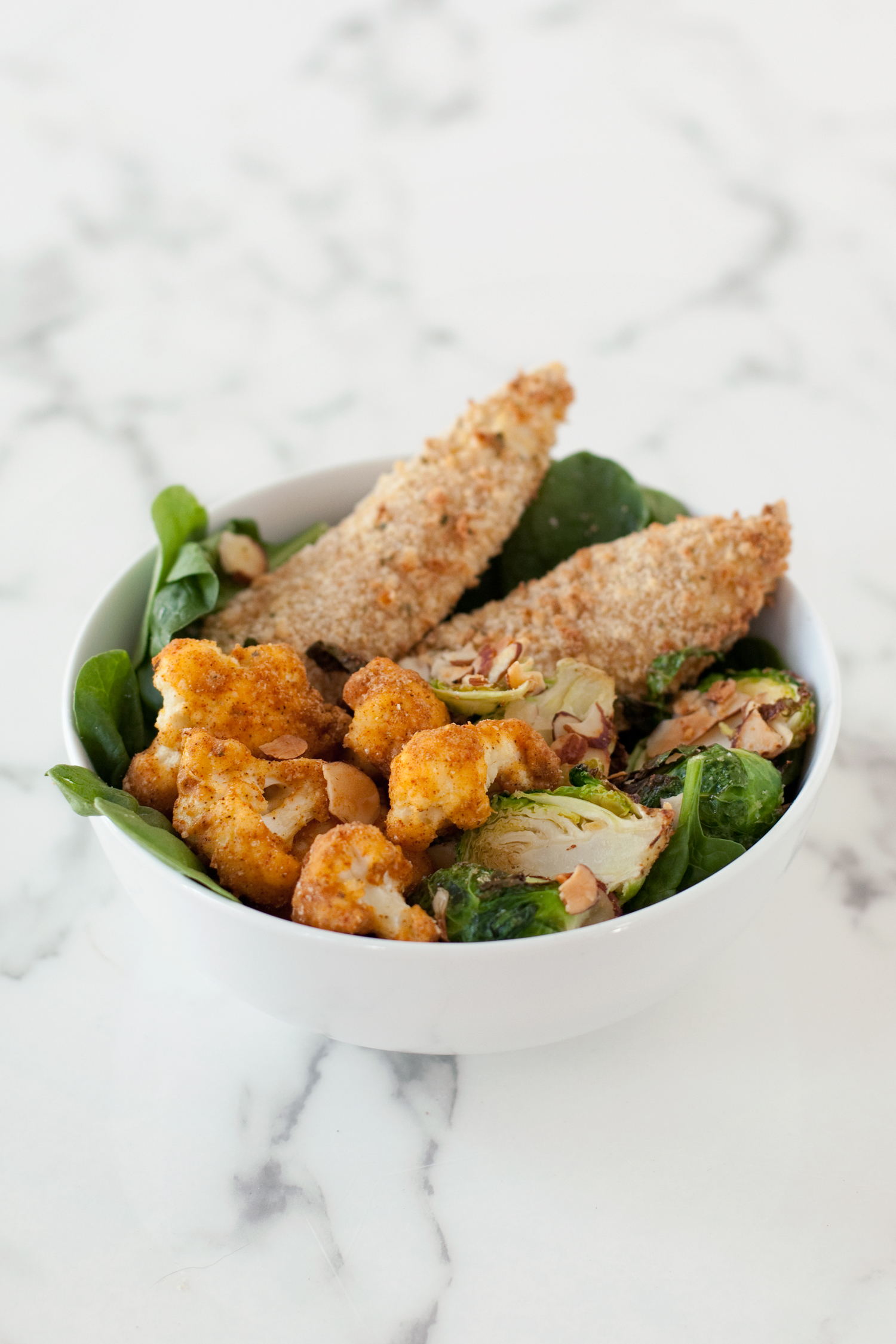 The Power AirFryer Oven comes with guidelines for cooking times and temperatures, but when combining food types in one cook, I had to do a tiny bit of planning. For instance, when making these power bowl ingredients, I adding the chicken first, then after 4 minutes, I added the cauliflower, waited two minutes, then added the brussel sprouts. They cooked at the same temperature, but for different lengths of time. In between those times I prepped the next item to go inside the AirFryer. All said, in prep time and cook time, this meal took me only 20 minutes to make!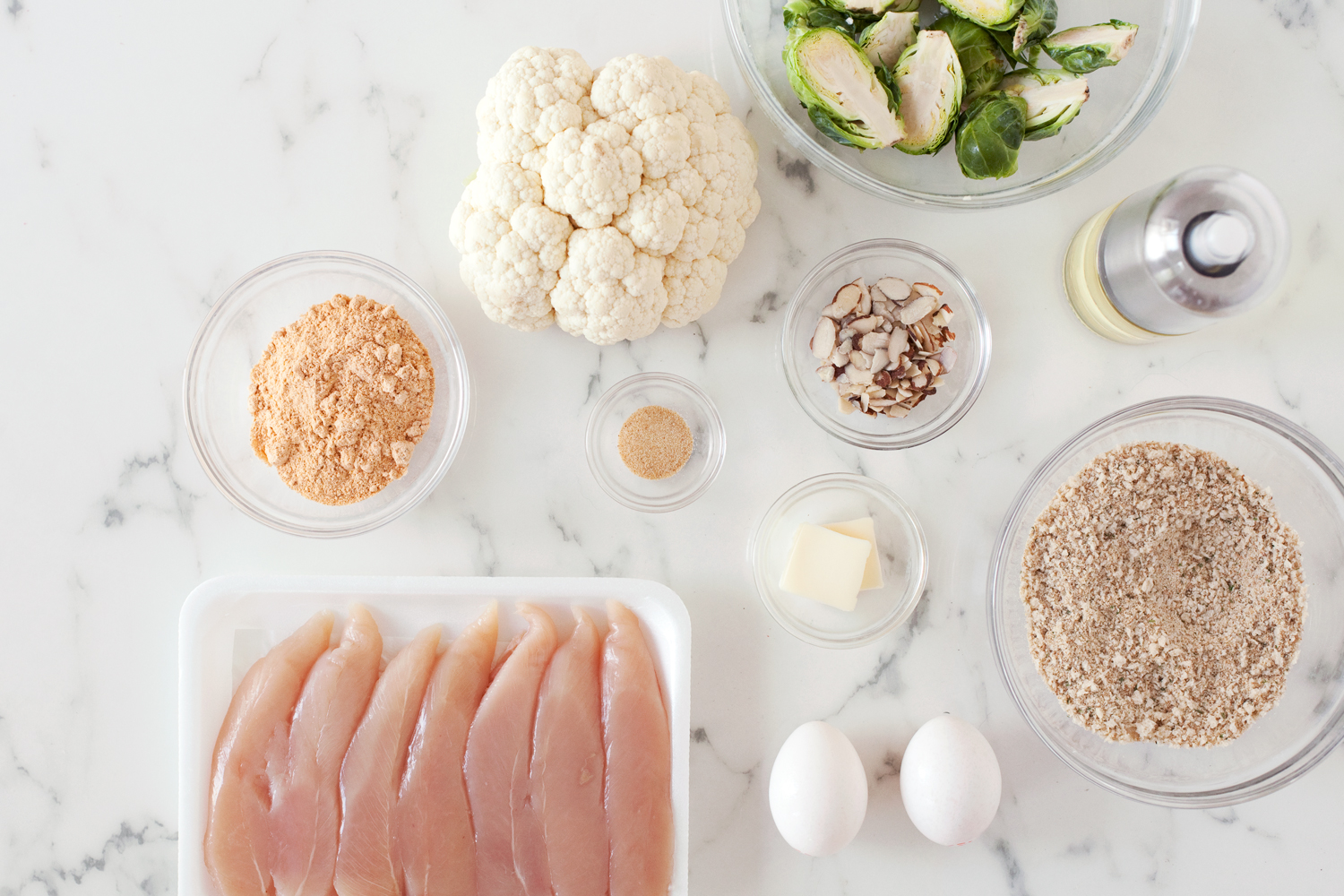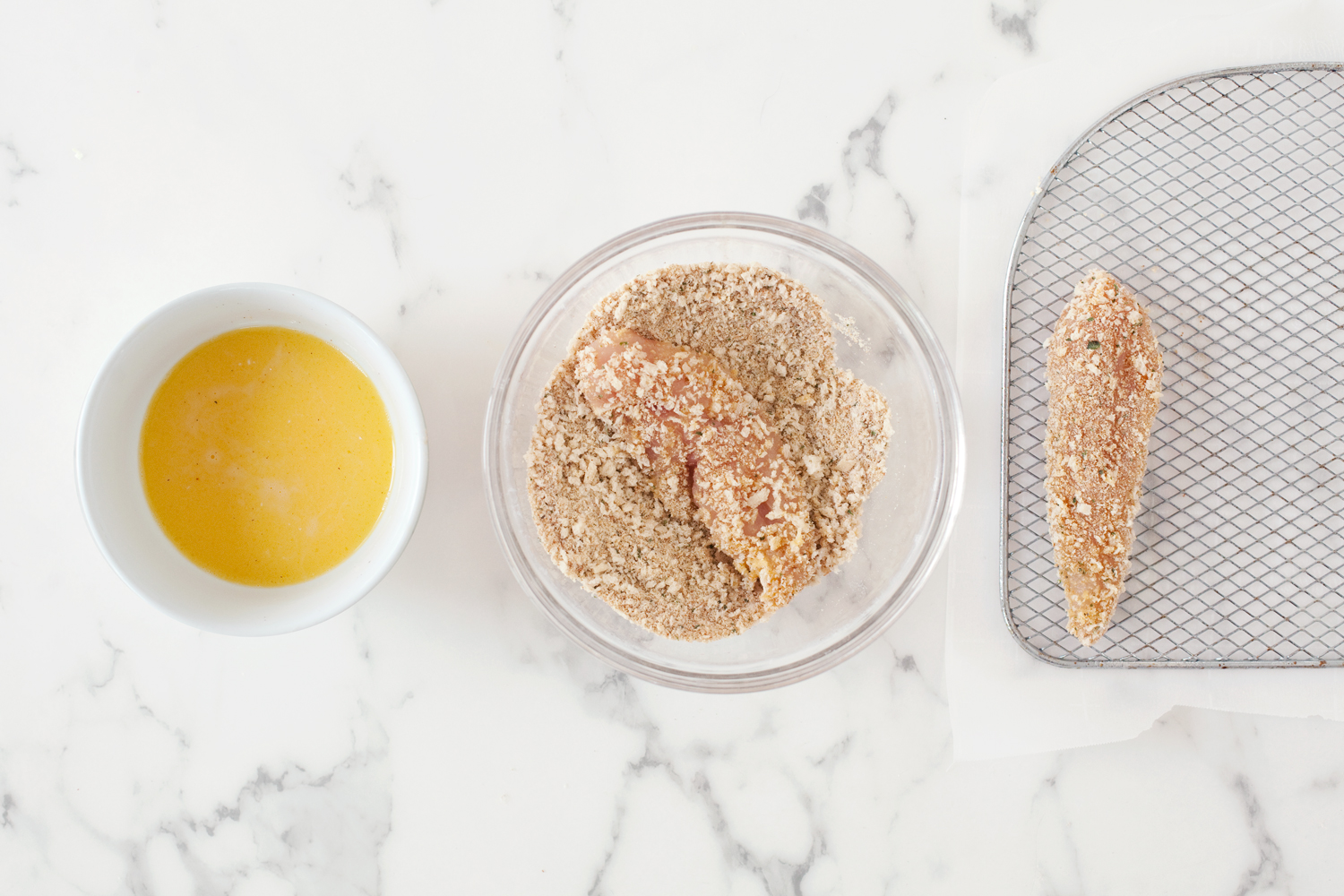 Air-Fried Chicken Tenders
1-2 beaten eggs
6-7 chicken tenders
1/2 cup seasoned bread crumbs
1/2 cup panko crumbs
1/2 teaspoon salt
1/2 teaspoon onion powder
1/2 teaspoon garlic powder
1/4 teaspoon paprika
1/4 teaspoon black pepper
Combine the bread crumbs and seasoning in a bowl large enough to fit a chicken tender. Dip the chicken tenders in the egg wash, then toss into the crumbs mixture, pressing the mixture onto the tender so it sticks nicely. Place chicken tenders onto a greased AirFryer tray, leaving a bit of space between the tenders for air flow. Spray the chicken tenders with the oil of your choice.
Cook at 400 degrees for 12 minutes. No need to turn the tenders as they cook!
Spicy Air-Fried Cauliflower
1/2 head of cauliflower, chopped into bite-size pieces
1 beaten egg
1 cup flour (substitute corn meal for a crunchier texture)
1 teaspoon garlic powder
1 teaspoon paprika
1/2 teaspoon salt
1/2 teaspoon cayenne pepper
1/2 teaspoon black pepper
1/2 teaspoon onion powder
Mix the flour with the seasoning in a relatively small bowl. Dip each piece of cauliflower into the egg wash, toss in the flour mixture, then place onto a greased AirFryer tray. Spray with oil before placing into the AirFryer. Cook at 400 degrees for 8-10 minutes, depending on how tender or crisp you'd like the cauliflower to be.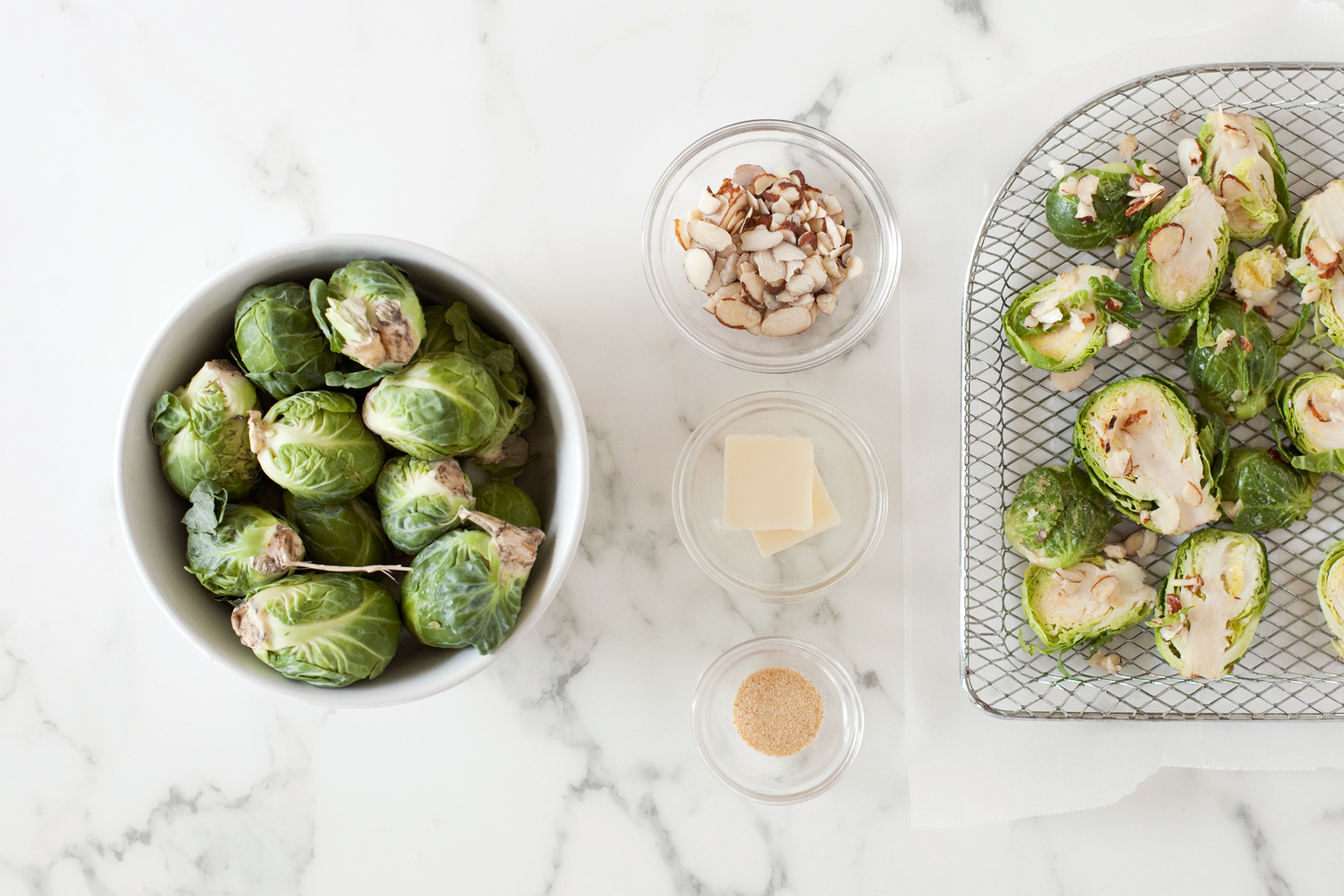 Air-Fried Brussel Sprouts
6-8 brussel sprouts, thinly sliced
1/4 cup sliced almonds
2 tablespoons melted butter
1/2 teaspoon onion powder
1/2 teaspoon garlic powder
salt and pepper to taste
Melt the butter in a medium bowl, add the brussel sprouts and sliced almonds, then toss to coat in the butter. Add the seasoning and toss to coat again. Spread the mixture of brussel sprouts and almonds evenly in one layer on a greased AirFryer tray. Cook at 400 degrees for 6-8 minutes.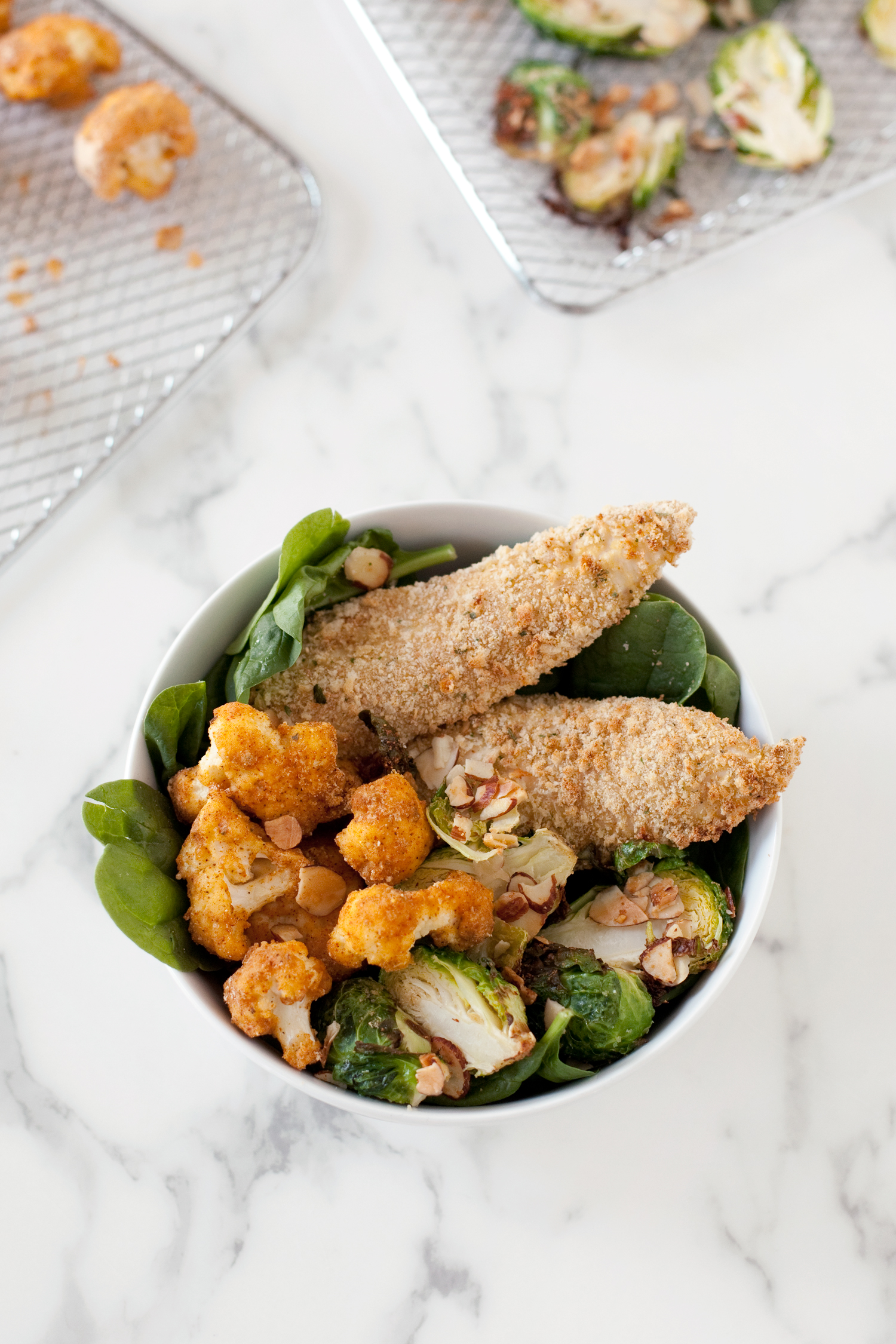 I love layering the crispy air-fried food atop a bed of spinach and topping with my favorite dressing, some tahini, or hummus. So delicious and satisfying!
You can check out more AirFryer recipes at the Power AirFryer Oven website. You can win your own Power AirFryer Oven through the Instagram giveaway I'm hosting too! I'd love to hear what kind of recipes you would try— or have tried— with an AirFryer. I feel like there are endless possibilities, and I'm only getting started!