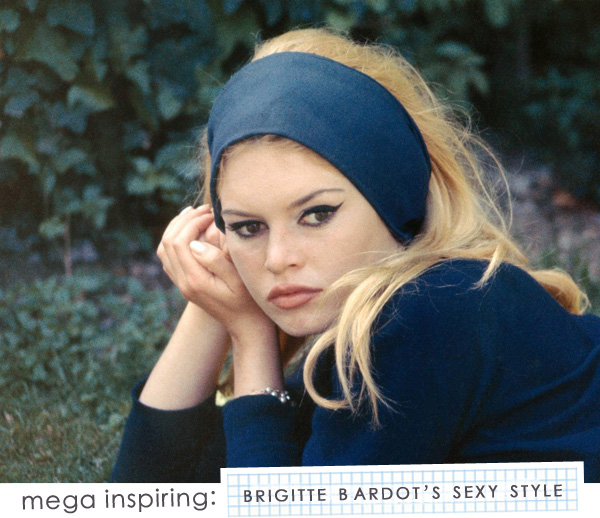 When they say blondes have more fun, I'm pretty sure they're talking about Brigitte Bardot. This vivacious style icon was a famous movie star and musician in the '60s, but she's probably best known for being a famous "sex kitten"  (Hey, they nicknamed her, not me!) who pushed the limits of the era with risqué performances like the infamous French chart-topper Je T'aime… Moi Non Plus, written by and performed with Serge Gainsbourg.
With those pouty lips and big made-over eyes, I'm pretty sure she's got too much sexiness for someone like me to ever handle, but I certainly wouldn't mind borrowing her hair dresser. Never before has anyone made me want to go blonde like Brigitte Bardot. But really, I'd settle for having just one hair day with as fluffy and perfectly styled hair as her's- brown, blonde, blue… Doesn't matter a bit. Or, if I can't have her hair? I'll just steal her style.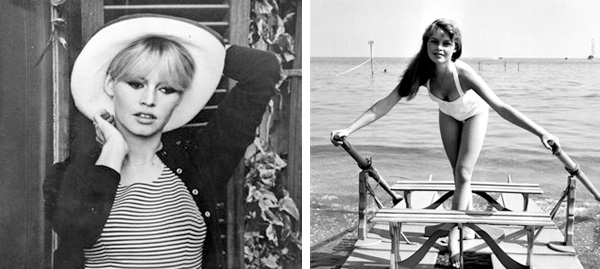 Brigitte Bardot's big hair was often style with a wide headband or big hair bow- a very feminine look that she balanced with a simpler wardrobe. She was frequently spotted wearing classically styled clothes, like plain sweaters, striped tees, and white shirts paired with cigarette pants or high-waisted jeans. Classic pumps (add a bow for bonus points), a wide-brimmed fedora, or even a floral crown are great finishing touches for a Bardot-inspired outfit. Have the blonde hair, but not the volume? Try clip-on extensions! I bet Brigitte herself even wore them from time to time. Add a heavy dose of black eyeliner and falsies, and you've completely stolen her style.

1 2 3 4 5 6 7 8 9 10 11 12 13 14 15