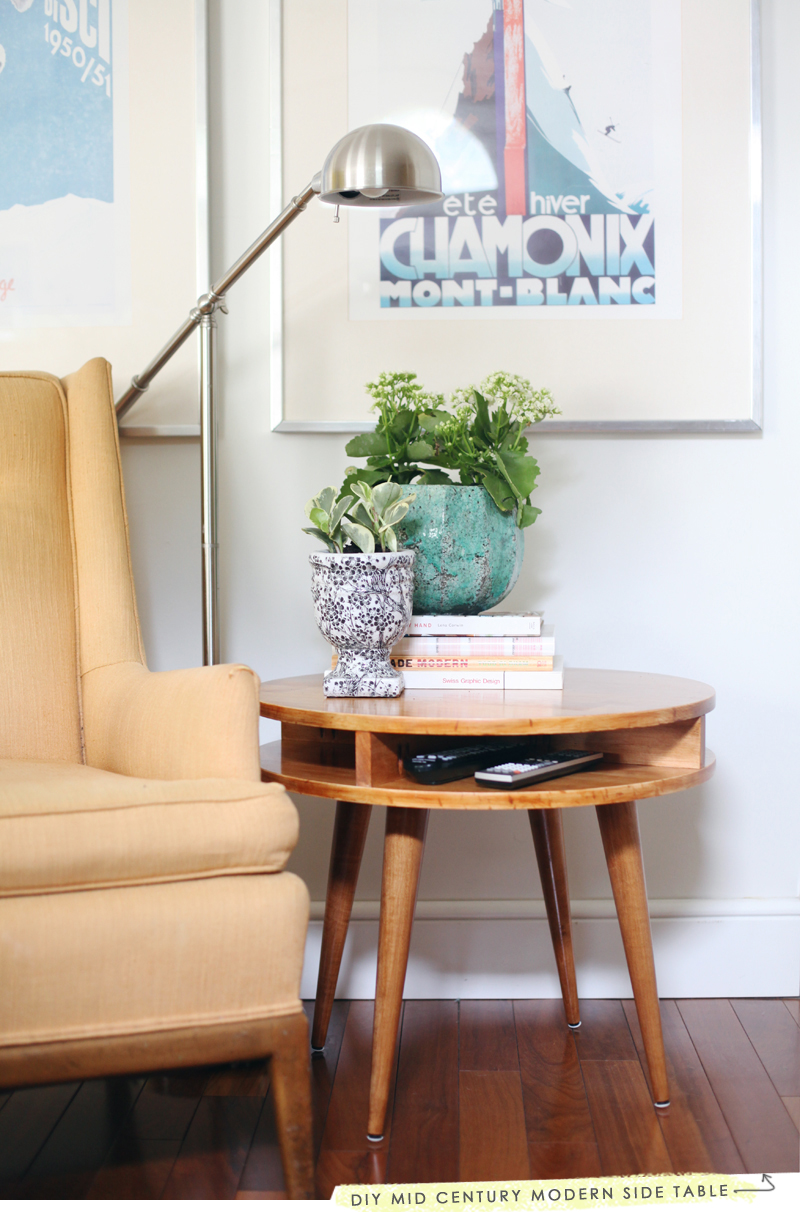 Lately I've been waking up in the morning, pinching myself, and getting right to work on my projects for A Beautiful Mess. Is this really my life? Pinch again. Back to work. Is this really work, though? Oh yeah, it's work— but it's the best kind! I've really enjoyed my recent projects, especially this mid century modern side table (above) and quilted wall art (below left).
Right now I'm working on a couple of easy-as-pie projects that I hope you'll like as much as me, but while I wait for the paint to dry, I thought I'd share my recent projects with you in hopes that you'll be inspired to make something fun for yourself!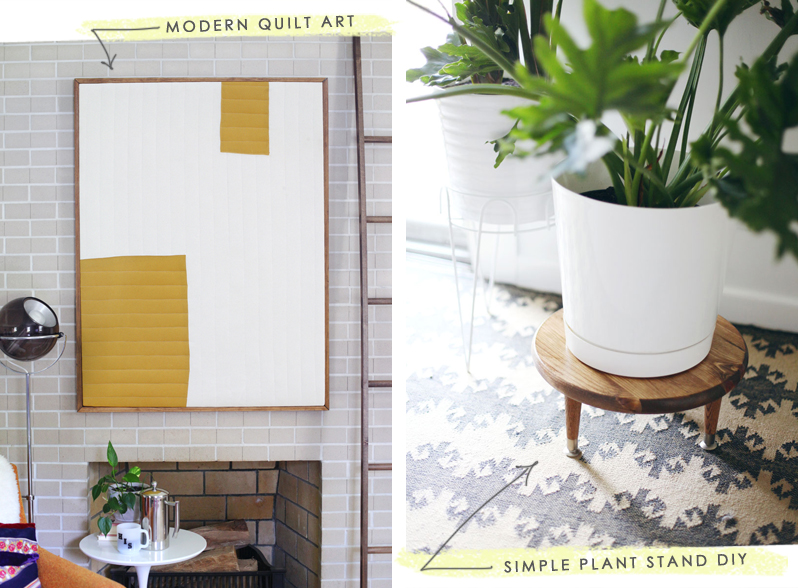 Mid Century Modern Table DIY // What a fulfilling project this was! I was surprised at how relatively simple it was to make, but I definitely feel like the process flexed my craftsman muscles and made me a more confident DIYer when I saw the beautiful end result.
DIY Quilted Modern Art // Inspired by the quirky graphic textile art of Ethan Cook, this art uses simple quilting techniques alongside tradition canvas stretching for an unexpected design element in our living room.
DIY Mid Century Inspired Plant Stand // I have some larger houseplants that needed a little boost off the ground, and this was the project was the perfect simple solution!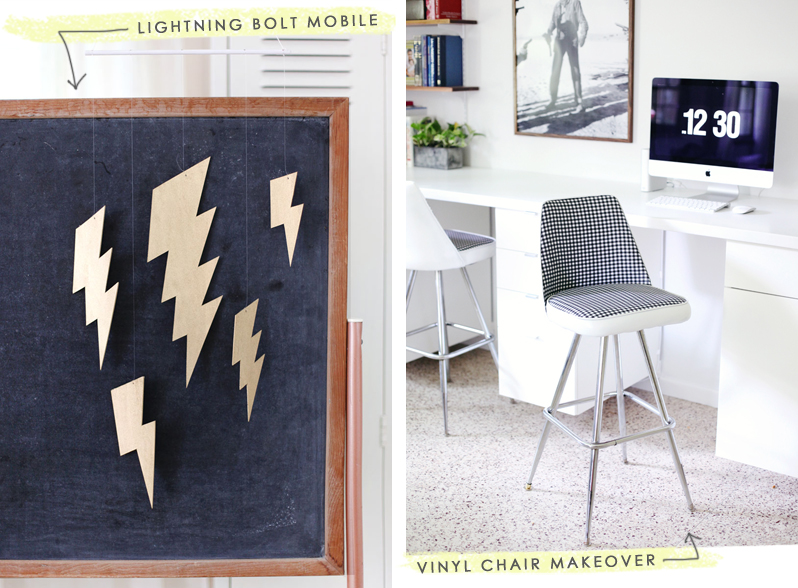 Make This Metallic Lightning Bolt Mobile // This was a really fun and whimsical project that would be perfect for a nursery or office space.
Vinyl Chair Makeover // People didn't believe it was as easy as I described, or that it would hold up as well as it has— But I promise this is such a simple way to update an old vinyl chair, and it seems like the finish is going to wear really nicely through the years!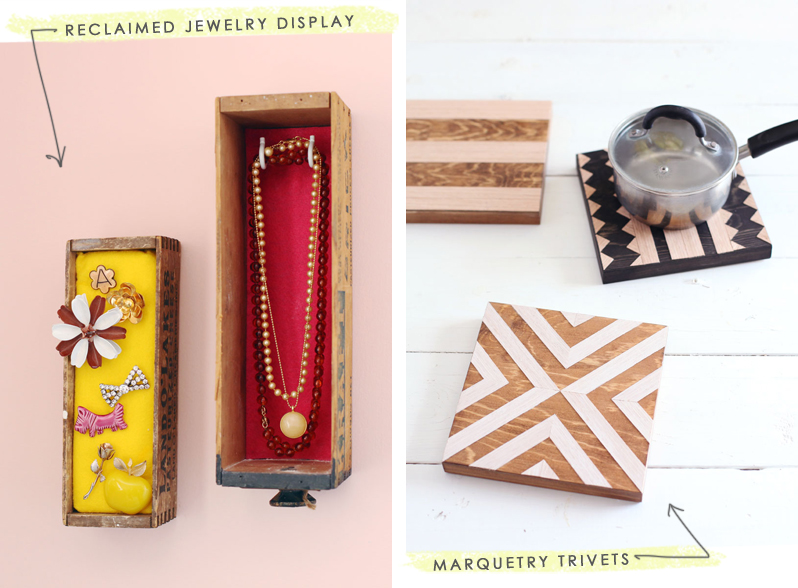 Wall-Mounted Jewelry Box Display // I love rescuing sad antiques and repurposing them in modern ways. This time was for a quirky little jewelry display in our powder room!
DIY Marquetry-Inspired Wooden Trivets // Got a craft blade and a hot iron? Then you can do this project! It'll really add some pizazz to your dinner table and dress up the walls in between meals.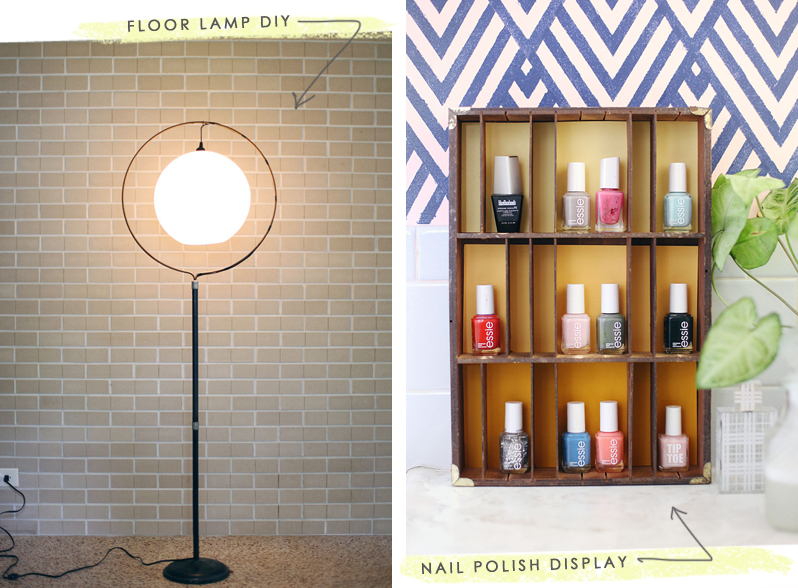 Turn a Bird Cage into a Mod Floor Lamp // This project definitely upped the cool-factor of our living room. So easy, too! The funnest part was shopping for the bird cage stand. I was surprised as how many are for sale in antique malls and shops!
Try This: Type Tray Nail Polish Display // I always see a wide variety of type trays for sale at antique shops, and finally realized it would be perfect for nail polish display! After I finished this project I discovered my lipstick fits perfectly in the in between spaces too. Victory!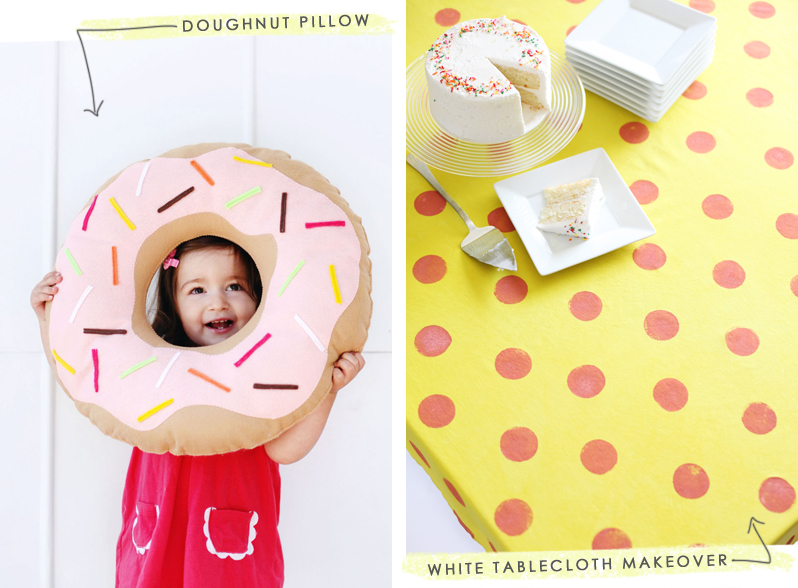 Simple & Sweet Donut Pillow // Finally— A calorie free way to enjoy doughnuts! This project is really simple, and a good one to make with a child's assistance.
Try This: White Tablecloth Makeover // Tired of looking for a fun patterned tablecloth that suits your specific tastes? Quit looking and make your own!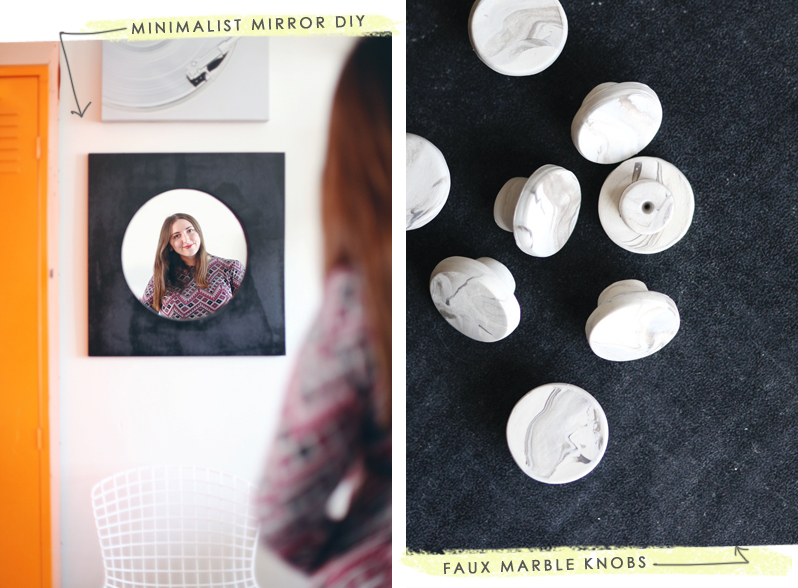 Modern Mirror DIY // I wanted a bold, graphic mirror, and it was really easy to make one myself with some plywood, paint, and a jigsaw!
Make Your Own Faux Marble Drawer Knobs // Are you into the marble trend as much as I am? You might also be sad because marble is $$$, but you can fake the look pretty easily!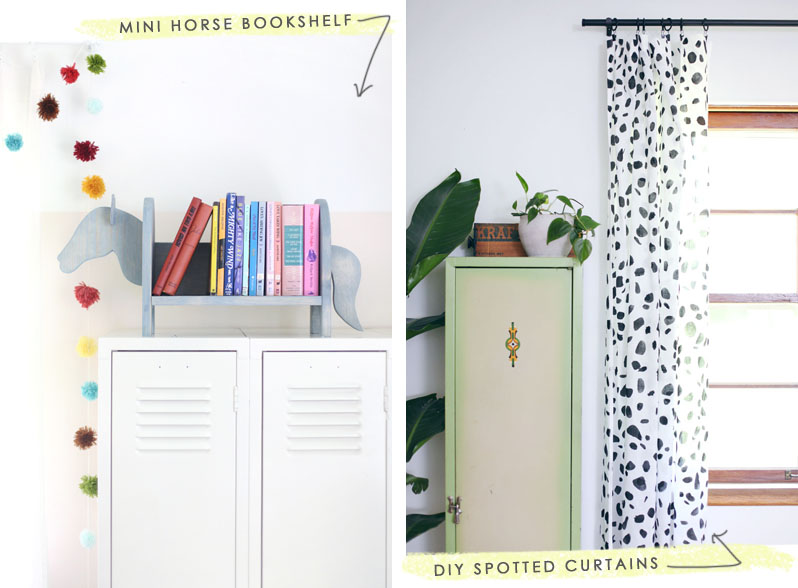 Build a Mini Horse Bookcase // This folk-art inspired bookshelf adds the perfect amount of whimsy to Lucy's bedroom. It would also make a nice stand for potted herbs too!
Spotted Curtains DIY // I can't get enough of spots these days, and this set of curtains I made will look great in Lucy's next bedroom!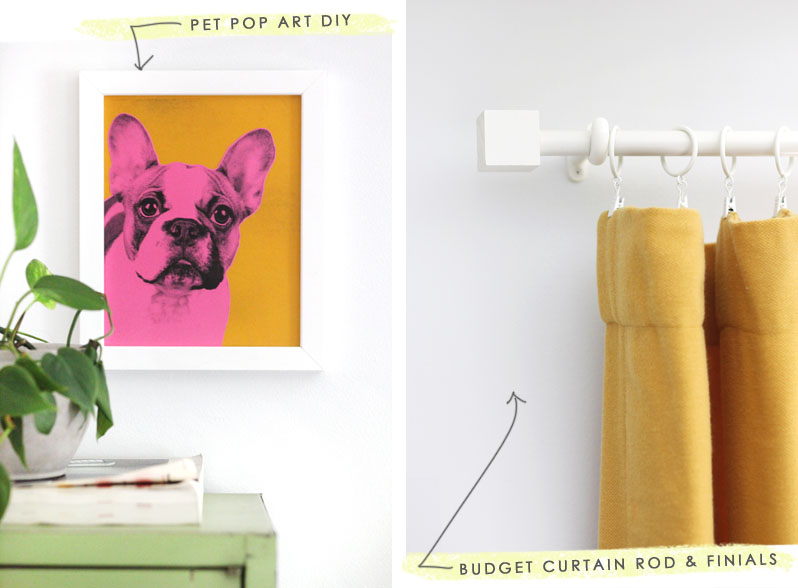 Make Your Own Pop Art Pet Portrait // This Andy Warhol inspired craft project is so incredibly easy to do! You don't even need photo editing software.
Budget Curtain Rod & Finial DIY // Curtain hardware can be so expensive, but I made my own rod and modern finials for very little money! I was really pleased with how store-bought it looked when I was finished.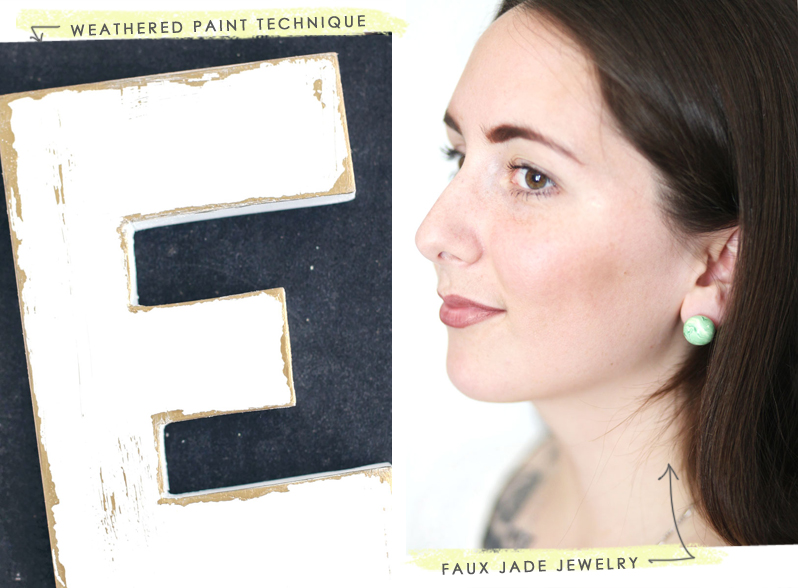 How to Create a Weathered Paint Effect // This easy rub-off weathering technique takes very little time and gives a great patina to any of your projects.
DIY Marble Jade Earrings and Pendant Necklace // Another simple jewelry DIY with lovely results! You won't believe how easy they are to make.