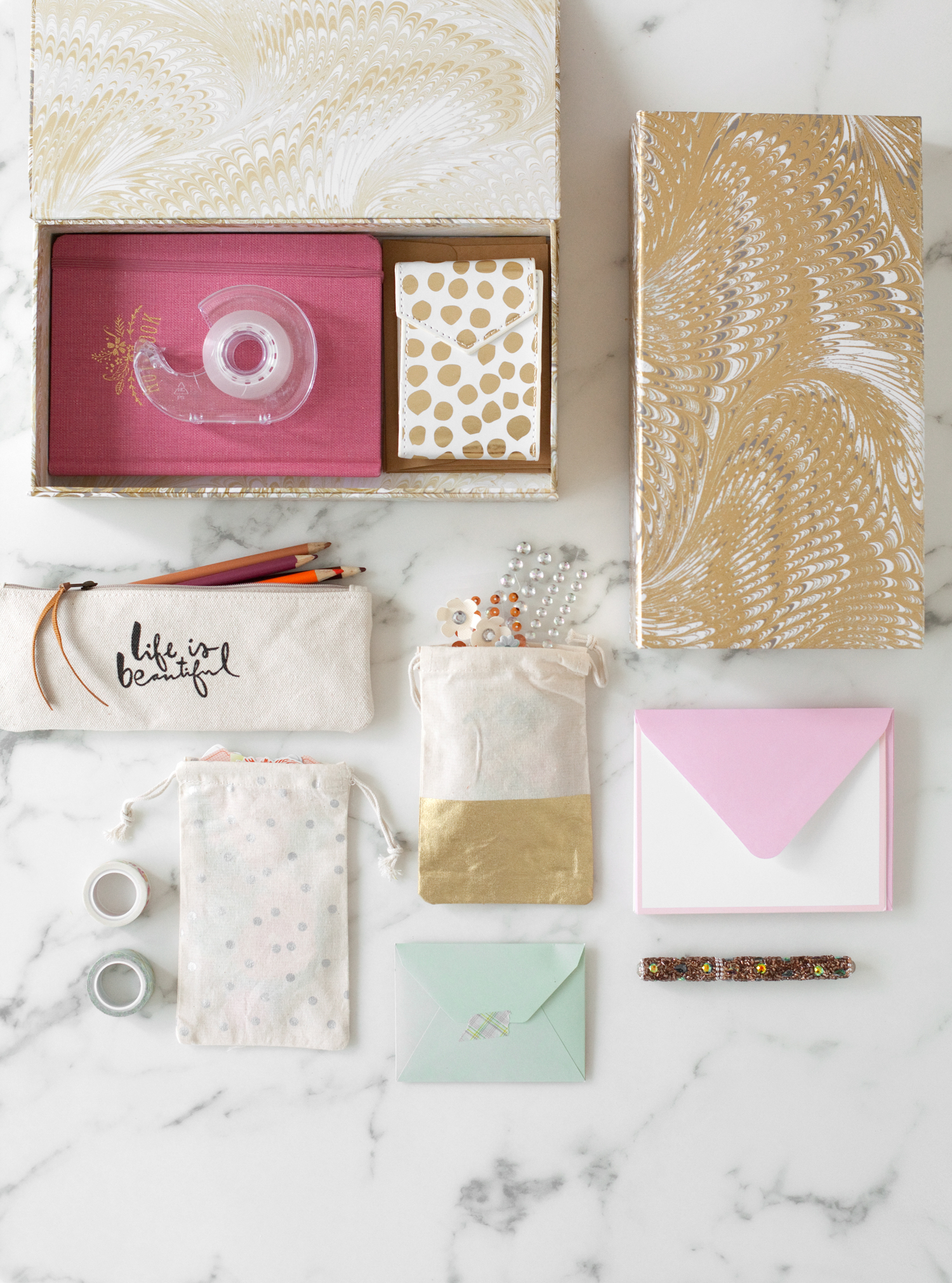 In the '90s, little girls' birthday parties often produced an influx of Barbie, Lisa Frank, and Minnie Mouse. I really don't remember any of the Barbie gifts I received, but one present in particular still stands out in my memory. It was a gift from my friend Kelsey, probably thoughtfully assembled by her mom. It was a craft box, complete with compartments for beads, ribbons, glue, and other supplies for making whatever I could dream up. I remember the first time I dove into the kit, and I can even picture some of the choker necklaces I made and proudly wore to school!
I wanted to give my girls the same kind of excitement and freedom that a craft box can offer. "This is your box," I said upon presenting it to them. "You never have to ask my permission to use it, and everything you need is right inside the box! Play with it whenever you want." The look of bewilderment and joy that flashed across Lucy's face warmed my heart, as I wondered if she was feeling the same kind of feelings I felt at my second-grade birthday party.
I've gotta say, putting together a comprehensive craft box like this wouldn't normally be an inexpensive project. That's why I teamed up with Tuesday Morning, to show how you can create a beautiful looking box of craft supplies, but for a small fraction of the price you'd pay at big chain craft stores or online. My local Tuesday Morning store has three aisle of craft supplies, full of paint, yarn, books, card, paper crafts, specialty pens, stamps— really, most of the things you're likely to find at a craft store. But the prices are marked way lower. Most of the items I purchased were less than 50% off retail prices, but many were much more discounted than that. I felt free to throw lots of beautiful items into my cart, without worrying about the fortune they would cost.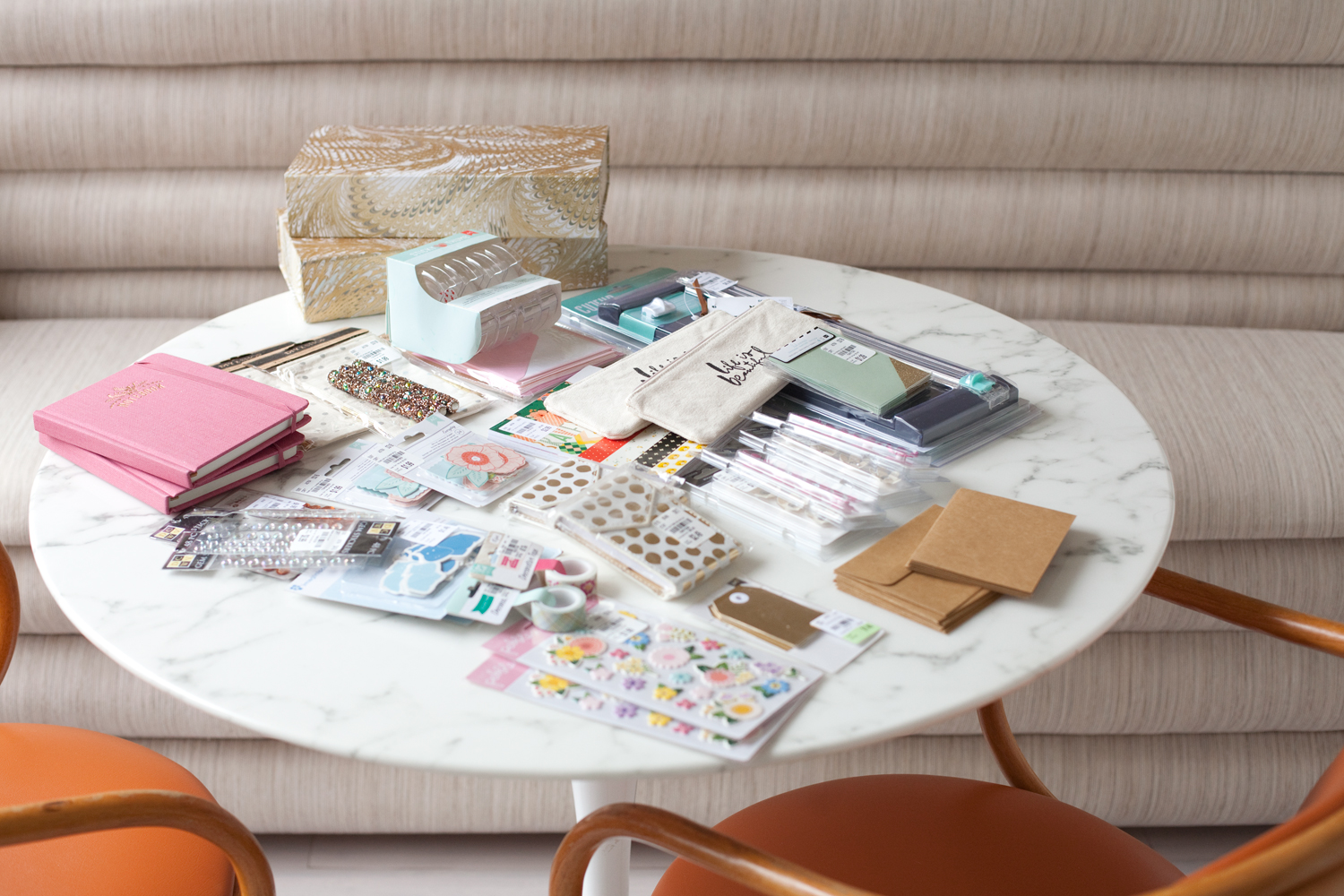 I don't live and die by name brands, but I can appreciate the style and quality that I've come to expect from a lot of name brands in the paper crafting world, like American Crafts, Heidi Swapp, and Crate Paper. Tuesday Morning has these brands, plus a lot of others I've grown to love through the years. I definitely recommend you stop at Tuesday Morning first before heading to your usual craft store. They always have new items on the shelves, and your wallet will appreciate the tremendous savings!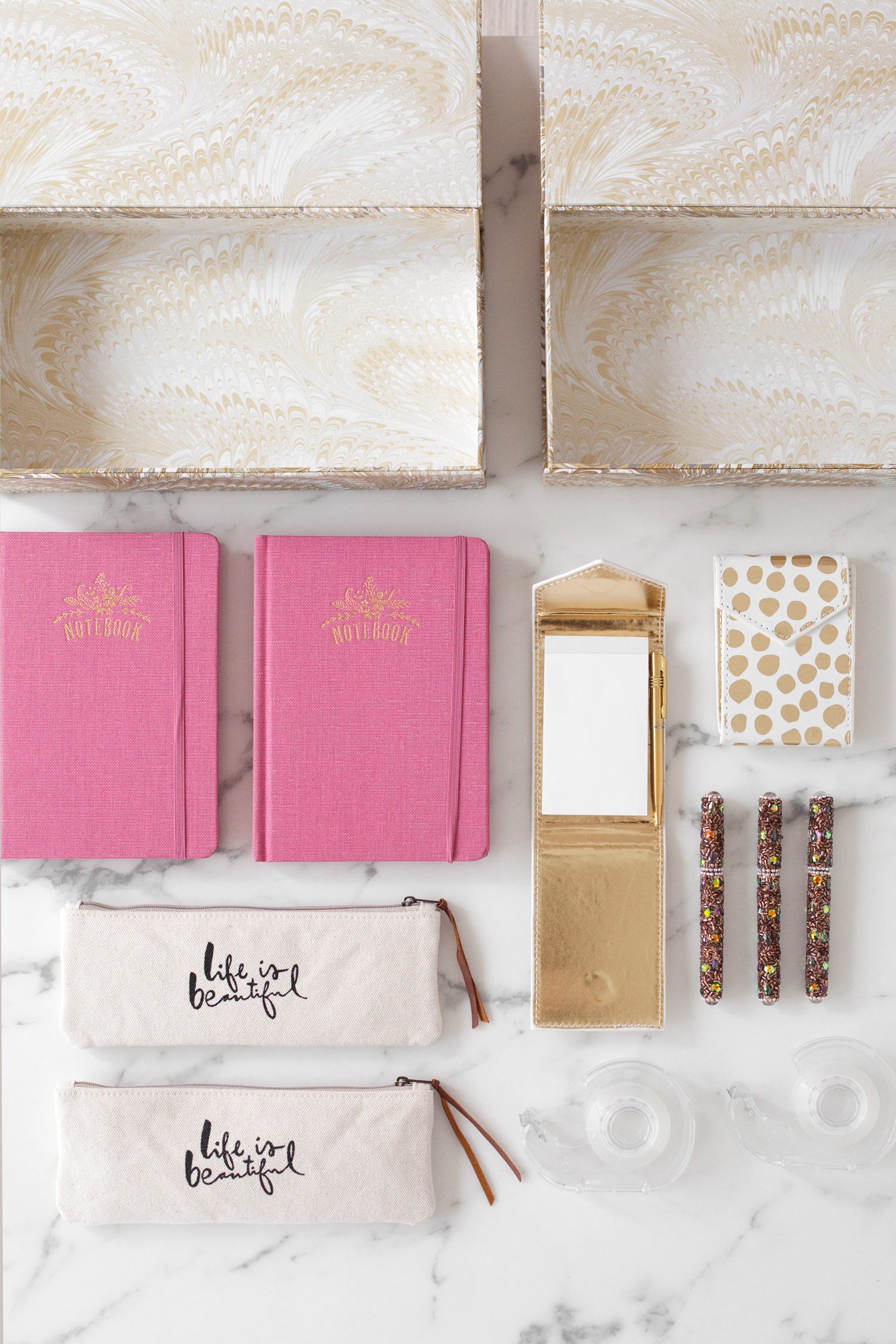 For the base of my kit, I chose beautiful magnetic-closure boxes that are big enough to neatly fit all of my supplies, but small enough to sit on the lap of a child for crafting during road trips. My local Tuesday Morning store has an entire aisle for decorative and crafty storage boxes. There were several that fit my needs, but I ended up choosing this beautiful marbled design because it coordinated with the contents I assembled.
To fill the base of each kit, I chose a larger journal, smaller notebook with a fancy case (the girls think those little notebooks are so special!), fancy pens, and a nice canvas case for colored pencils. Tuesday Morning has lots of glue dots and other adhesive options, but I choose clear tape, because the girls get a kick out of using the dispensers.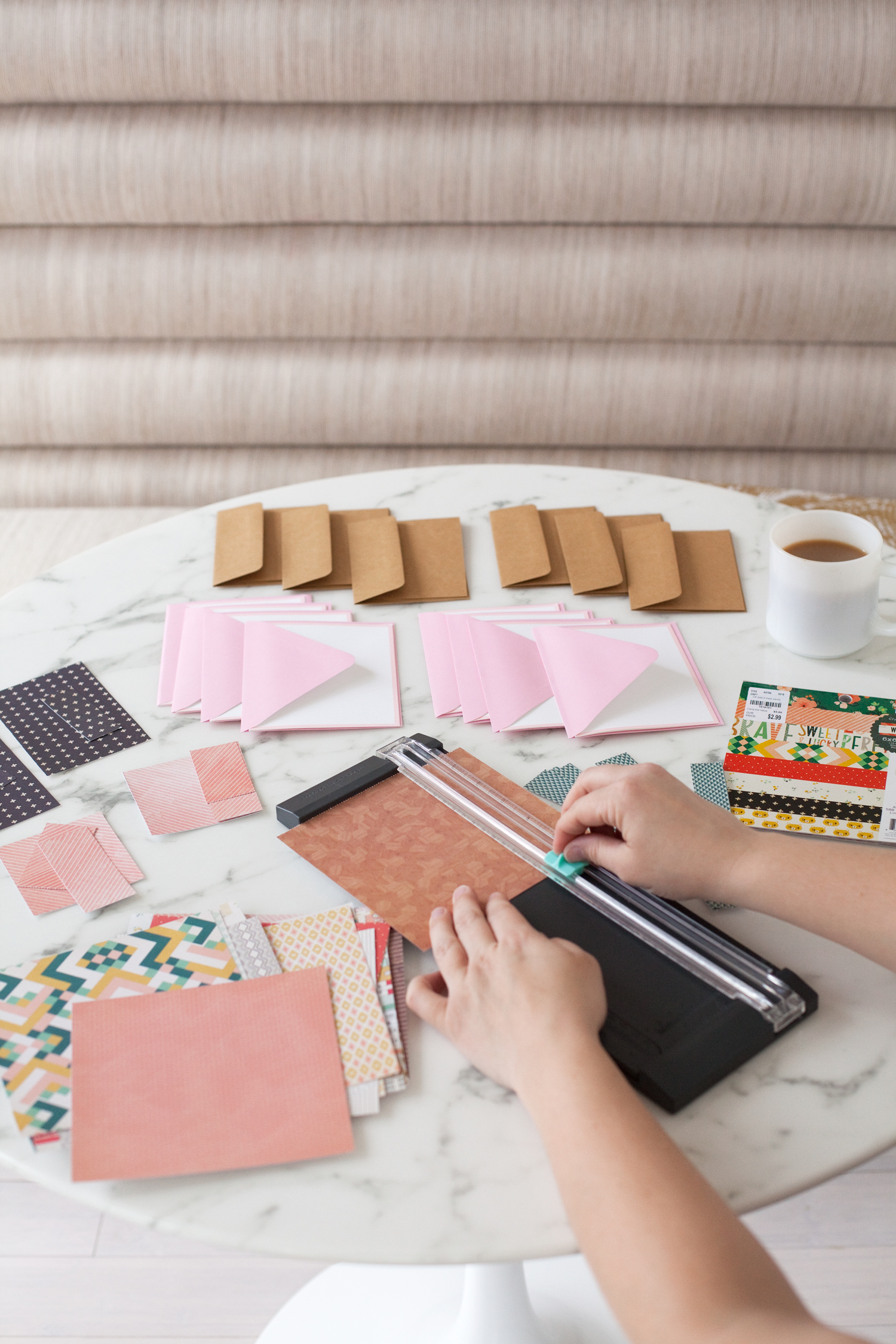 Because I didn't feel comfortable giving the girls scissors when they may be crafting unsupervised, I decided to pre-cut the booklet of Crate Paper patterned paper I had purchased from Tuesday Morning. I divided the cut papers into a medium-size envelope and a small size envelope to contain them neatly in the kits.
Using this American Crafts paper cutter made the job of cutting everything quick and easy! And I was able to purchase the cutter from Tuesday Morning for less than half of its retail price. (Six dollars, yo! Retail price was Fourteen.)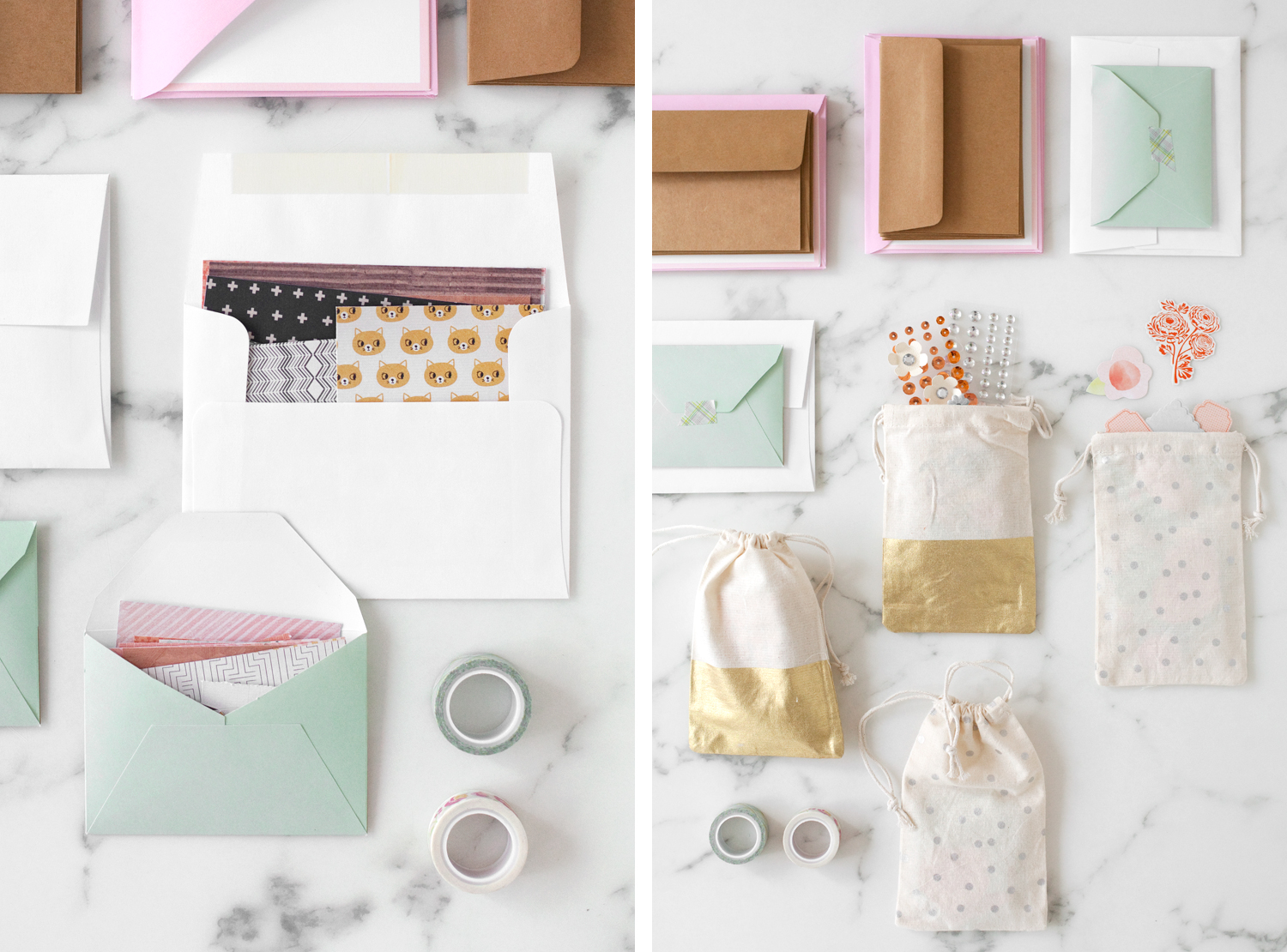 I removed the packaging material from all of the stickers and chipboard shapes I had purchased, and put them into these cute American Crafts fabric draw-string bags I also found at Tuesday Morning. In addition to regular greeting cards, the store also had a supply of blank cards, which I purchased to include in the craft kit. The girls love making cards for family and friends! And patterned washi tape? The girls have never seen it before, but I know it will bring their love for tape to the next level.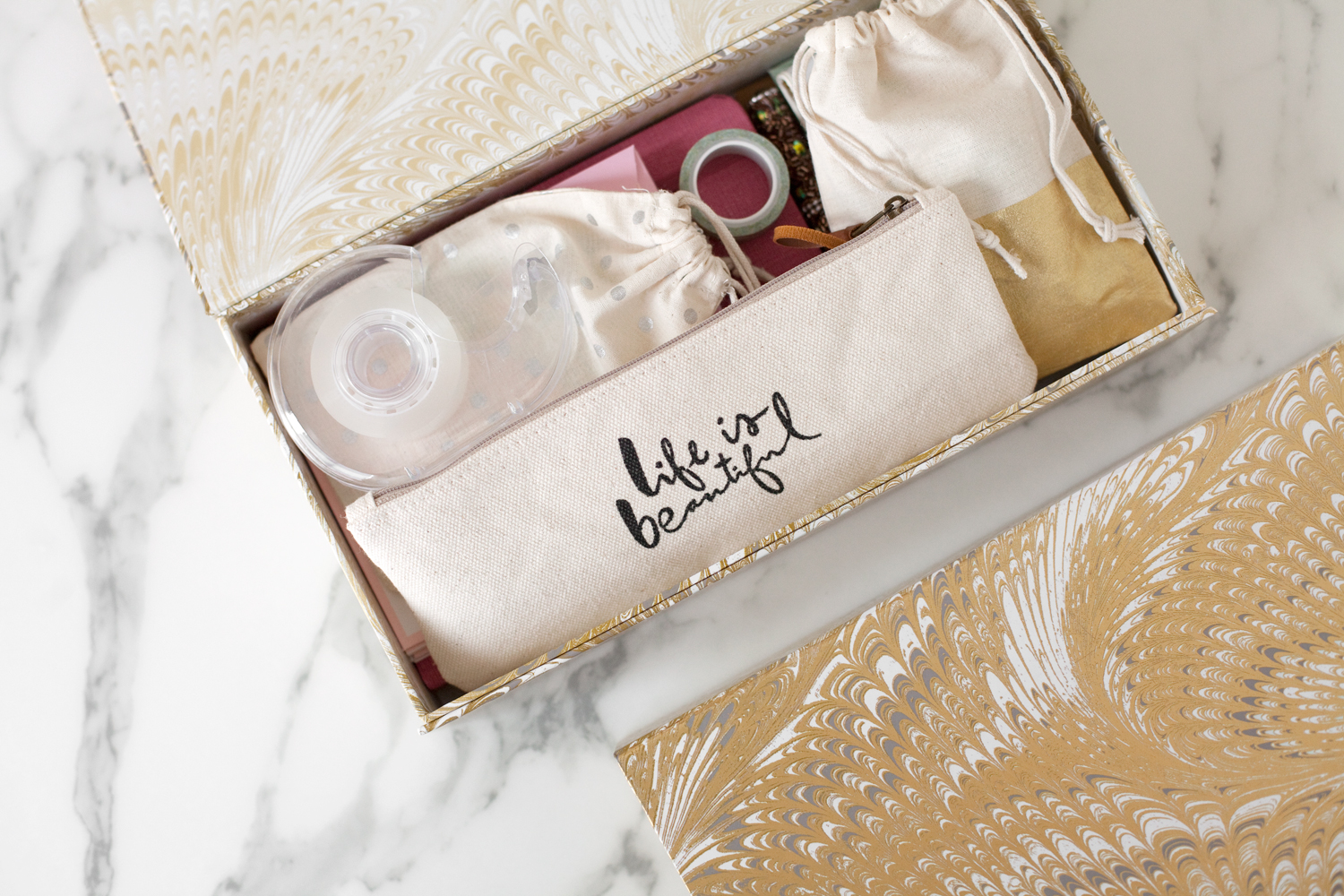 After neatly packaging all of the prepped craft supplies into bags and envelopes, I nestled everything into the magnetic boxes, and closed the lid. My plan was to let the girls take these boxes on our three-hour road trip to Dayton this coming weekend, but I couldn't wait, and let Lucy have some unsupervised craft time today after the boxes were finished. She was so happy, and seemed to notice all of the details that I had carefully considered when putting together the box.
What a fun treat for me to make these, and for the girls to receive them! This craft kit in a box is a gift idea that I know I'll use again and again, once the girls begin going to their friends' birthday parties, and also for friends my own age.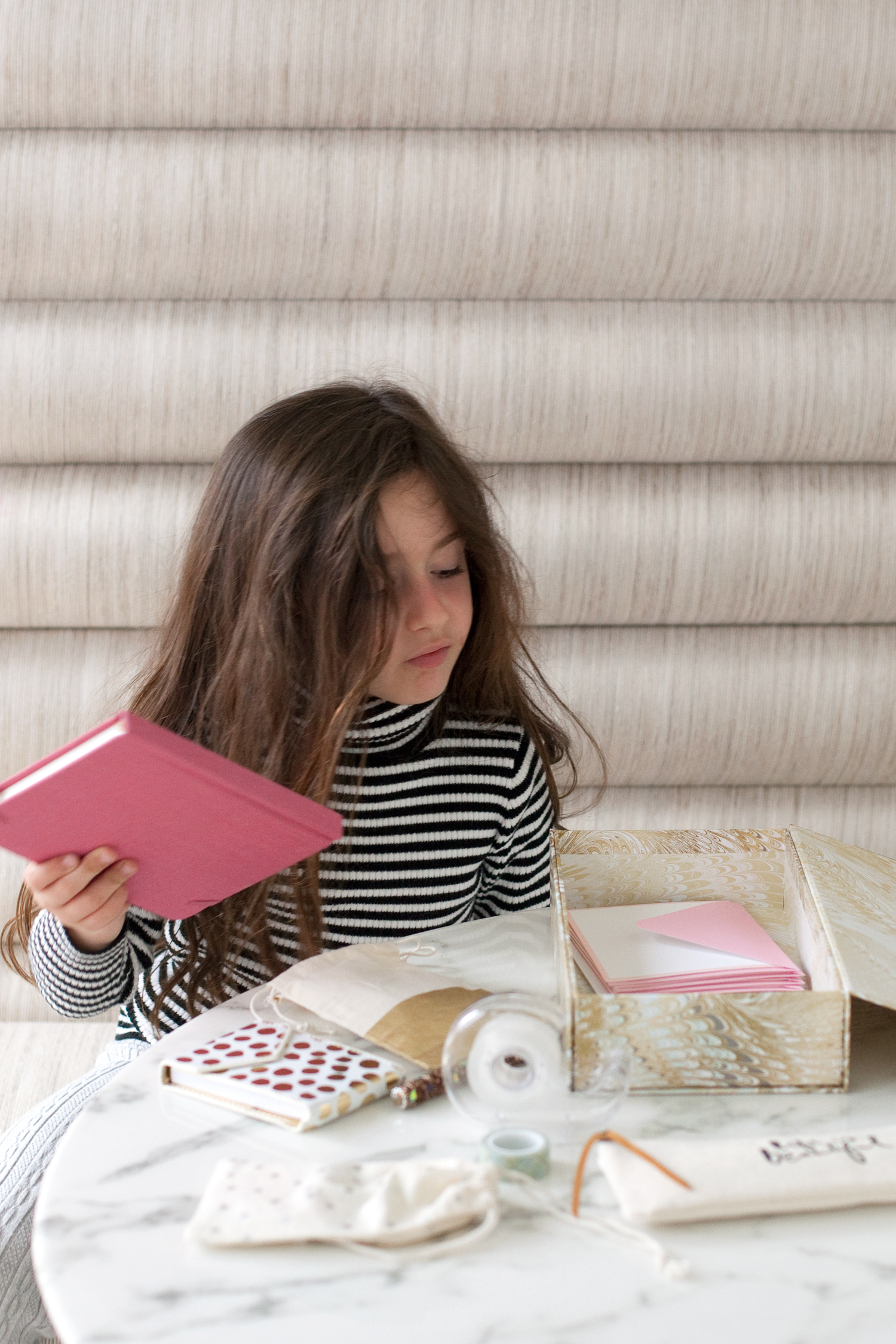 Thanks to Tuesday Morning for sponsoring this project! Make sure to check out your local Tuesday Morning ad to check out their special weekly deals, and stop into the store to see what new goodies they have on the shelves. Click here to find your local Tuesday Morning store.
If you decide to make a craft kit in a box, I'd love for you to tag me in your social media shares so I can see!