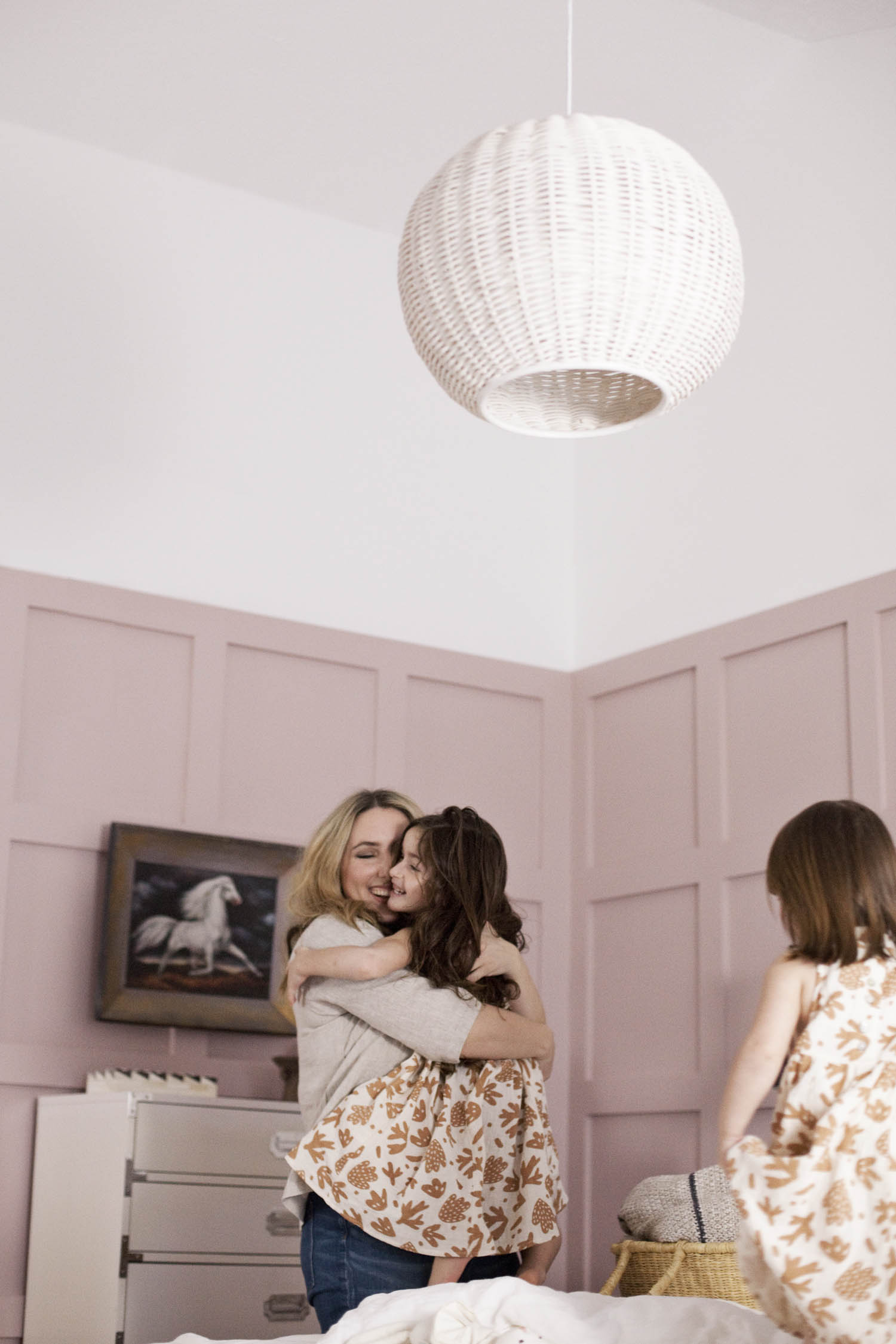 I feel like I just shared the plans for our master bedroom, and now, BAM! It's finished! This has definitely been the fastest turnaround for a room makeover in the history of my doing room makeovers, but that just goes to show how motivating a deadline can be. It's all thanks to the Arhaus partnership I was able to work on with A Beautiful Mess, so head on over there to see the full master bedroom makeover, complete with step-by-step instructions for how to make your own board and batten wall like this!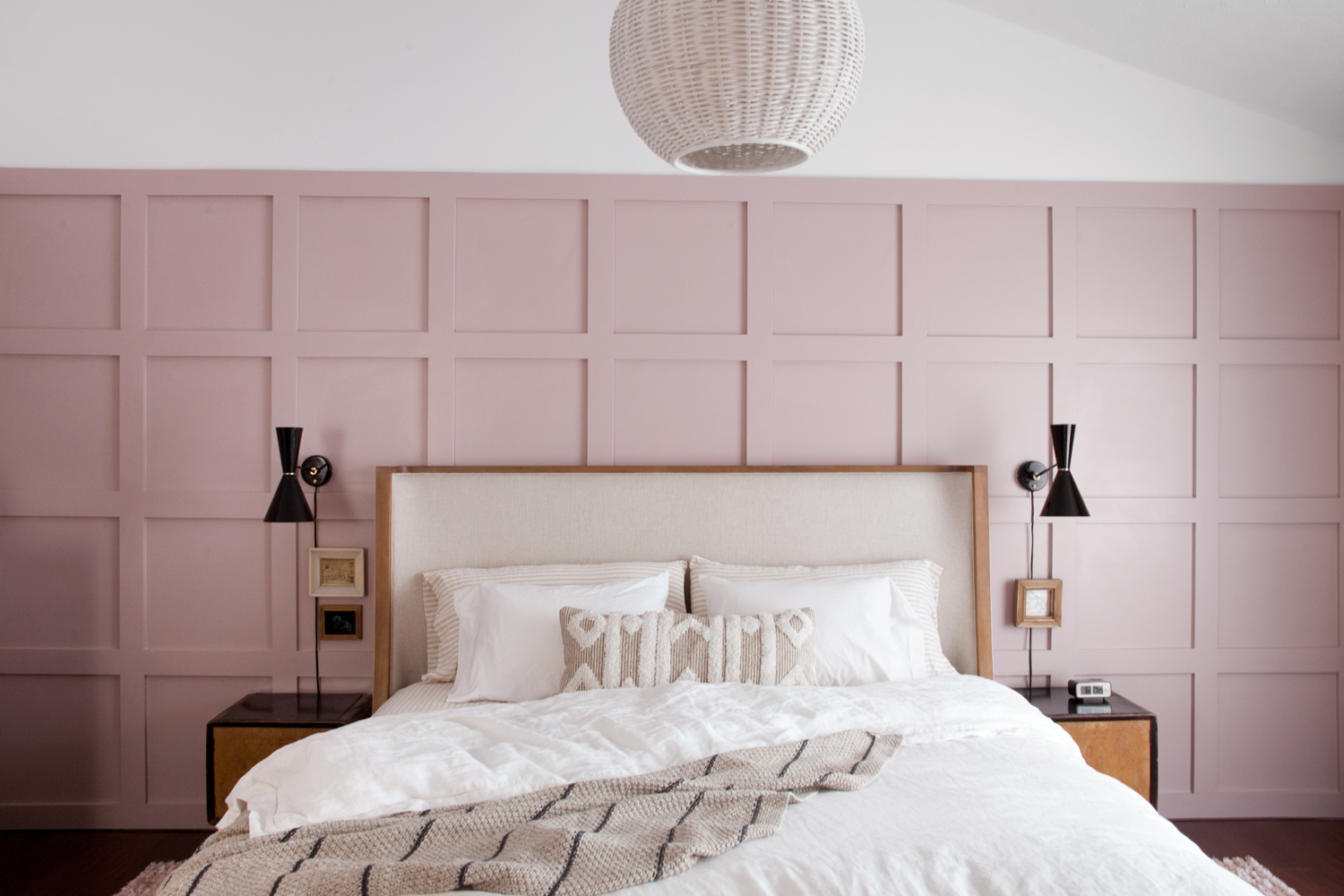 After a week of enjoying this new space of ours, Phil and I still feel like we're staying at a posh hotel, not in our actual home. Mission accomplished, I guess! We've also enjoyed exchanging amused glances at one another when friends and family remark, "Wow, it's pink!"
When people on Instagram ask how I got my husband to agree to the color, I wish I had a better story to tell. But it was simply a matter of me saying, "What do you think about painting our bedroom pink?" He said, "What kind of pink?" I showed him a mock-up I made with elements we already owned, like this rug and curtains, plus the bed we had ordered from Arhaus. He said, "That looks nice." So, that's how it went, folks! I married a super easy going guy who also happens to enjoy the decorating I do in our home. I feel lucky to have him!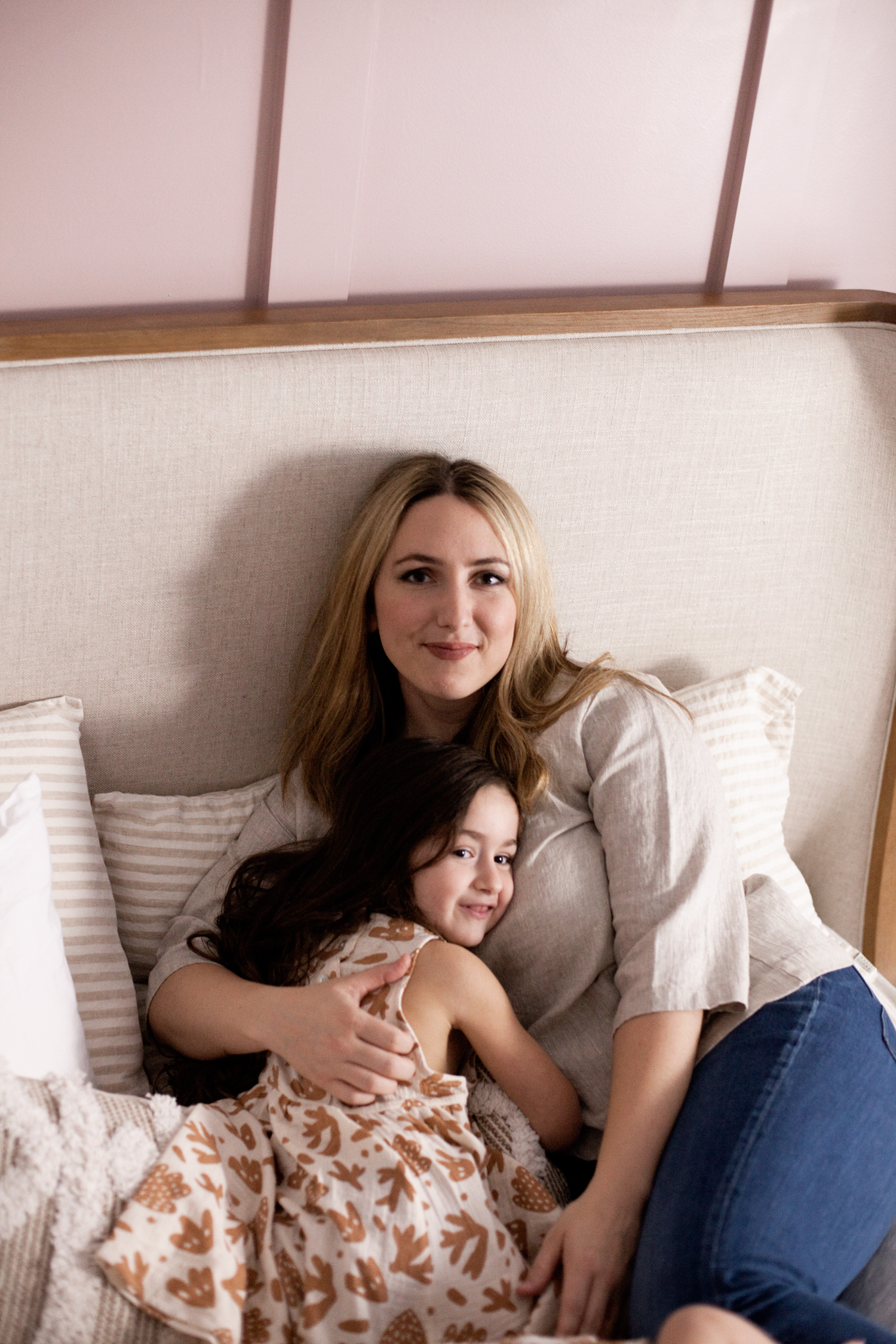 But tasked with finding the perfect shade of pink we'd both like, I was a little worried the hue we were choosing would be too neutral, appearing flesh toned rather than pink. But we were in agreement that we didn't want to go too light with the color, or it would feel like we were sleeping in a little girl's bedroom. So I grabbed a few sample cans of neutral-leaning pinks, smeared them on the wall, and studied each color in the evening light and morning light. Phil and I were in complete agreement and selected this shade of Sweetened Plum by Sherwin Williams*. Color always appears more vivid on the walls than it does on the little paint sample, so I'm glad I didn't bother buying any brighter pink samples than this.
*Originally I had planned to paint the room in Benjamin Moore's Flax, but I had a mix-up at the paint store, and walked out with Benjamin Moore paint for other rooms in progress, but not the bedroom paint! Because I had a deadline and needed to paint on Saturday evening and Sunday to meet my deadline, I had to select a new color from a paint store that was open during those hours. Bummer, but I do like the color we ended up with!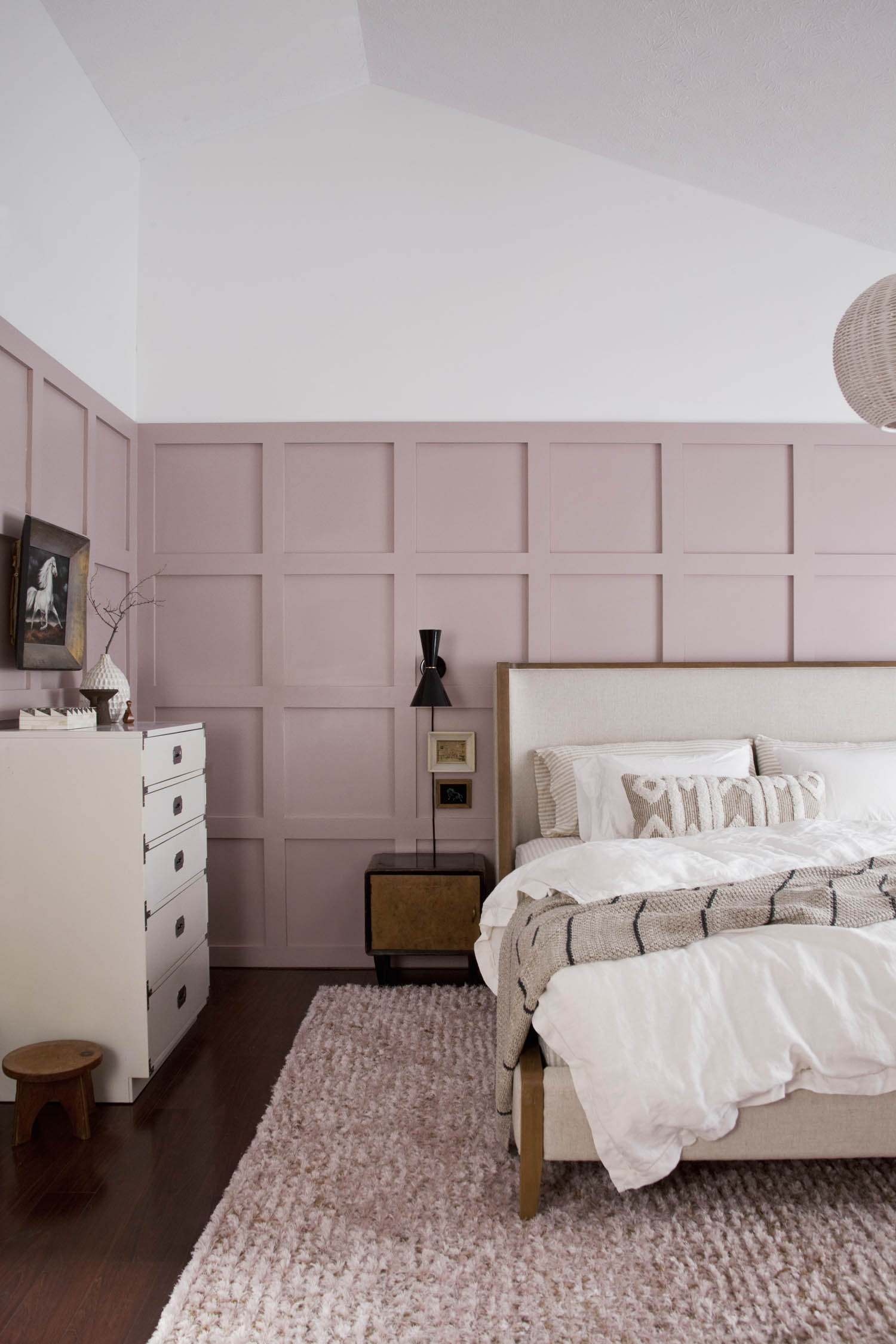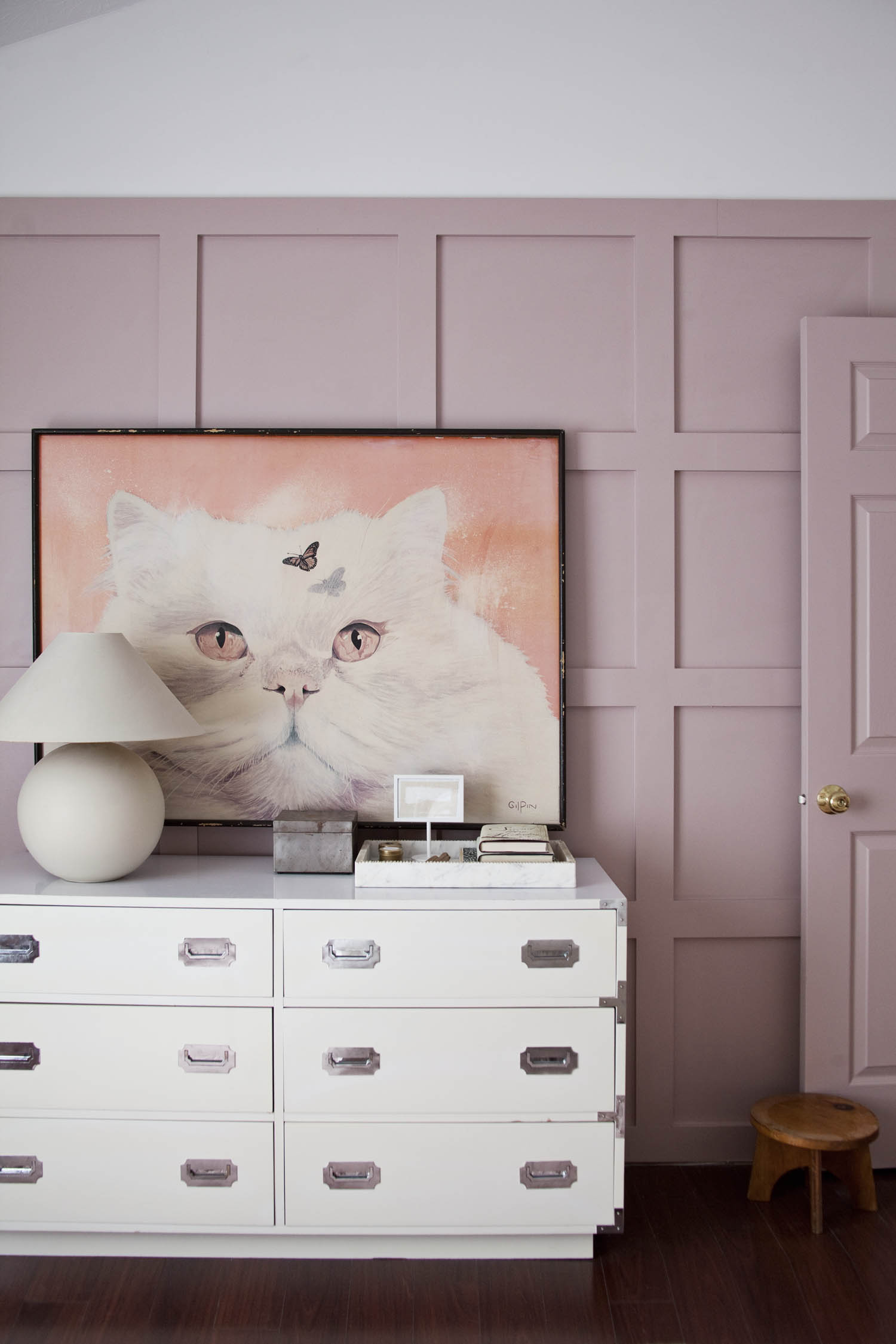 The girls were as excited as I was to have the room finished! Every morning when I wake up, I find them sleeping alongside me, and I certainly don't mind the extra snuggles— especially now that we've upgraded to a king size bed!
This project was a lot of fun, and it's made me feel reinvigorated about finishing up some other rooms in our home. Next up is Phil's study! I'll share an update on that room next week.