Plans for the Powder Room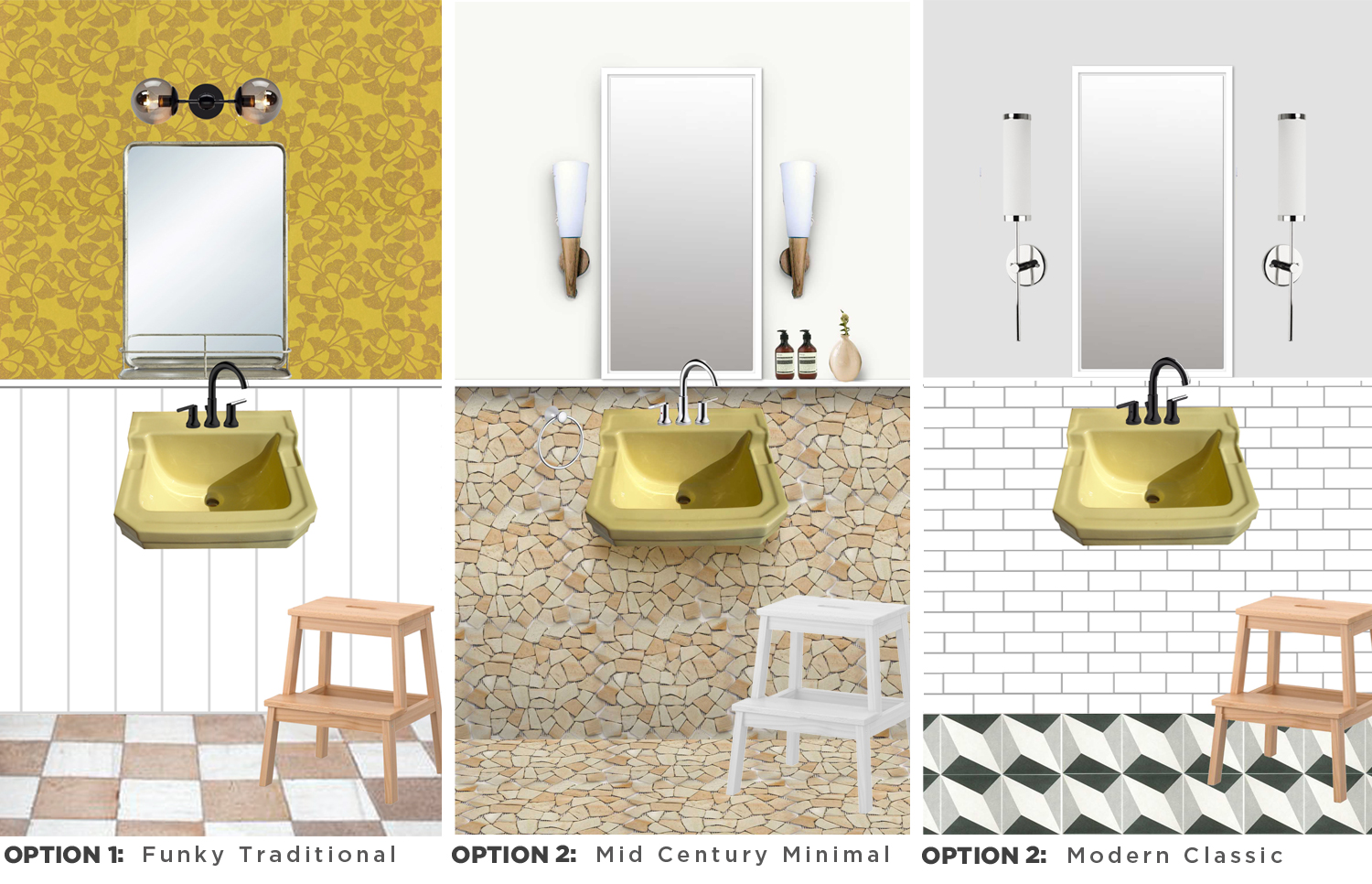 I'm so excited to finally begin work on our first floor bathroom this month! We ripped out the flooring and toilet last Summer, and have been hiking up the stairs every time we need to use the facilities. Yes, even through potty training. It's been a joy.
The good news about waiting a year to begin working on a space is that I get a year to plan, replan, and plan again! I've been through so many design options for this space, I've lost count! But I finally settled on three looks that I really dig. I'd love for you all to weight in on which option is your favorite!
When we sold our home last May, the first thing I bought for our next house was this vintage yellow sink. I just knew it would work, even though we hadn't found a home to move into yet! Thankfully we have a nice little powder room in our new home that perfectly suits a small sink like this. All of my design plans center around the yellow sink. It's a non-negotiable. ;)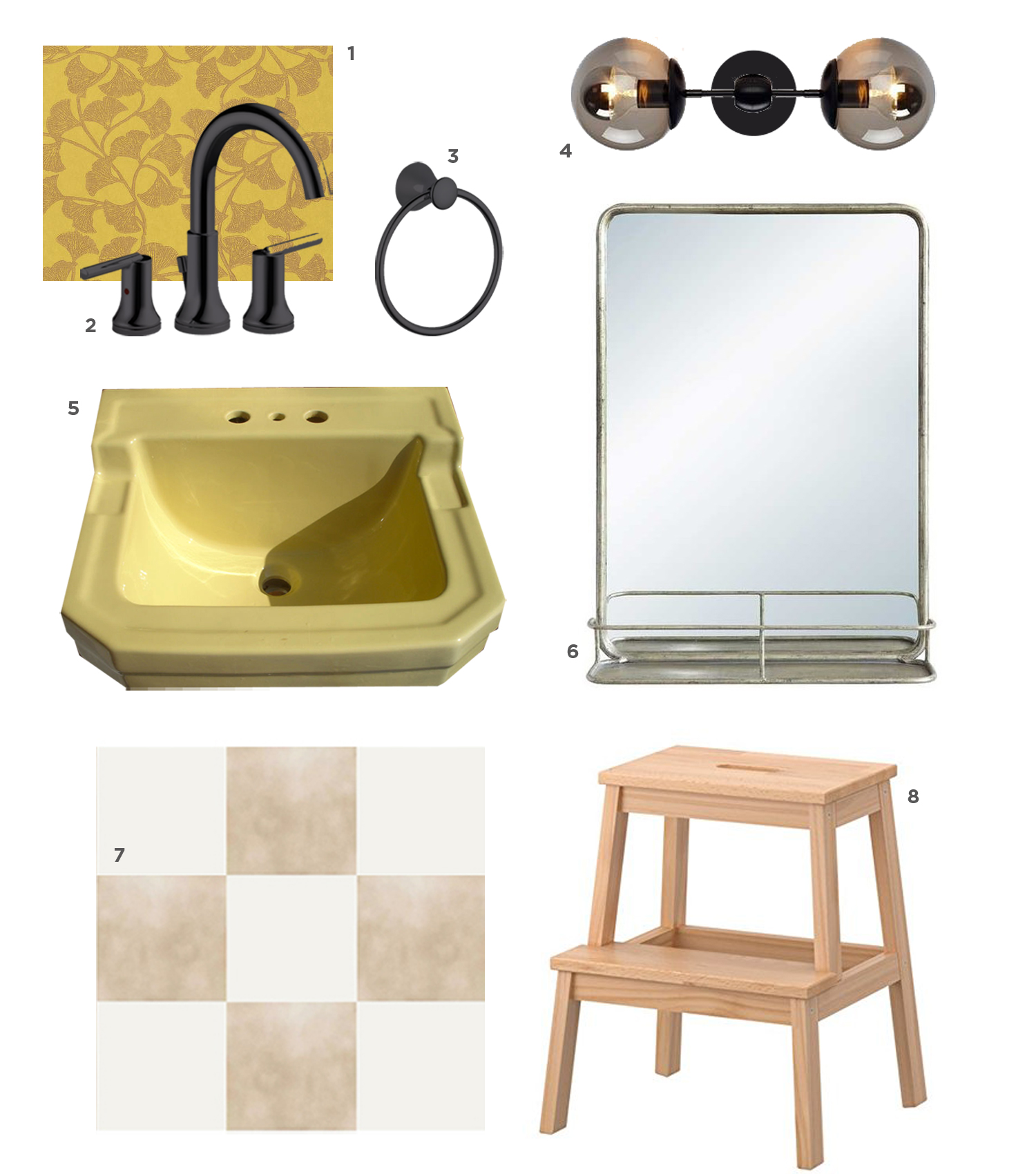 OPTION ONE: Funky Traditional
I love an eclectic interior, so this design appeals to me because of how it would blend together elements from traditional and modern design camps. That light and faucet? So deliciously modern. But the sink and mirror definitely harken back to the earlier decades of the 20th century. The tone-on-tone wallpaper, vertical shiplap, and checkered flooring would feel at home in any space, but combined, it feels so funky fresh!
What do you think? A bit too much for such a small space? Or, go big or go home?
Materials: 1 / 2 / 3 / 4 / 5 / 6 / 7 / 8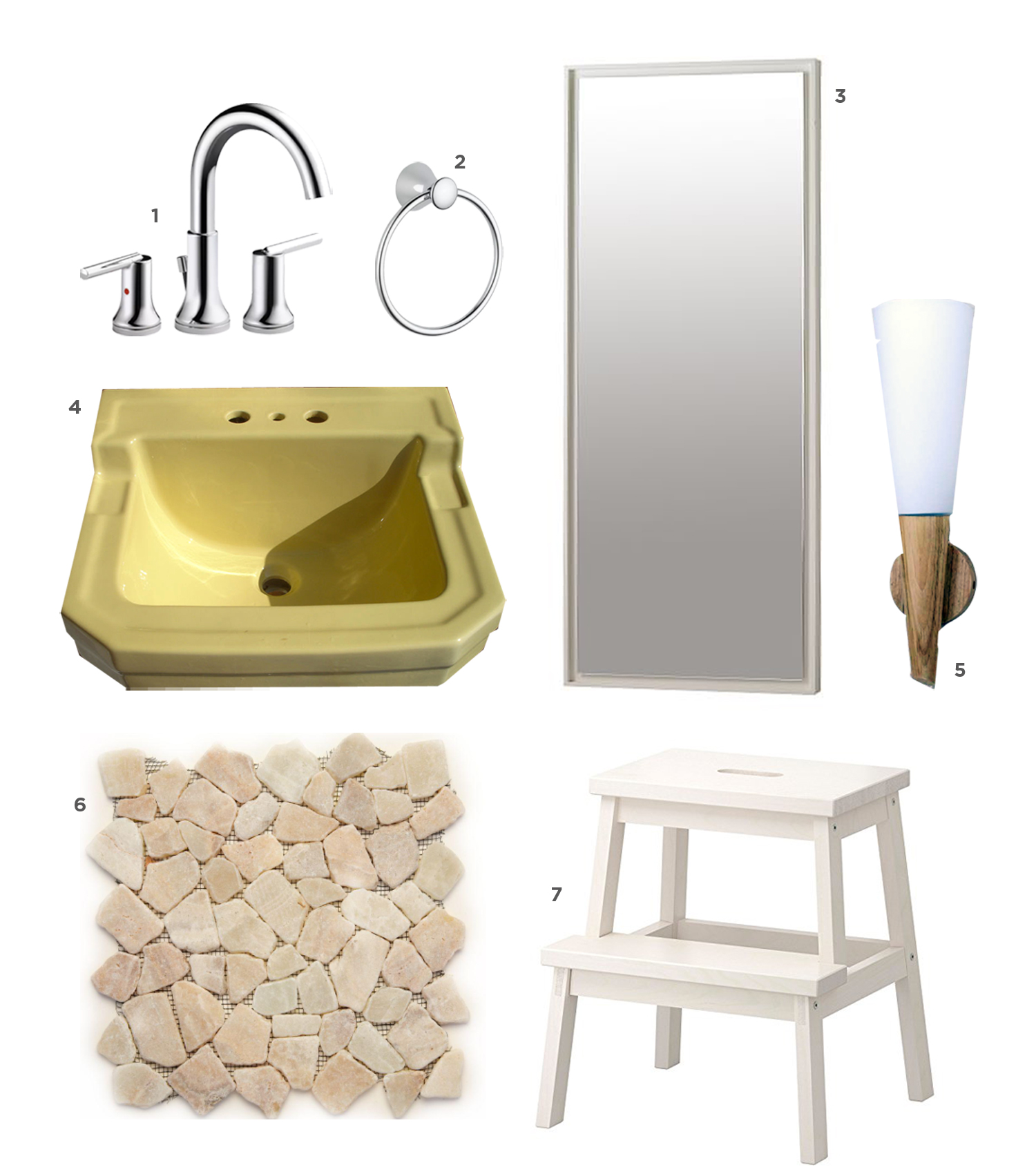 OPTION TWO: Mid Century Minimal
I was really gravitating towards doing a mosaic tile in here because there isn't much square footage to deal with, and I love the grand impact a mosaic tile has been known to make in mid century time-capsule bathrooms. When I found this pebble tile that reminded me of miniature fieldstone, I was all about it. After making the mock-up seen at the top of this post, I was really digging the early minimal vibes that such a wall and floor treatment could bring to my tiny powder room. Pair it with a wood-tone torch sconce and a snazzy chrome faucet, and this mid century look feels completely updated!
Do you think you'll go crazy if I put this tile in so much of the room? Or do you think it will make a simple and significant statement?
Materials: 1 / 2 / 3 / 4 / 5 / 6 / 7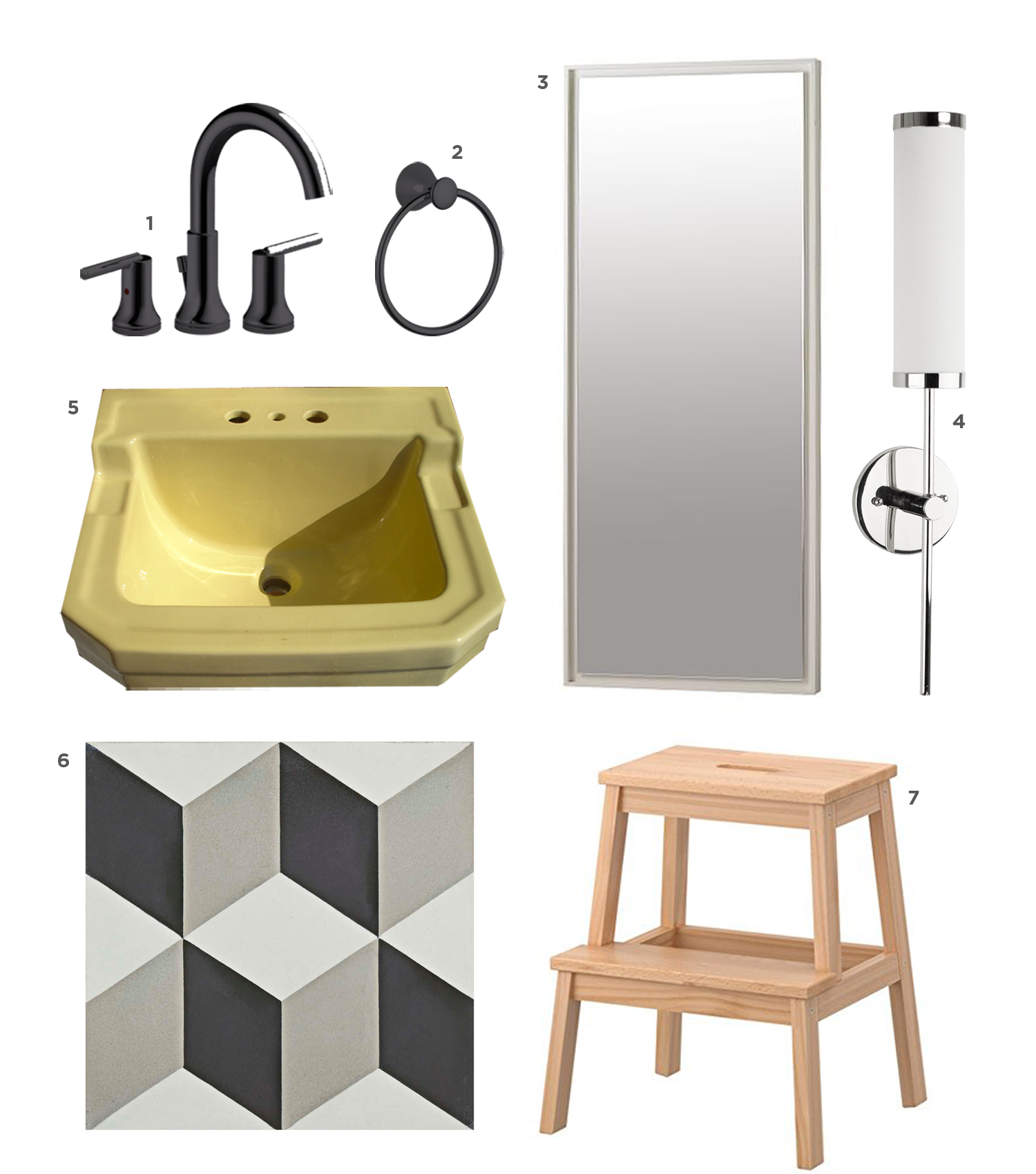 OPTION THREE: Modern Classic
As I've revamped each room of our home, I've attempted to keep baseline elements of classic design. The lighting I selected for the kitchen, the moulding details, and the medium wood tones throughout the home felt a bit like an anchor that kept things from going a bit too trendy or modern. The sconces in this powder room design tie in with the chrome elements I have throughout the house, and recalls the subway tile I put in my kitchen. In general, this design feels sophisticatedly restrained, allowing the yellow sink to take center stage. But the tumbling block floor tile still reinforce the fun vibes introduced by the sink.
Does this space feel too cold for you, or just the right restraint? Perhaps I'll regret using ubiquitous subway tile yet again?
Materials: 1 / 2 / 3 / 4 / 5 / 6 / 7
We're beginning clearing out the powder room tomorrow and having a plumber prep the space for drywall work and tiling. I can't wait to get things underway in here! Tune in to my Instagram stories to check in on the progress for our powder room renovation.