Plans for the Patio Makeover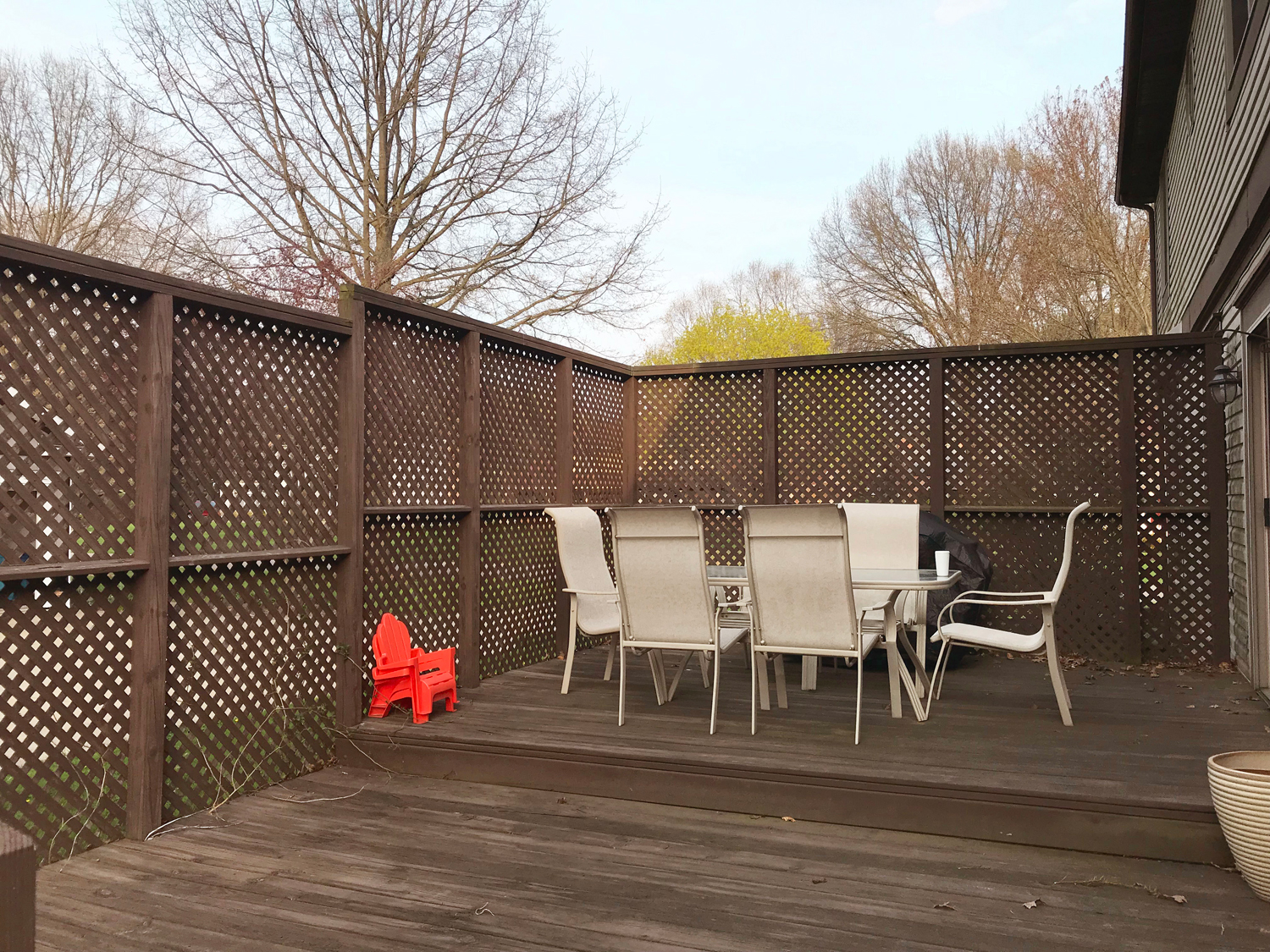 As much as I'd like to take a break from house projects after finishing up the study makeover, Summer is prime time for home renovations in Ohio, so I'm trucking along! Next up will be work on our patio and powder room.
Obviously we want to fix up our patio in time to enjoy it this summer and fall, so I'm hoping we can get this project done in the next two weeks! Here's what our patio looks like right now (above). The wood needs stripped, refinished, and restained, and the traditional lattice privacy fence is going bye bye.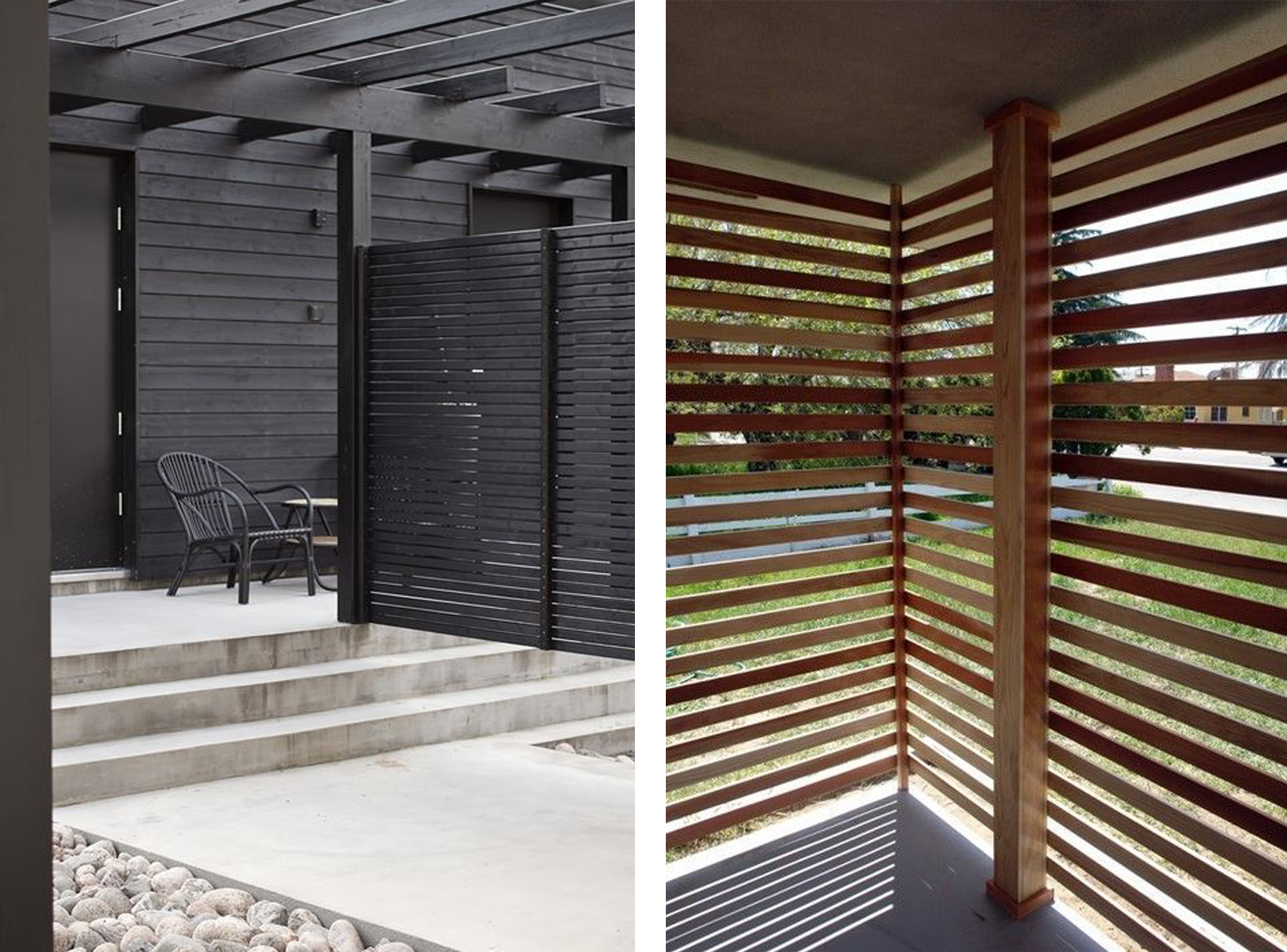 top left image: Musta Ovi / top right image: The Brick House
Slatwood Privacy Fence
In place of the existing lattice, I plan to put up slat wood lattice strips for fencing, much like the image above. Then I'll plant something that can climb the lattice and add the magic of greenery to this space. Right now I'm undecided about how I should finish the lattice strips. I have stacks and stacks of pressure treated lattice strips waiting in my garage to be finished, but I can't decide if I want a natural wood look, white washed, or a pickled type of finish. Our house is currently a putty gray color, but we plan to have it painted white next year, so I want the color of the patio to go with the future look of our siding, not the current look.
Climbing Greenery
I'm also pretty unsure about what kind of climbing plant to use on the privacy fence. Also, do I plant some in pots on the patio to climb up the inside of the patio, or do I just plant it in the ground on the outside of the patio fence? I know I'd like to see it in the seating area, but it will need to be a plant that is easily controlled. So far I'm considering clematis, hops, wisteria, and honeysuckle. Clematis seems to be the top contender, but in general I'm concerned about using a flowering plant because of not wanting bees hanging out with us on the patio. (I'll plant flowers in the front of our house to help out the bees, but I'm not looking to do that where we will be dining with our children.)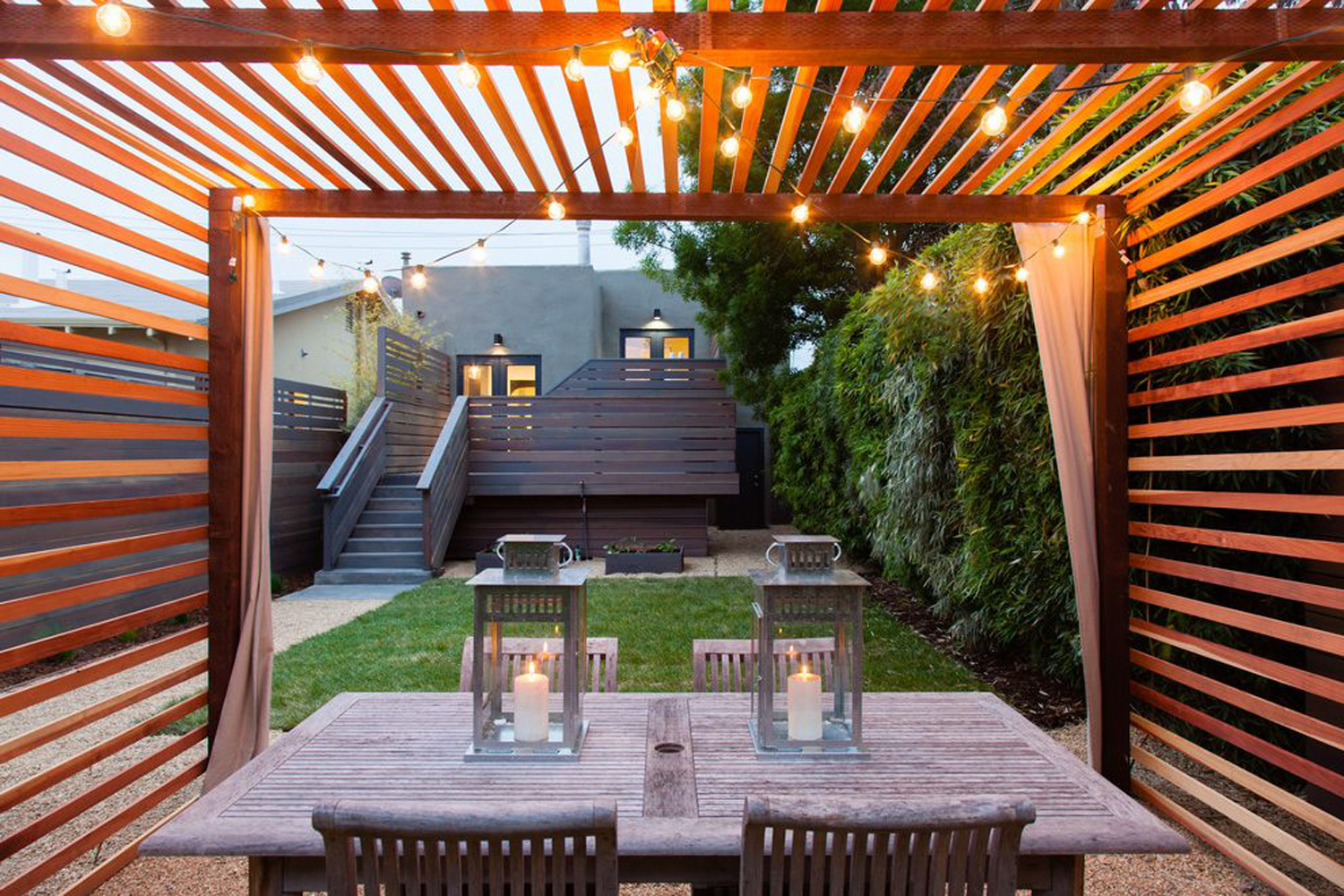 image source unknown — any idea?
Modern Slatwood Dining Nook
Continuing with the slat wood look, I'm also super interested in using lattice strips to make a cozy dining nook at one end of the patio, much like this inspiration image above. It would be a sort of a pergola, but the slats would be made of lattice strips and would be positioned much tighter together than a traditional pergola. I would like the slats to be far enough apart to still allow light and climbing greenery to show through, but it should also provide shade for our dining area.
I'm also considering adding outdoor curtains to the dining area to give it more separation from the lounge part of the patio, and to add one more barrier to the road noise behind our backyard. Our backyard has a busy road behind it, so road noise is an issue. One day we want to plant a tall, dense, hedgerow, but one thing at a time! At least our patio is on the side of the house so the road noisy isn't too obnoxious.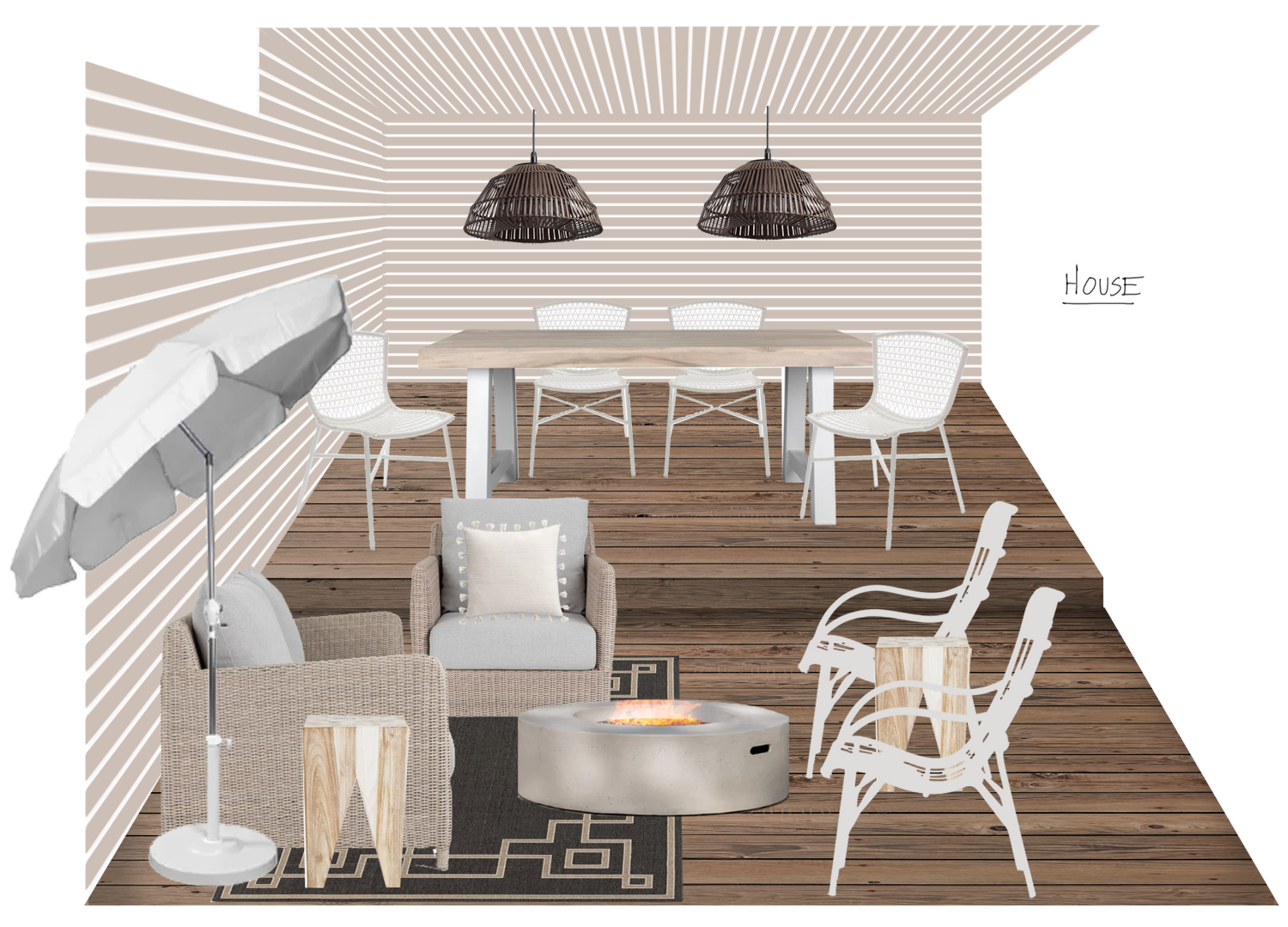 If you've been following me for some time on Instagram stories, you'll know how much I love doing a Photoshop mock-up before beginning any project! It's a skill I've developed through the years beginning when I was earning my interior design degree in college, and it's proven to be quite useful in imagining each of my home projects!
I'm planning to keep this outdoor space pretty neutral, as it is visible from both our kitchen and our living room windows. I don't want it to add color and chaos to the kitchen and living room, and besides, I want something that will compliment all of the beauty of the outdoors, rather than competing with it.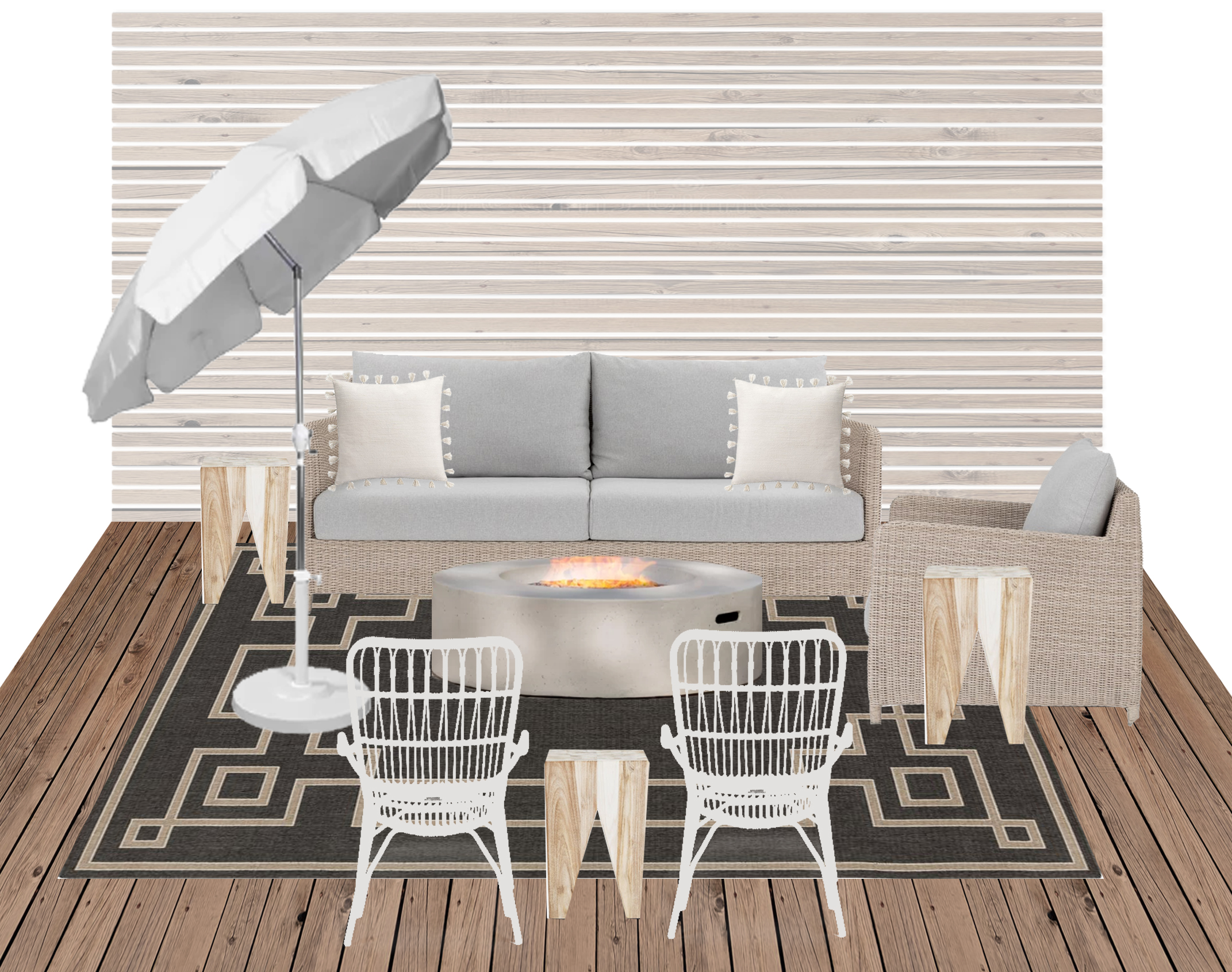 I'm working with one of my favorite furniture brands, Article, for most of the furnishings for the patio, but I've also purchased some additional items to fill out the space, such as a propane fire pit, an articulating patio umbrella, outdoor rug, and lighting. I'll link everything at the end of this post.
Fencing Color Options
The last decision I'm faced with before beginning work this weekend is the color for the fencing. What do you guys think? Should I go for dark and dramatic with a boldly contrasting wall, medium-wood tone that adds richness and warmth, a white-washed look that allows for some wood warmth to show through, or white paint for a crisp and fresh backdrop?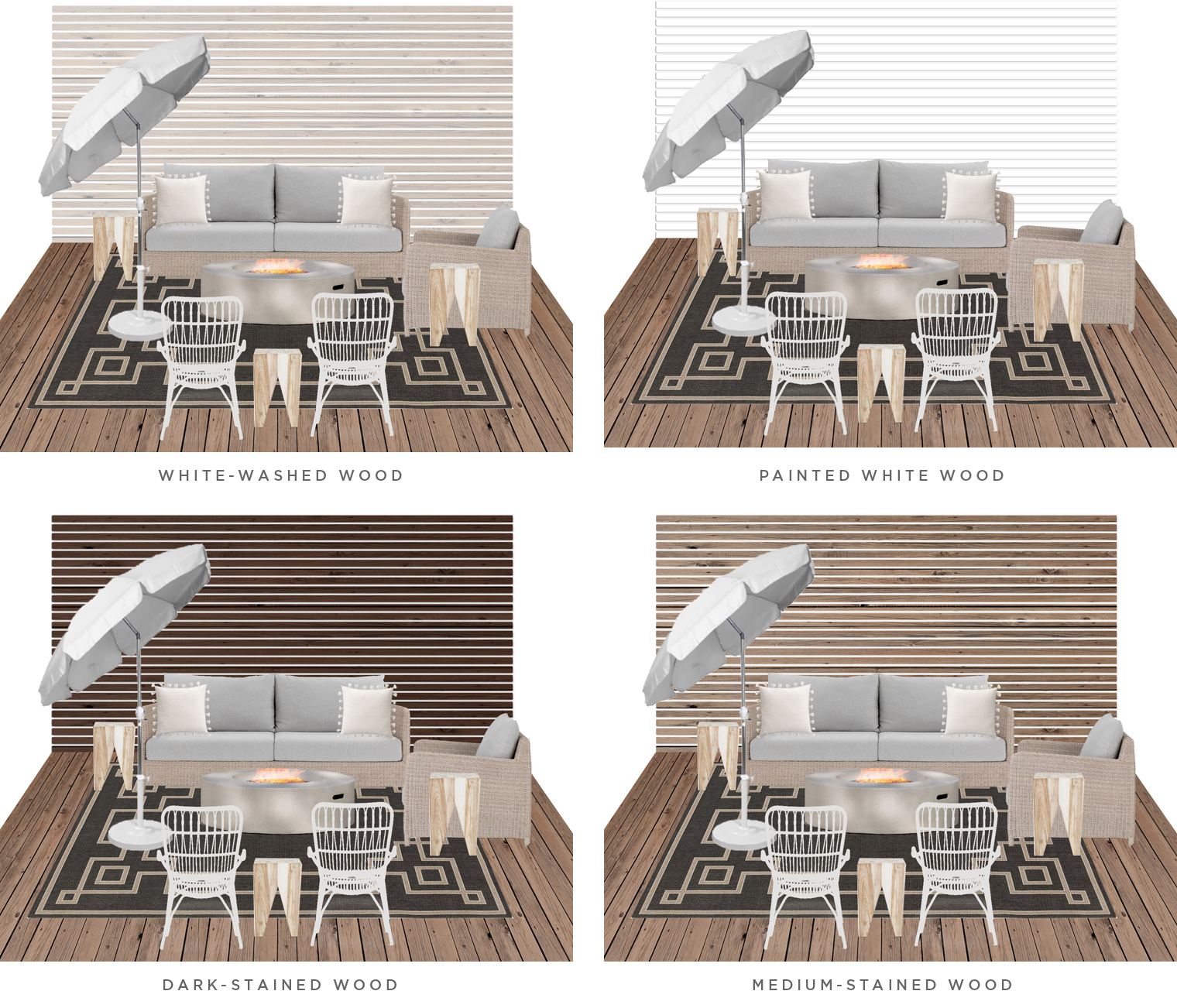 Let me know what you think about color options! We begin work on Saturday, and I couldn't be more excited! Can't wait to share the results.
Product Sources: