The Living Room Reveal!
A few months ago, I was sharing the video tour of this house, unsure of whether or not it would one day be ours. But here we are! Halfway finished with a complete redo of the first floor. A lot of you were surprised I had chosen an '80s house, and to be honest, so was I. The home we visited with the sunken conversation pit? I was sure about that one. It was meant for me. Or maybe not, because someone else put in an offer before we had a chance. Que sera, sera, I guess! The location and floorplan of this home is probably better for our family, so I'm telling myself that it's a good thing we missed out on the other groovy pad.
Check out our fireplace makeover and the full living room reveal at A Beautiful Mess.
There are four reasons we confidently chose this house. The location is just down the road from the major shopping area, and I'm constantly running to the store for supplies in the midst of projects I for for my work. Plus it's just convenient! The school district is the best in our area, and I honestly never thought I'd be able to afford a house of this size in this school district, but I guess we we just at the right place at the right time. Also, we felt pretty safe about a home built in the late '80s being up to code without surprises with plumbing or electrical. The floor plan was a little odd, and had been slightly changed by the previous owners to close off the front sitting room and dining room, but it was perfect for our needs to have both a study and an office, as well as a closed-off yet centrally located playroom. And lastly, there were enough features that I loved about the base of this home that I knew it could be awesome with some cosmetic changes— for instance, the living room opening up to the kitchen/dining room was nice, but also I loved the bright light from all of the windows and skylights.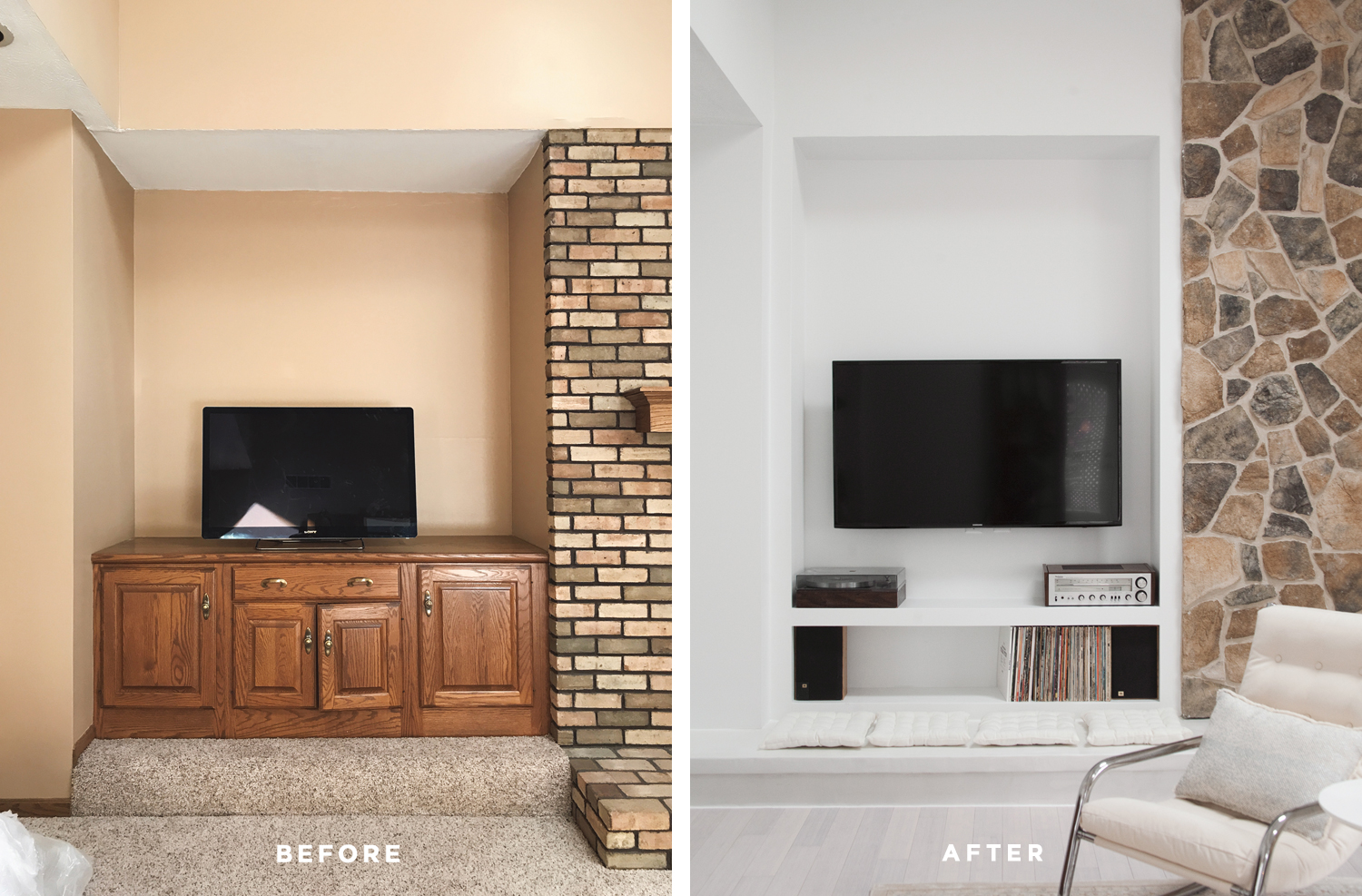 I shared my ideas a bit in the original video tour of the house, but things changed. Here is my first and second post about the living room planning and progress where I discuss my thoughts behind various options. I'm happy I went with a lighter floor in here because it added to the bright and limitless feeling I wanted for this space.
A fresh coat of Benjamin Moore's Super White made a huge impact in the space, but obviously the transformation of the fireplace wall was super dramatic! I think it's the best decision we've made for this home makeover. I actually didn't do any demo on the fireplace wall (besides removing the mantle and carpet), instead I chose to cover up the brick with an affordable manufactured stone veneer product called Cultured Stone by Boral. I wanted a warm neutral stone with some variety in its mix, adding textural interest and even pattern to such a starkly bright white room.
Check out all of the details about the fireplace makeover at A Beautiful Mess.
Over at A Beautiful Mess today, you can read the entire post with even more photos of our living room reveal. I shared a lot of the thought process behind the choices for the space and talked a bit about how I define our home's style.
You can also check out the reveal of our adjacent sunroom I shared this past fall. And next up with be the final reveal of our kitchen!
I was so glad we finished this space in time to decorate for Christmas and spin some of my favorite holiday records. It really made the long wait worth it! It's also fun to see the kids enjoy the records so much, and I have to admit, I hope it contributes to a lifelong love of music for them.
At this point in the renovation game, I've learned quite a few things, but the biggest piece of advice I can give is to just take things one room at a time! It can be so hard to live in a home where so many rooms are in upheaval. Not only that, but making so many decisions at once can be overwhelming and lead to bad decisions.
If you're doing the work yourself, like we did, I'd also recommend finishing one room before beginning on another, or certain rooms can just drag on forever! For me, that has been our kitchen. I was almost finished with it at the beginning of Fall, but I literally just have two final details I haven't been able to finish up because of the pressure to finish other rooms as well. It just became too overwhelming and I felt myself begin to shut down.
My dad retired from his career a couple of weeks ago, and I know he enjoys working on home projects, so I'm hoping having him more available will give me the motivation I need to get a second wind!
PRODUCT AND MATERIAL DETAILS:

Wall paint: Benjamin Moore's Super White
Fireplace stone: Boral Cultured Stone Old Country Fieldstone in Summit Peak
Flooring: Lumber Liquidators engineered bamboo
White Ardex: eBay
Large area rug: Lulu & Georgia
Sofa: Welles sectional from Joybird
Glass side table: All Modern
Coffee Table: Chairish
White chairs: 1st Dibs
White side table between chairs: LexMod
Credenza: vintage Broyhill Brasilia from Main St. Modern in Canton, Ohio
Black swing-arm wall sconce: Hayneedle
Curtain rods: IKEA
Curtains: HomeGoods
Hearth cushions: Deal Genius
Sunroom wicker chair: vintage from Main St. Modern in Canton, Ohio
Sunroom table: Lexmod
Sunroom rug: Amazon
Sunroom wall planters: West Elm
Watercolor Louise Brooks portrait on credenza: original from German artist Galerie Minimal on Etsy
Large neutral art created by my girls
Decorative trays: Home Goods
Vases, floor lamps, bar cart, photobooth panel, yellow op art, and little girl portrait are vintage.