Our Home for the Holidays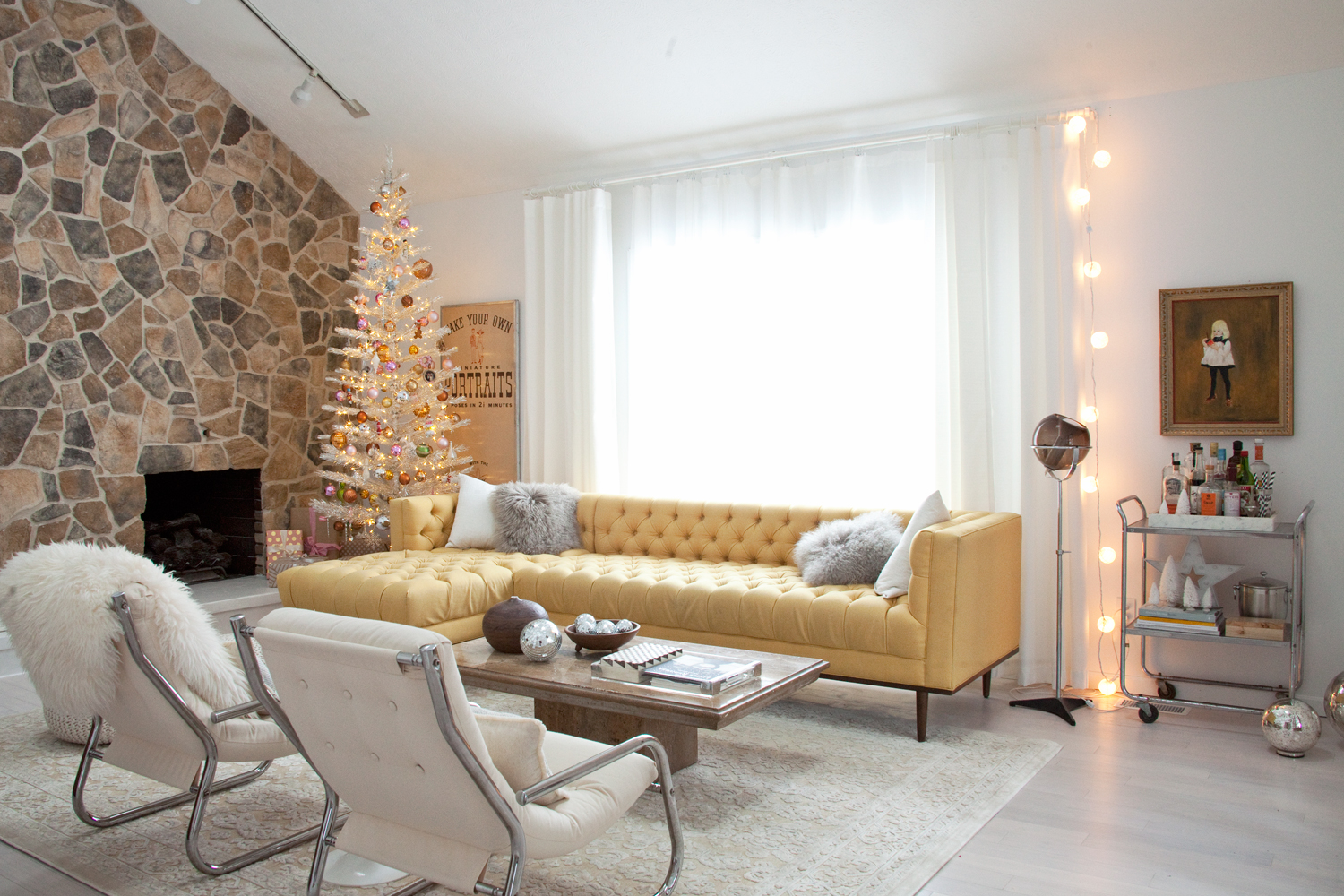 It took me a few weeks longer than I wanted, but I did it! I decorated our home for Christmas. Errr… make that, I decorated our living room and parts of our kitchen for Christmas. I'm excited to share the before/after of our living room with you, but consider this a very generous, festive look at the "after" before my detailed post goes live in a week or two!
I had hoped to have most of our first floor renovations complete before the holidays, because decorating for Christmas is one of my greatest joys. But we were able to finish up the living room this December and at least make one room merry and bright! I'm very much looking forward to when our entryway will be completed next Christmas. Draping garland on a stairway railing has been a lifelong dream of mine that I'll finally be able to accomplish! We didn't have stairs at our last house, or a mantle, so I sort of felt jipped every Christmas. Funny enough, though I designed this fireplace in our new home, I opted against using a mantle. But! At least I have stair railings.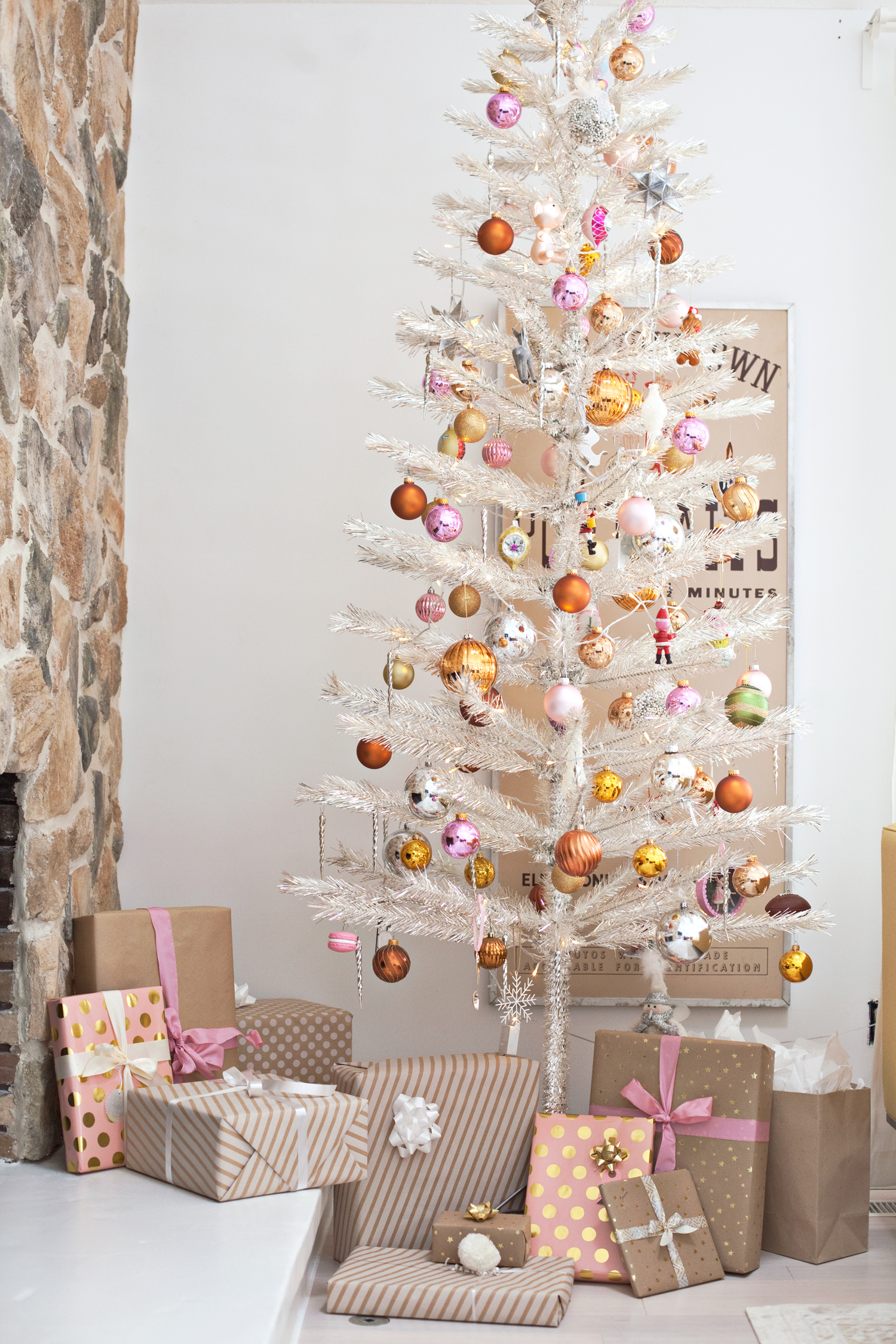 When I shared our Christmas tree on Instagram stories in November, I received a bunch of messages asking where we got it. This is actually the large version of the small trees we had on our dining room cabinet last year. (Check out last year's decor here.) It's 9′ tall, though the bottom is pretty far off the ground, so it doesn't feel super large. I found this silver feather tree on Wayfair, and there are multiple sizes available. (We have three different sizes because I love it that much!) It's not called a "tinsel tree" or an "aluminum tree," so I just just stumbled on it when looking for champagne trees, and am so glad! It's absolutely perfect for our home.
We will be using our old tree in another room next year when more spaces are complete. But this year, we have this one tree, and it feels pretty magical.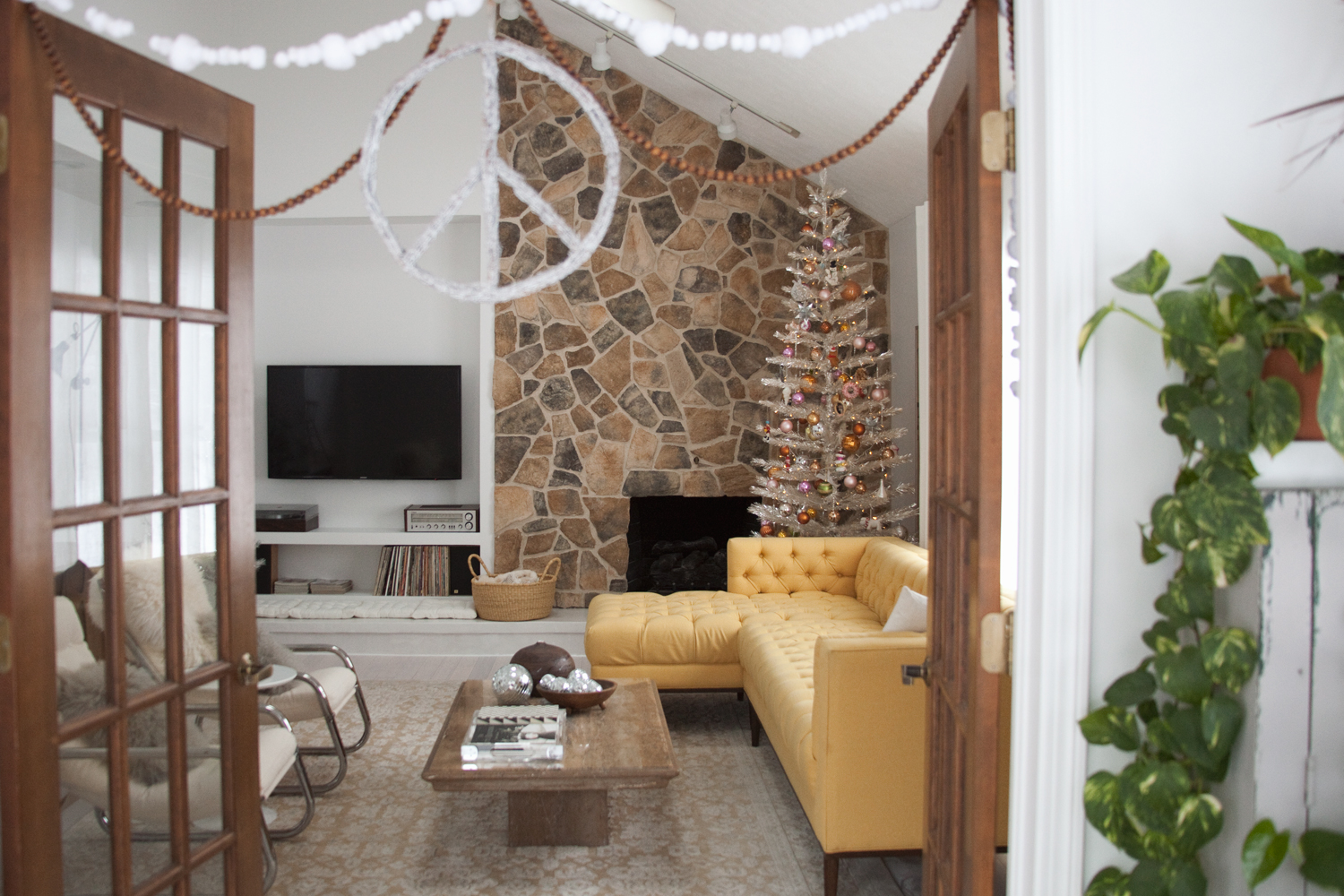 Our sunroom is kind of chilly this time of year, so we don't spend much time in here, though it's warm enough that my plants are happy. I have draped some bead and homemade pom pom garlands over the door and hung my favorite glittery peace wreath in front of the doors. The doors stay closed most of the time, but I opened them for this cozy photo!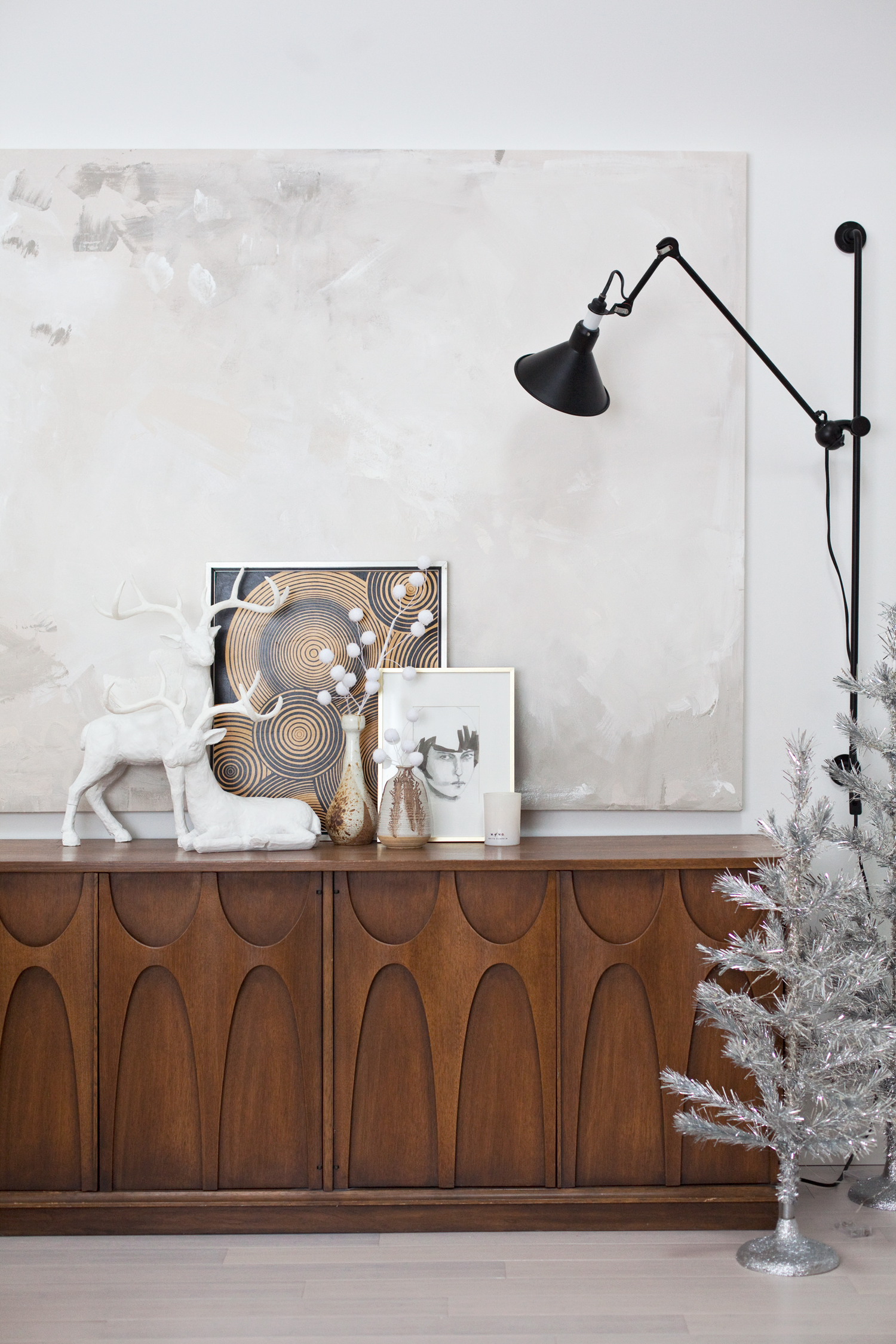 When Phil and I were newlyweds, I used a lot of red and green in our home's decor all through the year, so it felt natural to use a lot of it at Christmastime. But now that I've honed my home's style a bit more and have gathered favorite things through the years, I have a more specific vision of festive decor, and surprise! It's mostly neutral. I like to use lots of white and winter themed items, because we can keep them up longer, but also because it fits my home's style. I also add more glam this time of year because, well, 'tis the season! Disco balls, glitter, and silver tinsel aren't things you'll see me use any other time of year, but it would seem I can't get enough of it at Christmas!
Next year I may add more natural elements like homemade cedar garland, but we'll see how the spirit moves me. :) More rooms will be ready, so I may even do different themes in different rooms! Am I a little Christmas crazy? Why yes, yes I am.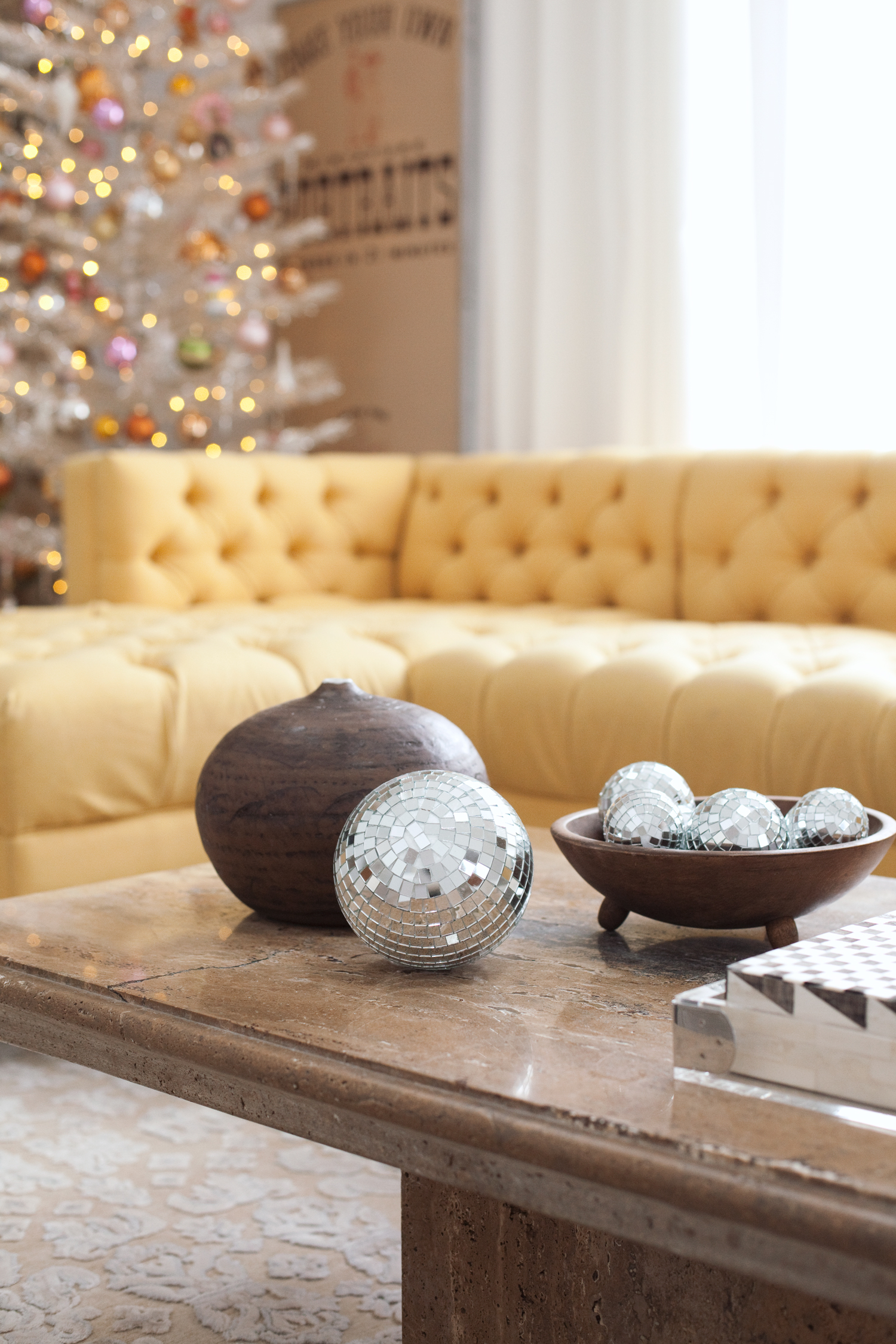 I found these paper globe lantern lights at Target, and bought the last three they had in stock. No regrets! I'm only using one in the living room for Christmas cheer, but I plan on using the other strings year-round in the kiddo spaces of our home when those are complete. They're so fun, glowing and cozy in the evening, but when they're unplugged, they still look nice hanging there by the window!
The silver peace wreath hanging on our french doors was found at World Market a year or two ago. But I saw a friend of mine made her own myrtle version this year, and I thought it was perfect!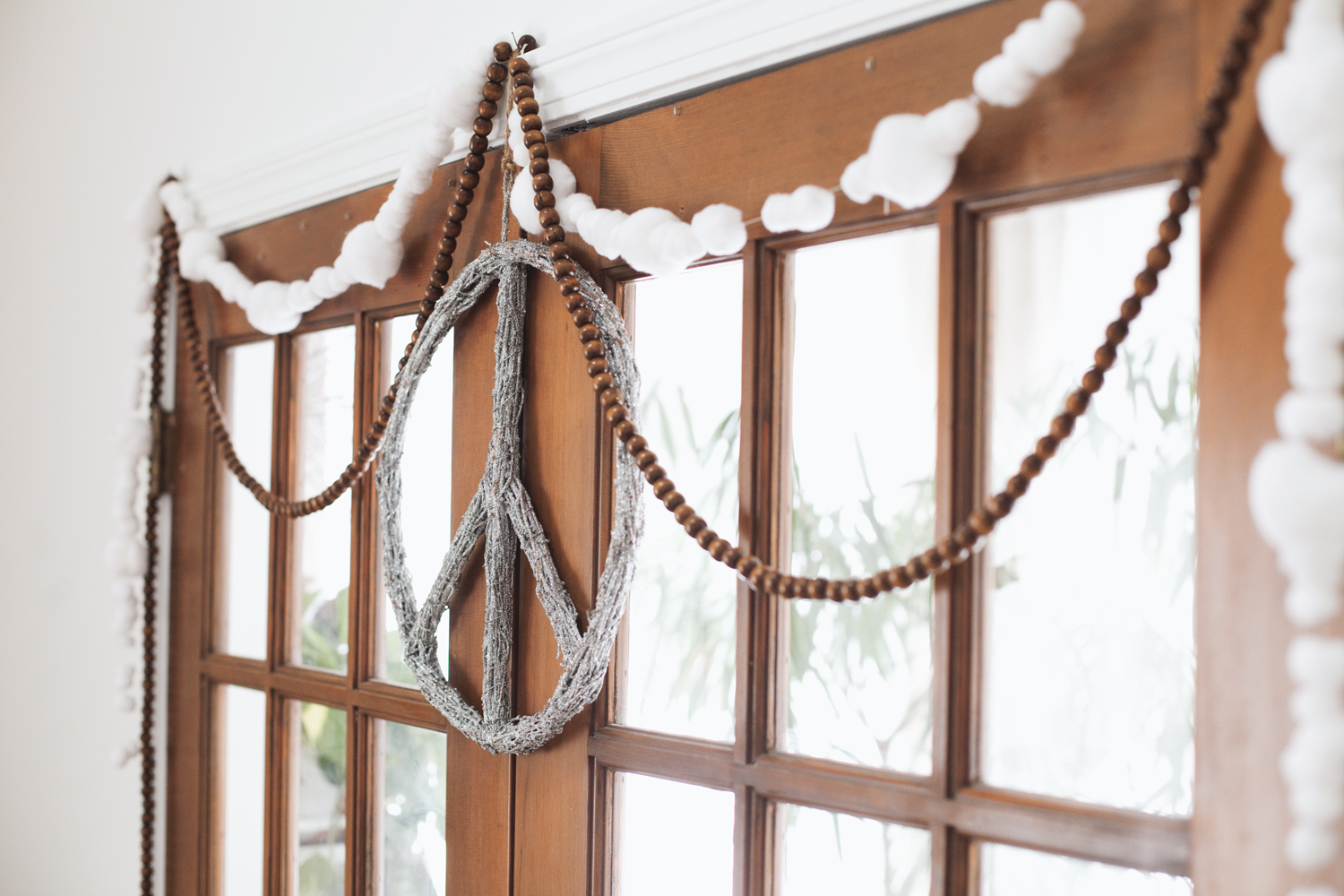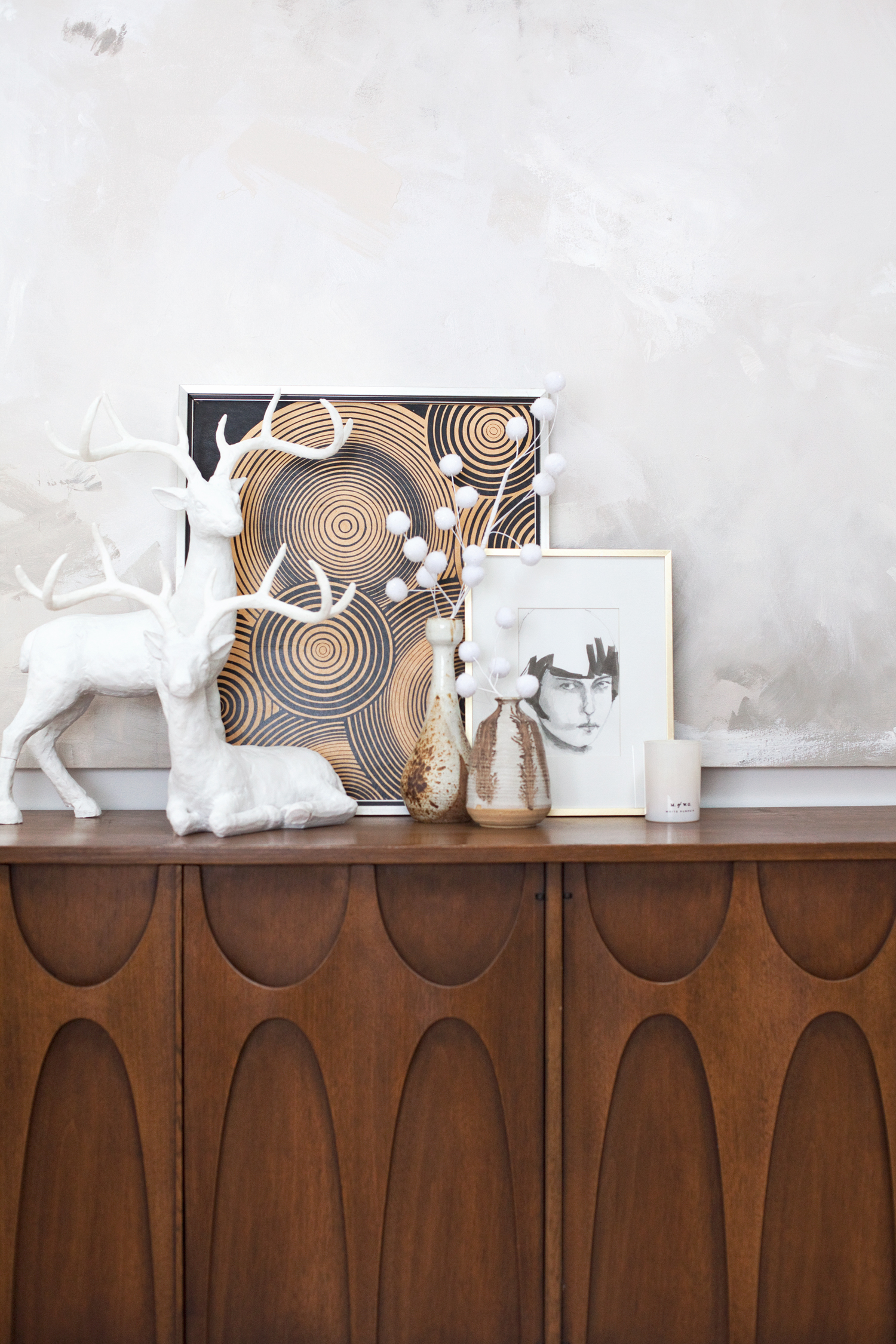 Our new TV is hung by the chimney with care, but the stocking are still tucked away, because, well, I had planned to hang them on the stair rail, and as you know, the entryway isn't looking very festive just yet. But! We are just so elated to be able to gather in our finished living room to watch Christmas movies and read Christmas books together as a family. We watched my childhood favorite, The Muppet Christmas Carol, with the kids over the weekend, and it was a smashing success.
What's your family's favorite movie to watch this time of year? We love the Polar Express too, but I'm still looking for a really good one about baby Jesus. In the meantime we love that A Christmas Carol teaches about the perils of greed and the joy of giving. xo