Gifts from the Kiddos- Canvas Artwork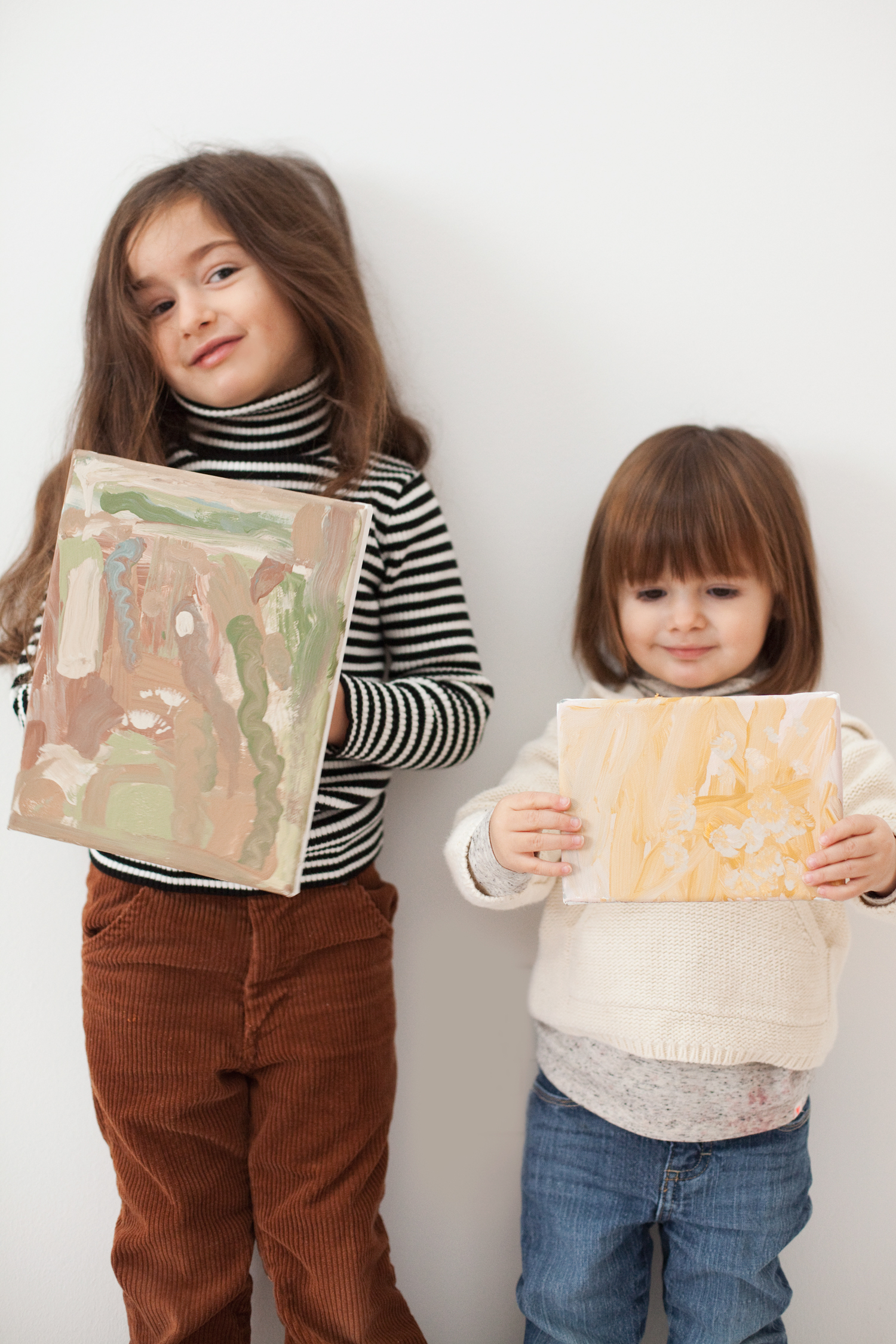 Do you remember picking out gifts for your adult family members when you were a kiddo? I do, and most of the time it was snoring boring. Adults just didn't want things that I thought were fun to give! It's a wonderful thing to teach children the joy of giving, and I discovered a way to get my children super excited about family gift giving this year— We took a couple of days out of our week to make gifts.
Alright, so the thing about homemade gifts is that while they are often fun to give, they're not always so fun to receive! Of course, loving grandparents will cherish anything their grandkiddos gift them in earnest, but I wanted to make it easier for Lucy and Juniper's family to really use and enjoy the gifts the girls made for them, so we settled on the things I've been most in awe of as far as their kiddo talents go: abstract paintings!
The girls always love to paint. Give them a store receipt to paint and they're thrilled, but give them an easel and a canvas? Suddenly their inner Matisse comes out! Such a thrill for them to do, and a joy for me to watch.
Below are the paintings the girls made over the course of two days. They're really special paintings that I'd totally hang on my wall, so I'm certain Lucy and Junipers grandparents, aunts, and uncles will as well! Right now I'm working on framing them up to look very polished and much like something you'd pick up at a boutique or artisan market. Some of the frames will be natural, some stained dark, and some painted white. I was able to find quite a few small scraps of wood from my workshop to fashion the frames, so I'm pretty happy about that!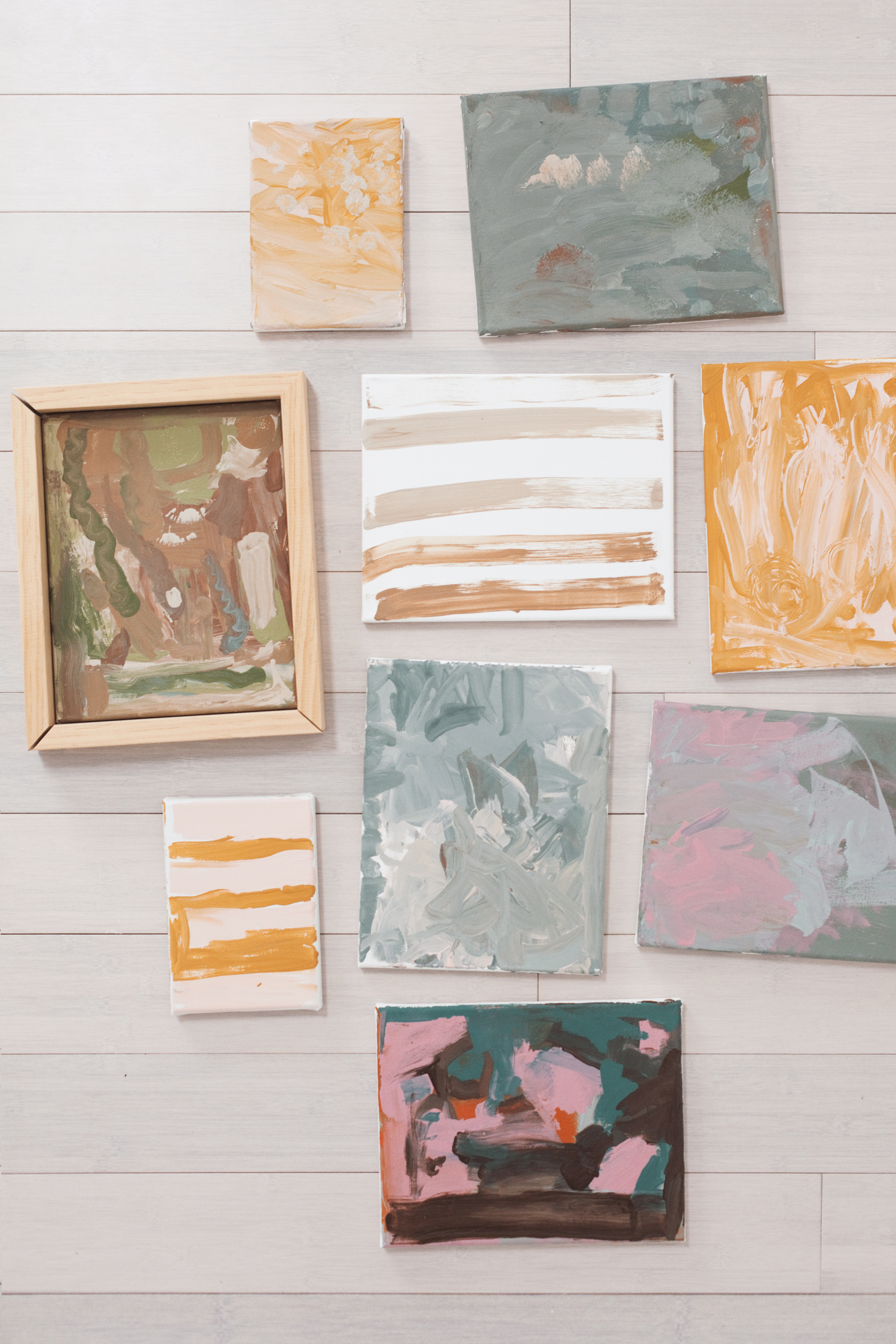 A lot of you have asked what kind of process we do when we let the kids paint, so I wanted to talk a bit about that. We used acrylic craft paints for these primed canvases, and I didn't bring out all of the paint colors we have in our home. I selected the colors that I put into little glass bowls, and then they could choose from them as they worked on their canvases. Since they painted the canvases over the course of two days, I was able to have different paint colors for each session. For the first paint session I gave them pink, orange, teal, and brown. The second day they were able to use shades of green and blue and browns, but then we finished up with some pink and yellow per their request.
The reason I restricted the color scheme may be obvious, but I wanted to have finished paintings that would coordinate well with the gift recipients' homes. The girls would've chosen wild colors and create a brownish mashup after all of their blending (I'm looking at you, Juniper!), and something like that wouldn't be as special hanging on the wall, even if it is framed.
As far as their technique goes, I did try to guide them when they painted the large canvas for our living room (mostly because it was such a huge space for them to work with), but this time around I just let them go to town, occasionally suggesting they try a certain color of quit when it looked nice, but literally every time I made a suggestion it was ignored! Ha!
I did ask them not to dip a brush with one color of paint on it into a bowl with a different color of paint. I spent quite a bit of time washing and drying brushes as they painted, but we tried to designate certain brushes for certain colors of paint. That didn't always go over very well. They were little divas telling me to wash their brushes. But hey! At least they listened and didn't make all of the bowls of paint brown from mixing.
We will eventually talk about mixing paint and I can teach them about making new colors after blending, but right now they're not too interested in learning. They just love the process, so I give them some parameters so they can create something really lovely with their efforts.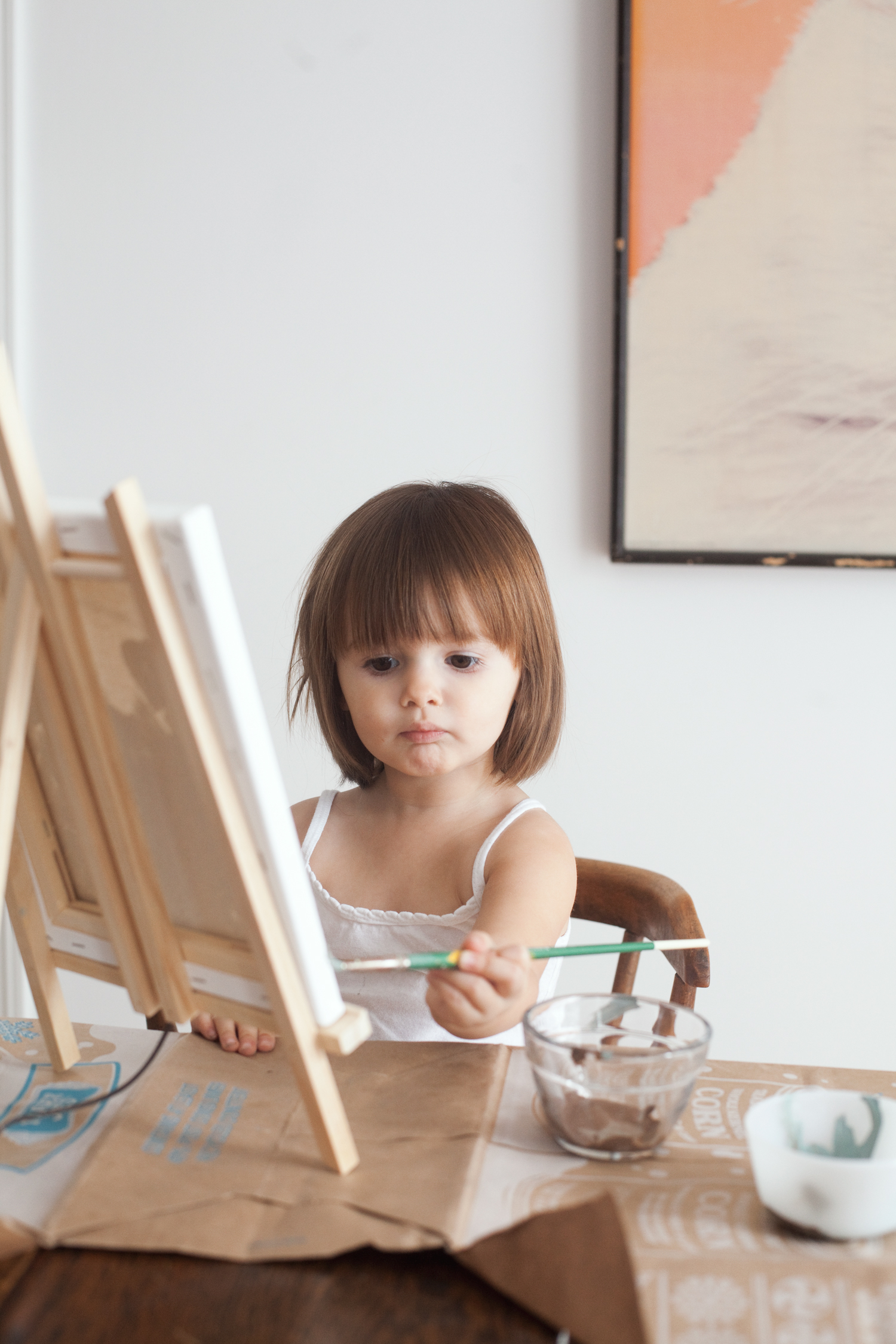 I will say, the first day we painted, Juniper had a little meltdown when we finished up. Poor thing! She was having so much fun. However, she was ready for a nap. I learned from that experience and the next day we began painting after she woke up from her nap and had enjoyed a little snack. Much better!