Entryway Plans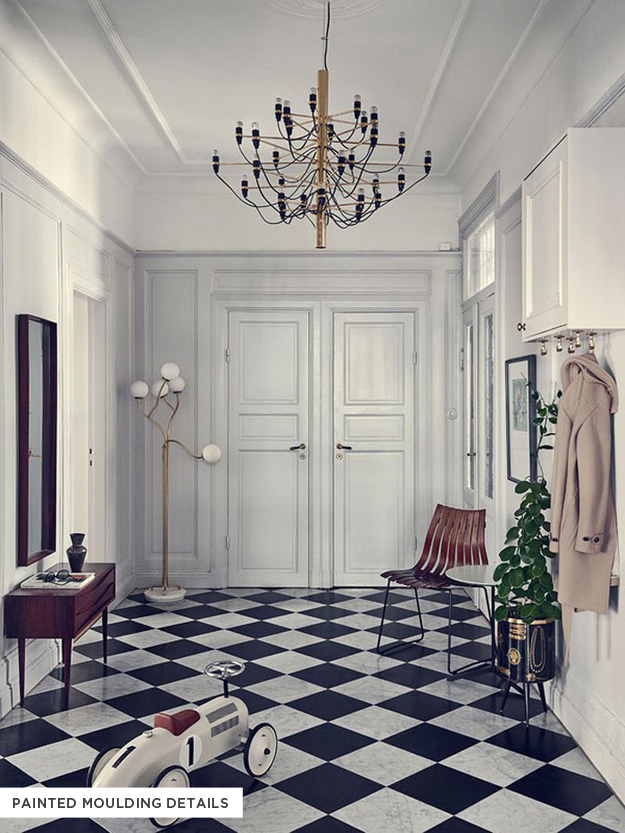 above photo by Joanna Lavén
I've always dreamed of having an entryway, and honestly never thought I'd have the luxury! Our old home's front door opened to a narrow hallway that dumped you right onto our refrigerator on one side and the powder room on the other side. There was nowhere for guests to sit and remove their shoes, and not really much space to allow me to stand by as guests entered our home. Now that we have an entryway, of course I have had the trickiest time planning the space! It's still an awkward area, albeit roomier than our old home. We now have a grand space with soaring ceilings, but the towering walls are painfully bare and dark without windows, and the space is too small for any furnishings. I've been at a loss as to what to do, until this week!
Of course, I'm chomping at the bit to get started on this space, but I've vowed to not begin work here until the living room and kitchen are officially 100% completed. But that doesn't stop me from dreaming and planning!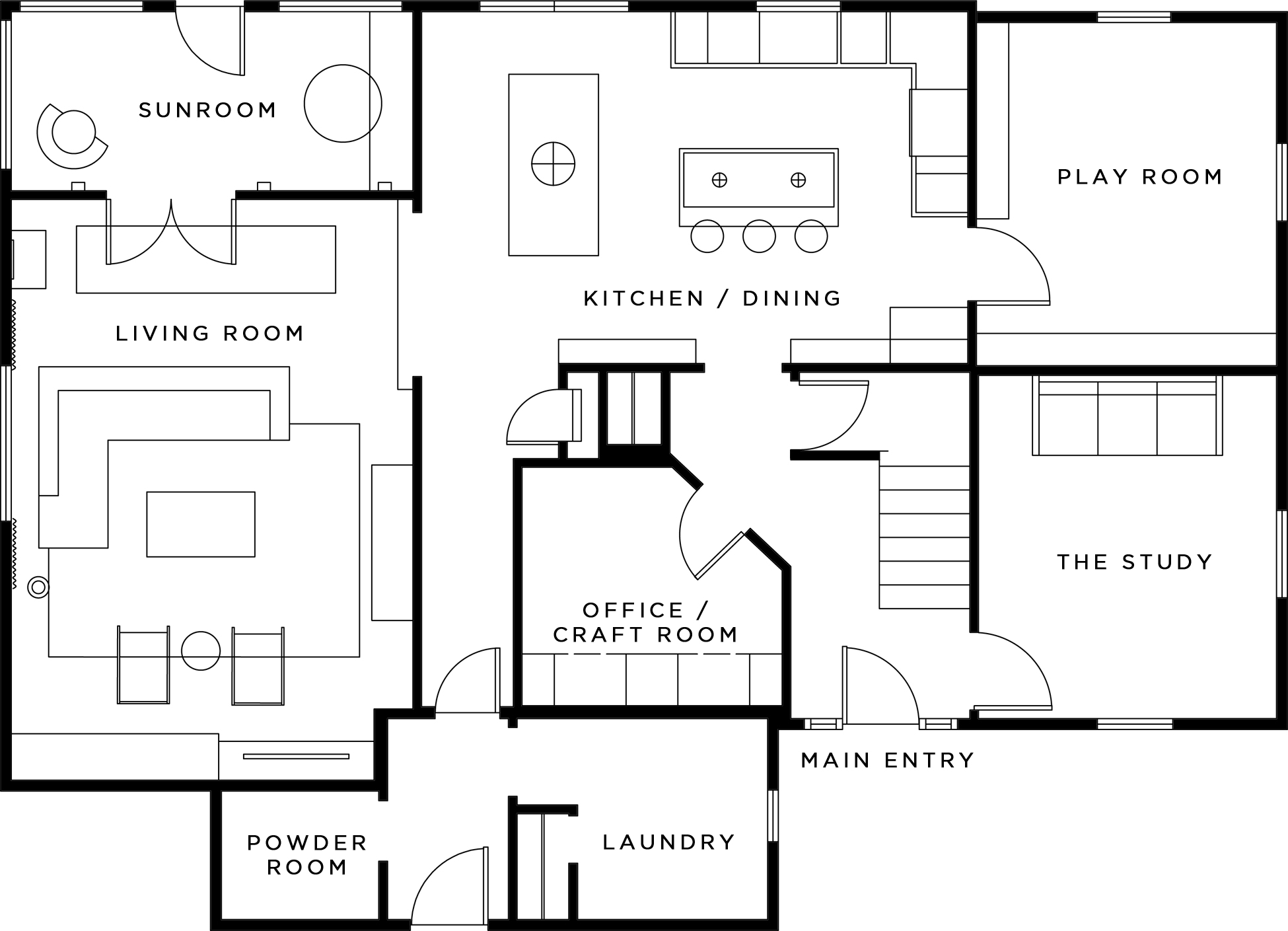 In the floor plan above you can see how cramped the entryway really is, though it feels more spacious because of the high ceilings and open view to the upstairs hallway. There isn't a good wall to put a console table, because major walkways are supposed to have three feet of clearance for traffic, and this spot barely has three feet without adding furniture to the floor plan.
My first thought was to put a floating drawer on the narrow wall directly across from the front door, but I'm 99% sure we'd all bang into its corner as we navigate the entryway, which we do all day long, as it's a required passage to get to the upstairs. Now I'm thinking I can fit a small floating console table behind the doorway, as long as it's not too wide, and then mount hooks on the wall beside it for guests to hang their coats and scarves. That's about all we'll be able to fit in the space, furniture-wise, which means we'll have to spice things up in other ways!
The first image of this post features my major inspiration for our entryway, although I'd like to put my quirky/casual spin on it. As you can see in the before/during photos above (sorry for the poor quality!), the entry wall recedes about 18″ above the doorway. Such a weird quirk of the space, but after seeing my inspiration image of the beautiful paneled entryway with the black and white checkered floor, I realized an expanse of painted moulding is the perfect way to break up the vertical space, working to disguise that change of plane above the doorway as well. Win/win!
So now I'll be adding a chair rail to the walls at the point of the plane change above the entry, and painting that chair rail and the walls and moulding below it the same color of gray/green— Benjamin Moore's Harbor Gray. (See mood board at the end of this post.)
I wish we could put a window above the doorway to bring some light into this space, but there is a large eave hanging out where the window would go, making this an impossibility. My plan is to eventually replace the door and sidelights, opting for full windows on the sidelights with some kind of privacy glass. But that's an expensive change that we'll have to do down the road.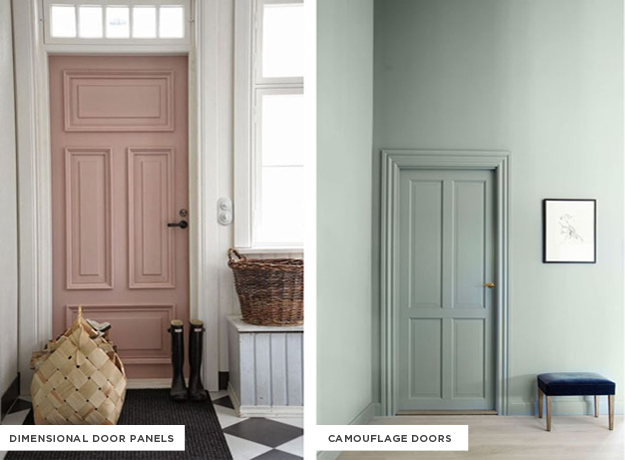 above left: Pompeli; above right: unknown
Since we can't replace our doors and sidelights just yet (because I have expensive taste… ugh!), I've considered how to help myself love the door we have. (You know what they say, "If you can't be with the one you love…") I'll be adding one-inch moulding pieces around the boarder of each faux paneled section of our doors, including the main entry door and its sidelights, as inspired by the pink door in the above image. Then, I plan to paint all of the doors the same Harbor Gray color as the walls to help the doors become less of a prominent feature in the space until I can replace them with ones I love— wooden paneled ones I love, to be exact.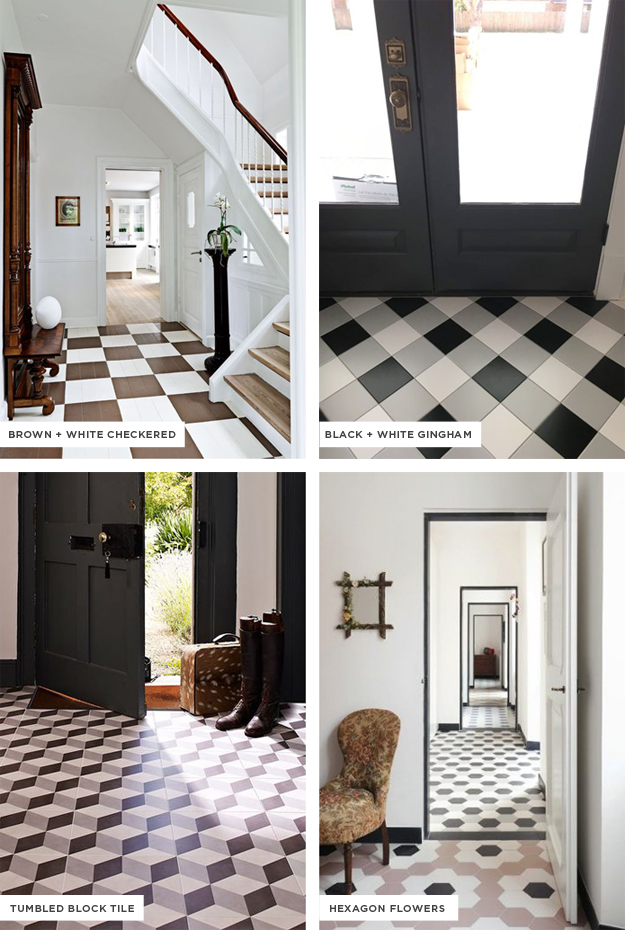 top left to bottom right: unknown; Holly Mathis Interiors; British Ceramic Tile; Casa G+S by Grooppo
Now, for the flooring! Initially, I planned to use the same maple flooring in the entryway as I've used in the rest of the first floor (except for our technically sunken living room), but I got cold feet as I considered the moisture that will inevitably find its way into our entryway, particularly during our Ohio winters.
I decided tile is the smartest thing to do here, but not only is it smart, it can be so fun too! I considered a variety of interesting tile designs, like this tumbled block pattern I fell in love with years ago when I wrote for Apartment Therapy, or even a bold floral pattern created with a variety of hexagonal tiles. But in the end, we settled on a traditional checkered pattern in colors of tan and white which will segue nicely into the surrounding areas of maple flooring. It's a pattern that will age well, but still feel bold and fun in its own way.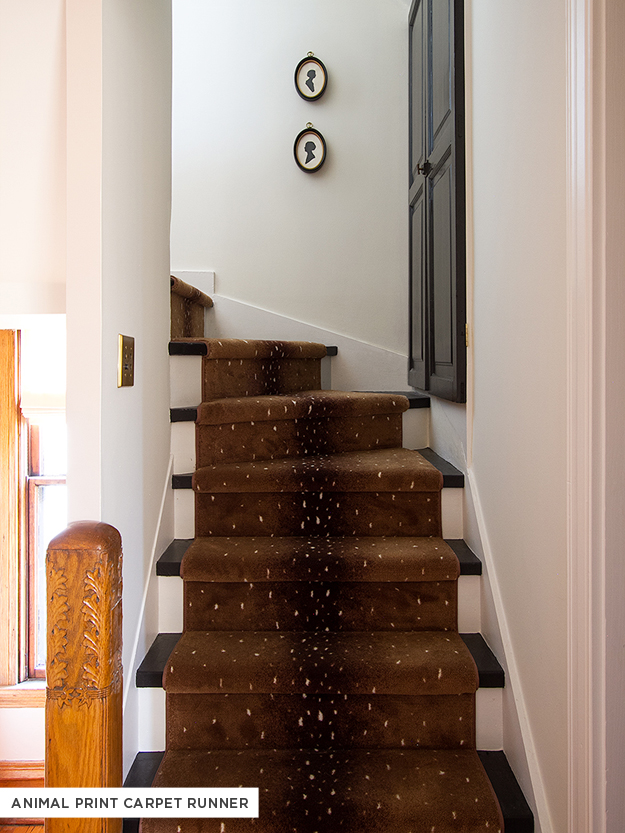 Image by Nicole Balch
I always love to incorporate a fun and, ugh, dare I say, whimsical element into every room of our home. In the kitchen, it's our pink sink. In the sunroom, obviously that channel-tufted wall. The dining area? That cat poster. Living room? A big ass yellow sectional.
The entryway is a fun space to work with, because you don't actually hang out here, yet it is the first, and sometimes the only, space people see when they come to your home. So I'd like it to have some personality, but nothing too permanent, like patterned tile flooring, which was soooo tempting. I figured a carpet runner is the perfect application for a little funk, and I still haven't been able to get this antelope runner out of my head since Nicole first installed hers last year. While I adore the antelope runner she has, my heart beat really got a little crazy when I saw this spotted carpet runner at Wayfair. I figured I could do a DIY installation to save some money, and it's inexpensive enough that we can replace it in a few years if we get tired of the animal print look.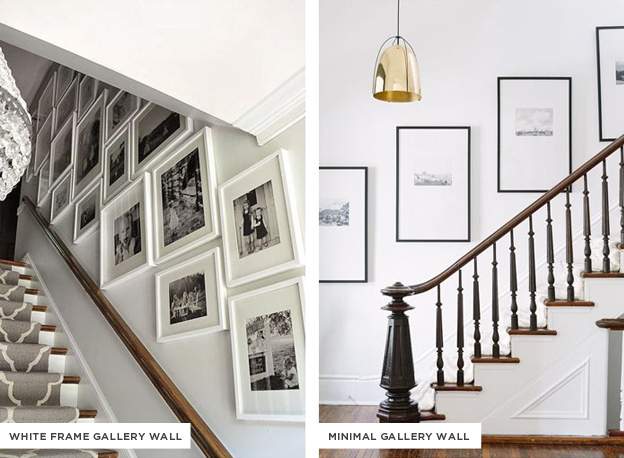 above left: Dear Lilly Studio; above right: Alaina Kaczmarski via The Everygirl
Last but not least, I really want to add a gallery wall to this space. It's my opinion that a stairway is the perfect application for a gallery wall, even if I did unforgettably tumble down the steps when I was a kid because of such a mesmerizing gallery wall in my family's home. The stairs in our entryway segue into the private area of our home, which makes it the perfect spot for family photos, but also, this is a huge expanse of a wall that is begging for attention, as much as my family photos are begging to be printed. Another win/win.
I'm still bouncing back and forth between a more carefree gallery arrangement of white frames with black and white photos as seen above left, or the more restrained and formal feel of a minimal gallery wall as seen above right. Which do you prefer?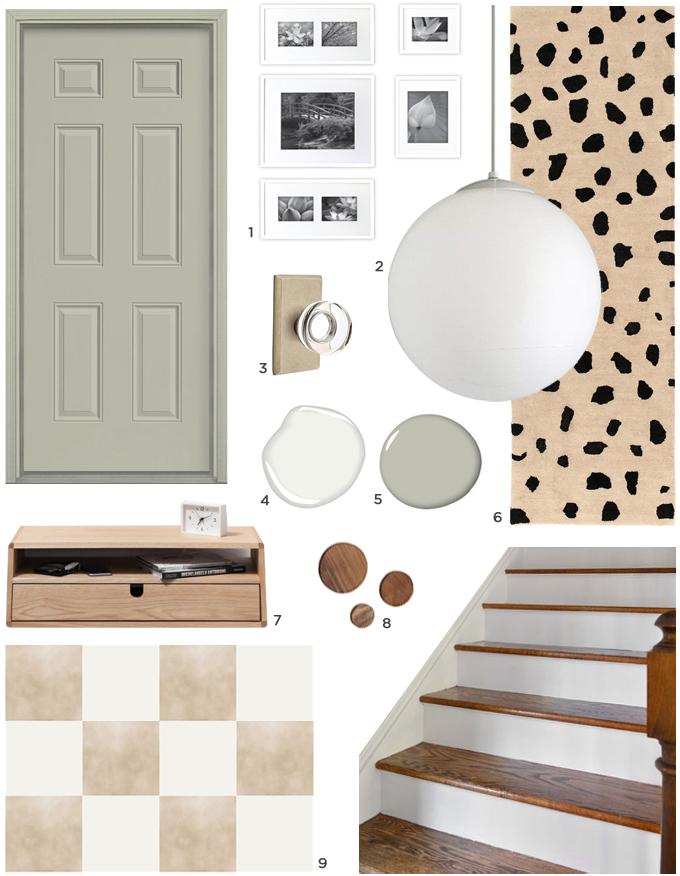 To tie it all together, I made this mood board with some elements I already have (like this huge globe light I have yet to instal), and other elements I'm still dreaming about (like these amazing doorknobs that I bought for our pantry and playroom doors). Nothing is set in stone just yet, but I'm finalizing my tile order next week, and will probably order that spotted carpet runner when it's due back in stock at the new year. But like I said… must finish the living room and kitchen first! I pinky swear, they'll be done by the end of the year.
PRODUCTS: