Our Fall Favorites for Kiddos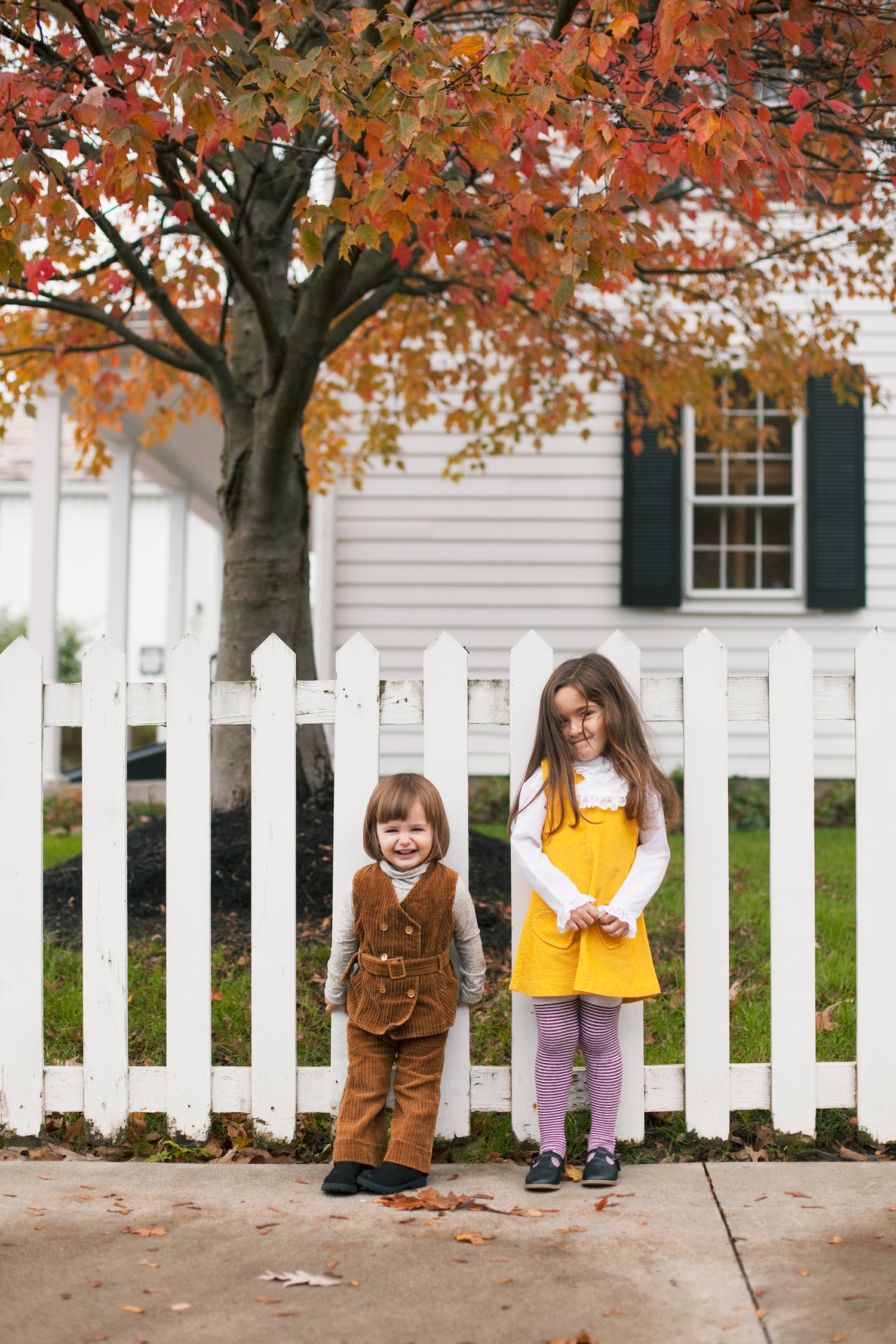 One of my most frequently asked questions on Instagram has to be this: Where do you get your girls' clothes? The answer is a bit of a mixed bag. Many of their clothes are vintage items I purchase from thrift stores, antique shops, Etsy, eBay, and mostly from Instagram mamas who have accounts dedicated to selling vintage kiddo clothes. But I also buy new basics and vintage-inspired clothes from the same ol' places every year, and I thought it was high time I made a post including our favorite toddler and little girls' clothes that are are available for purchase right now— no thrift hunting or Etsy scouring needed!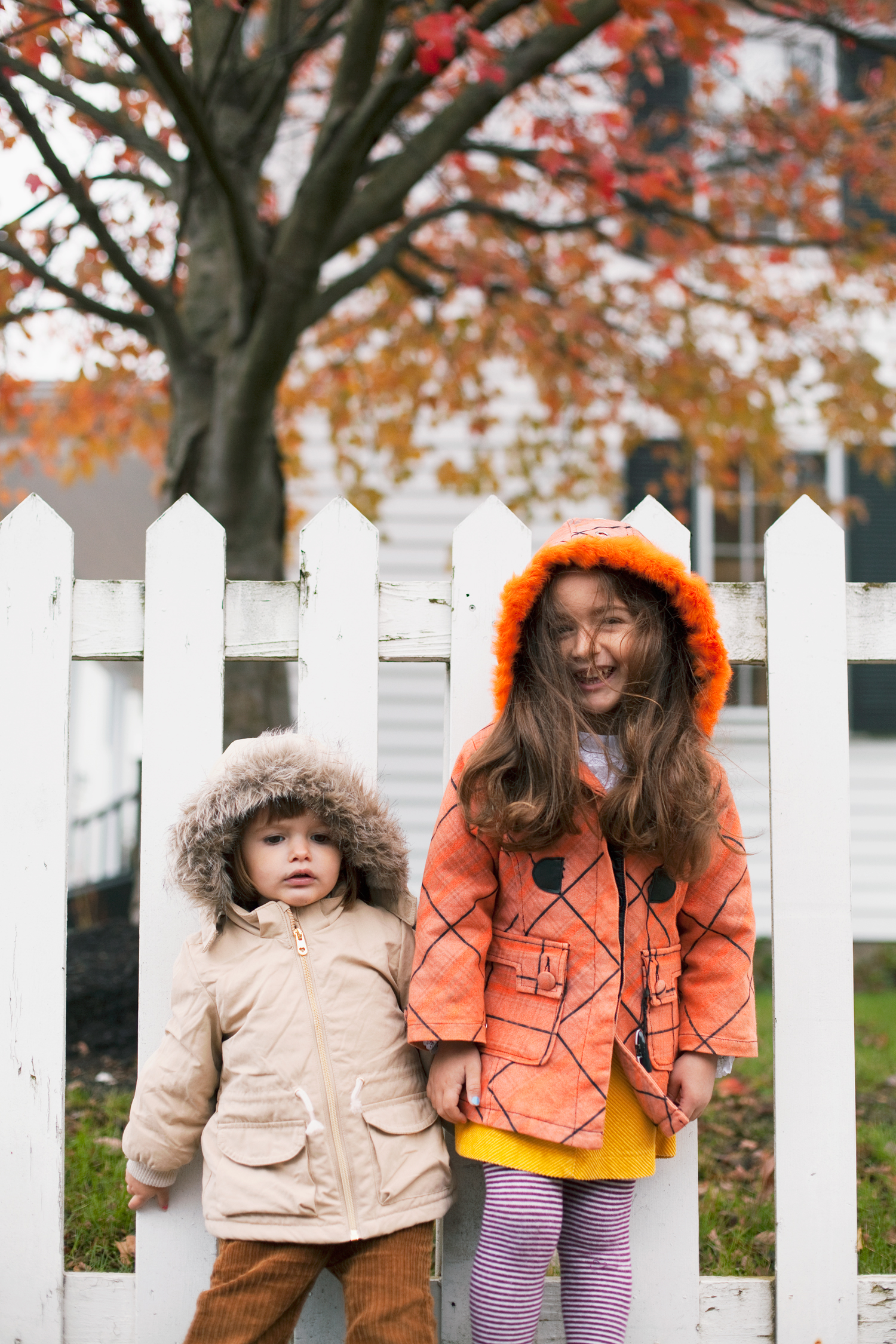 The outfits the girls are wearing here are mostly vintage, but as usual, we mix in some modern items, like tights, shoes, and a turtleneck. Juniper's little pants set is one of my favorite finds ever, and oh do I wish I had one in my size! Though to be honest, I probably couldn't pull it off like she can. :)
Juni's wearing: Pants set from chalkmarks on Instagram / turtleneck from H&M / boots from H&M / coat from H&M
Lucy's wearing: ascot blouse purchased on Instagram (can't remember where!) / Jumper from Colette's Vintage / tights from Old Navy / shoes from Old Navy
And now, here's a list of some of our favorite kiddo clothes for the season! I purchased some of these items for the girls, and am eyeing some others as Christmas gifts. (Even though they really aren't at the age that they appreciate clothes for gifts— unless they're fancy dresses or costumes!)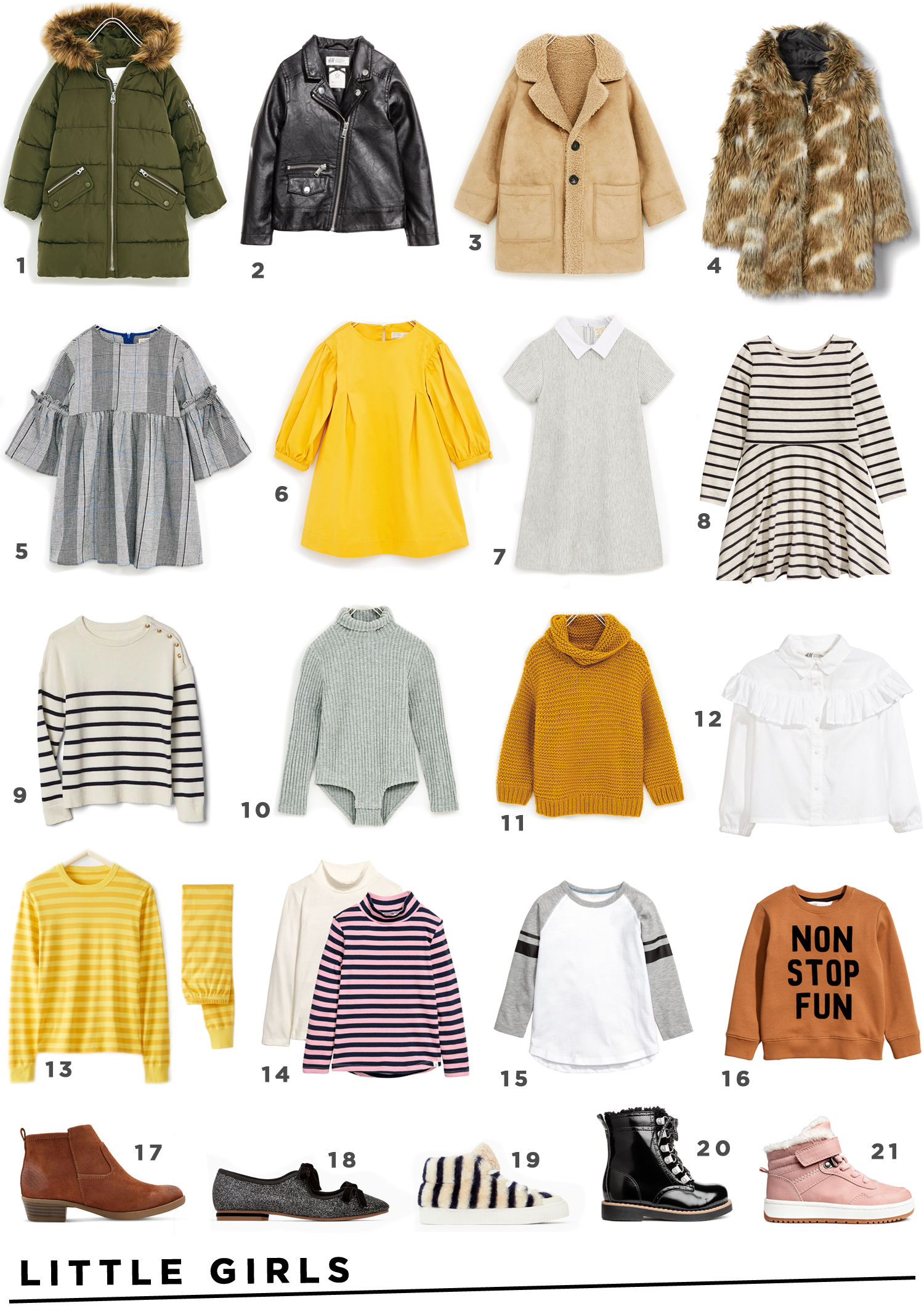 1 / 2 / 3 / 4 / 5 / 6 / 7 / 8 / 9 / 10 / 11 / 12 / 13 / 14 / 15 / 16 / 17 / 18 / 19 / 20 / 21
I like to select a few on-trend, fun items for Lucy to wear every year, but since I know these items will be passed down to Juniper eventually, I try to focus on timeless styles that will still feel fresh in a couple of years. Lucy and Juniper both love dressing up at times, but they are still kiddos (and plenty rambunctious), so I like to choose clothes that are great for playing in too!
We usually purchase our bottoms (like jeans, pants, and leggings) second-hand or else use hand-me-downs from friends. But occasionally I'll find some jeans in stores that are too cute to pass up! I did leave bottoms off my list because I ended up only purchasing some leggings from Zara this year, and the rest of what we're using are vintage or have been passed down to my girls.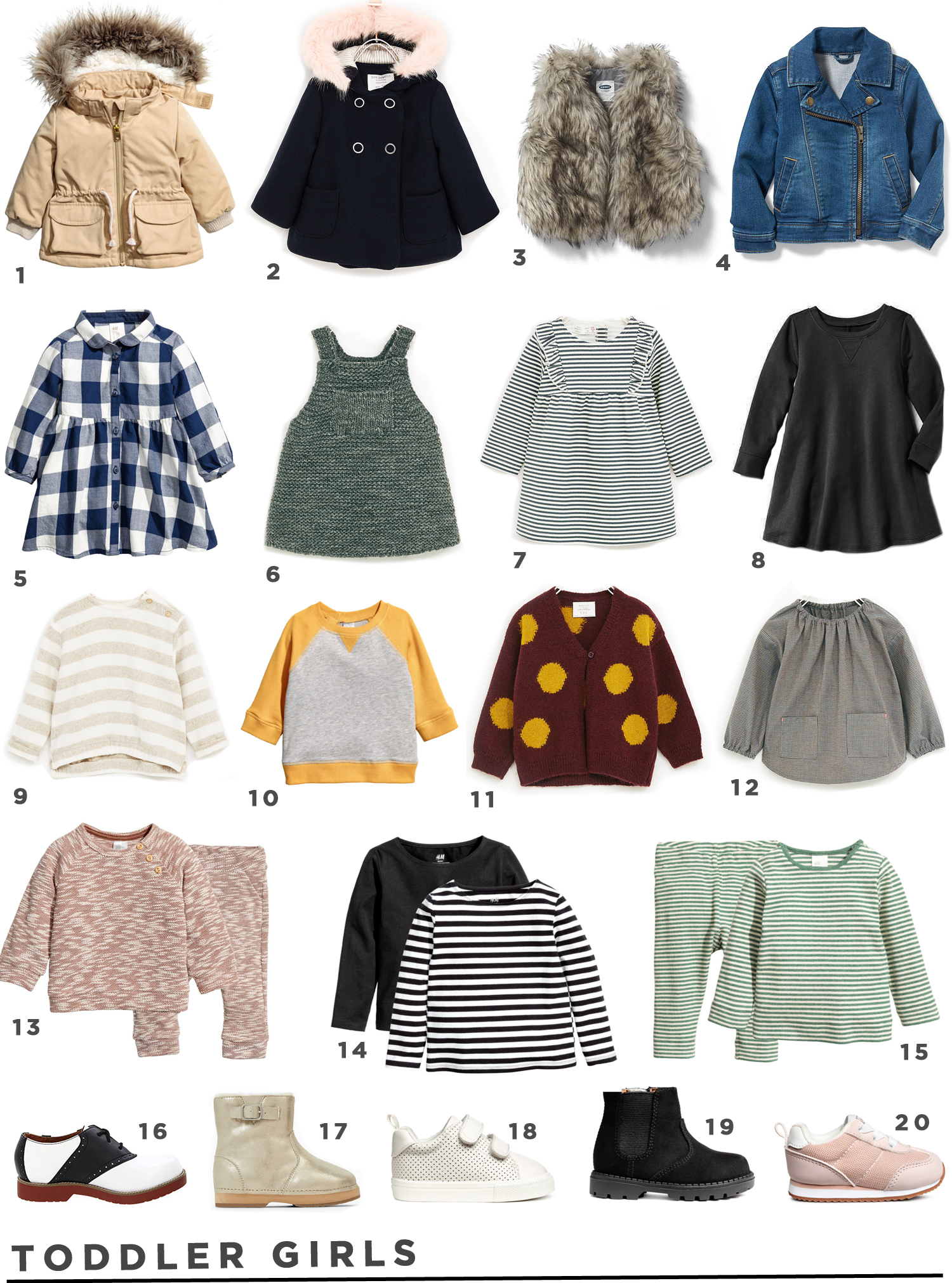 1 / 2 / 3 / 4 / 5 / 6 / 7 / 8 / 9 / 10 / 11 / 12 / 13 / 14 / 15 / 16 / 17 / 18 / 19 / 20
Juniper doesn't get many new items ever year, for obvious reasons! (#secondchildproblems) But I can't help myself and still will get her a few cute things new each season. When Lucy was little, I tried to get a lot of gender neutral items in case we had a boy next. But then Juniper came along, and loves her frilly dresses. While I do plan to probably have another baby, I've learned to just have fun with the kids we have and not think too much about what might happen with the next kiddo. So Juniper gets some girlier things than Lucy ever did, mostly because she sometimes refuses to wear things that don't have frills. (I'm working on getting her in on the jumpsuit and pants set game though!)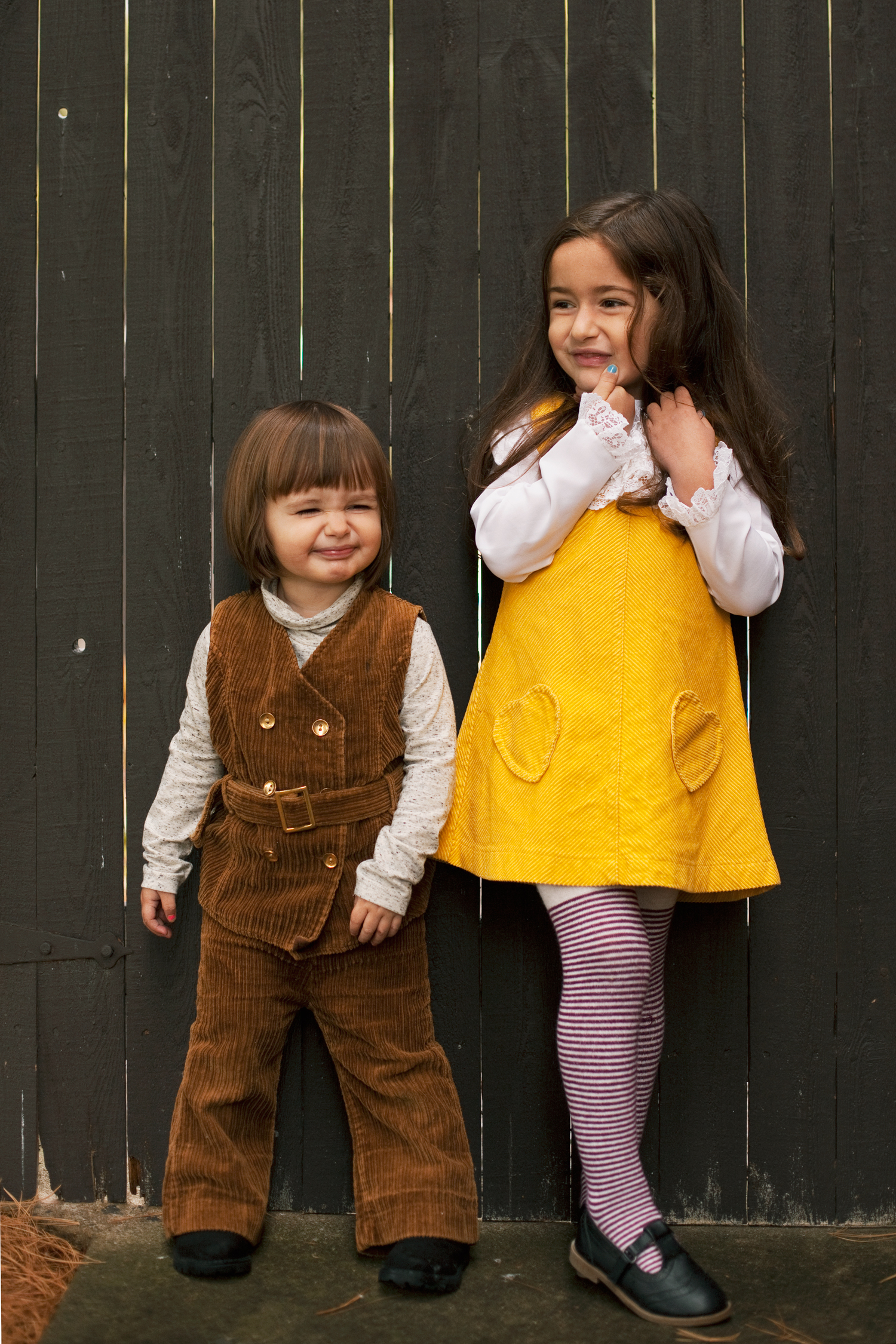 My mom was invited to a 70s theme party this weekend, and I helped put an outfit together, then offered to send the girls along as her accessories. :)