Monster Toast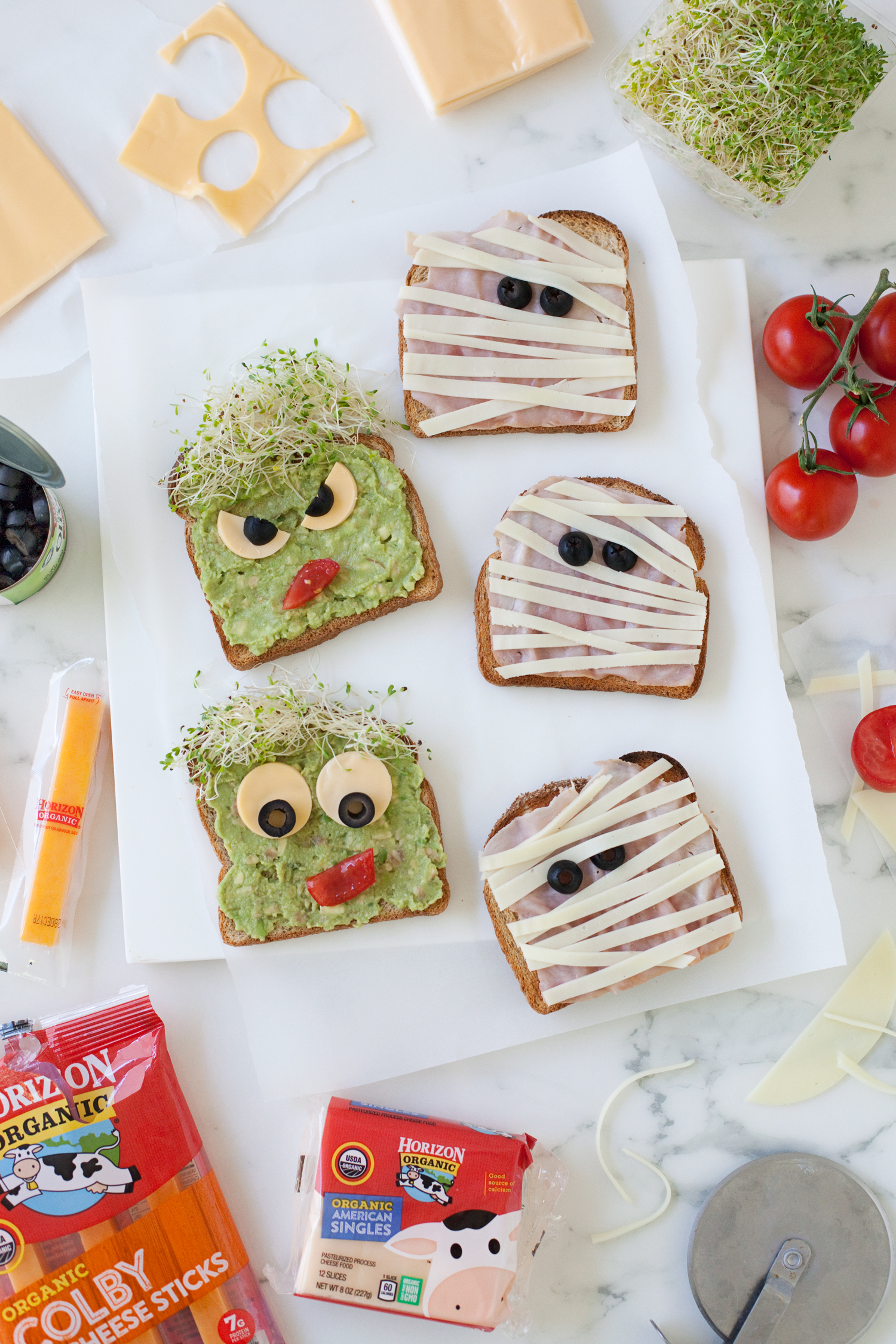 When food and crafts collide, you can always count me in! Two of my greatest loves, really. I also enjoy any excuse to create a fun meal that gets the kiddos excited about trying foods they'd otherwise leave to Mama, like avocado toast. I meeeaaan… monster toast!
I teamed up with Horizon Organic to share a couple of fun and pleasantly creepy toast ideas for a simple lunch idea you can enjoy with your kiddos, or heck, you don't even need kiddos to get a little weird with your food! Mummy toast in the break room at work? Sure, why not?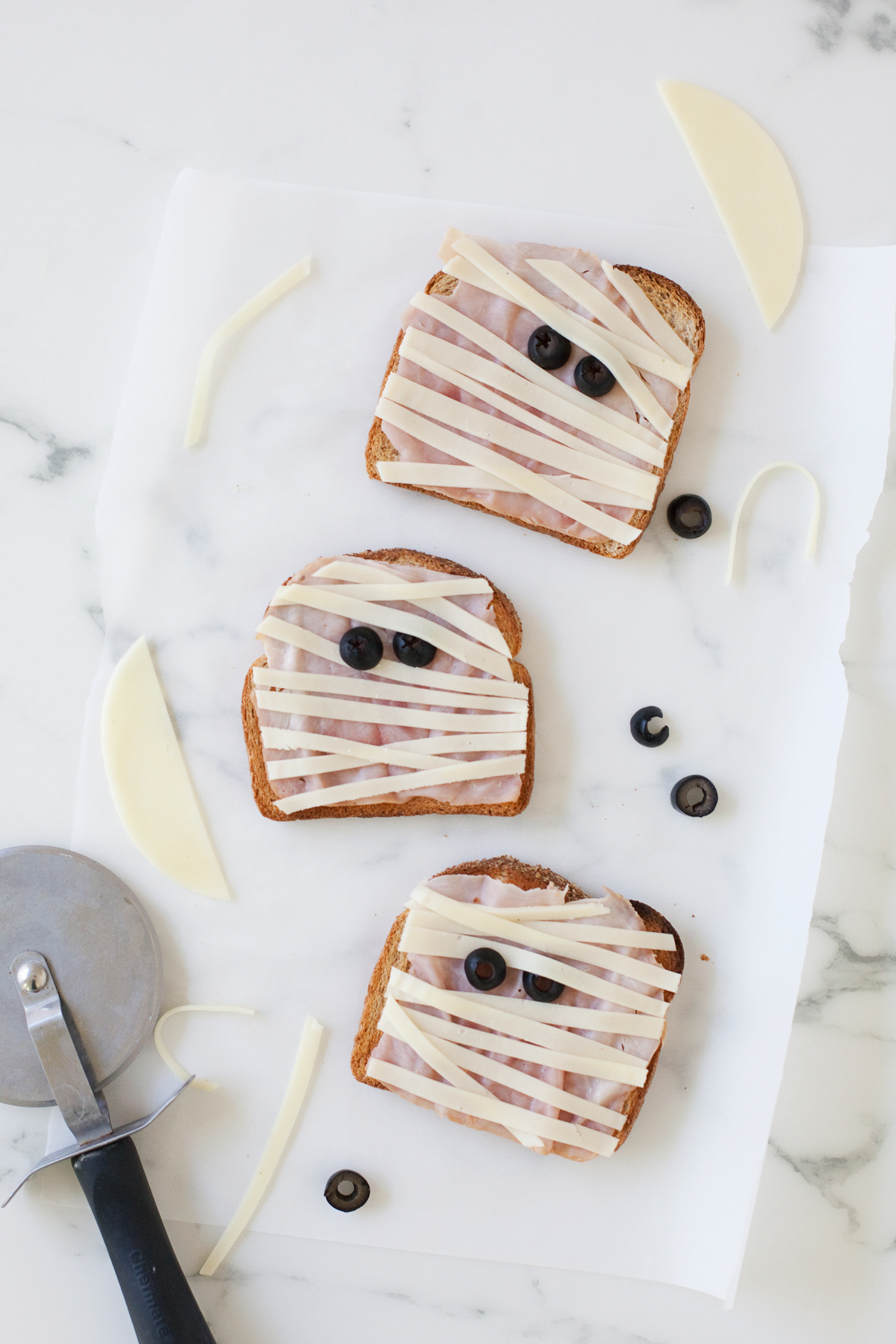 MUMMY TOAST

To make the mummy toast, I started with a base of sliced ham. Then I cut strips of Horizon Organic provolone cheese slices with a pizza slicer and layered the strips over the ham, using black olives for eyeballs. You can broil these to melt the cheese a bit too!
I think the mummy toast would be really yummy with tomato sauce instead of ham to make pizza toast too!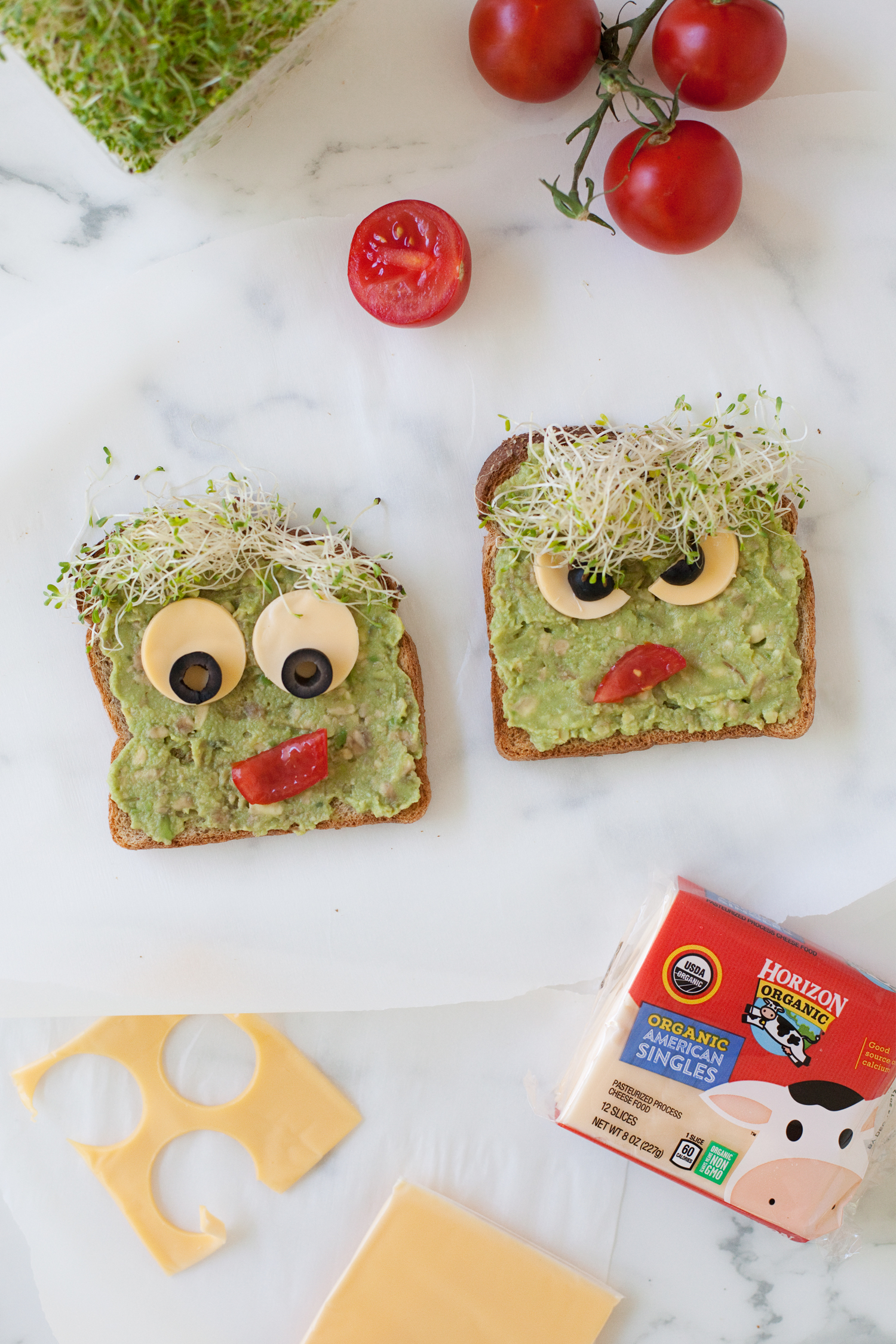 GREEN MONSTER TOAST

What started out as a plan to make Frankenstein toast turned into Lucy and I having a bit of fun making happy and mad faces on our toast! I used a spread of mashed avocado (mixed with lime to slow down browning) and let Lucy create faces with cut pieces of tomatoes, Horizon Organic American cheese, black olives, and alfalfa sprouts.
The green monster toasts were my personal favorite (I love avocado toast), but I was really surprised that for the first time ever, Lucy was interested in tasting "the green stuff."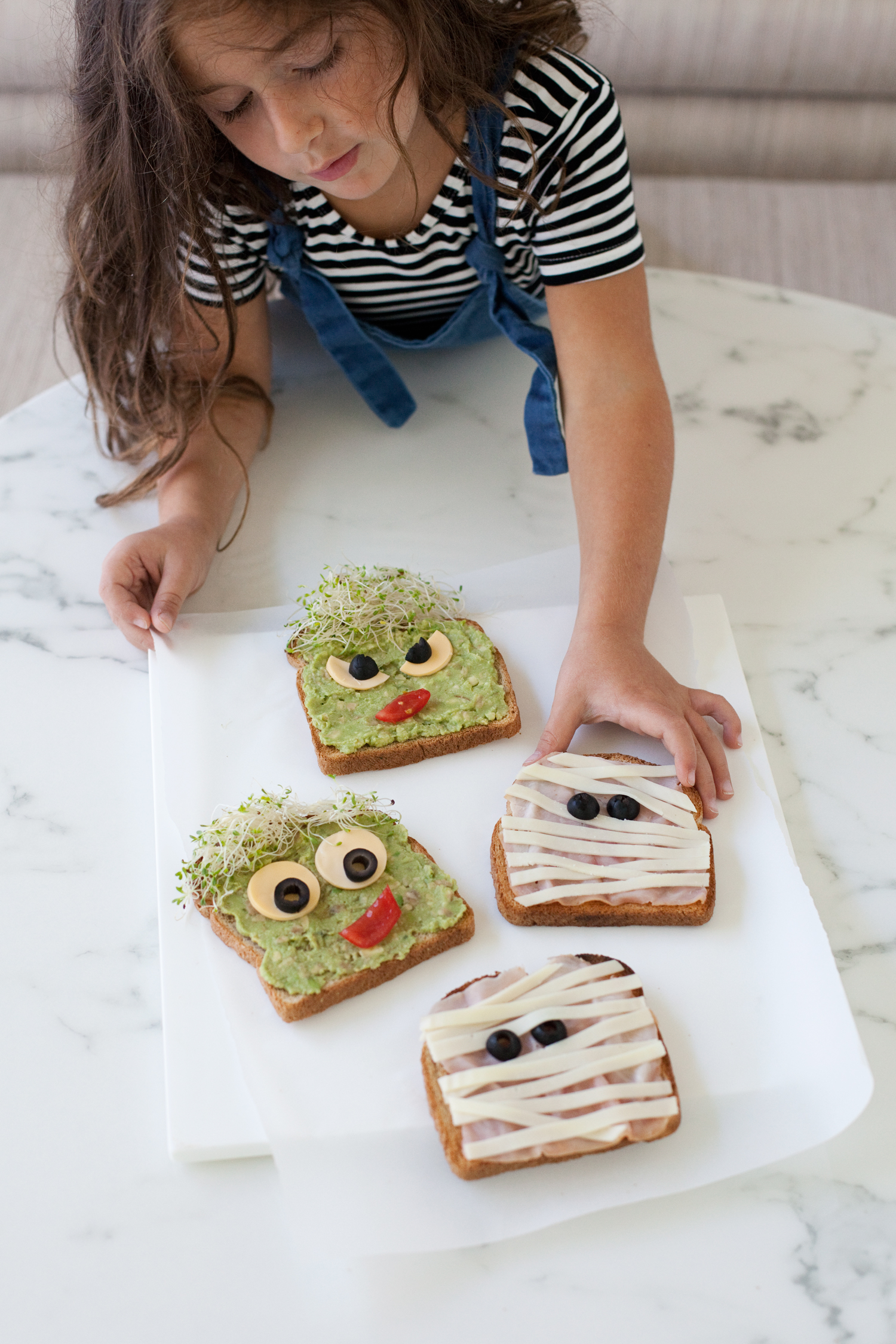 These toasts were super quick to put together, but Lucy ended up taking lots of time creating more faces out of leftover supplies, like cheese scraps, black olives, and tomatoes. She probably sat at the kitchen for an hour being creative with her food! It was a lot of fun, and I liked that I didn't need to go out and buy any special ingredients.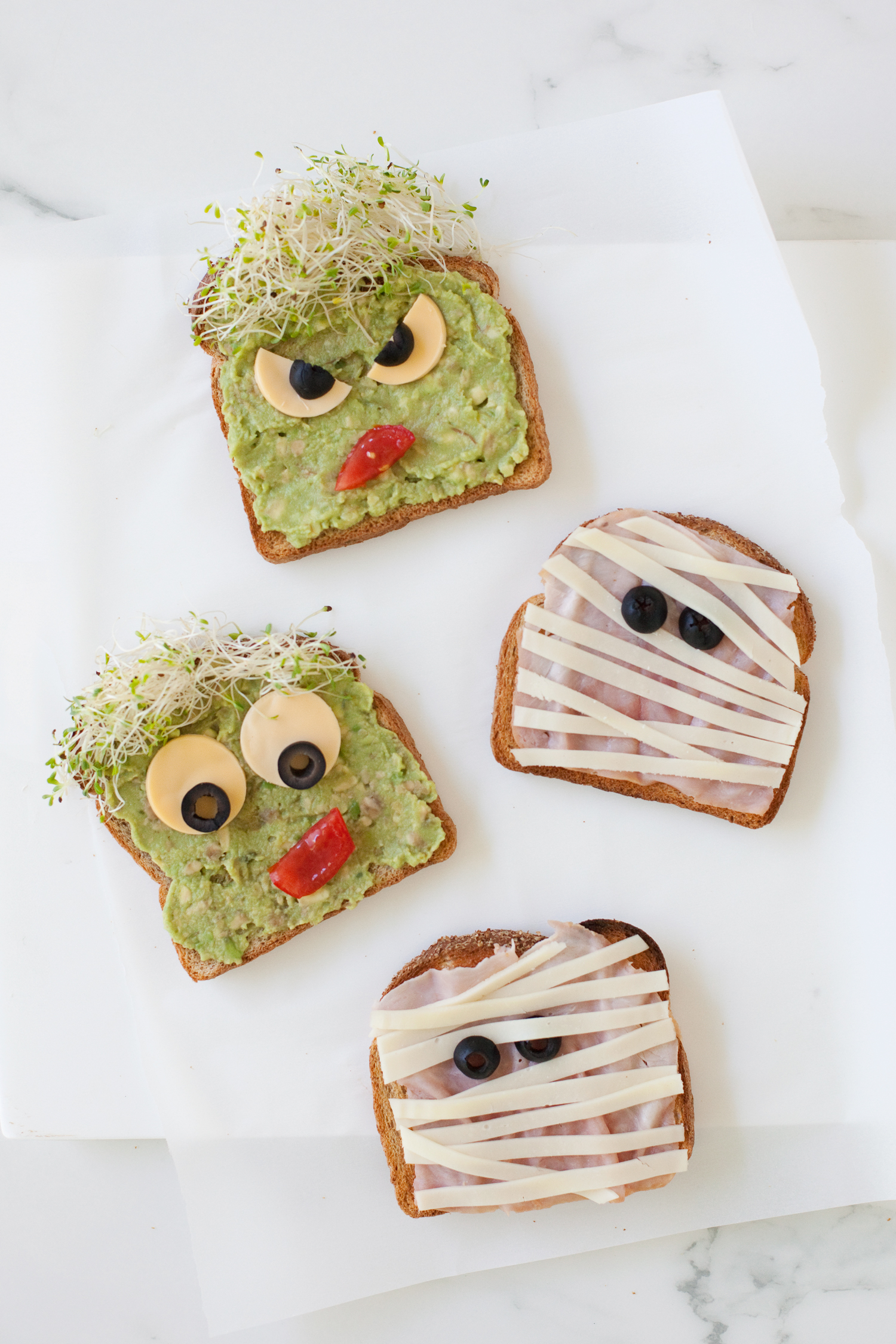 I love having the opportunity to work with Horizon Organic, because we really do love their snacks and dairy products in our family. If you're interested in getting special coupons and savings, sign up for their mailing list here, and be sure to follow them on Instagram, Facebook, and Pinterest to get even more meal and snacking ideas!
This is a sponsored conversation written by me on behalf of Horizon. The opinions and text are all mine.