Mandi Makes a Podcast Playlist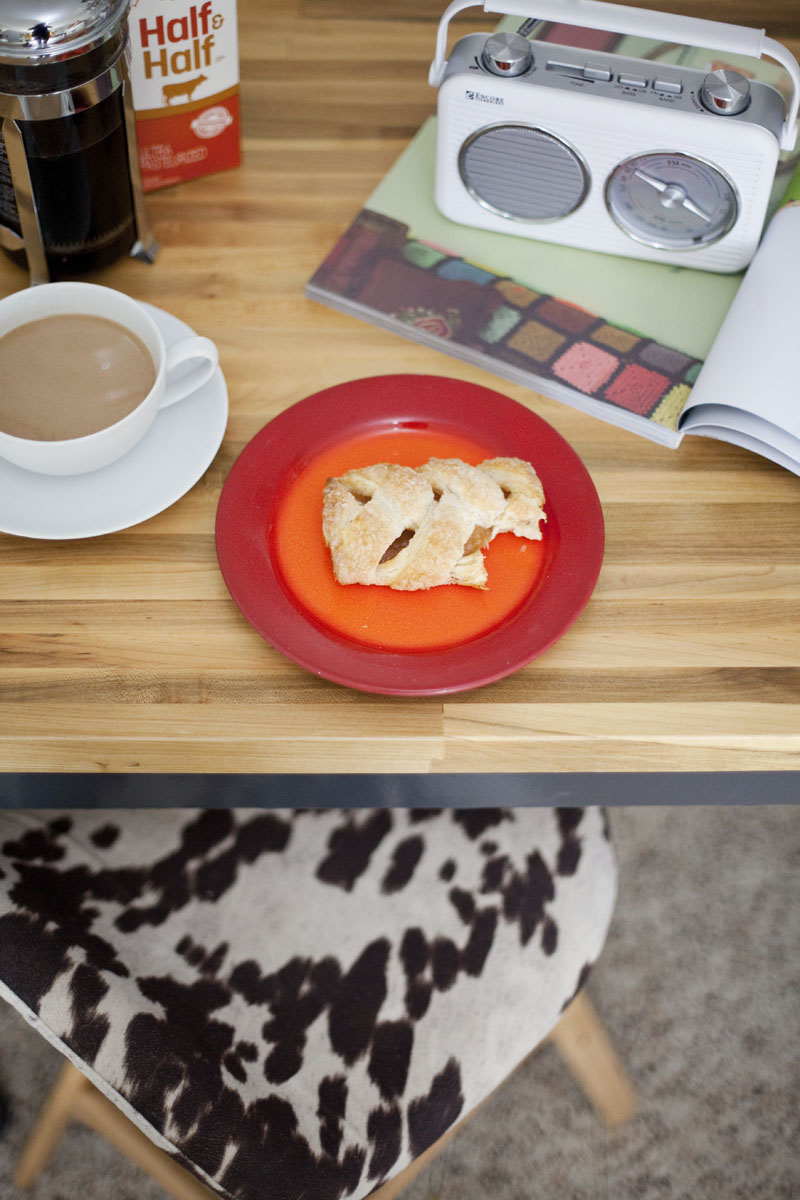 I've been a podcast listener since the first time I owned an mp3 player. Stories that draw me in make it easy to forget how many miles I've walked (Oh look, the kids are asleep in the stroller!) or how many miles of trim I've painted in our new house (Wait, it's 1AM already?!). So many people have asked me about my renovation playlist, and while I am the avid listener to very specific genres of music, it's really my favorite podcasts that have gotten me this far in my quest to transform our 1980s house into my dream home.
I wanted to share some of my favorite podcasts with you, as well as specific favorite episodes from each one. Some of these may be a bit cliché (This America Life, what can I say— I love it!), and admittedly I don't often try new tv shows and radio shows, because I really know what I like and don't like wasting my time. So if you have any new suggestions, I promise I'll give them a look!


RadioLab is the perfect podcast for those who enjoy exploring their curiosities, from the human mind to the human immune system, from social constructs to social injustice, from Cuban punk music to the American judiciary system— the way the RadioLab team researches and compiles each episode is thorough and engaging. This podcast perfectly combines entertainment with learning opportunities, and just might be my absolute favorite! It was impossible to narrow down my favorites! So I'll share my top six. (And I would share more if I wasn't afraid of overwhelming you.)
Worth / "This episode, we make three earnest, possibly foolhardy, attempts to put a price on the priceless. We figure out the dollar value for an accidental death, another day of life, and the work of bats and bees as we try to keep our careful calculations from falling apart in the face of the realities of life, and love, and loss."
The Buried Bodies Case / "In 1973, a massive manhunt in New York's Adirondack Mountains ended when police captured a man named Robert Garrow. And that's when this story really gets started. This episode we consider a string of barbaric crimes by a hated man, and the attorney who, when called to defend him, also wound up defending a core principle of our legal s
ystem. When Frank Armani learned his client's most gruesome secrets, he made a morally startling decision that stunned the world and goes to the heart of what it means to be a defense attorney – how far should lawyers go to provide the best defense to the worst people?"
Patient Zero / "The greatest mysteries have a shadowy figure at the center—someone who sets things in motion and holds the key to how the story unfolds. In epidemiology, this central character is known as Patient Zero—the case at the heart of an outbreak. This hour, Radiolab hunts for Patient Zeroes from all over the map. We start with the story of perhaps the most iconic Patient Zero of all time: Typhoid Mary. Then, we dive into a molecular detective story to pinpoint the beginning of the AIDS, and we re-imagine the moment the virus that caused the global pandemic sprang to life. After that, we're left wondering if you can trace the spread of an idea the way you can trace the spread of a disease. In the end, we find ourselves faced with a choice between competing claims about the origin of the high five. And we come to a perfectly sensible, thoroughly disturbing conclusion about the nature of the universe … all by way of the cowboy hat."
Remembering Oliver Sacks / "When Radiolab was just starting out, Robert asked Dr. Oliver Sacks if he could help us, maybe send us a few story ideas. Over the years he has shared with us stories of chemistry, music, neurology, hallucinations and more, so much more. Because Oliver notices the world and the people around him with scientific rigor, with insight, and most importantly, with deep empathy. ?When he announced a few months ago that he had terminal cancer and wasn't going to do any more interviews, we asked him if he'd talk with us one last time. He said yes?. So Robert went, as he has done for 30 some years now, to his apartment with a microphone, this time to
ask him about the forces that have driven him in his work, in his unique relationships with his patients, and in his own life."
Nazi Summer Camp / "Reporter Karen Duffin and her father were talking one day when, just as an aside, he mentioned the Nazi prisoners of war that worked on his Idaho farm when he was a kid. Karen was shocked … and then immediately obsessed. So she spoke with historians, dug through the National Archives and oral histories, and uncovered the astonishing story of a small town in Alabama overwhelmed by thousands of German prisoners of war. Along the way, she discovered that a very fundamental question – one that we are struggling with today – was playing out seventy years ago in hundreds of towns across America: When your enemy is at your mercy, how should you treat them? Karen helps Jad and Robert try to figure out why we did what we did then, and why we are doing things so differently now."
Playing God / "When people are dying and you can only save some, how do you choose? Maybe you save the youngest. Or the sickest. Maybe you even just put all the names in a hat and pick at random. Would your answer change if a sick person was standing right in front of you? In this episode, we follow New York Times reporter Sheri Fink as she searches for the answer. In a warzone, a hurricane, a church basement, and an earthquake, the question remains the same. What happens, what should happen, when humans are forced to play god?"

I feel like this podcast might be the "Parenthood" of podcasts, which makes me slightly hesitant to put it so far at the top of my list of favorites, but hey! I'm not here to be cutting edge, just to be honest about what I enjoy listening to. And while my friends would chat about how they laughed and cried during the most recent amazing "Parenthood" episode (may it rest in peace), I would be over here asking if they had caught the most recent "This American Life" episode. Yep, you'll laugh, you'll cry, and your heart and mind will be a bit more open after each show that Ira Glass hosts.
Tell Me I'm Fat / episode 589 / "The way people talk about being fat is shifting. With one-third of Americans classified as overweight, and another third as obese, and almost none of us losing weight and keeping it off, maybe it's time to rethink the way we see being fat."
It Says So Right Here / episode 509 / "Everyone knows you can't always believe what you read, but sometimes even official documents aren't a path to the truth. This week we have stories of people whose lives are altered when seemingly boring documents like birth certificates and petitions are used against them. And a family wrestles with a medical record that has a very clear, but complicated diagnosis."
Prom / episode 186 / "While the seniors danced at Prom Night 2001 in Hoisington, Kansas—a town of about 3,000—a tornado hit the town, destroying about a third of it. When they emerged from the dance, they discovered what had happened, and in the weeks that followed, they tried to explain to themselves why the tornado hit where it did. Plus other stories that happen on Prom Night."
My Pen Pal / episode 246 / "Stories of very unusual pen pals, including a ten-year-old girl from Michigan who befriends Panamanian dictator Manuel Noriega."

You may be seeing a theme, here. I love hearing peoples' stories, and The Moth is such a fresh way to experience them! Story tellers stand up on stage and have a few minutes to tell their stories to a live audience. Sometimes it's about a childhood experience, overcoming obstacles in life, or a fun story about adolescent phone calls with an actual rock star. Every podcast is such a fun, refreshing listen!
School Night / A teenager does a newspaper review of an Iggy Pop album and gets a surprising response.
The Pieties of Perspiration / Adam Gopnik battle liberal guilt with his son in a sauna.
I love listening to Fresh Air to get a glimpse into the hearts and minds of my favorite actors, musicians, and writers, but also to find out about interesting stories and people that are completely new to me. Giving people a space to tell their story and ask the questions we all have, or some that we haven't considered, interviewer Terry Gross recently celebrated 30 years of on-air experience with Fresh Air. Here are some favorite episodes of mine that come to mind, but don't neglect to scroll through the archives to see what jumps out at you! There's a lot there to love.
Aziz Ansari– On "Master of None" and How His Parents Feel About Acting
Lynsey Addario– Twice kidnapped, photographer returns to war zone: "It's What I Do"
Peggy Orenstein– "Girls & Sex" and the Importance of Talking to Young Women About Pleasure
Jeff Guinn– "The Road to Jonestown" Nearly 40 years later, Jonestown offers a lesson in demagoguery

If you're interested in the human psyche and how it affects our personal lives and our society, or maybe you want to hear about some interesting true stories where differing personalities and ways of thinking dictated the plot, you must give Invisibilia a listen! It's compelling, engaging, and kind of feels like a happy medium between RadioLab and This American Life.
Reality / "How is it that two neighbors can look out their window at the exact same thing, and see something completely different? This is a question many people in America are asking now. We explore it by visiting a small community in Minnesota, called Eagle's Nest Township, that has a unique experience with the reality divide: some of the people in the town believe that wild black bears are gentle animals you can feed with your hands, and others think they are dangerous killers. This divide leads to conflict and, ultimately, a tragic death. So, is there a "real" truth about the bear, or is each side constructing its own reality? In part two we look at attempts to escape these self-made constructs. We follow one man's epic experiment to break out of his reality bubble. And one woman's epic-in-its-own-way experiment to break out of her species bubble!"
Flip the Script / "In this episode we look at situation where someone flips the script – does the opposite of what their natural instinct is, and in this way transforms a situation. Usually when someone is hostile to us, we are hostile right back. The psychological term is "complementarity." But then in rare cases someone manages to be warm, and what happens as a result can be surprising. The episode starts with a story about a dinner party in DC, when an attempted robbery was foiled by… a glass of wine and some cheese. Then we travel across the pond, to Denmark, where police officers are attempting to combat the growing problem of Islamic radicalization with… love. And finally, we talk to a man who attempted to flip the script on one of our most basic animal functions: finding a mate."


Do Listen Twice is a ten episode series created to promote the film Don't Think Twice. This American Life Host Ira Glass teams up with comedian Mike Birbiglia to present his favorite stories that Birbiglia has told on the podcast over the years. This series had me laughing out loud while staining lumber for hours alone in my dining room.

Okay, so if you were on the internet at all in 2014, you've heard about this true-crime podcast. If you never listened to season one of Serial, what are you waiting for? The story explores the details of the murder of teenager Hae Min Lee and attempts to explore the possible innocence of the young man Adnan Syed who was convicted of murdering his ex girlfriend. I never got into season two of Serial, but season one consumed my podcast listening during the fall it was released!

From the creators of Serial comes the podcast series S-Town, which begins as a true-crime story about a possible murder cover up in a small Alabama town, but develops into an interesting look at the life of an eccentric recluse who befriended radio journalist Brian Reed and polarized the people in S*** Town, Alabama.


You Must Remember This is a podcast that explores the lives, scandals, and forgotten history of Hollywood's golden age. Basically, this podcast was made for me!

I began listening to Snap Judgement last year, and was intrigued by the Halloween episodes. I also loved the recent one about the one-legged wrestler that I caught during a Saturday afternoon trip to the hardware store. It was definitely a parking lot moment. (All of you NPR listeners will appreciate that. Ha!)

Malcom Gladwell explores history from angles other historians have forgotten or have left hidden through time in this podcast, Revisionist History.

A friend recommended I listen to this podcast after we had been talking about myths and legends that we really hope were real. I loved listening in on the meandering conversations about The Mothman on Astonishing Legends, and my imagination is still running wild!