Kiddo-Approved Cheesy Mac Meals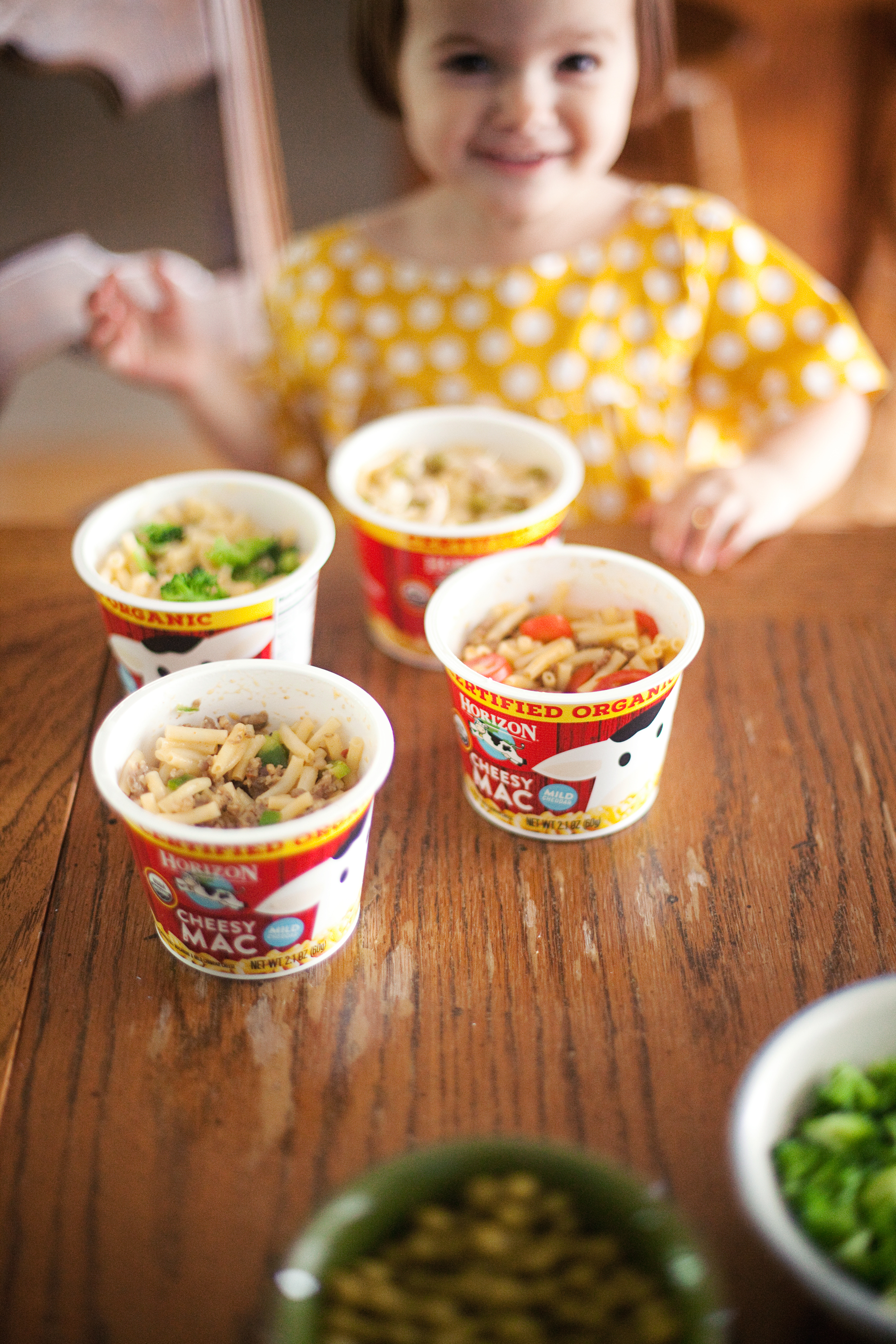 So, what's a mom to do when she has no kitchen, four mouths to feed, and no kitchen? Lately, as we're in the thick of our kitchen renovation, I've been feeling a bit like a college student again. Our home isn't too different from my old dorm, except we have a full-size refrigerator (thank God!), but just like nineteen-year-old me, we're still making all of our meals in the microwave, when we're not eating fresh foods straight from the grocery store or refrigerator. We don't have a sink, oven, range, or dishwasher, and let me tell ya— we're all getting tired of deli sandwiches.
But I remembered something from my past that I knew my kiddos would enjoy— microwavable mac and cheese! We lived on that stuff in college. These days I have a little bit higher nutritional standards, so I decided to use Horizon Organic Cheesy Mac and add some mix-ins to transform a cup of microwavable mac into a decent, kid-approved meal.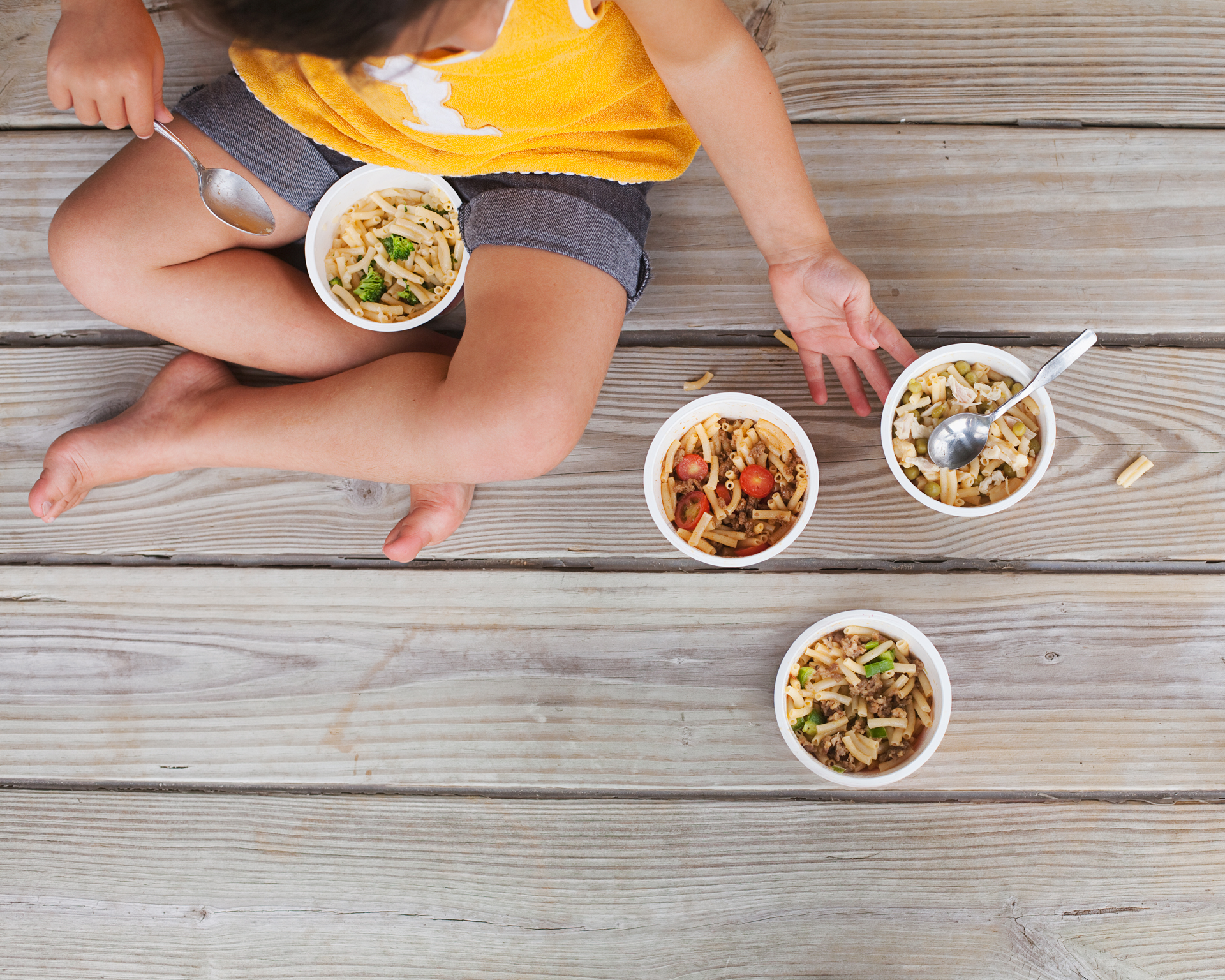 In the good ol' days when we had a kitchen, mac and cheese was a decadent side dish to accompany a full, well balanced meal. Now mac and cheese is the main course, I told Lucy we were going to add some things to make it more nutritious. She told me, "I am not going to like any of them! I don't like stuff in my mac and cheese." And like a true mom, I said, "Well, I guess you'll just be hungry then!" (Ha! The things our parents said that we now hate ourselves for saying.) Oh well. It didn't matter anyway, because the kids couldn't get enough of the mac meals.
I didn't want to be too adventurous with our mix-ins, because this was the first time they'd had anything extra in Lucy and Juniper's mac and cheese, and I didn't want to blow the whole thing with one wrong move. So I played it save and mimicked the flavors from meals I knew the kiddos already enjoyed.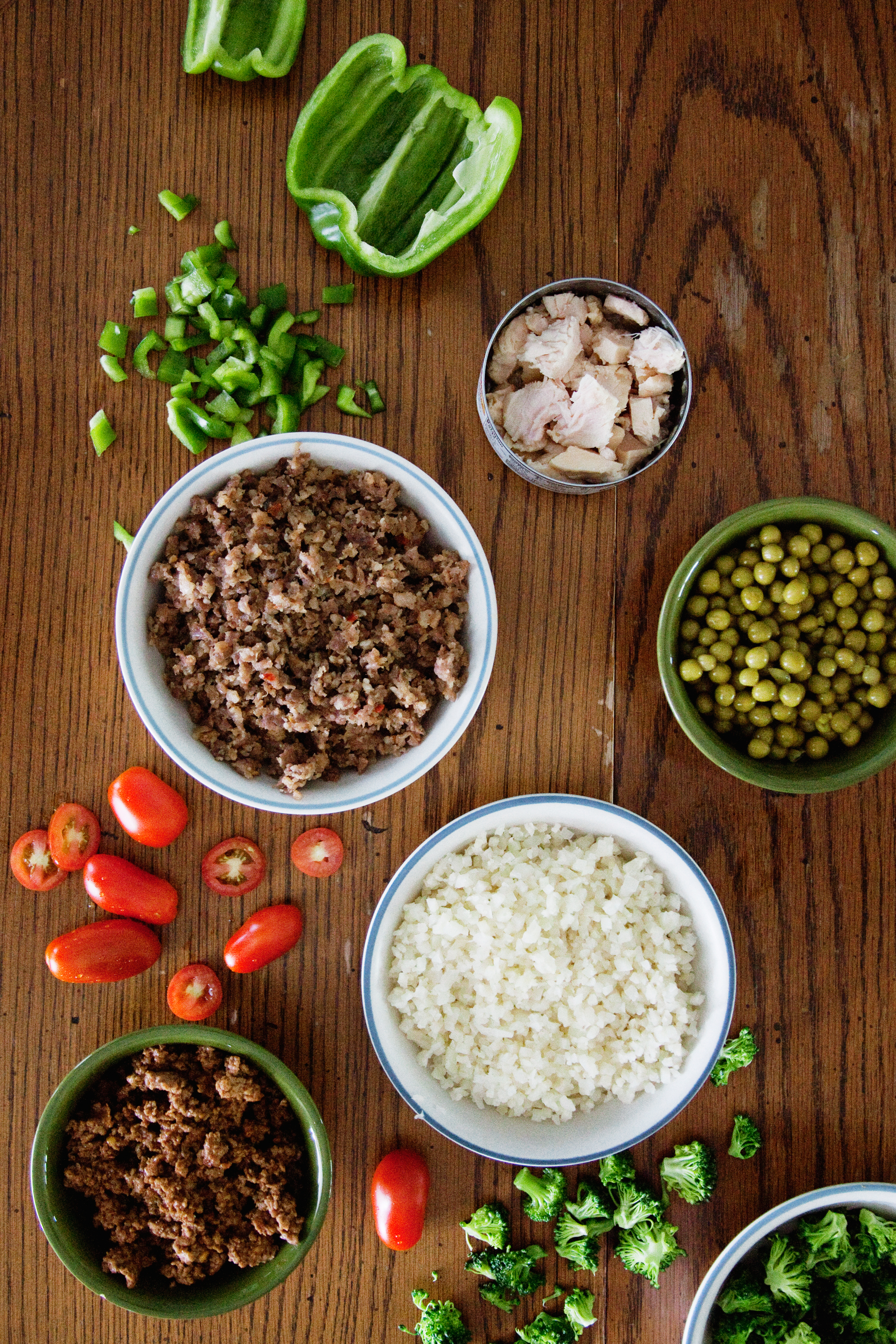 Because we don't have a kitchen, I had to prepare these mix-ins at my mom's house. I then portions out the prepped ingredients into freezer bags for easy reuse at our kitchenless house. Hanging out at mom's gave me a great chance to catch up on laundry too. (6 loads done in one day, baby!)
After microwaving each bowl of Horizon Organic Cheesy mac, there was still plenty of room to add mix-ins. (No need to dirty another bowl! Hooray!) I stirred in the extras while the girls asked if it was time for lunch. I told them they'd have a chance to choose their favorite combination of mac and cheese as I began arranging them on the table to take pictures, but before I could finish, the girls commandeered the cups and began chowing down. Lucy's plan to not eat "mac and cheese with stuff in it" didn't go over so well. How easily her plan was foiled!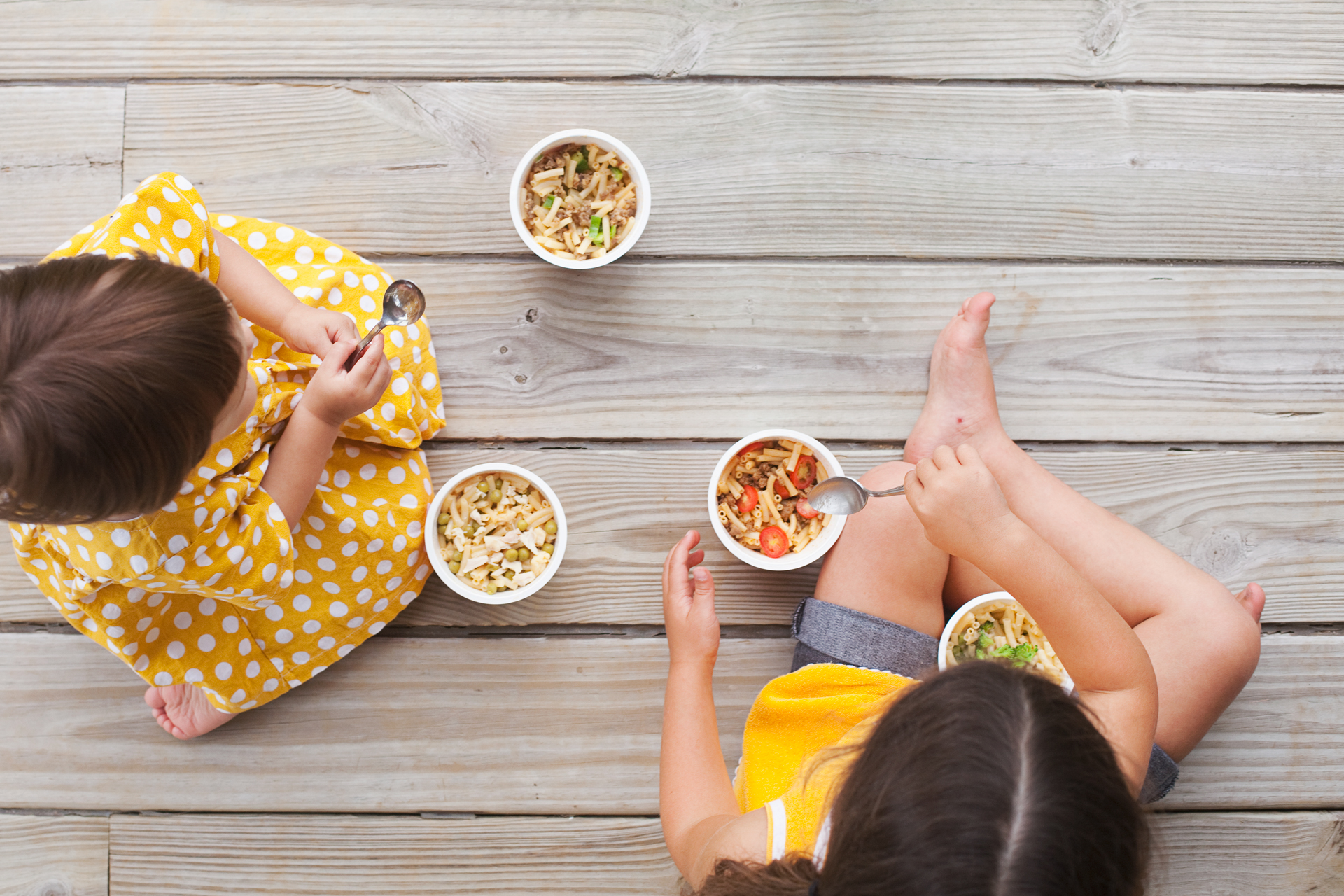 Now that I know they like mac and cheese with mix-ins, I'm going to add more veggies next time! Here's what we did this time, and what I'll add in the mix next time.
ITALIAN STYLE- Spicy Italian sausage with diced green peppers. I had meant to include red peppers too, but I forgot my pepper at home! Next time I'll add chopped spinach too.
TACO STYLE- Seasoned ground beef with chopped tomatoes. Next time I'll add black beans, or whatever beans I have around.
POT PIE STYLE- Shredded chicken with peas. Next time I'll add cooked carrots.
VEGGIE STYLE- I added chopped broccoli and riced cauliflower when microwaving the pasta. The riced cauliflower was practically invisible when added, so I added a lot of it! Next time I'll probably make this the exact same way.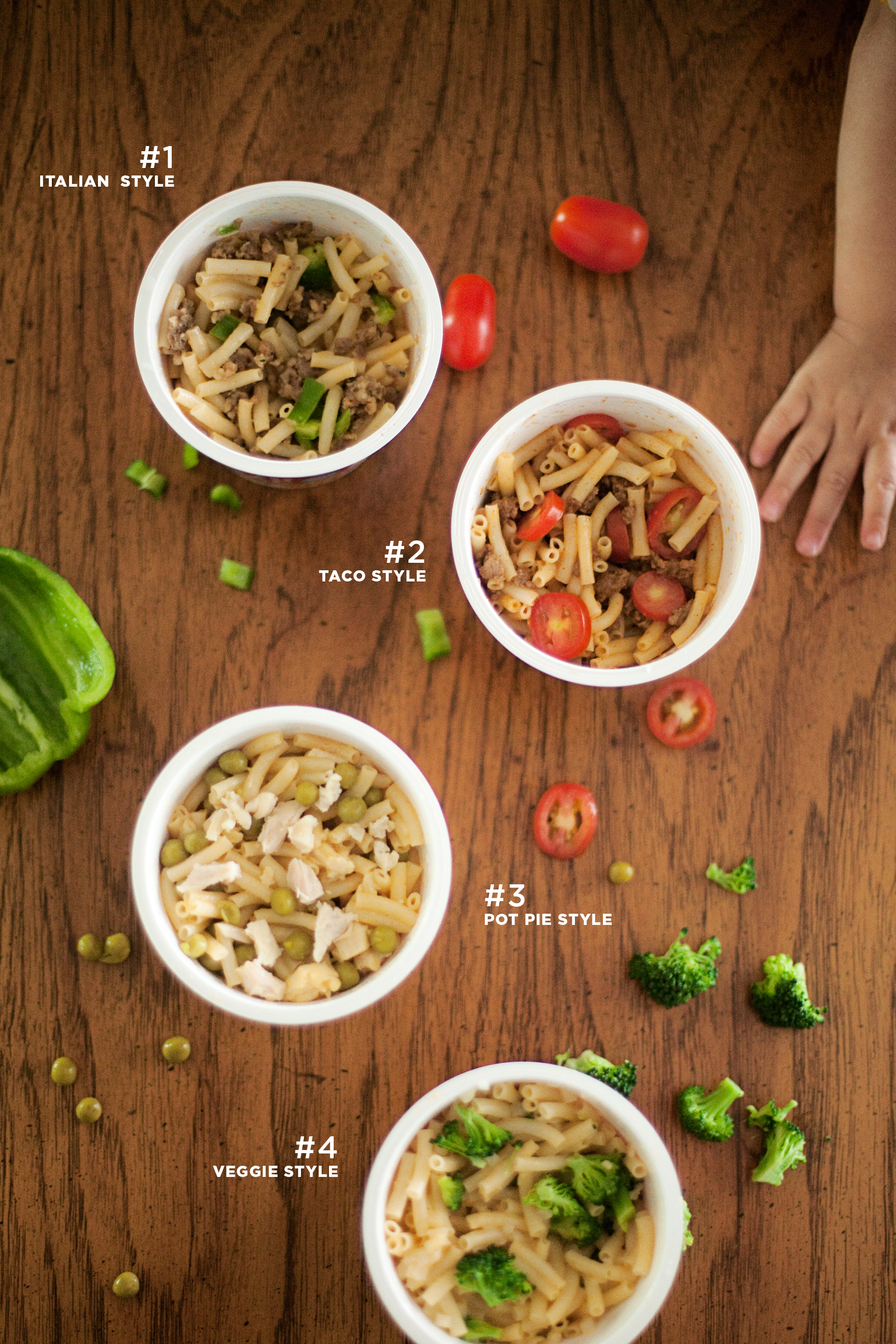 Do you like adding mix-ins to your mac and cheese? Or are you a purist? I love thinking of new flavor combinations and discovered a new favorite today— the spicy sausage with peppers. So good! We'll probably bring back this lunch routine long after our kitchen renovation is complete.
This is a sponsored conversation written by me on behalf of Horizon. The opinions and text are all mine. Get more snacking and meal ideas at Horizon's Pinterest, Facebook, and Instagram pages too!