KITCHEN PROGRESS: Demolition and Appliance Shopping!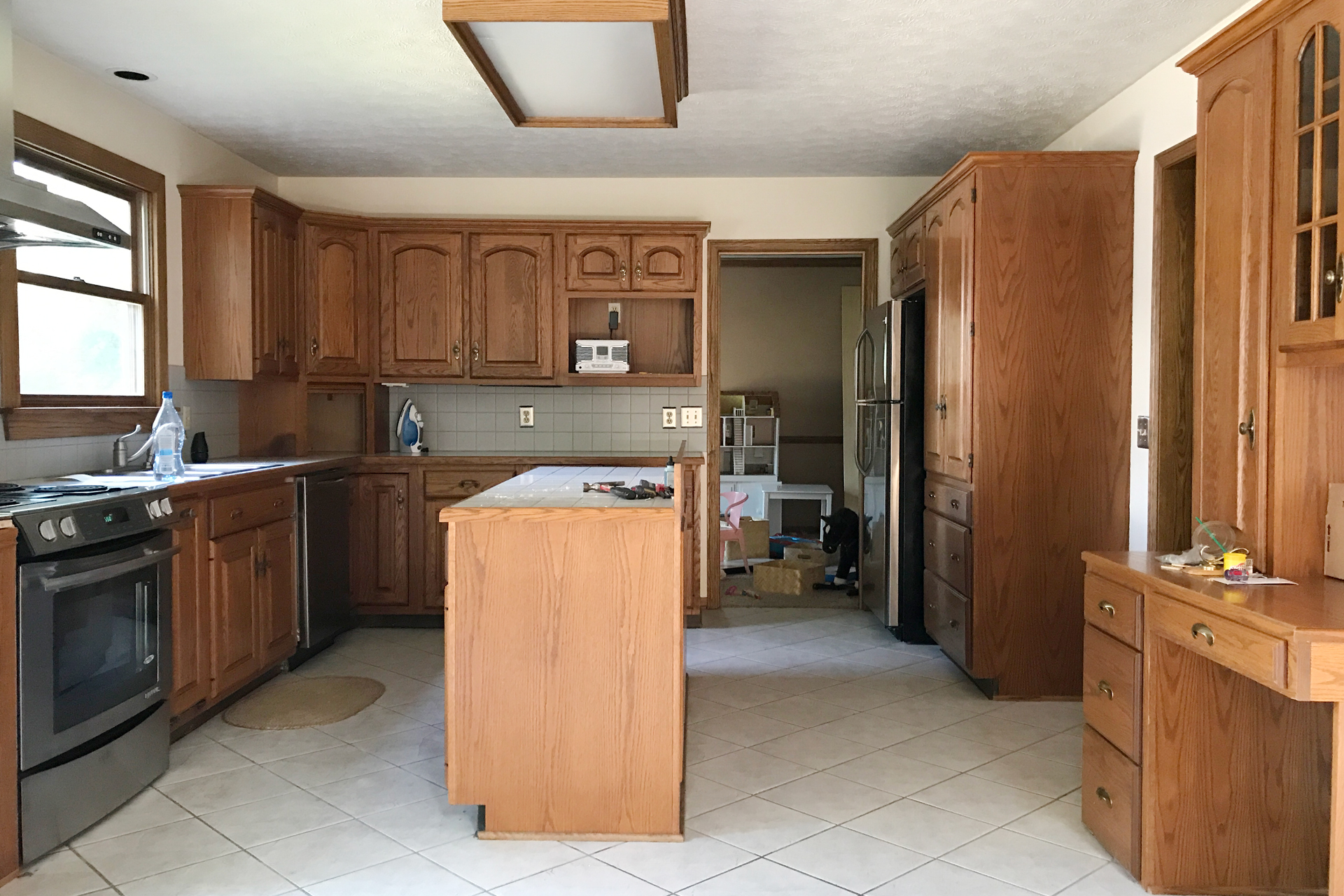 This post is sponsored by The Home Depot.
You guys! My life! It's all feeling about as chaotic as our kitchen looks. Some friends just shake their heads at me and smile. They don't smile for too long or I might rope them into helping, though! (By the way, I'm always accepting helping hands!) I wanted to update you all with where we're at on the kitchen project. And first let me just say that Chip Gaines has tricked me into thinking there is such a thing as "Demo Day." Ahem, we had a couple of Demo Weeks at our house, but I guess that might have something to do with the fact that our demo team consisted of just me and Phil, until my dad came home from a business trip and was able to help me with the cabinets. Oh, the cabinets. More on that when I talk about our range choices!
So Phil and I put on long pants, long sleeves, and safety glass, using all of our free time (and then some) to do as much demo as possible. I spent a couple of days removing carpet, padding, tack strips, and staples while Phil was at work and the girls played in their play room (which only resulted in disaster once), and later we ended up having to call friends to help haul out large cabinets. In the end, the trickiest part of demo was all the ceramic tile!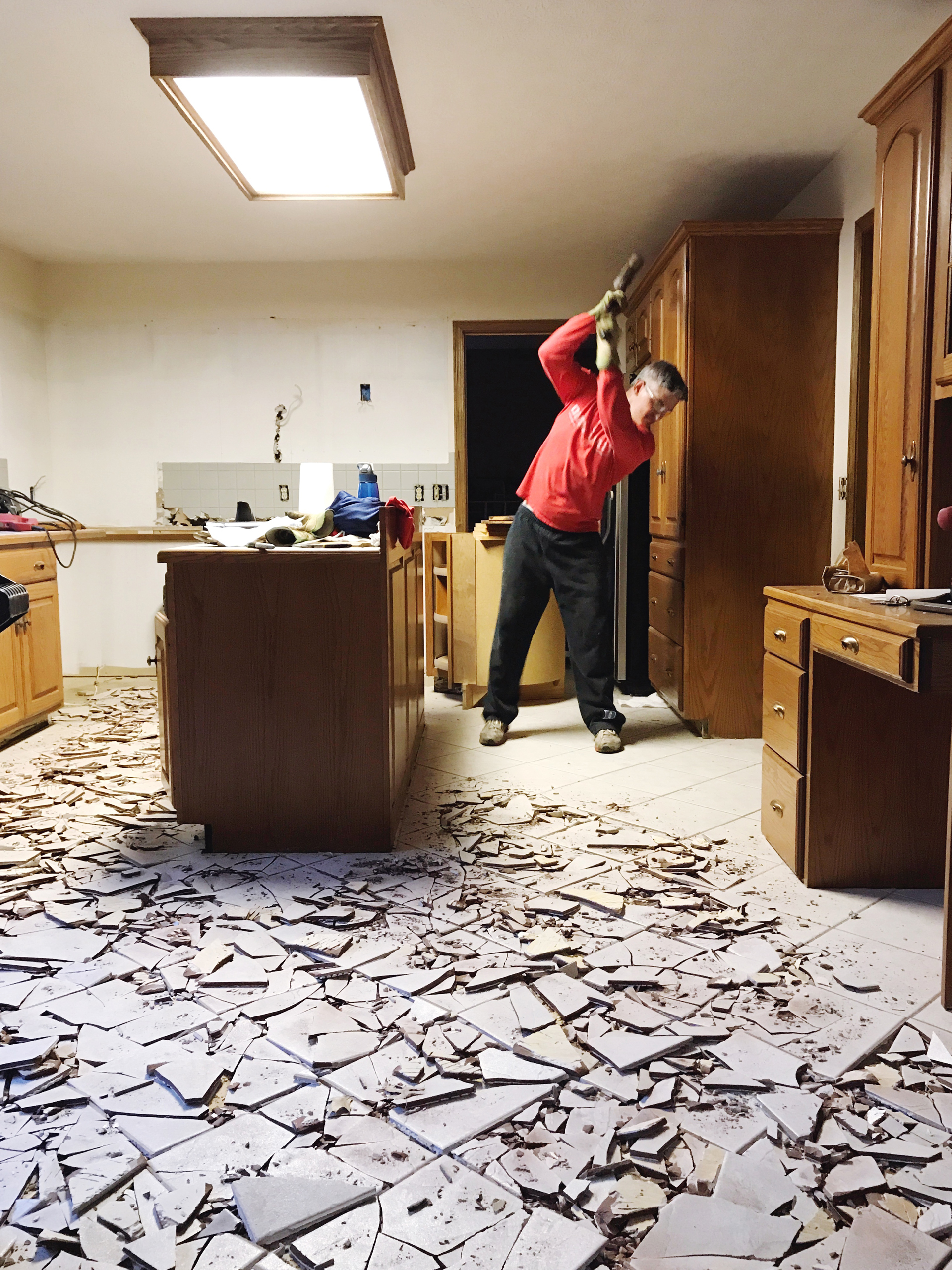 We summoned all of our strength and elbow grease as Phil and I blasted dance music and ripped up the ceramic tile. I decided to rent a Waste Management Bagster, and we used a regular dumpster/trash can on wheels to haul the broken tile out of the house and into the Bagster on our driveway. Phil went out with the sledge hammer and cracked the tile. I used a hammer and chizel to get up any larger pieces that were sticking, and then I shoveled it all into the dumpster with a flat shovel. Talk about a great oblique workout! All of that lifting and twisting! Where's my six-pack?!
We were able to get up most all of the tile in a couple of days, and took care of the smaller, stuck-on bits the next week before our contractor came. In fact, the contractors are at the house right now! I hired my friend Mark McGuire and his crew to come build a pantry in our kitchen (see floorplans below to see where the new pantry closet will be), a step out into the living room (also seen in floor plan changes), and to even out some subfloor level discrepancies on the first floor, so we can lay the wood floor throughout. By the way, if anyone in Northeast Ohio needs a trustworthy and affordable team for home reno projects, PLEASE contact me, and I'll share my contact. He doesn't have a website, or I'd link it up here.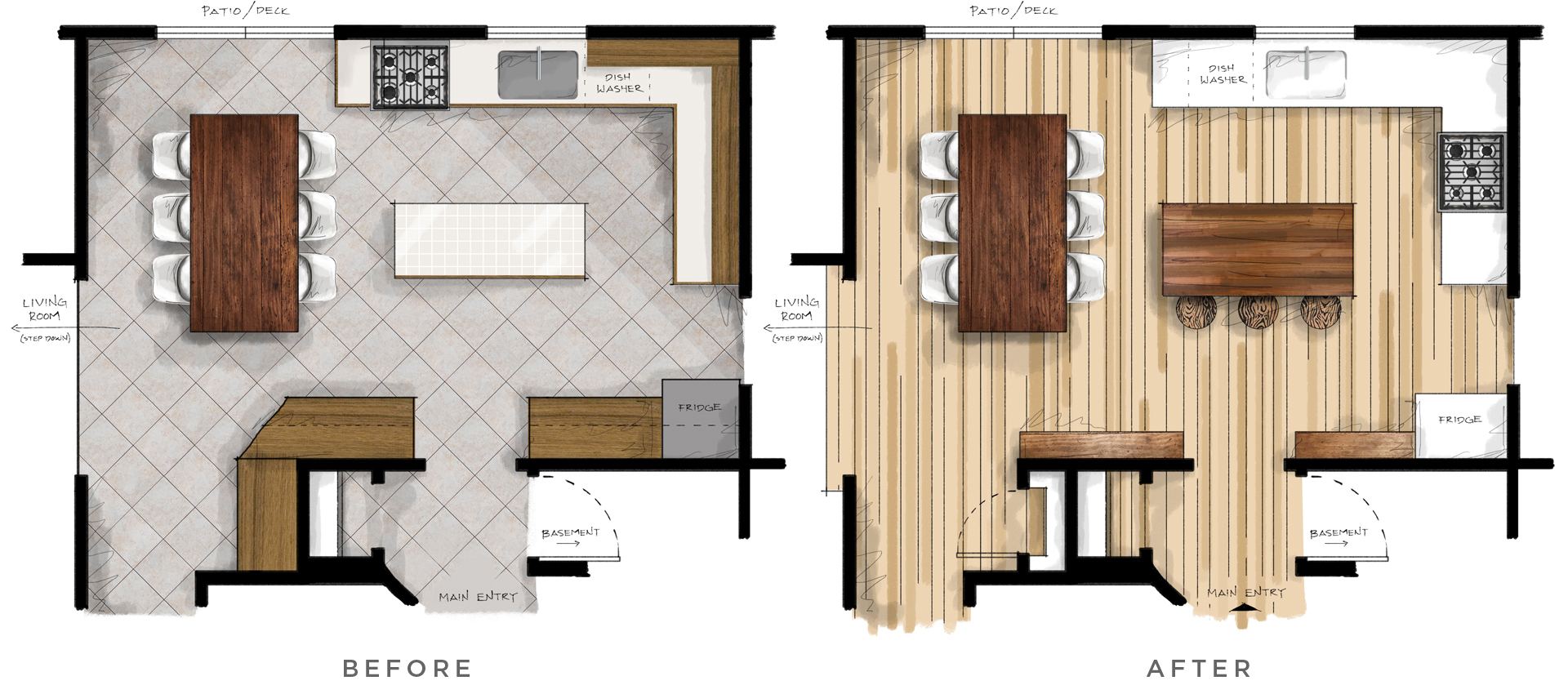 This week we also had our countertops measured for Corian counters I had ordered through Home Depot, so I'd better get to painting the lower cabinets before the counters are ready to be installed! I'll share more about the countertops, sink, and faucet later. But I must say, if you didn't see a particular Instagram story this week, you'll be surprised at something special I'm doing for our sink area! So exciting! Can't wait to share it in more detail.
So now most of our demo is complete— we just have to grind up a bit of stuck-on mastic in the kitchen and hallway areas to prep for laying flooring. I'll share another progress photo soon once my cabinets are back in place, but rest assured, drywall is back up in our kitchen, and that fluorescent light box is coming down ASAP. The next step in here is to place cabinets and saw off the back ledge of the island as well as remove the island countertop. (We're putting in a butcher block countertop from Lumber Liquidators that we don't even have to cut to fit!)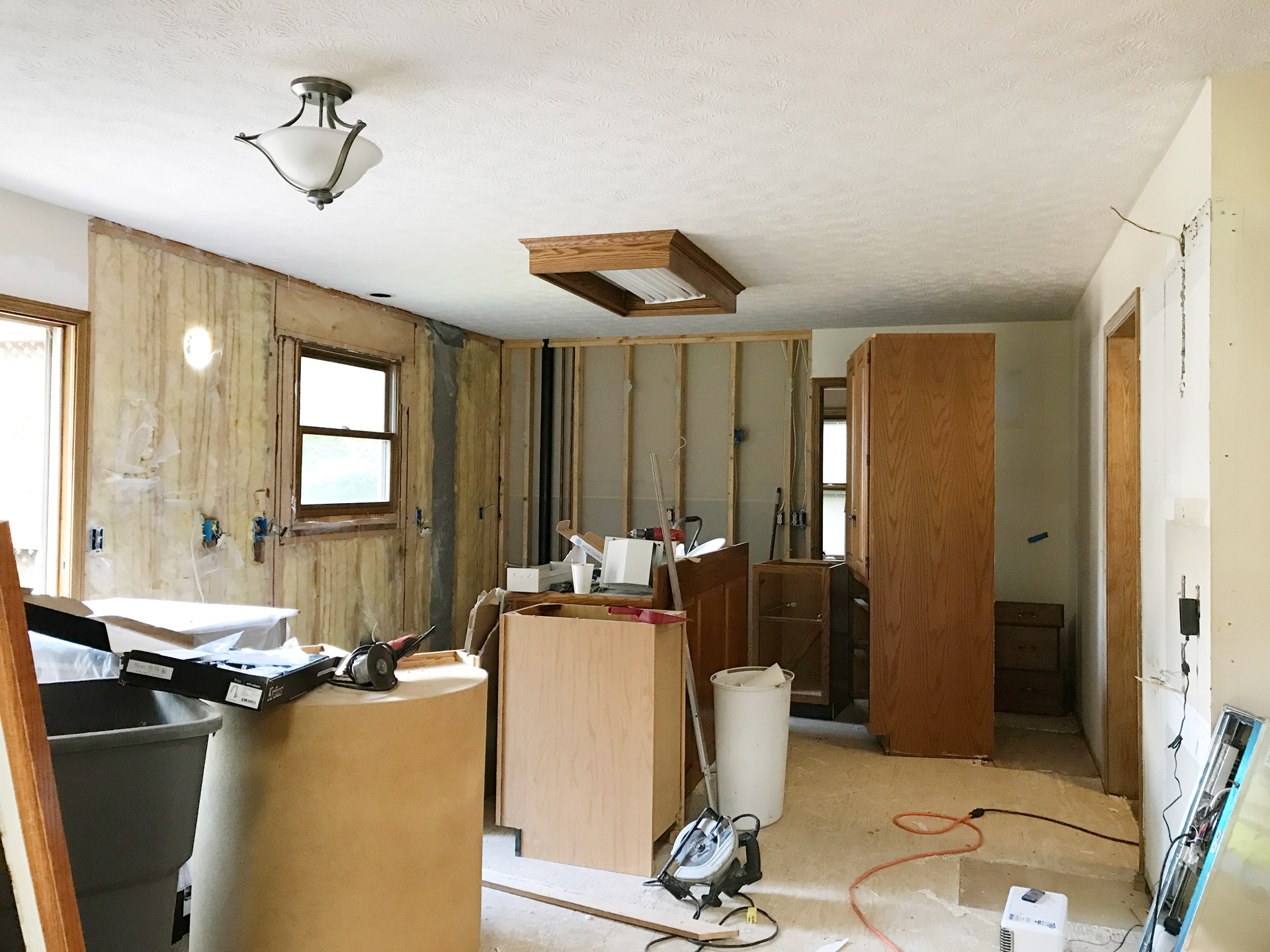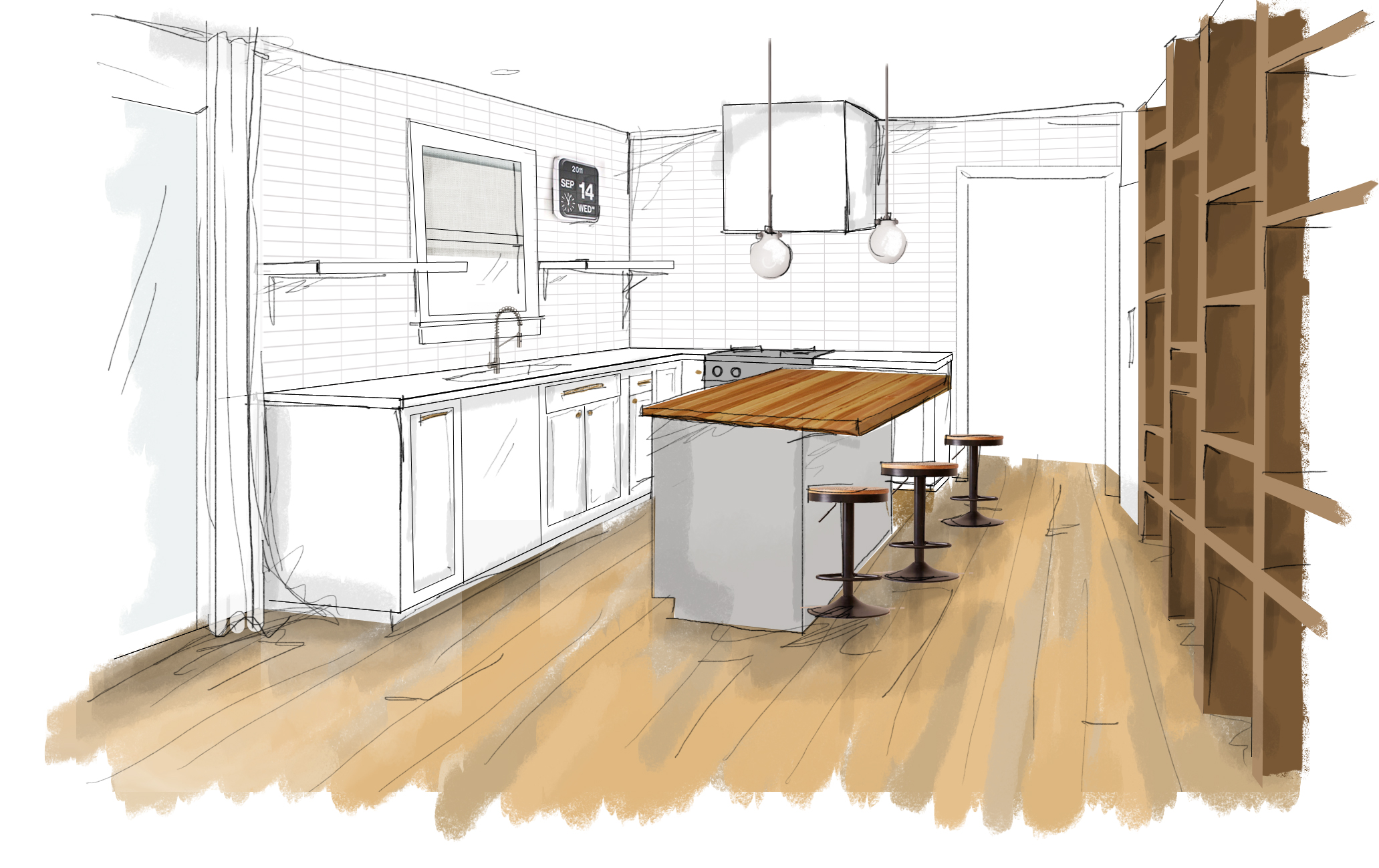 Can you see the demo picture and imagine how it will look afterwards? No? Well, let me paint you a picture. No, really. I literally painted a picture for you in case you can't imagine it. I'll agree that it looks a little scary right now, sure, but as with any exciting home renovation project, things must get way worse before they can get better!
But for now, let's talk about appliances! I'll share more about my budget (and even share a copy of my budget sheet for our renovations) next week, but I wanted to go over my thought process about appliances. I had wanted to reuse as much of my appliances as possible, but our range was electric (I've been spoiled by gas and can't go back), the dishwasher's display panel is broken, and our fridge is too deep for its location (plus it opens the wrong way— ha!), so we decided to just go ahead and replace it all. Yikes! I have the opportunity to work with Home Depot for our appliances, so I've been obsessively looking at all appliance options online and reading reviews until I fall asleep at night. This is all very daunting, and very exciting for me. I've never purchased nice, new appliances before. It's a true delight.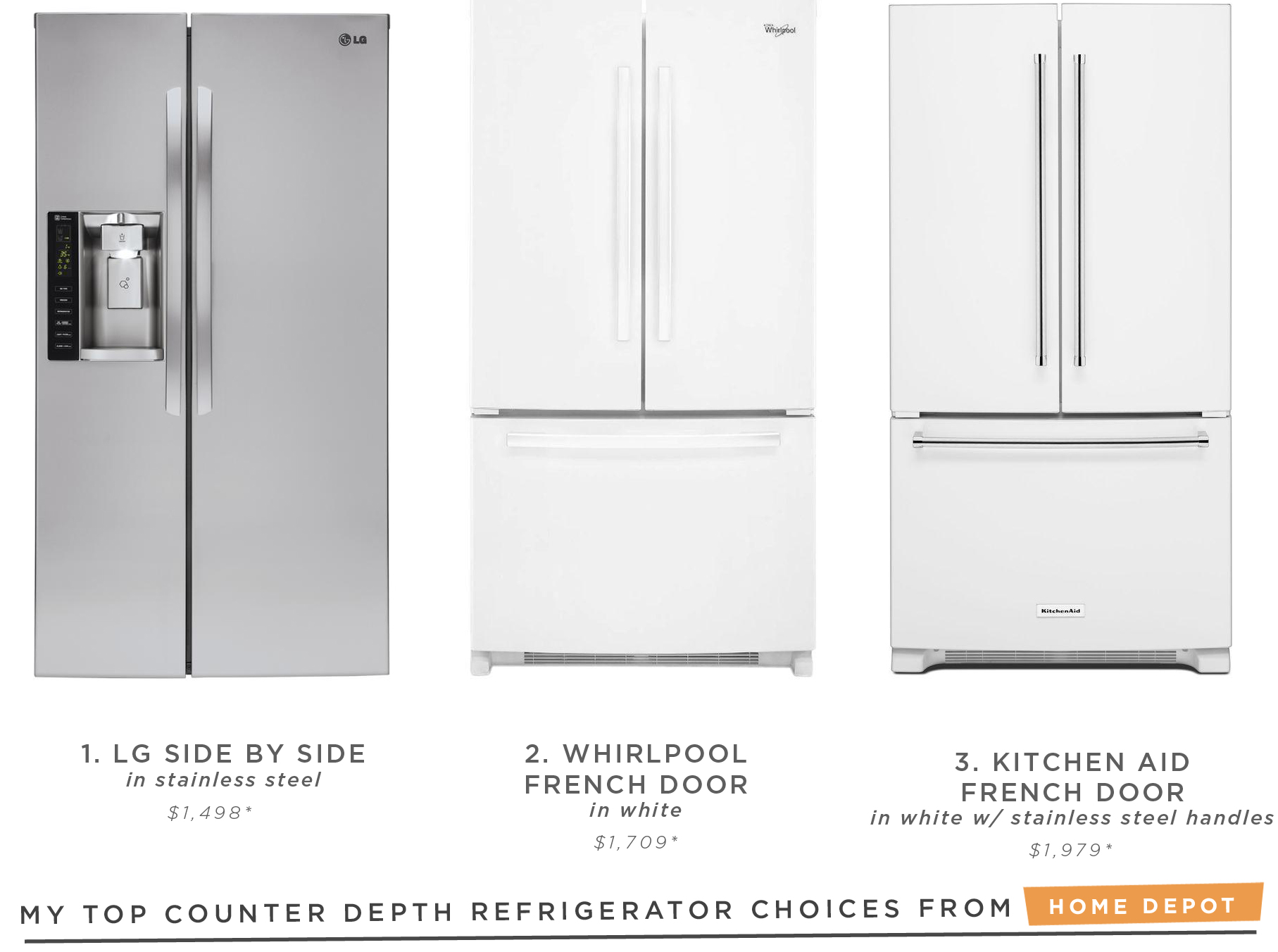 You can see in my renderings that I'm planning on building a shelving system on the wall opposite of my kitchen window, and the shelves will go up against my refrigerator. I had considered incorporating the fridge into the shelving system, building wood shelves above it. But I'm really drawn to the idea of building a white case around the refrigerator and up to the ceiling to make it look built in, adding plain white doors to the area on top of the fridge to look something like this kitchen. Then the wooden shelves will butt up against the white built-in fridge area, the shelving then taking all of the visual attention, allowing the utilitarian appliance to fade into the background. What do you think?
If I decide to go with this built-in-and-fade-away look for the fridge, I definitely want a white fridge. If I want to incorporate the fridge into the wood shelving, I'm thinking stainless steel would be a nice finish choice, so it doesn't seem too conspicuous— a white blob in the middle of warm, wood shelves. I just need to decide which look I want. Which do you think would be better?
As far as refrigerator form and function goes, I'm really drawn to the sleek doors with no ice/water on the front. Plus it has less opportunity for mechanical issues. We will eventually instal a reverse osmosis water system with a tap by the sink, so the water feature in the fridge may be redundant. I am worried about the upkeep of stainless steel (Fingerprint City!), but would white handles be hard to keep clean too? My favorite fridge I've seen, in looks alone, is choice number three above. It looks sleek, could fade nicely into the background, and I really love the pop of steel with those handles. Plus, from my friends who are in the biz, they say KitchenAid refrigerators are trustworthy appliances. That's what I like to hear!
Option One / Option Two / Option Three
*Prices good through 7/12 at Home Depot stores.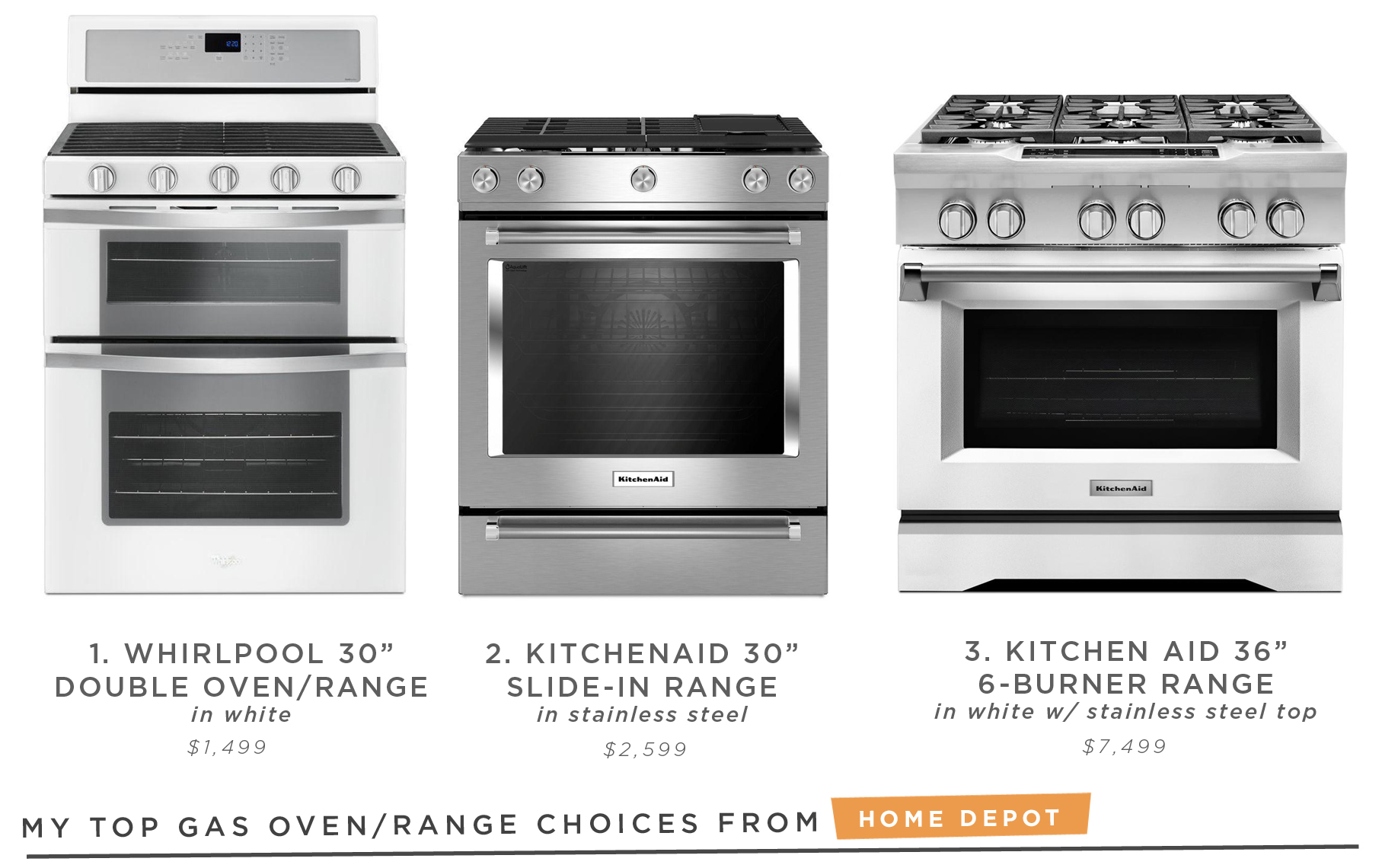 If you haven't read my initial planning post for the kitchen, you may not know that we plan to reuse all of the lower cabinets, but rearrange them to make more space in the eat-in-kitchen area (which we will use at our main dining space), as well as to extend the island top to make that our eat-in-kitchen spot. This requires moving the oven to a different wall, which was actually kinda nice because before I thought the hood vent would compete, visually-speaking, with the kitchen window.
Another issue (besides needing to move the oven) with our plan to rearrange the cabinets was that after rearranging we had an 8″ gap on the wall where the oven would be. I knew this would be an issue, because I laid it all out on AutoCAD before we got started. (Thanks, design degree! Ha!) We considered our options and were thinking about building an 8″ cabinet with a pull-out spice rack situation. But we would have had to buy routers to make paneled doors to match the others, and my head was hurting just thinking about doing that in the midst of all of my other projects. Dilemma, dilemma!
I've always wanted a larger stove with 6 burners, but have always balked at the prices. However, we want this place to be our forever home, and plan to host lots of gatherings here. Should we just spring for the larger range? It would save us the trouble of building that 8″ cabinet, and also would make out countertops be less expensive, as we'd have less countertop area to cover. What do you think?
On the conservative side, I like the idea of having a white double-oven range that will fit in nicely with our white cabinets, but I really don't like the way the back/top sticks up in the lower end models. Slide-in ranges are more expensive, but look so much more sleek and really impact the feel of a kitchen. I definitely would feel like I'm settling if I didn't get a slide-in unit. Ah, so many decisions to make!
Option One / Option Two / Option Three
As far as dishwashers go, I'm less particular. I'll probably just select something that is well reviewed and matches the look of my oven and/or fridge selection. I'm very excited to share this whole process with you! My flooring came in today and I laid all of the boxes into the house to acclimate before we begin installing it next week. Things are coming along! Woo hoo!
I acknowledge that The Home Depot is partnering with me to participate in the promotional program for appliances. As a part of the program, I am receiving compensation in the form of products and services, for the purpose of promoting The Home Depot. All expressed opinions and experiences are my own words. My post complies with the Word of Mouth Marketing Association (WOMMA) Ethics Code and applicable Federal Trade Commission guidelines.