The Sunroom Plans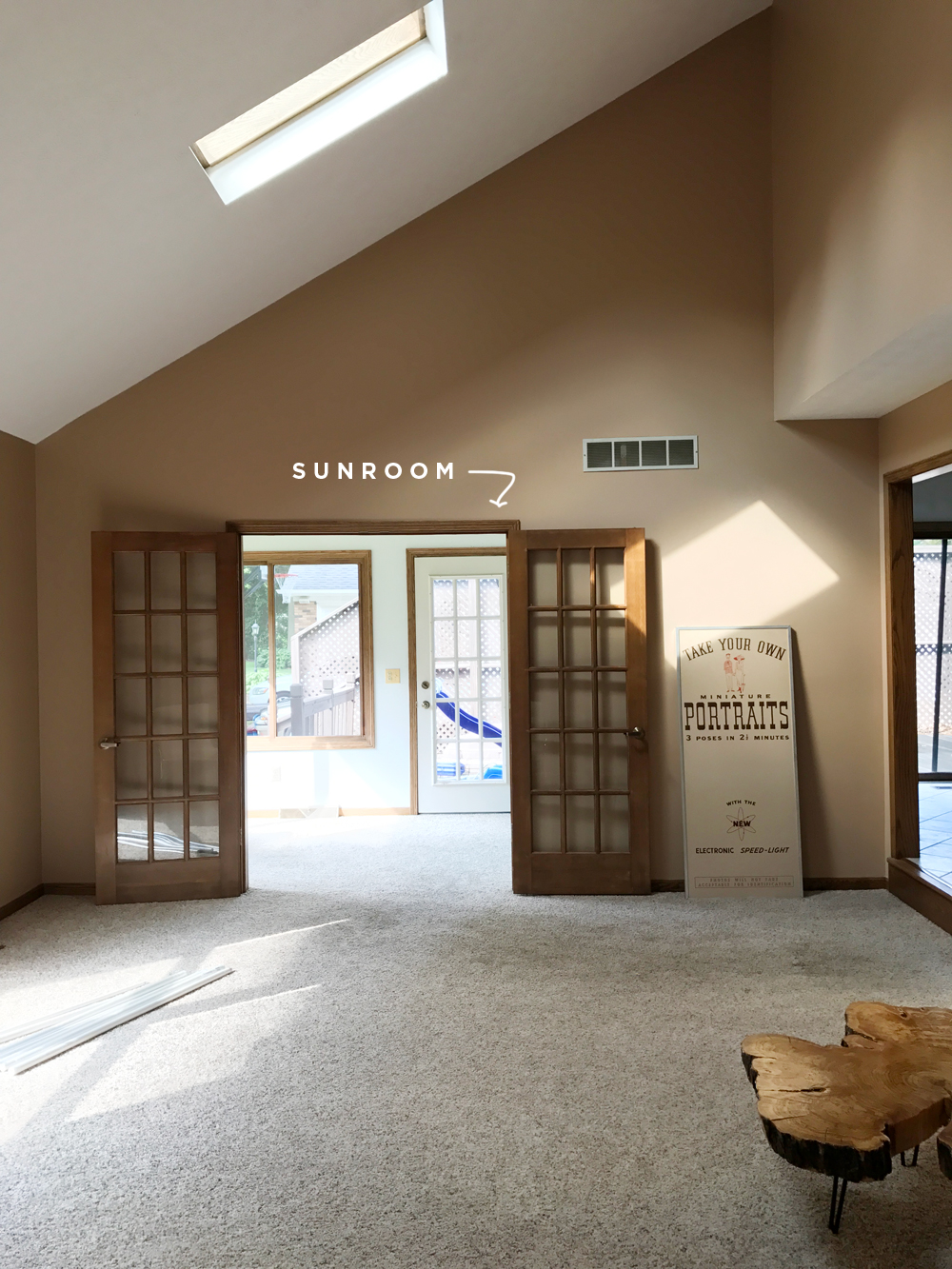 Now that we've finally closed on our new home, we're ready to begin work making all of my plans a reality! The first room we'll complete beginning to end will be the sunroom, because it's a small space that will be a bit easier to tackle. I think having one chaos-free space (with a dining table to boot!) will be great for us, because we're planning to move in to this wreck of a house in a week or two, and I have a feeling it'll take a lot of effort to keep my sanity. :)
Each part of the process is so fun for me, but planning is the most enjoyable part for me! It is definitely a mentally consuming undertaking, designing for oneself. But so much fun! Once I settled on plans for each of the rooms we're gutting, I found my mind much more at ease, and began sleeping better at night. That's a relief because I need all the rest I can get during these days of hard work! (Check out my kitchen plans here.)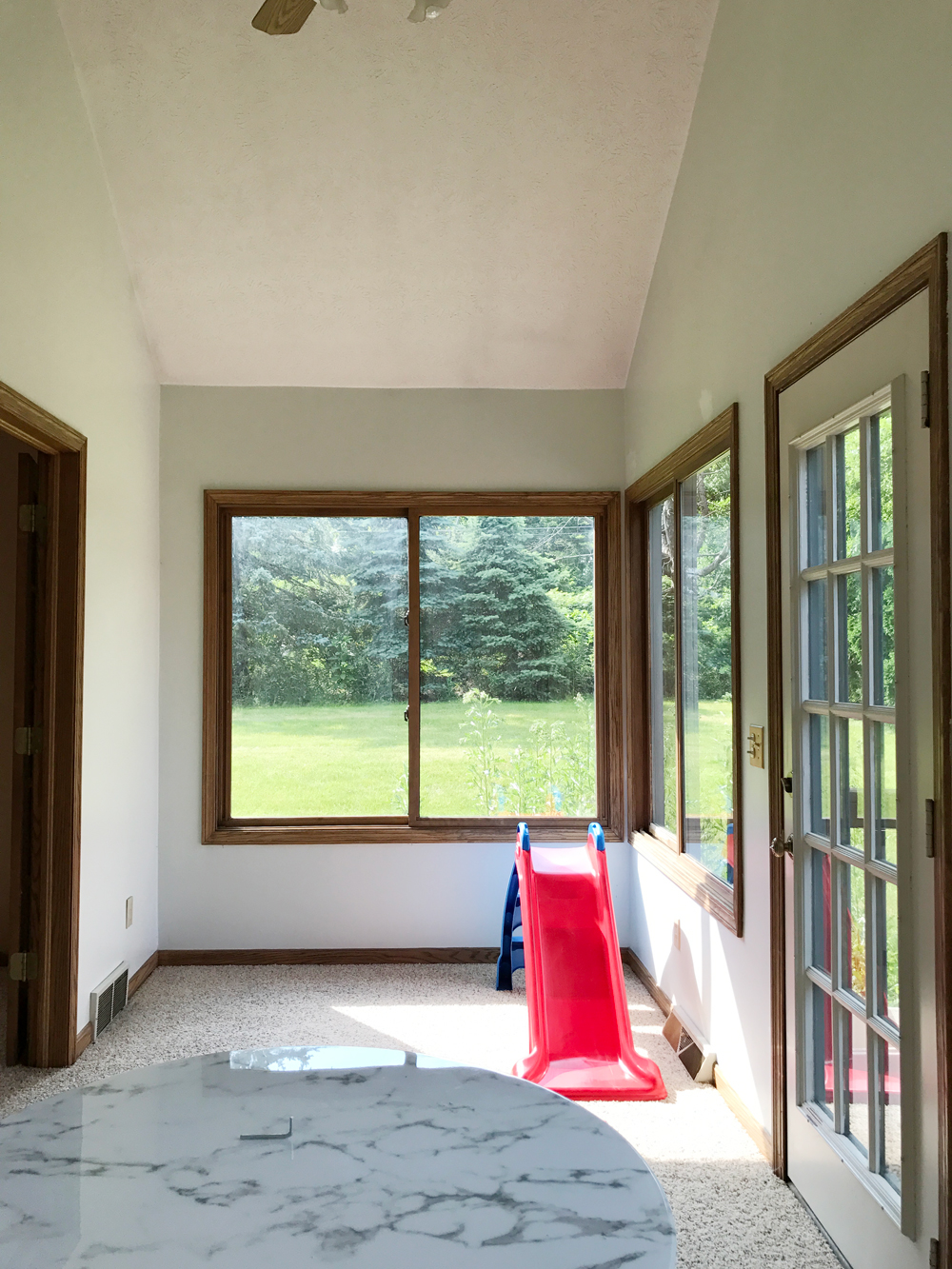 The sunroom is a narrow 7′ wide and 15.5′ room in the back corner of our home, separated from the great room by a lovely pair of wood and glass french doors. It leads out to our currently un-utilized patio area, but we do plan to build bench seating and planters in that area in years to come.
I plan on situating a nice chair for reading on the side of the room where you can currently see a little plastic slide. It'll be situated among a few houseplants and a side table for docking my coffee and books I'm currently reading. On the opposite side of the room (as seen below), I'd like to have a bench area with a small table and chairs for the kids to enjoy books, games, puzzles, play dough, and snacks. I plan to build the bench with storage inside, and will probably deck it out with plenty of extra pillows for comfy reading sessions.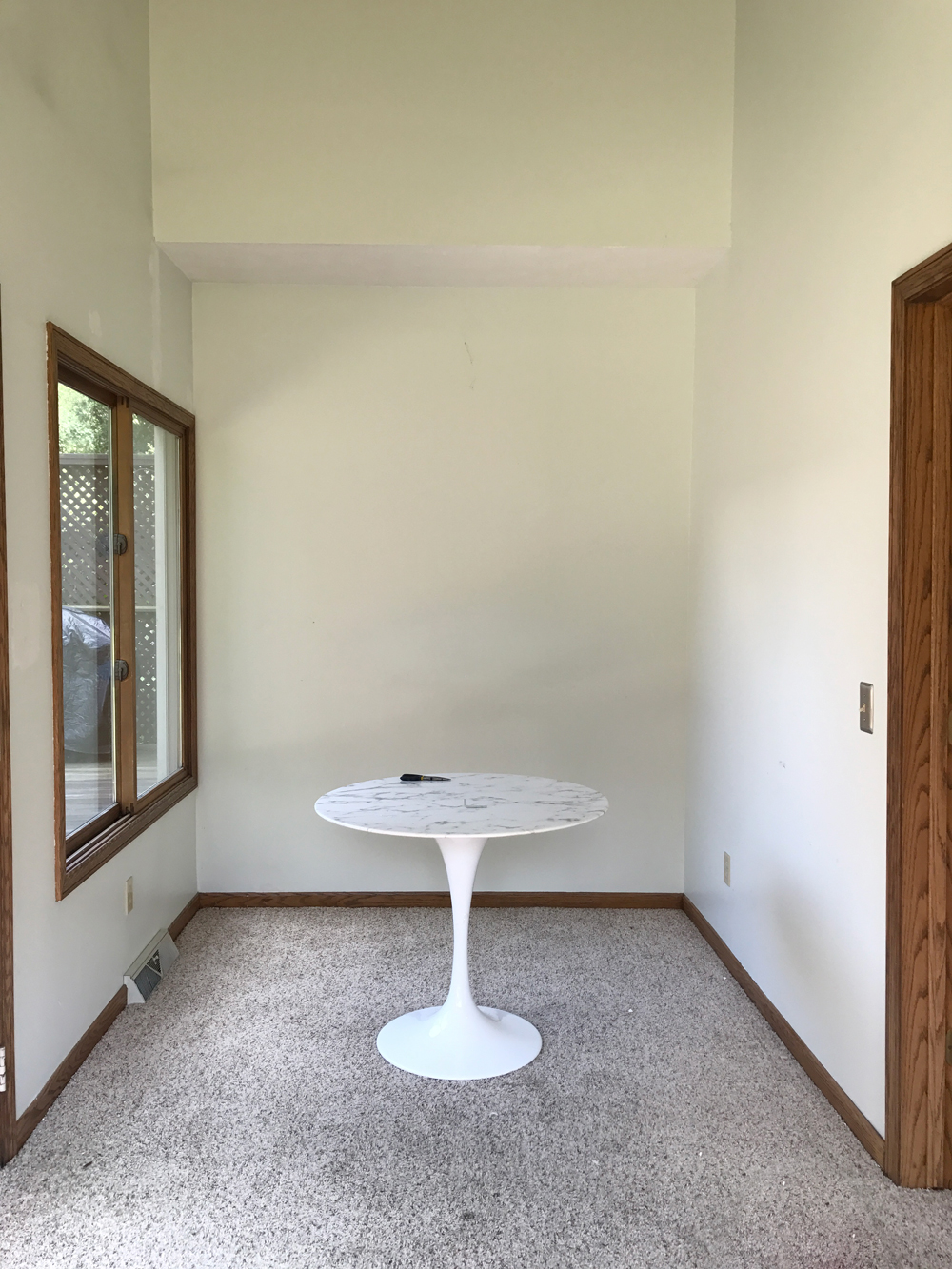 The soffit on this side of the room would be a perfect area to tuck in an upholstered wall to act as the back of the storage banquette. I had planned on just building a standard upholstered bench back, but then I saw this pink dining nook on Pinterest and it completely changed my life! Ha! Channel tufting feels very late '70s, but in the right setting feels very ahead of the latest design trends.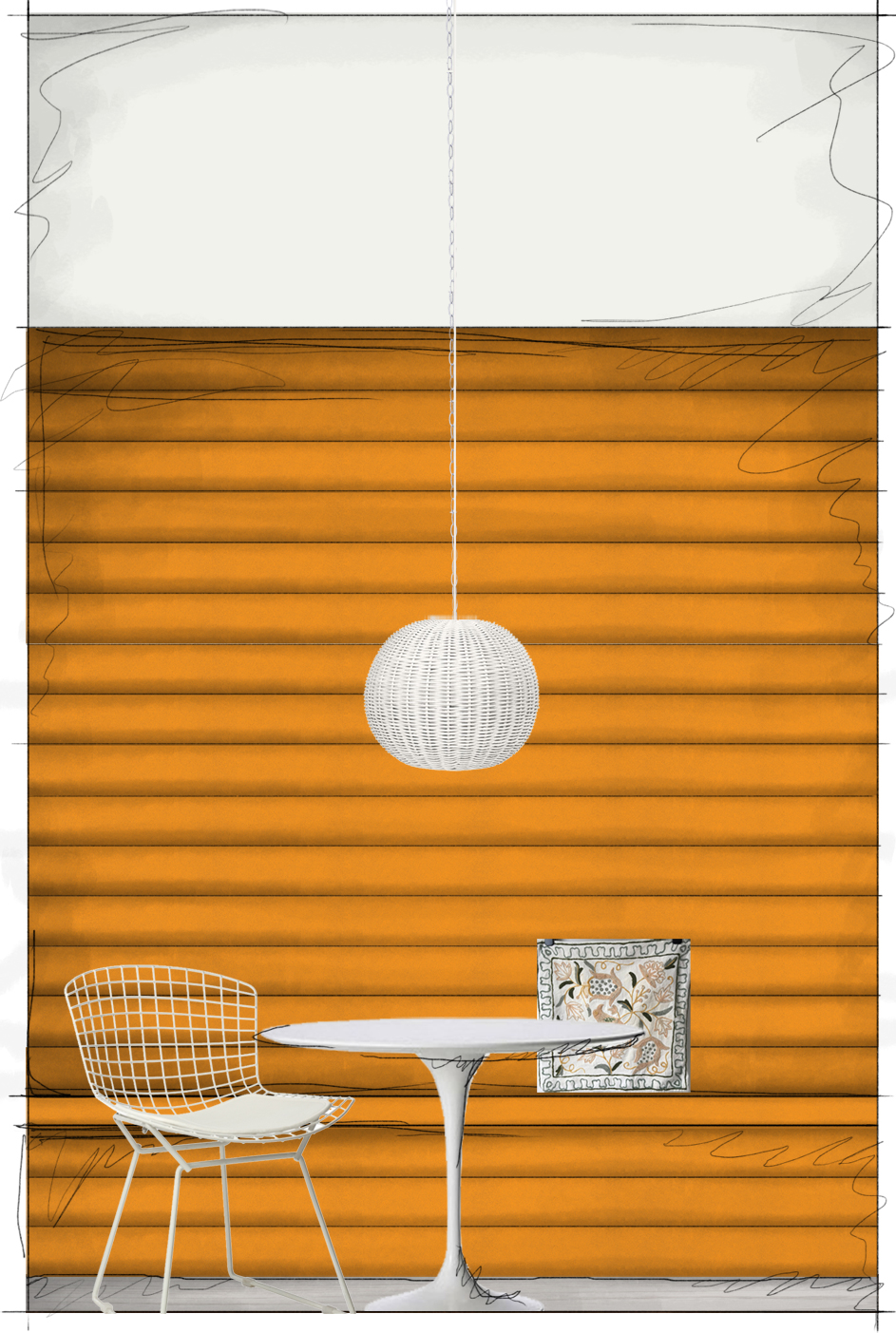 My goal for this space is to create a refreshing environment that feels comfortable but not cluttered, modern yet inviting, and very bright. I like a little minimalism, but also will never lose my love for mid century classics. A little bit of boho feels right for a sunroom space, so don't be surprised if you see some embroidery, wicker, and other natural elements in here. It's a place where plants and people can be equally happy. Aren't those the best kinds of spaces?!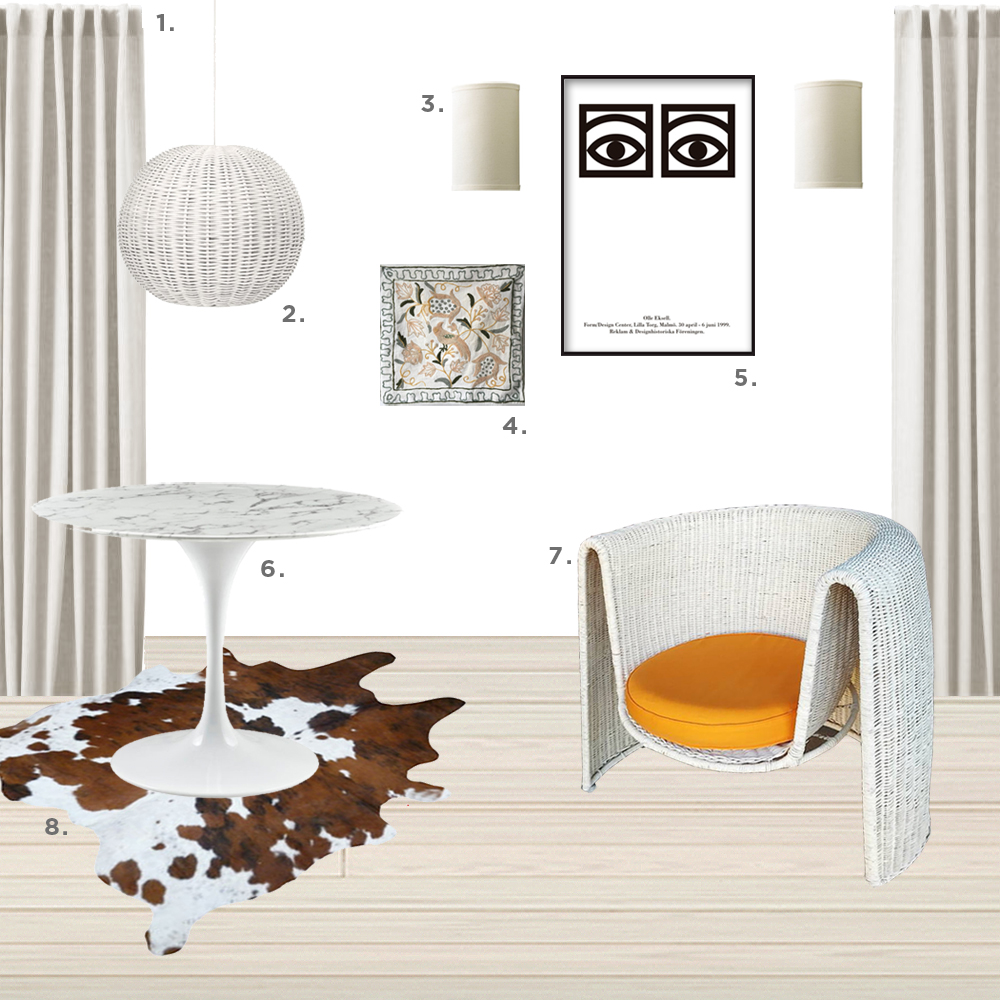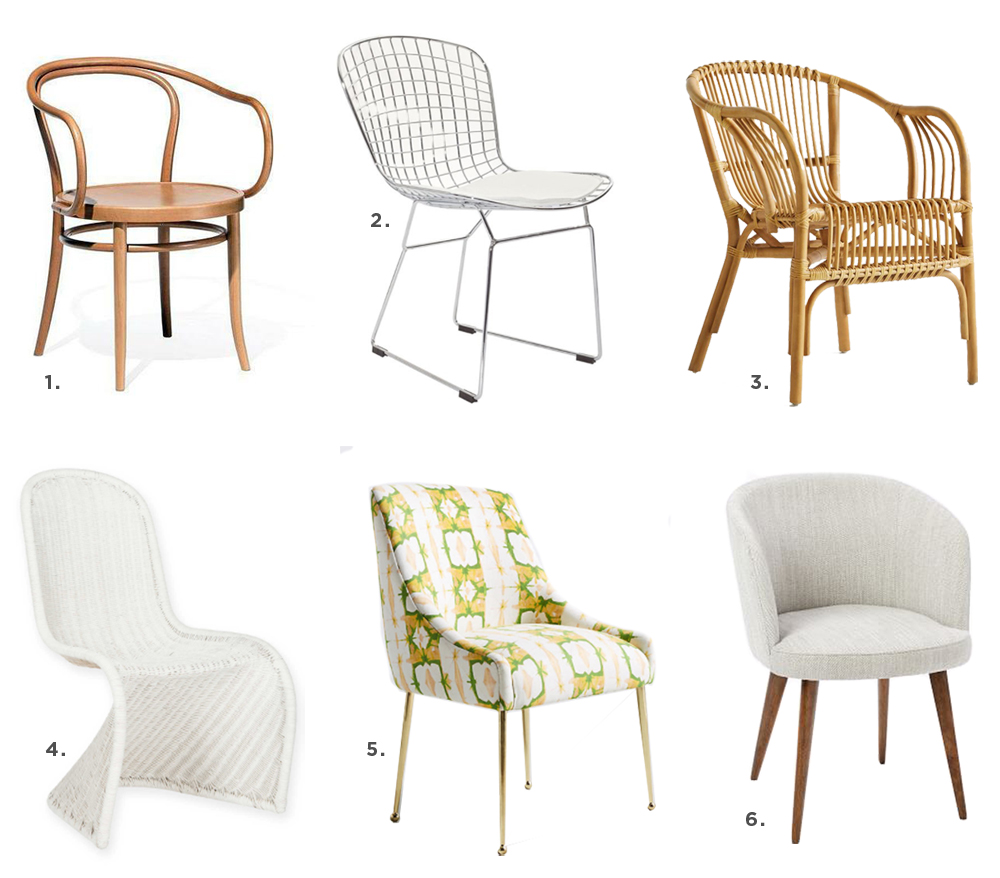 Choosing a chair for the sunroom is bringing out my natural over-thinking tendencies and giving me sleepless nights. Quintessential first-world-problem, I know. But the channel-tufted banquette wall and the sleek tulip table are such statement pieces, I want to find a pair of chairs that both stand up to those bold elements, but don't make the small space feel too try-hard or overwhelming, stylistically speaking. I can tell you now I am most drawn to chairs 1, 2, and 4.
My brother has a set of 6 original Bertoia chairs (chair #2), of which he's only currently using four. He has offered to let me foster two of those chairs until the day he moves to a different home more accommodating of his collection. How fortunate I am to have a brother with such impeccable taste and generous spirit! But I am also very tempted by these chairs and need to keep a style in mind that I'll need to one day purchase to replace my borrowed chairs.
Have you been following along with my renovation videos on Instagram? They expire after 24 hours, unfortunately, but be sure to check them out from time to time! We've been busting things out left and right, and today I ordered countertops for the kitchen! I can't believe it's all finally happening! Woo hoo!