Remembering the Beauty of Shopping Local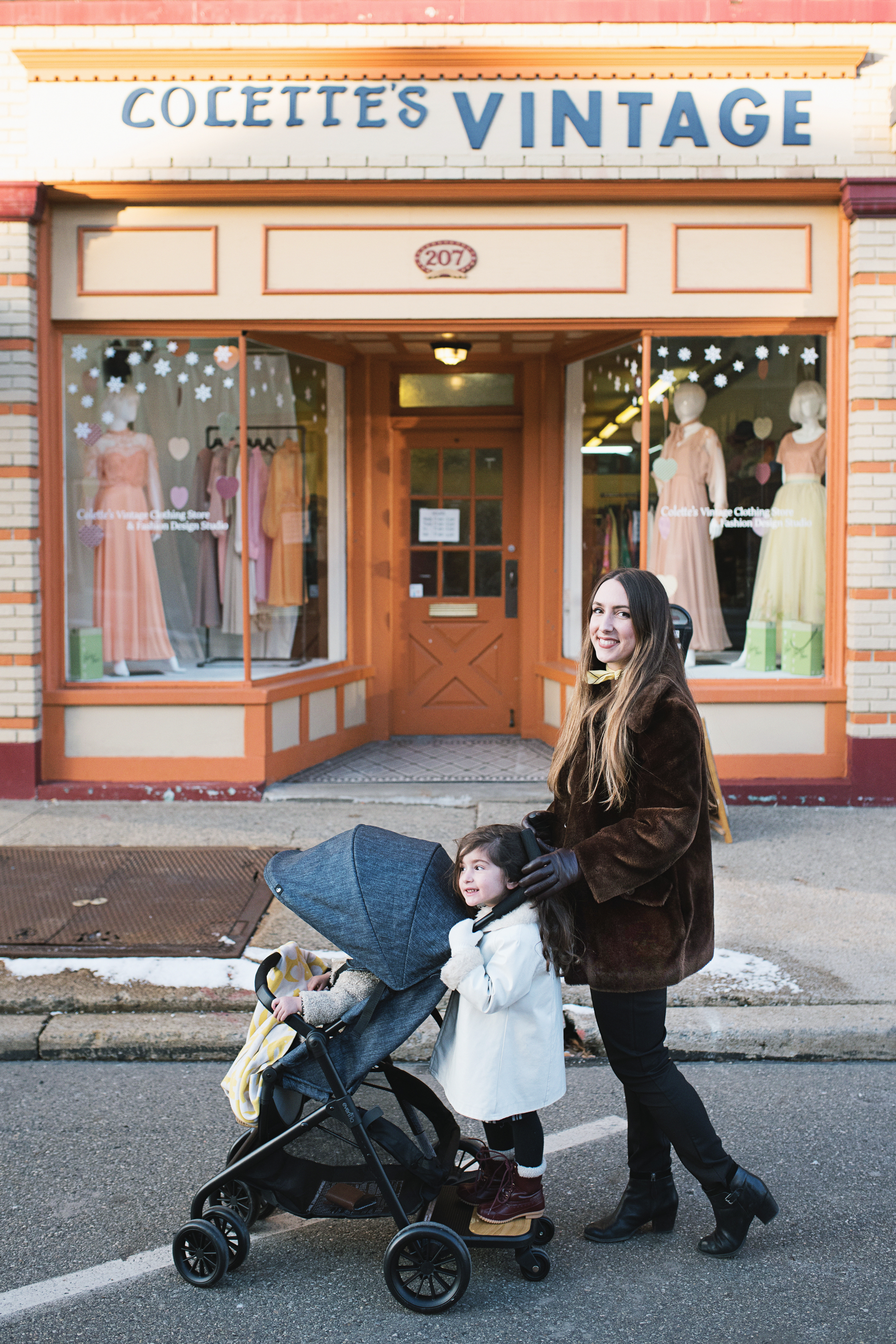 "My prediction. [Our] mall has only 2-3 years left on this earth. I'm being generous." That's what a the Facebook status of a friend read last month, and it generated quite the discussion. Most people were shocked and disagreed. Those people apparently hadn't heard the stories in the news lately that malls all over the nation have been closing up shop for good, leaving vacant, ghostly shopping centers in their wake. Some people aren't surprised by the decline of American malls. Online shopping is at an all time high, but more than that, people seem to gravitate towards a more boutique experience at specialty stores run by cheerful (and helpful) small business owners. Are all malls doomed? Certainly not. But the way we shop is definitely shifting, and as I considered my own reclusive shopping habits, I felt a bit sheepish, and, well… guilty.
The friend who made the provocative prediction for our mall owns a local boutique here in North Canton, Ohio, and has experienced success in the few years her shop has been running. It made me think… do I care so much if the mall closes down? Nah. Maybe a little. For nostalgic reasons, and local economic implications. But what about small businesses like hers? I had been hoping for years that a vintage clothing shop would open locally, and BAM, now we actually have some really great ones! But here I am scouring Etsy and British retailers (ahem, ASOS) instead of heading in to support my neighbors— and heck, getting out of this house once in a while!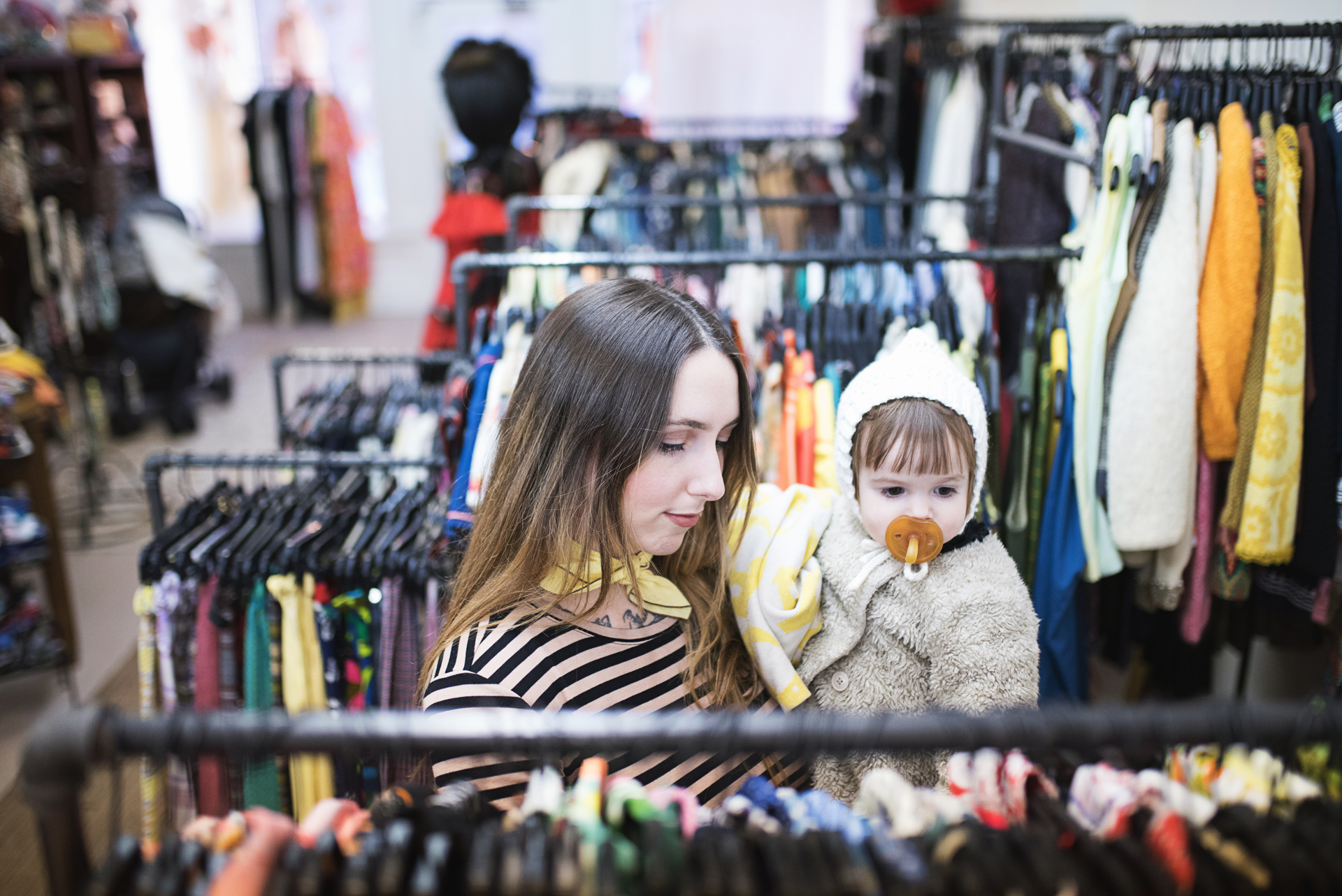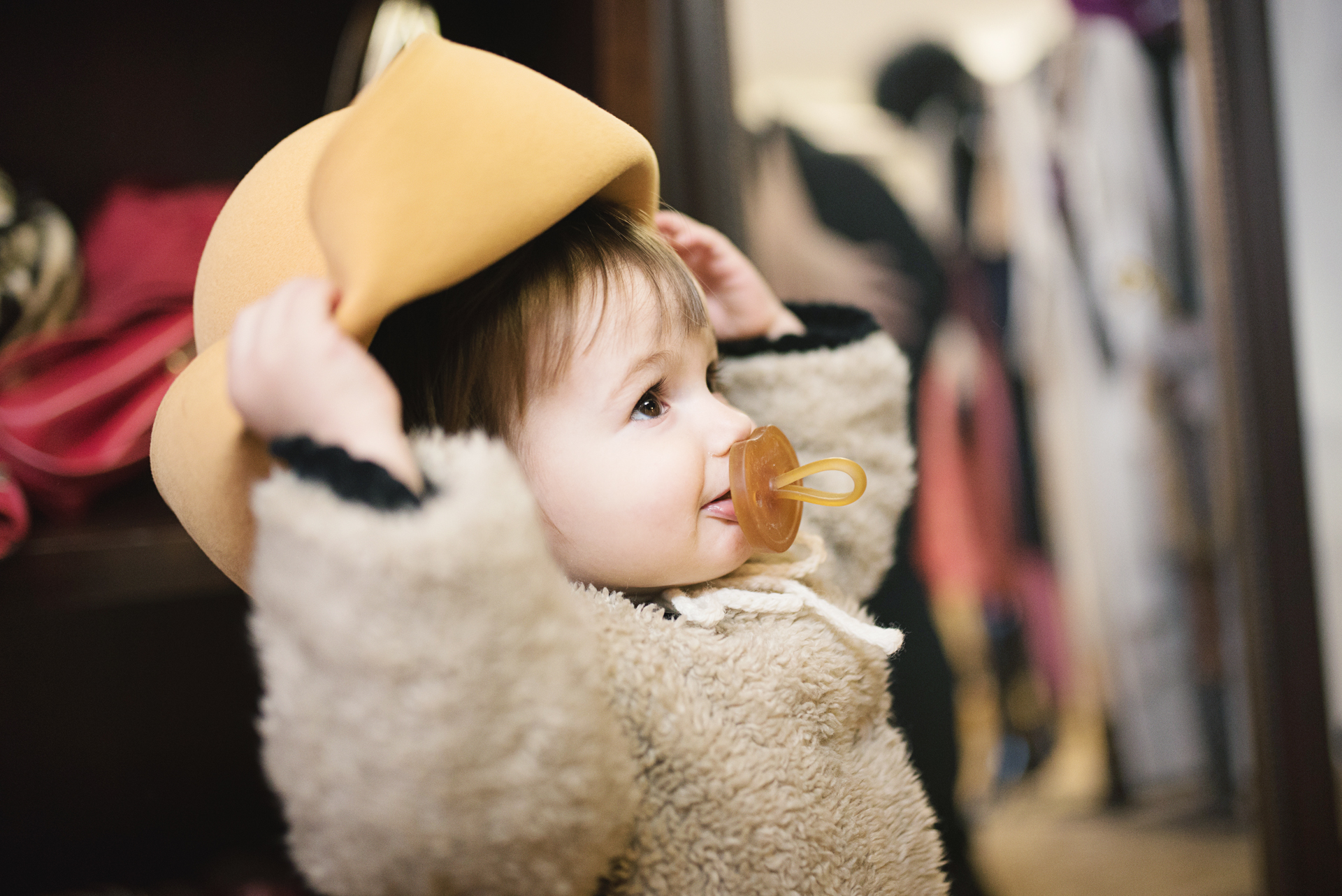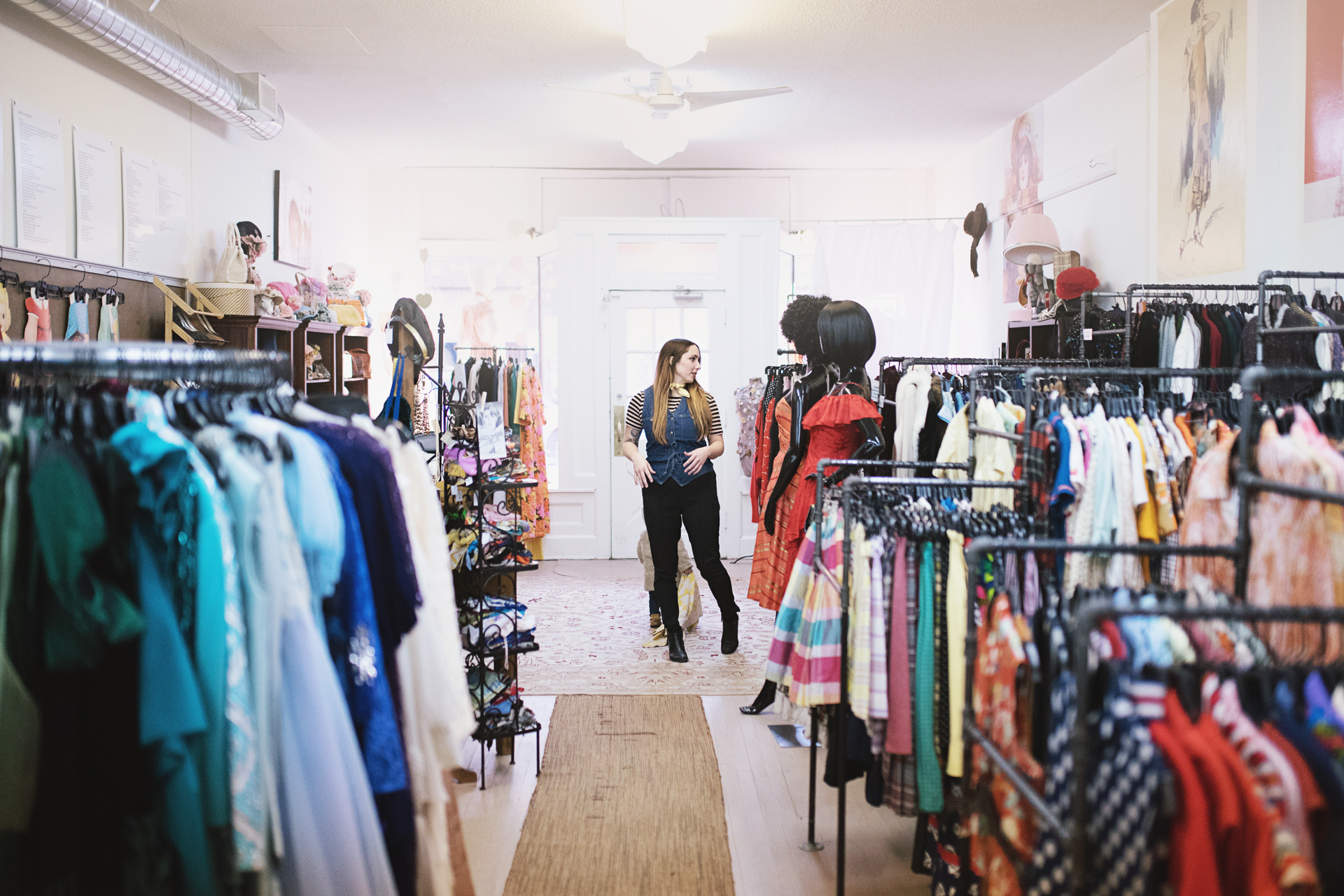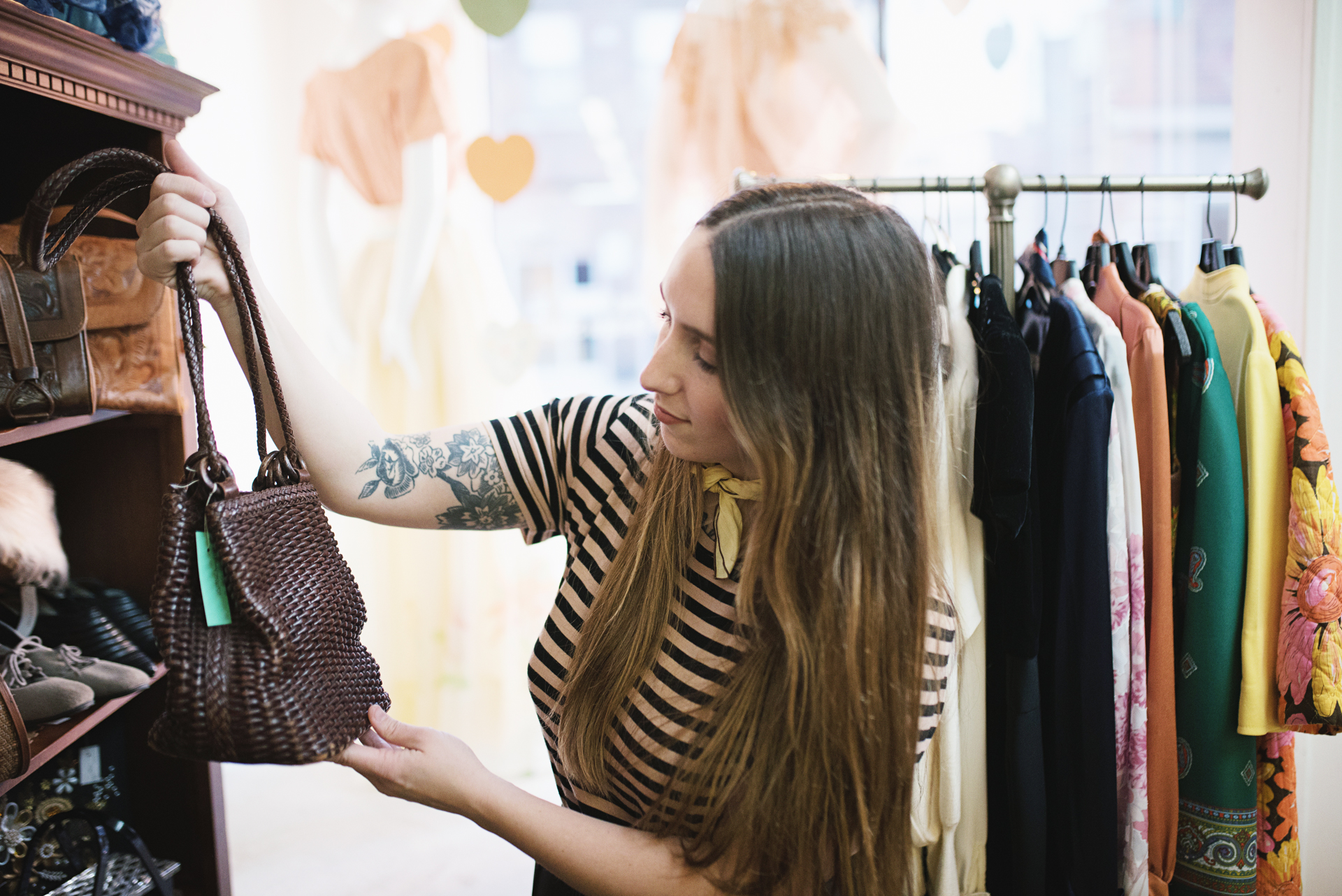 Part of the reason I neglect shopping outside of the home is because of the cold, blistery winters in Ohio. I'd much rather snuggle up with a blanket, a hot cup of coffee, and slowly click through pages of clothing, rather than bundle up myself, and my children, making the trek into the elements with sneezing, coughing children who don't always listen and behave. Considering the aforementioned struggle, online shopping seems much more appealing, doesn't it? I can cut right through to the shops stocked with clothes that suit my taste, and use search engines to find specific sizes and styles of vintage. Then I can make wish lists and carefully consider how to allocate every dollar. Sounds pretty ideal? But then I decided to just bite the bullet and get out of the darn house and go shop locally at the shops that would break my heart should they ever close down. And it made me remember.
I remembered why I love getting out and visiting local shops! For the same reason I loved mall shopping back in the late '90s. It was a fun experience. A bit of a treasure hunt. A delightful time with friends, considering what discoveries we might take home with us that very moment, with no wait for the postal delivery person. And knowing that dollar goes towards the friendly faces of the local shop owner, the local shopgirl, and the local coffee shop, where those shop girls might go on their break. It just all feels right. Almost like a good deed. And any time I can turn a shopping experience into a good deed, it makes it, dare I say, a fulfilling experience! More than just a consumeristic transaction.
So what about you guys? Do you have any local shops you haven't been to in a while, or maybe haven't been to at all? If you have been planning to buy something new, I encourage you to get out of the house and see what you can find somewhere local, rather than resorting to the convenience of online shopping. Who knows? Maybe you'll find a deal!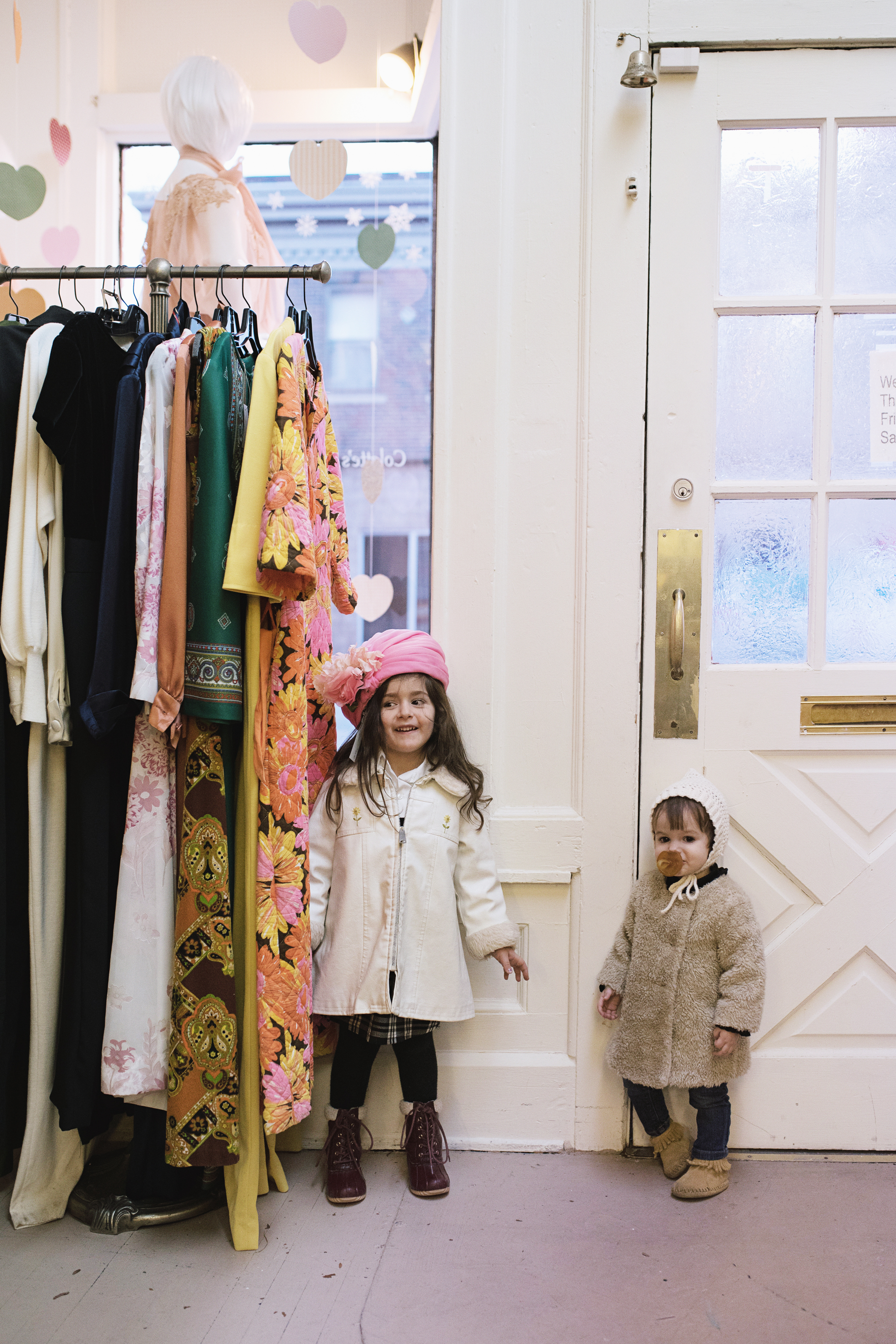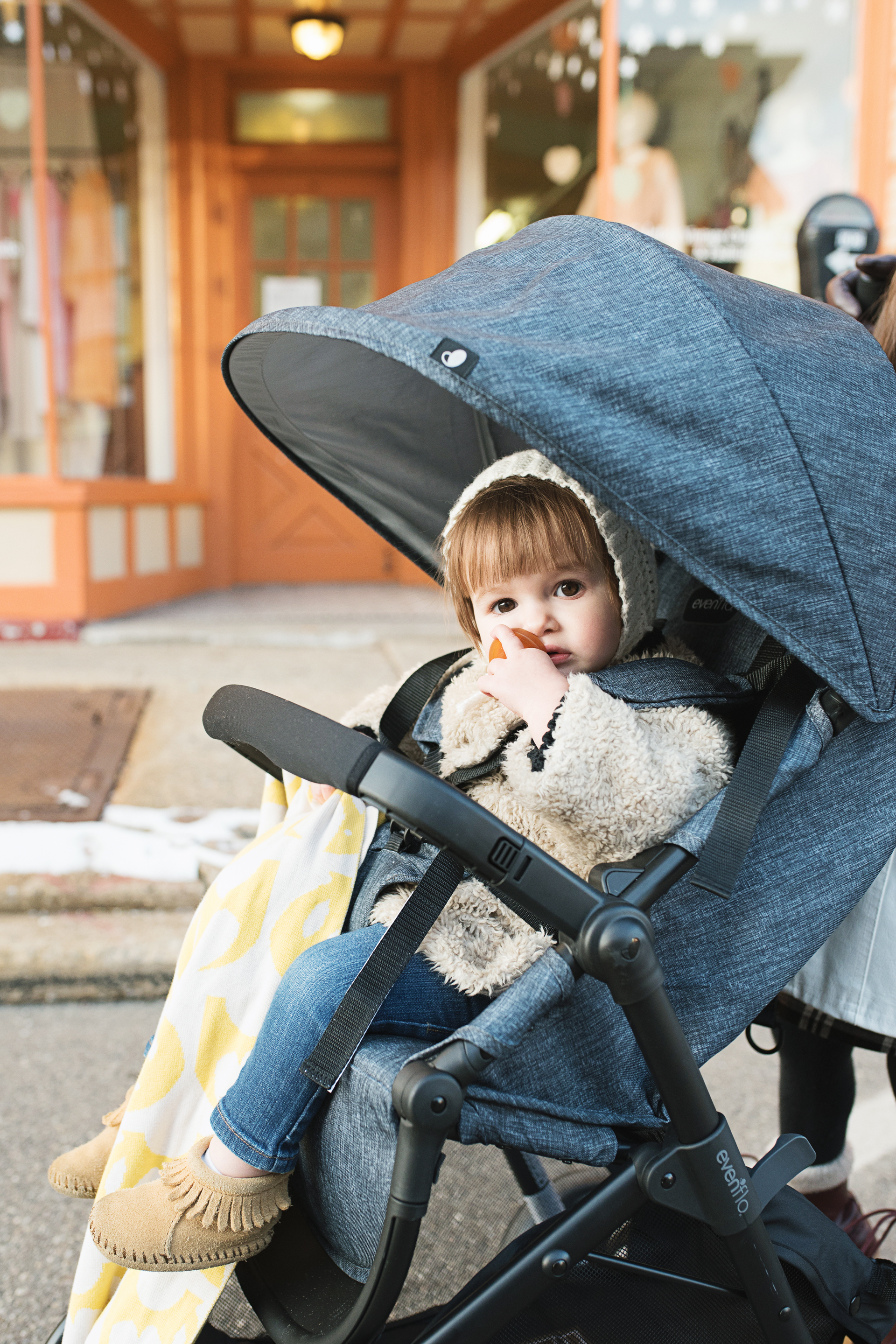 This post (and my shopping experience!) was made possible by Evenflo, who let us try out their new Sibby travel system. I have been wishing for a stroller in a nice, classic design. Like a little black dress, only… a stroller. We love the classic design of the Sibby stroller, and Lucy really gets a kick out of riding along on the back. It's more compact that a double stroller, which makes it perfect for taking on our shopping excursions. Thanks, Evenflo! (All opinions are 100% honest & completely my own.)
Also, thanks to Colette's Vintage— the best vintage shop in the Canton/Akron area— for staying open late and being so gracious with my children. We found some treasures that I love, and to my surprise, Lucy loves as well! She asked to try everyone on as soon as we got home, and then asked if she could wear her new dress to bed. Follow Colette's on Instagram and Facebook to peep their latest oldie goodies!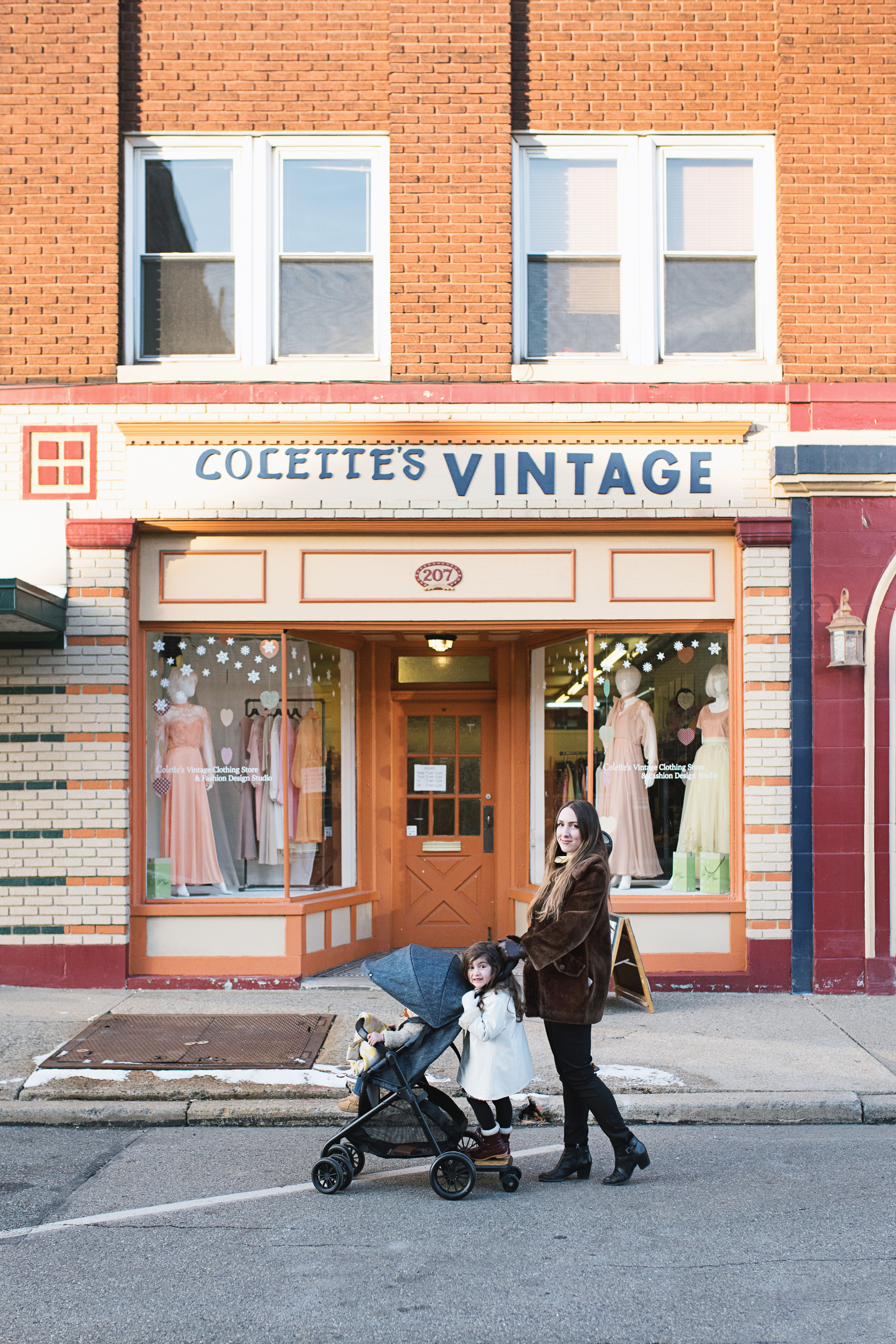 PHOTOS BY EASTERDAY CREATIVE