Meals Made Easy with Terra's Kitchen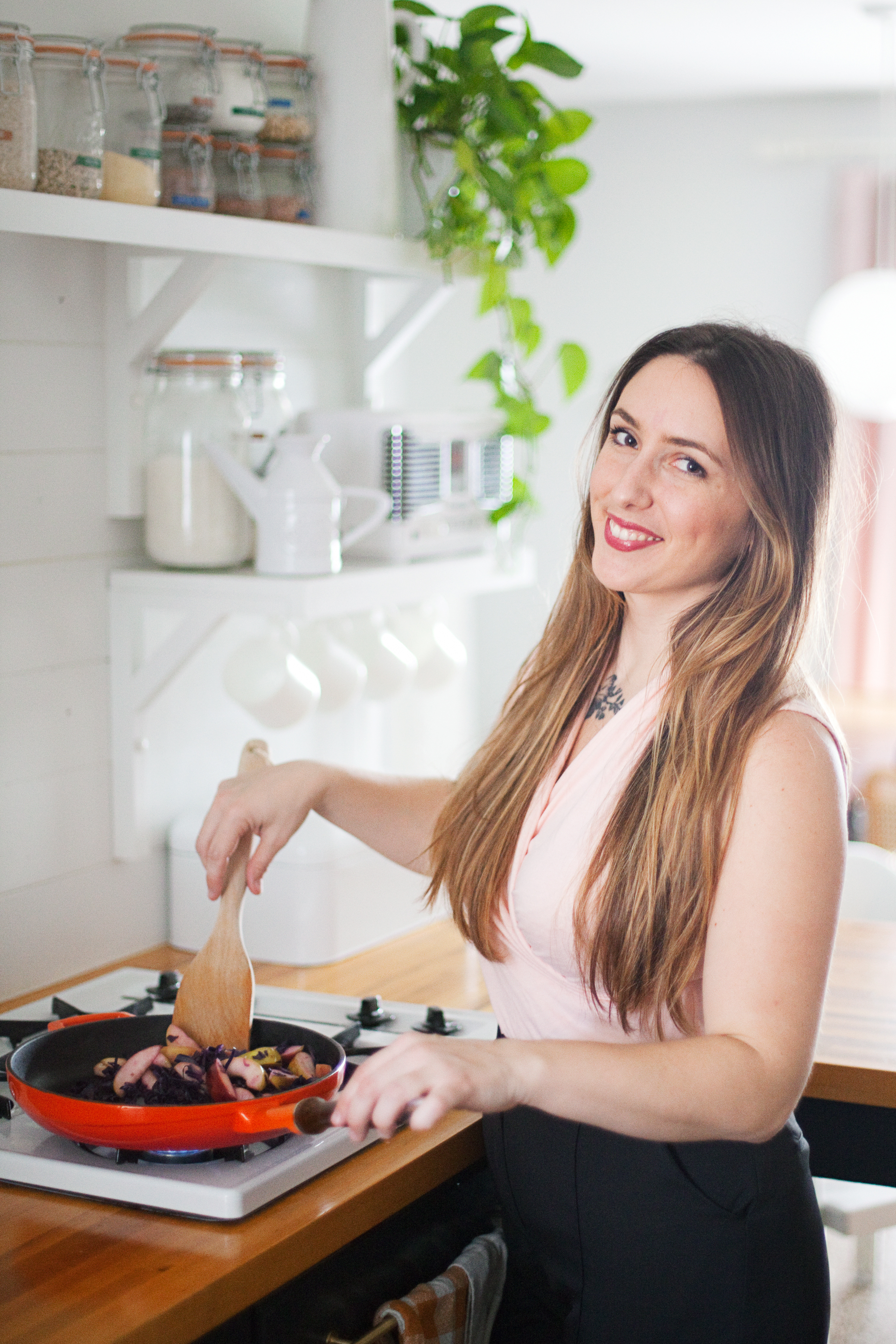 I remember ten years ago when the internet had already completely changed our ways of life. People were doing more and more shopping online (especially me!), and there was talk of one day people even doing their grocery shopping online. I thought, no way. But here I am, ten years later, not only ordering groceries online, but actually receiving prepped ingredients for fresh meals with recipes that I don't have to hunt down (and read reviews for) myself. Healthy food delivery— I could get used to this modern life!
Recently I tried a meal delivery service for the first time, ordering three dinners from Terra's Kitchen, along with some snacks, ready-made salads, and cold pressed juice. It was fun, we felt fancy, and we really liked the experience! Let me tell you more about it.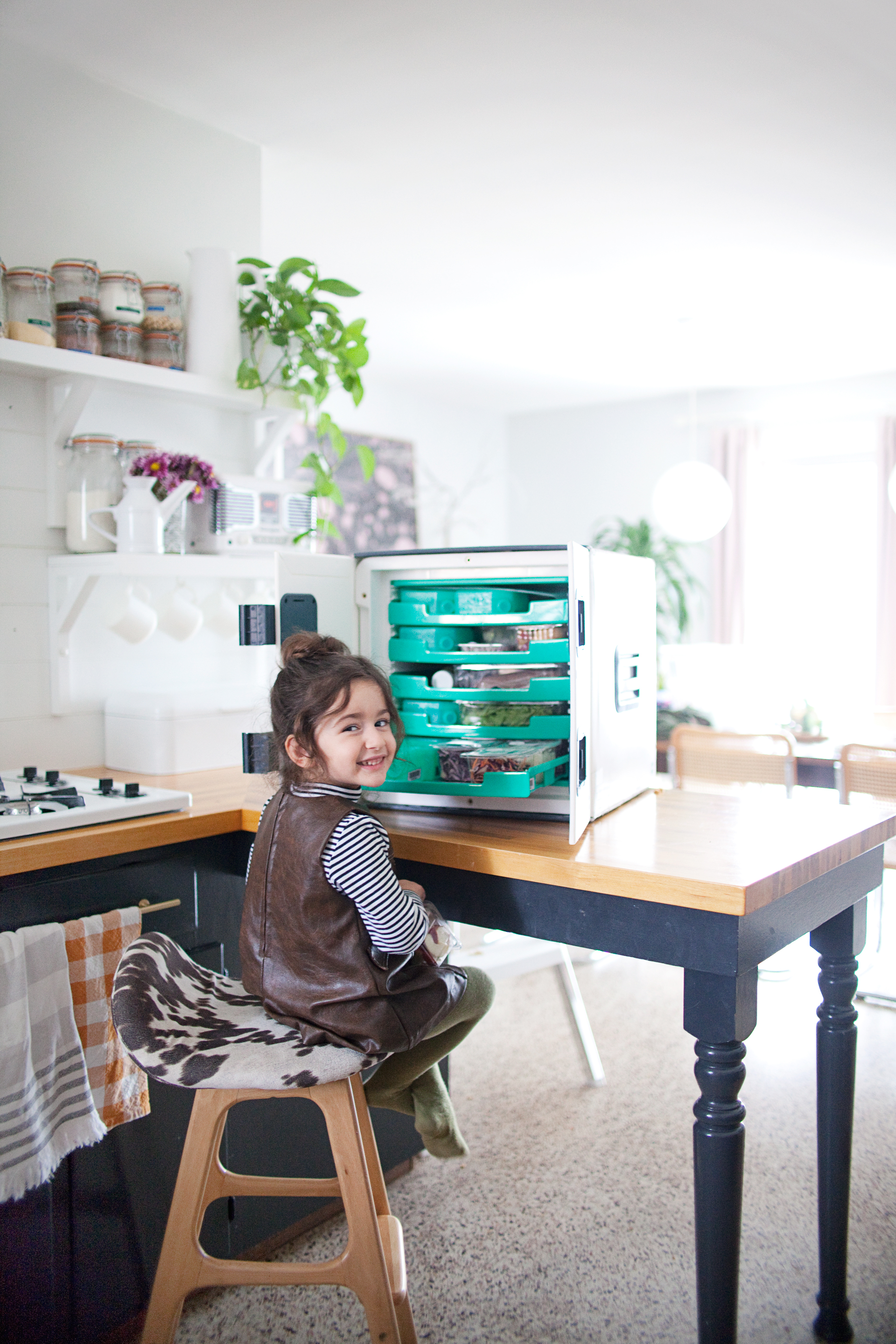 The kids were thrilled when the Terra's Kitchen box arrived at our door and there was FOOD inside that they could eat! Ha! (I was thrilled too.) The insulated box had shelves with each meal kit neatly stacked alongside ice packs to keep everything refrigerated until they were transferred to our own refrigerator. After we emptied the container, we switched out the shipping label and left it on our front door, where it was picked up the next day to be reused.
One thing I really enjoyed about the meals I selected was that while I had selected meals according to my fitness goals (high protein, low-fat, low-carbs), the organic meals Terra's Kitchen had created have much more interesting flavors and variety than I would normally choose when left to my own devices. I tend to do a lot of plain grilled chicken, plain green beans, and plain sweet potatoes for meals. But I was able to get similar nutrients with much more exciting dishes with what I selected from Terra's Kitchen, which was:
Chicken Schnitzel with Sweet and Sour Apple Cabbage
Grilled Chicken with Broccoli Salad
Thai Grilled Chicken Salad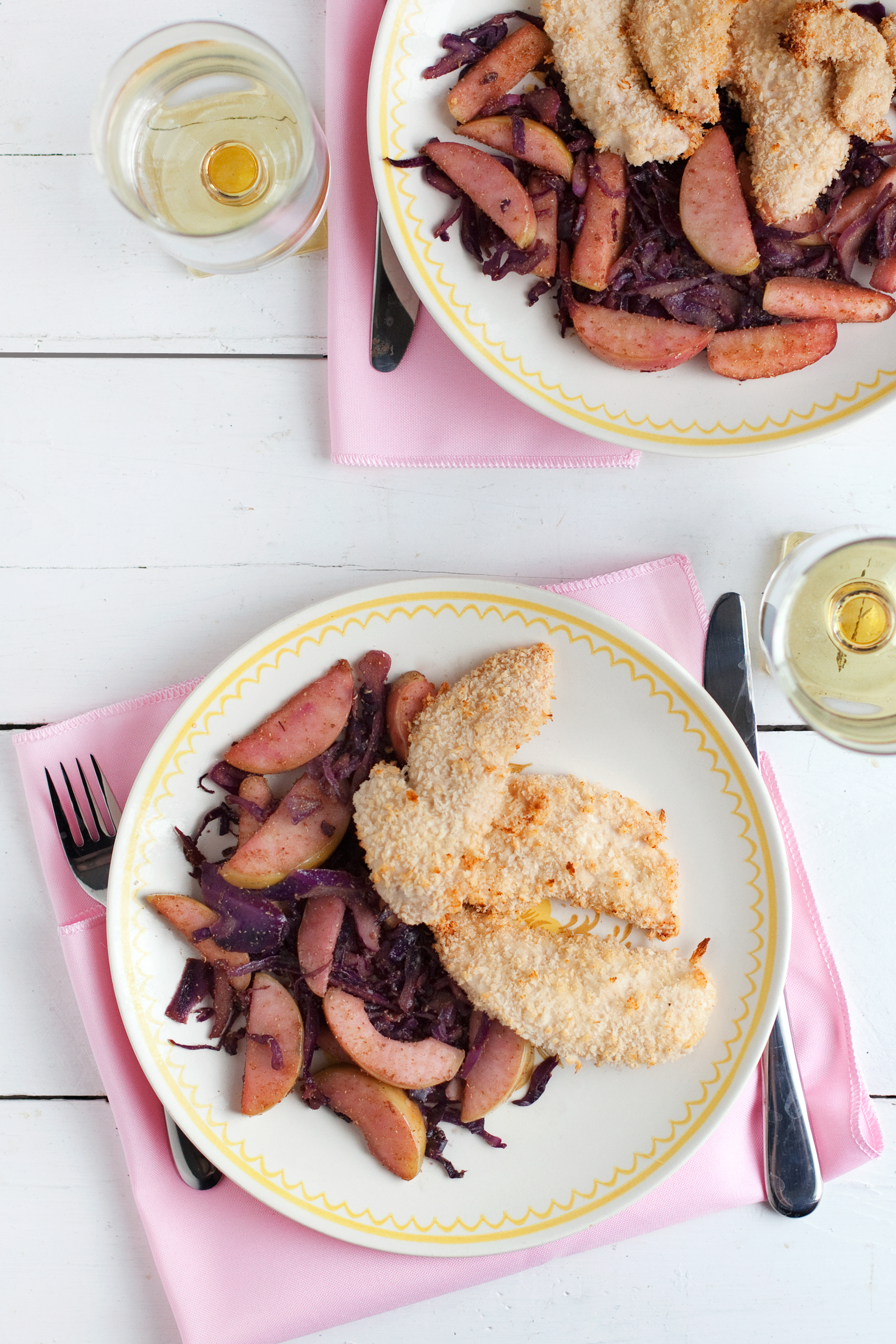 The first meal I made was the chicken schnitzel with sweet and sour apple cabbage, and from beginning to end, the meal came together in literally eleven minutes! This was a huge deal for me, because normally after church our family is scrambling to make something healthy and quick, because we're all starved and the kids need naps.
I just rubbed the provided mayo onto the chicken tenders, dredged them in the panko crumbs, and placed them in the oven. During that time, I cooked the apples and cabbage on the stove and finished the combo off with the provided dressing and seasonings. I plated the apple cabage just as the chicken came out of the oven, and our family was seated at the table ready to eat. Eleven minutes. I love it.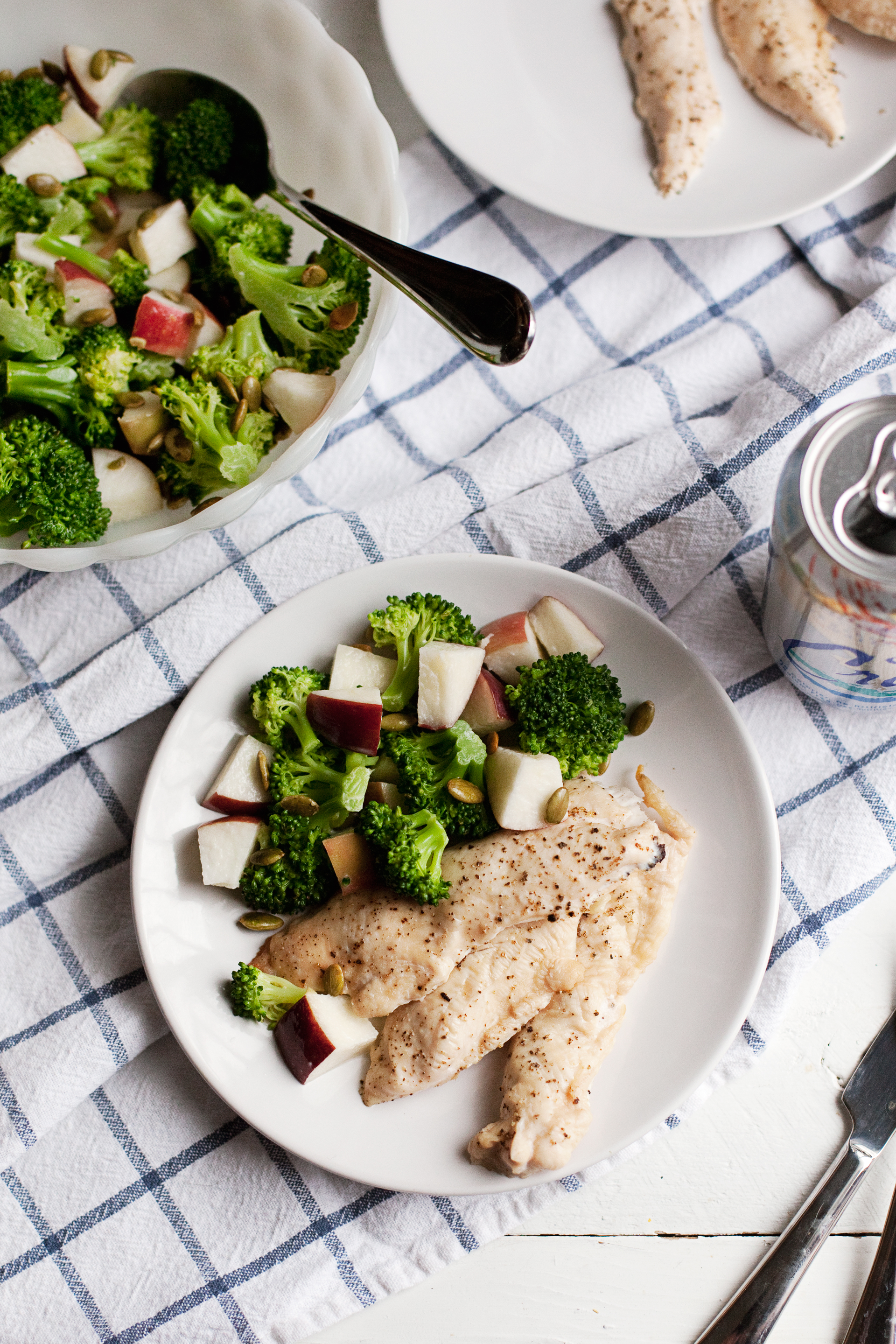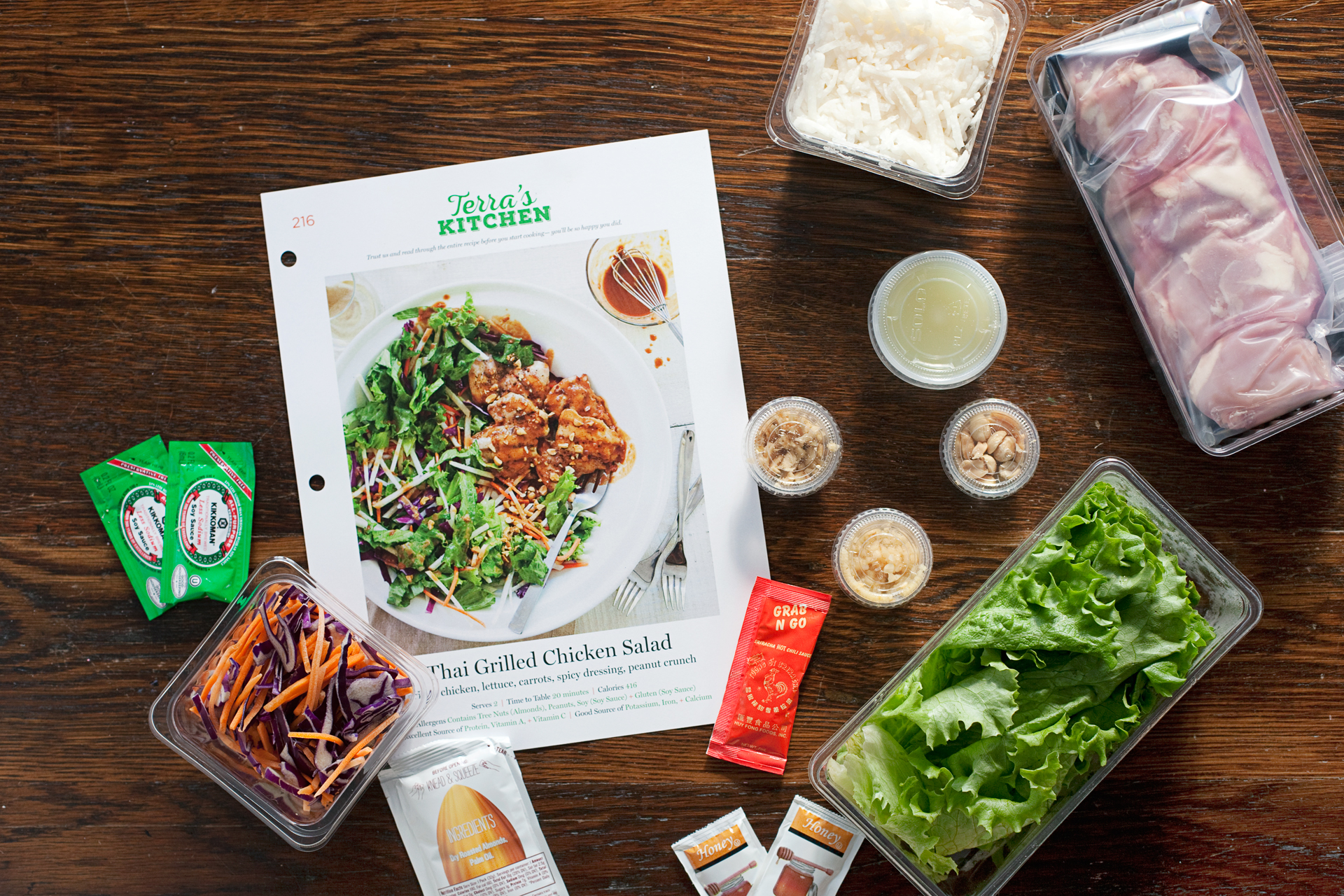 We enjoyed all of the meals we tried, and I really loved not having to slice and portion out all of the ingredients before making the meals. I also loved cutting out the waste that often happens when buying an entire item when only a portion is needed for the recipe. For instance, I needed pepitas for the broccoli apple salad, but didn't need to buy a whole package from the store, because the small portion I needed was provided. The same goes for coriander (a spice I'd never use often enough to justify buying and entire container of), diced red onion, red cabbage, and other ingredients that I usually never use all of when I purchase the whole piece in the produce section.
It was also so nice to be able to pull out fresh and delicious fruit for the kids to snack on, which had already been sliced and prepared for me. I get anxious about selecting a good watermelon at the store, and then find slicing and dicing it to be such a tedious and messy task. So, having prepped slices off the rind was such a treat for us!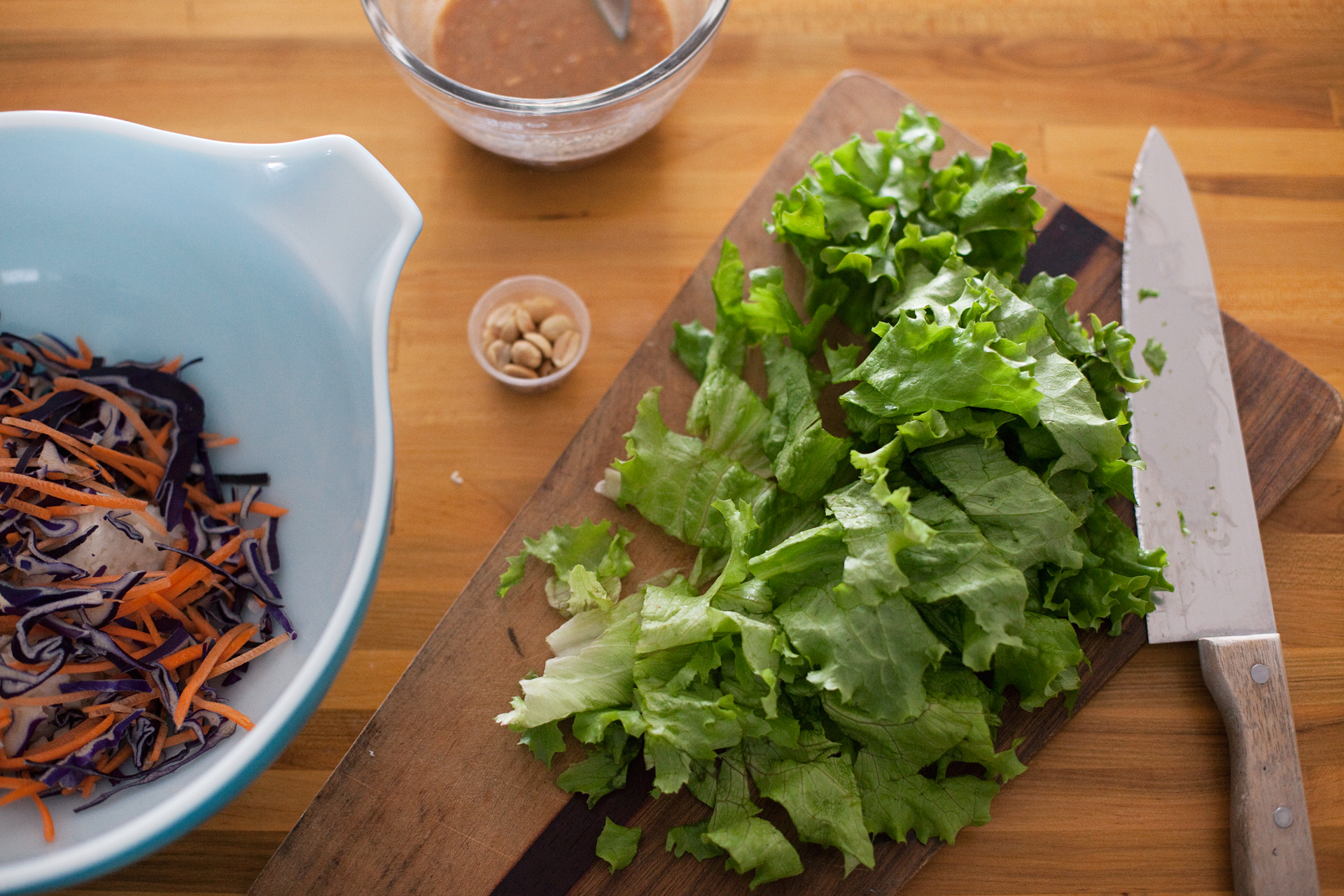 Over all, my favorite aspect of doing a food subscription through Terra's Kitchen was the time it saved me. I saved time planning meals and grocery lists, time shopping for meal ingredients, and time prepping the meals before cooking them. It was also fun to try new recipes for fresh meals I might not have chosen if left to my own devices.
This is such a new and fun way to do family meals— I highly recommend Terra's Kitchen after our experience. What do you think? Would you give a meal delivery service a try?
This is a sponsored conversation written by me on behalf of Terra's Kitchen. The opinions and text are all mine.