Glamping in Wine Country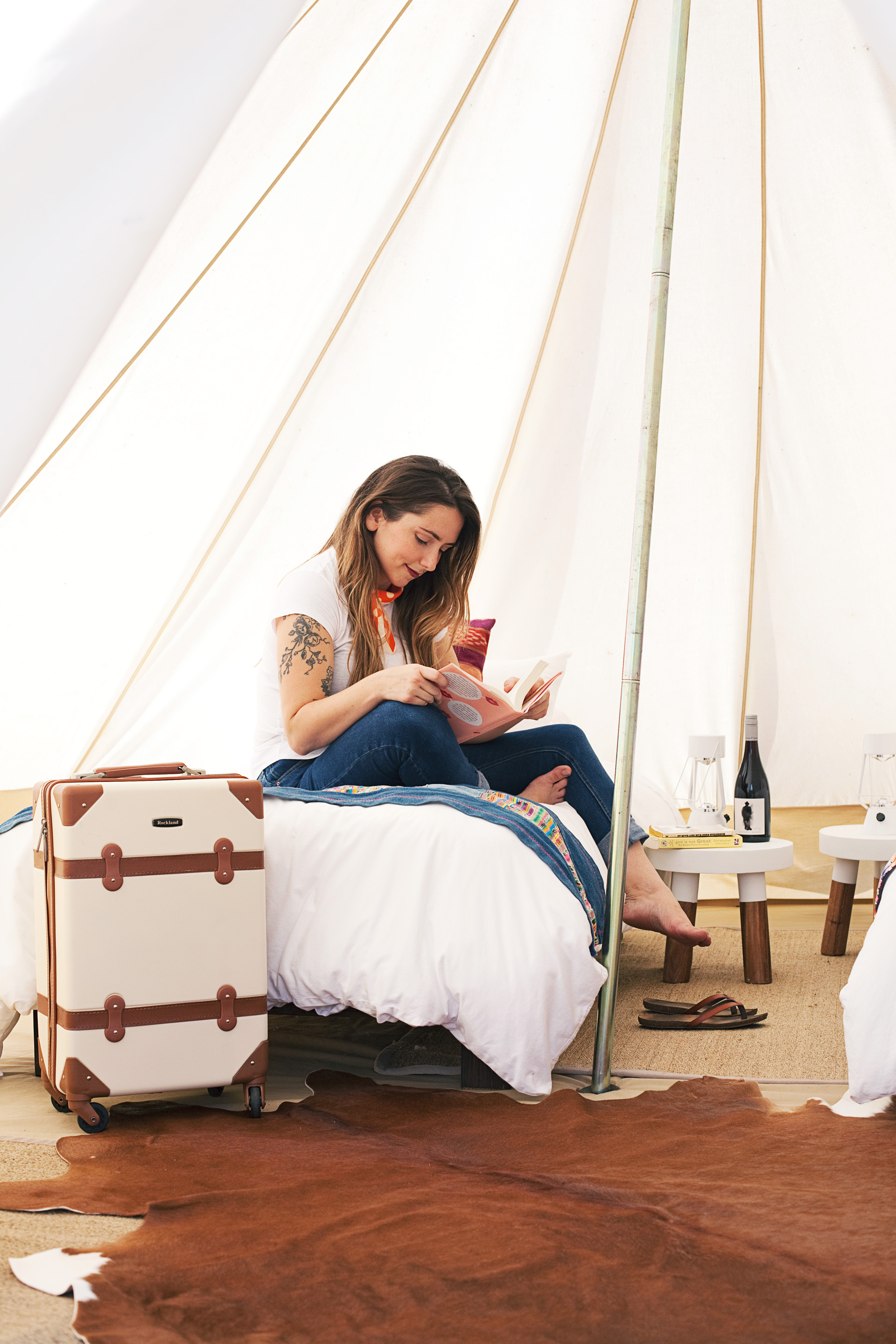 They say that your thirties are the best years of your life… which may have something to do with why I saved a trip to wine country until I hit my thirties. Because, oh my goodness. This trip definitely wins the spot of #1 vacation I have ever had. Perhaps it was the combination of the wine, the scenery, the California weather, and the great company of friends, but I'm certain that it wouldn't have been as fabulous if it weren't for our amazing glamping accommodations!
For the second leg of this Ohio gal's very first trip to California, I stayed at a fabulous ranch in the heart of Sonoma Valley. (Check out the first leg of the trip at this mid century cabin in Big Bear Lake!) The grounds are lush, immaculately maintained, and furnished with a group of bell tents that make even those who are camping-shy eager to brave the elements in luxury. (Uh, brave the elements…. I mean, look at these tents— you certainly don't need to be brave, but that's the whole point of glamping, right?) It was such a thrill for me, and just wait until you see some more of the grounds! It was such a nice experience, I'd like to go back soon with Phil.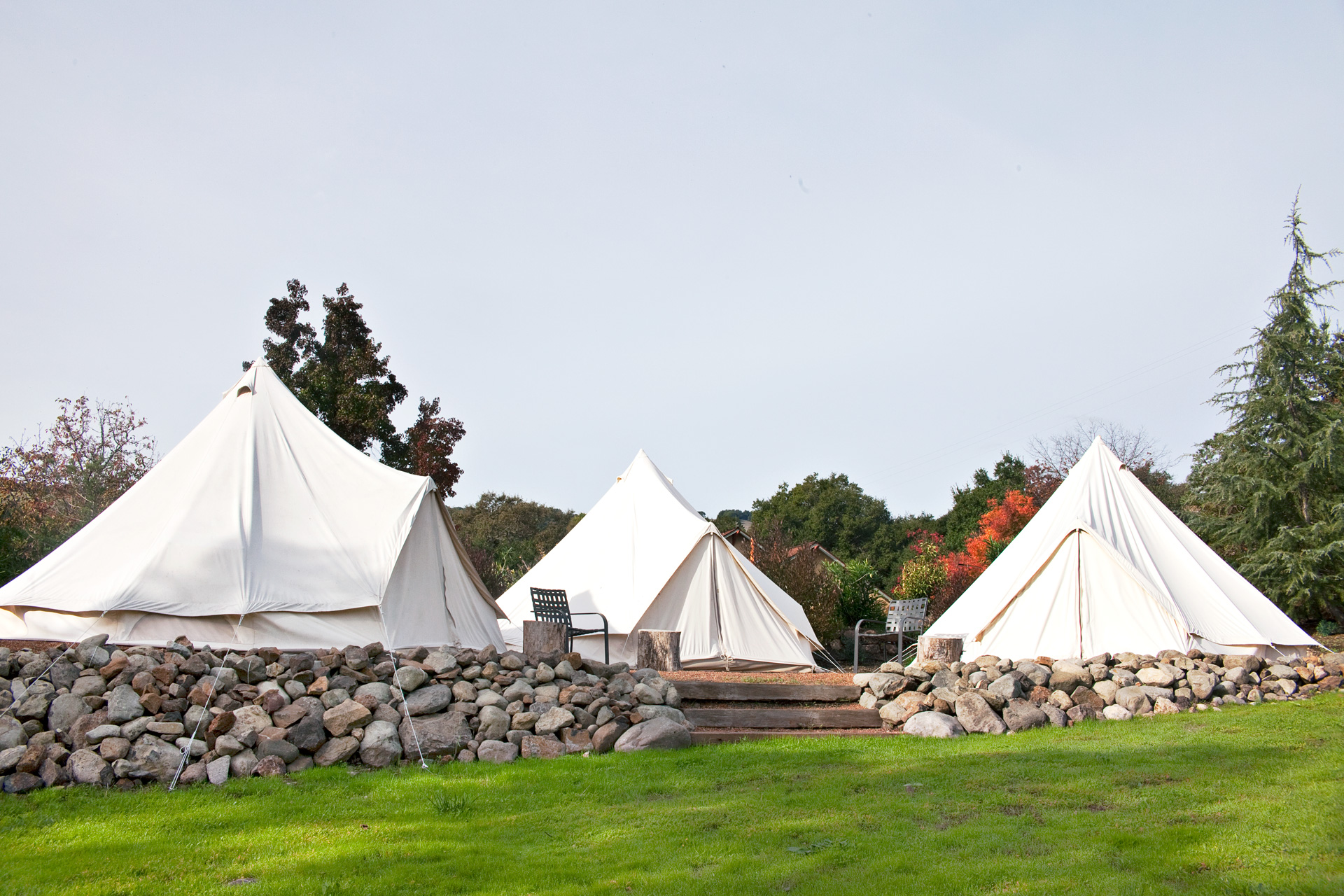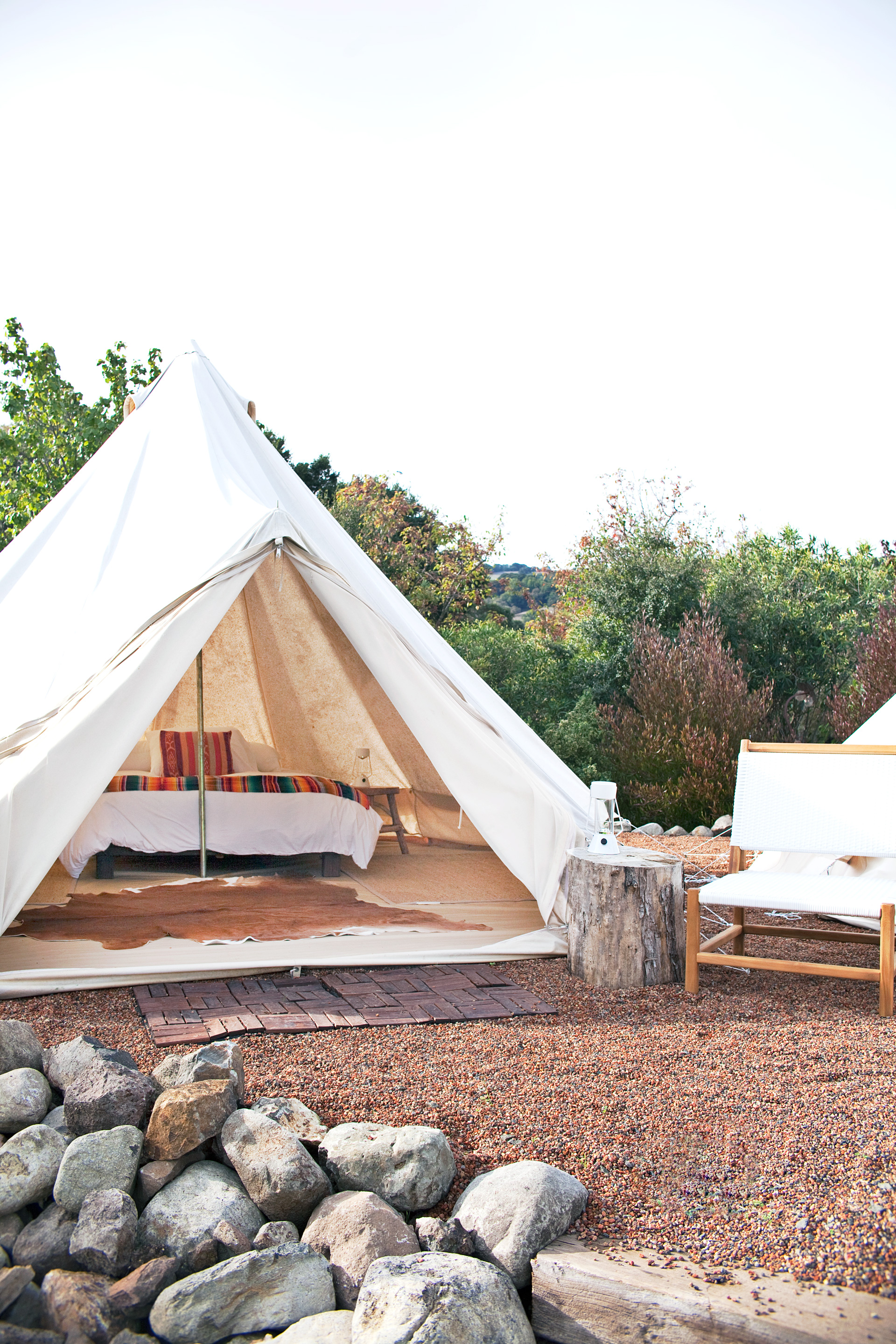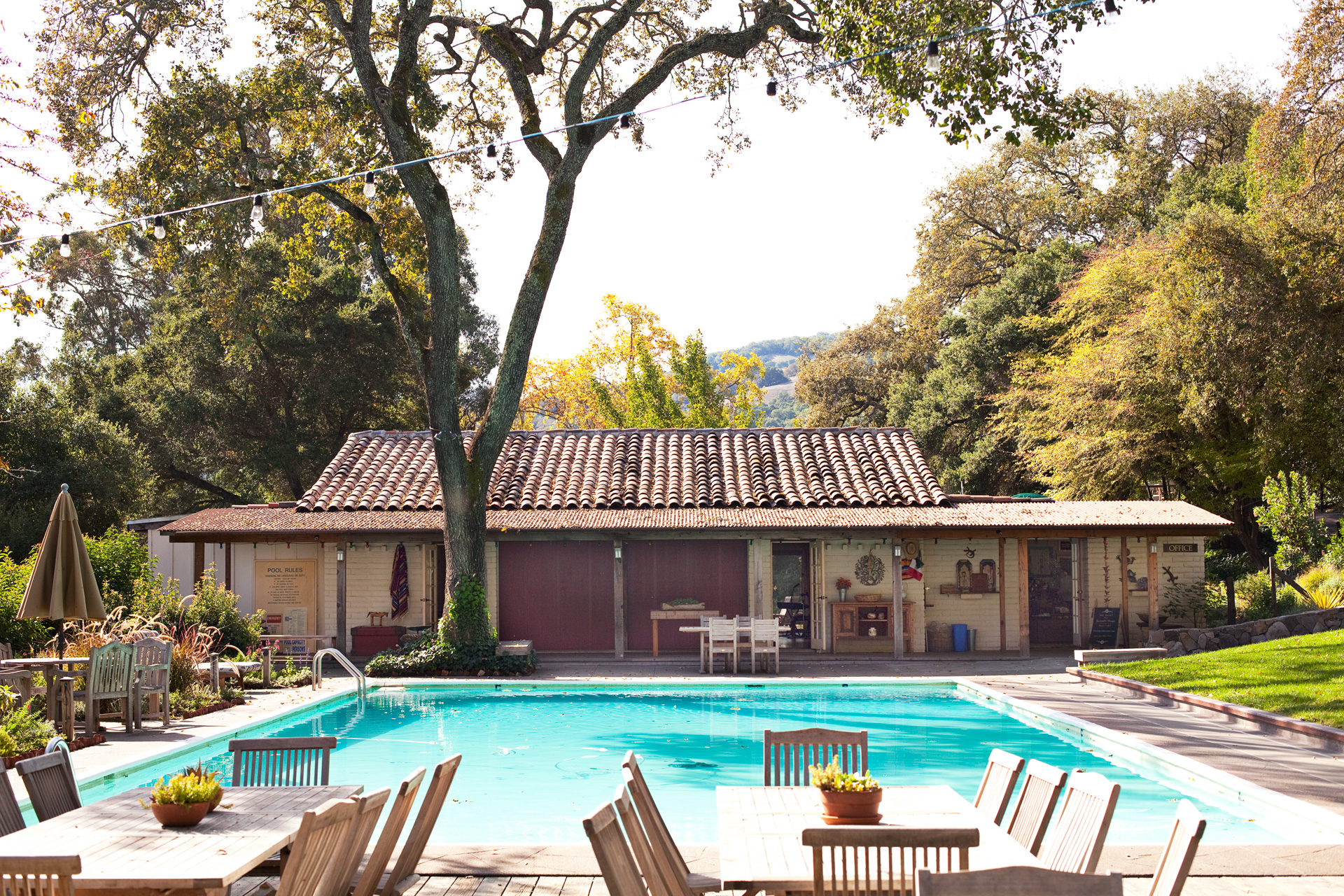 The family-owned ranch has a couple of public spaces available to guests, including a large pool, hot tub, massage hut, massage hut, cozy living area, and public hall. The staff was always available, and as friendly as can be. Meals are served in the dining hall (no cooking over a fire— unless you want to!), as well as snacks throughout the day. Wine, refreshments, and other treats were available for for purchase in the dining hall. Let me just say I was never wanting for more wine. :)
Meals were optional, and because my friends and I ventured into the downtown Sonoma area during the afternoon and evening, we only enjoyed breakfast at the meal hall, which included a large spread with lots of delicious and healthy options, even options for those with dietary restrictions. But we did take advantage of the fresh coffee available throughout the day.
A highlight of my visit was playing games around the campfire at night, where we met other guests and enjoyed our wine and treat purchases from earlier that day. Hanging out with my friends in the tents was a lot of fun too. Never wanted that night to end!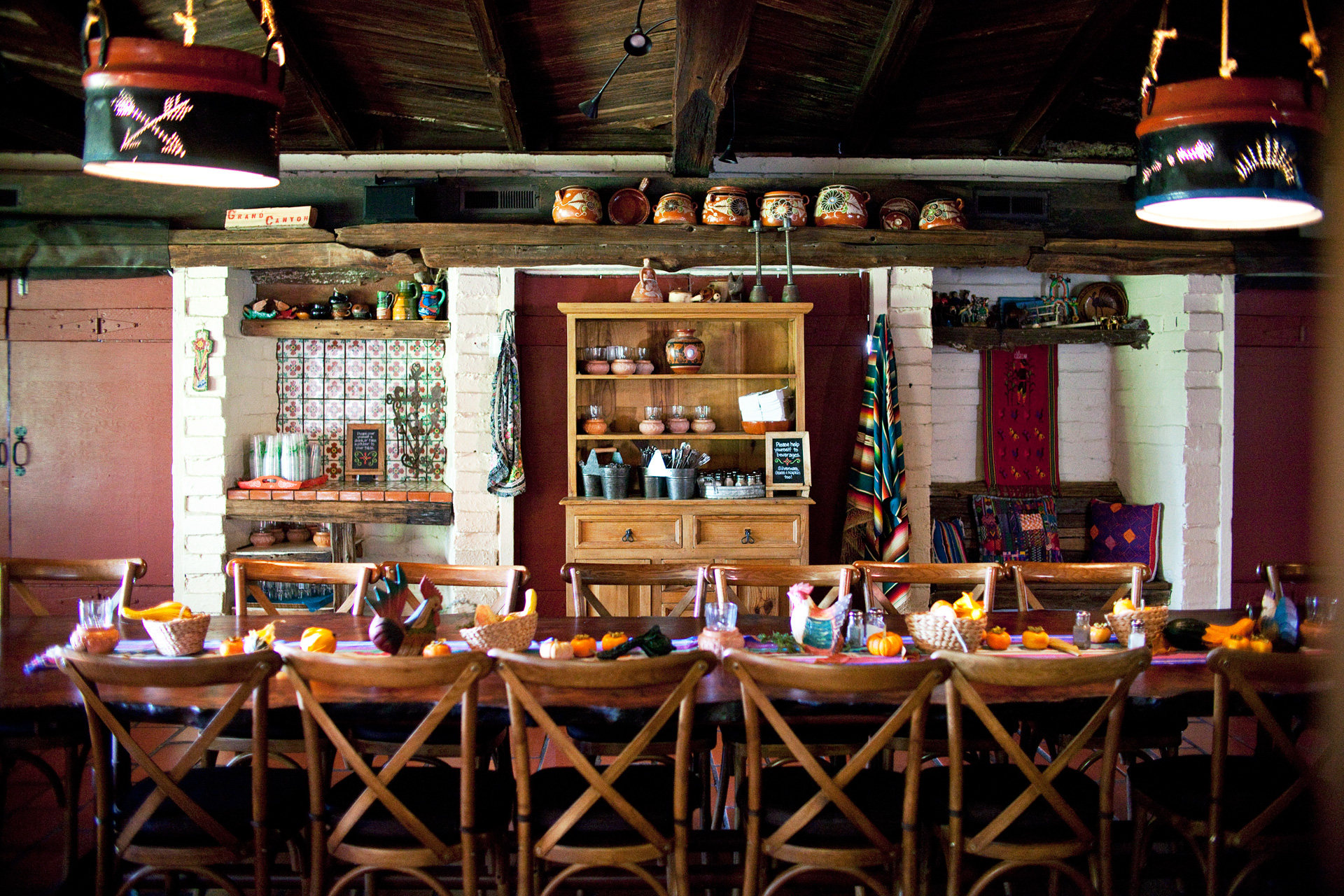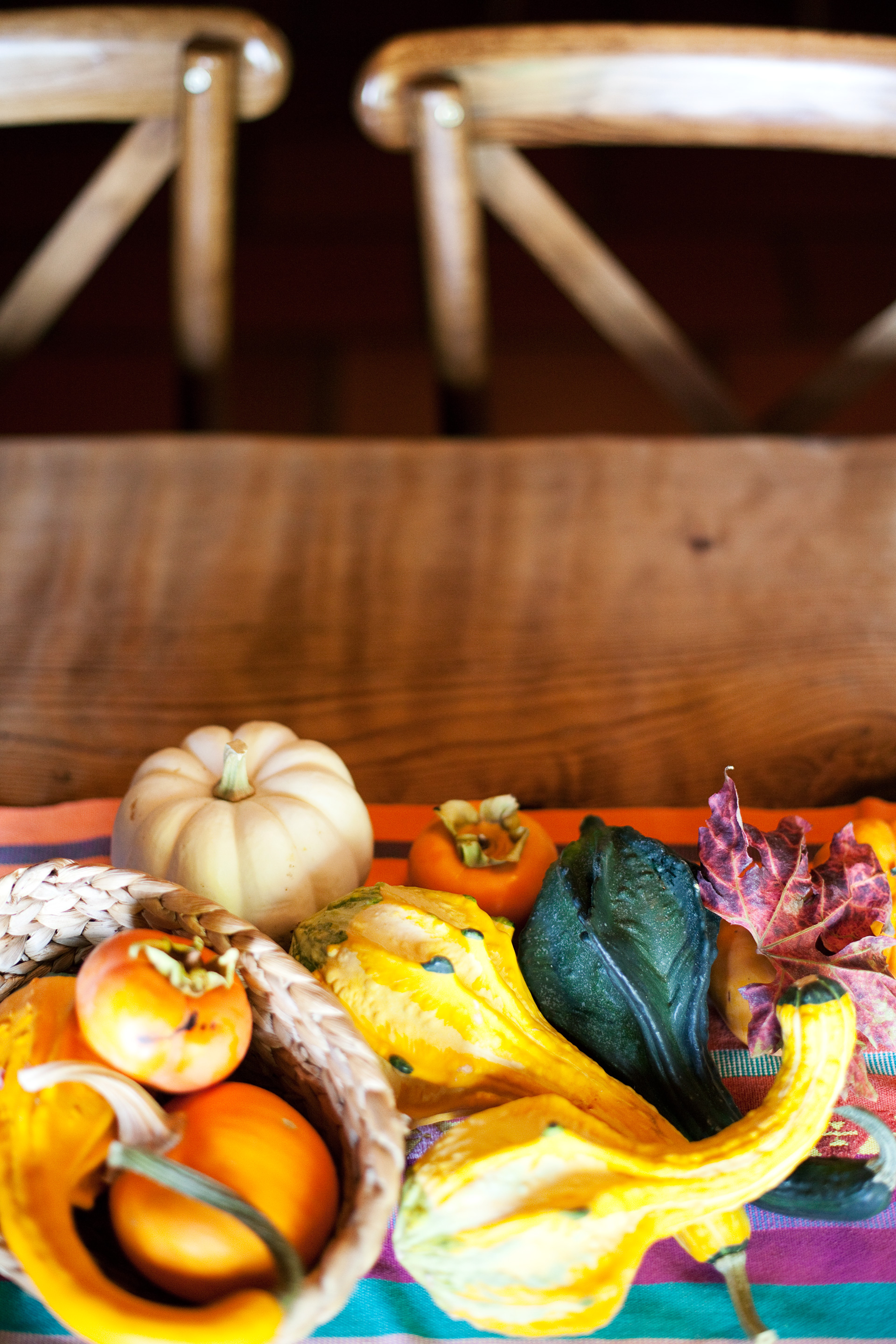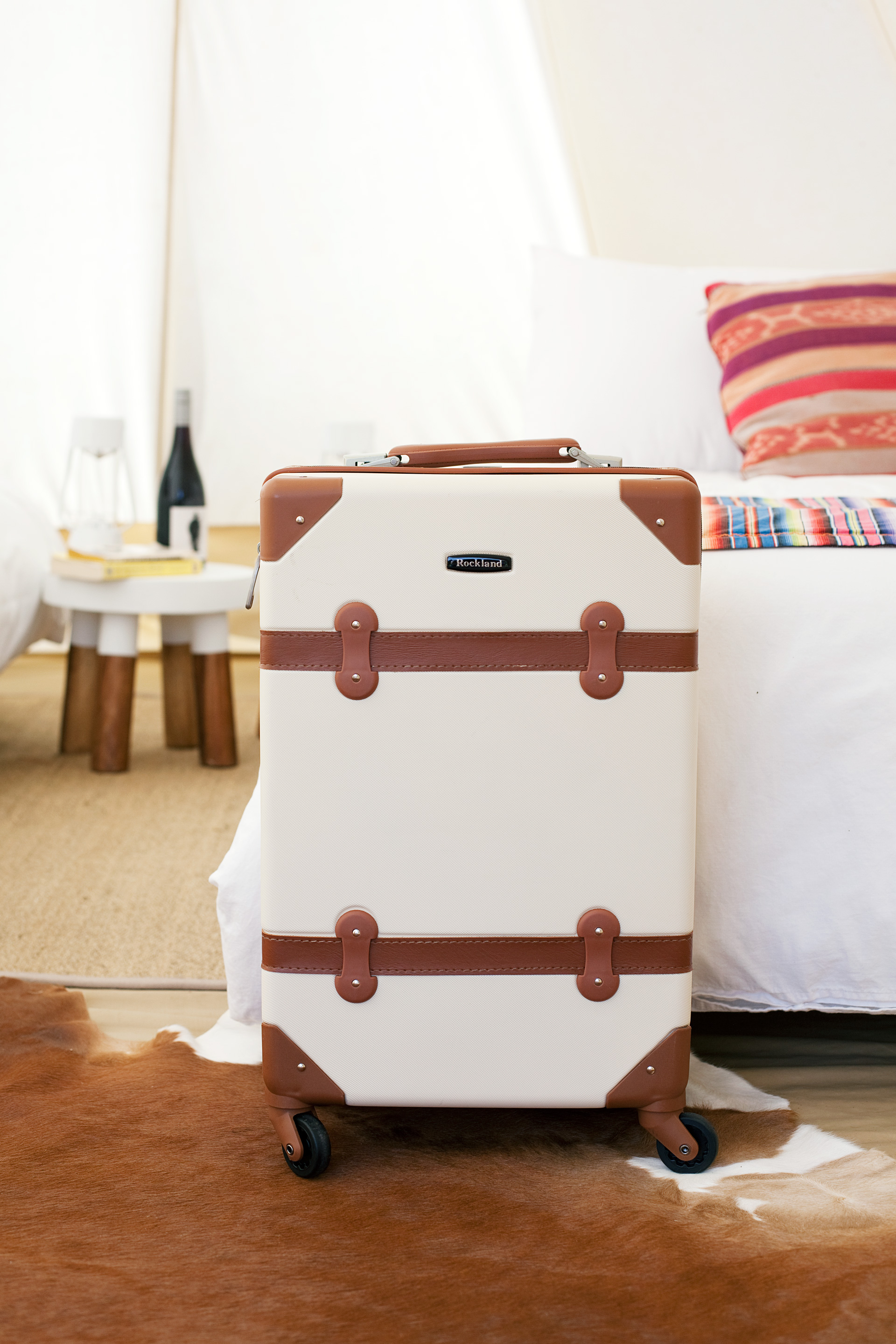 This was the first trip I packed everything I needed into a carry-on. It was really nice not worrying about luggage getting lost, or taking time at the baggage claim area at the airport. I decided to buy this new suitcase so I could travel in style, and it's a decision I certainly do not regret. Look how cute it is! Fits right in with the stylish tents, eh?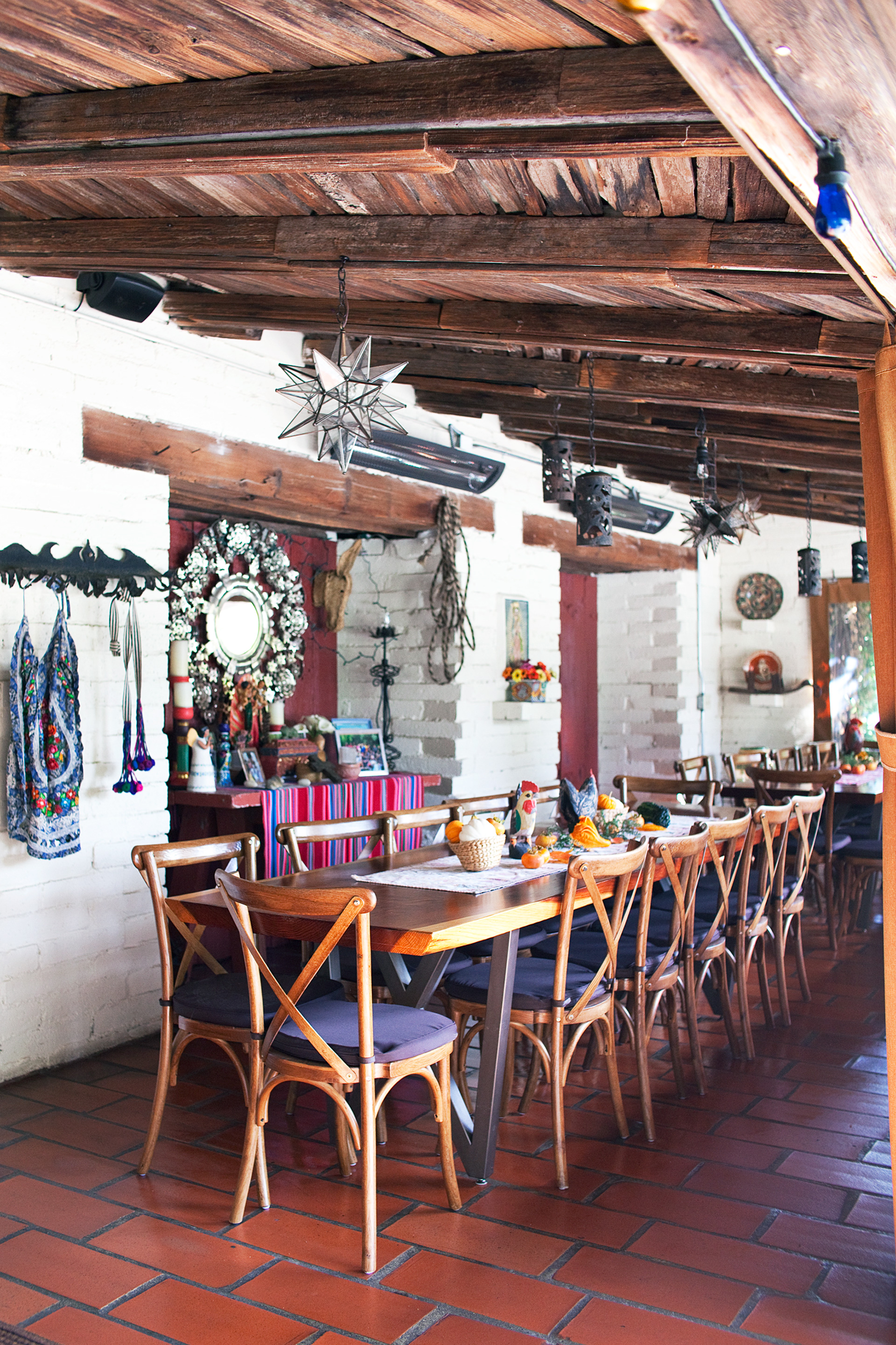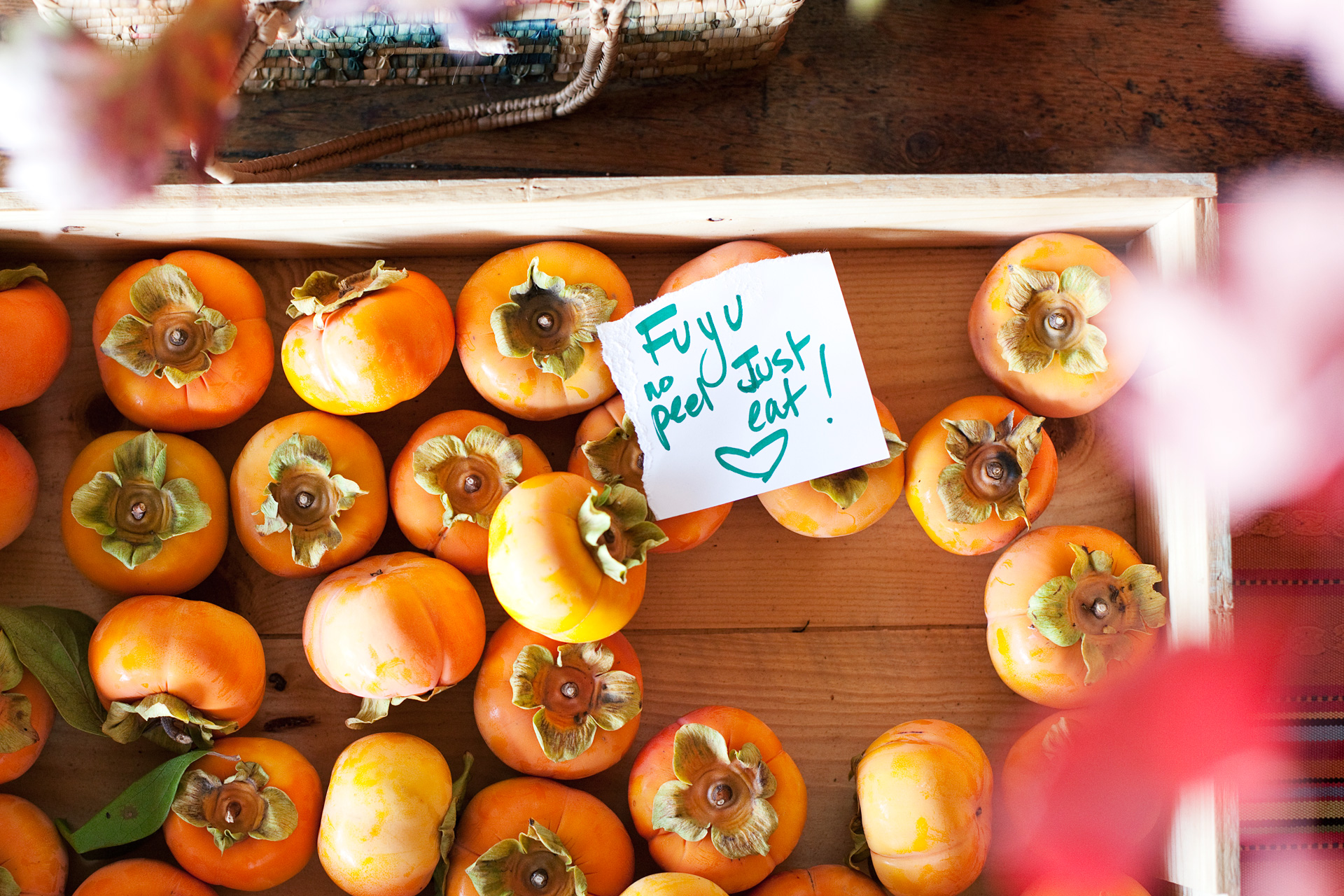 While we didn't visit any vineyards, we did visit some of the restaurants and wine shops in the town square of Sonoma, which is such a charming area— and I don't think that's just the wine talking. I really can't wait to return and do it all over again!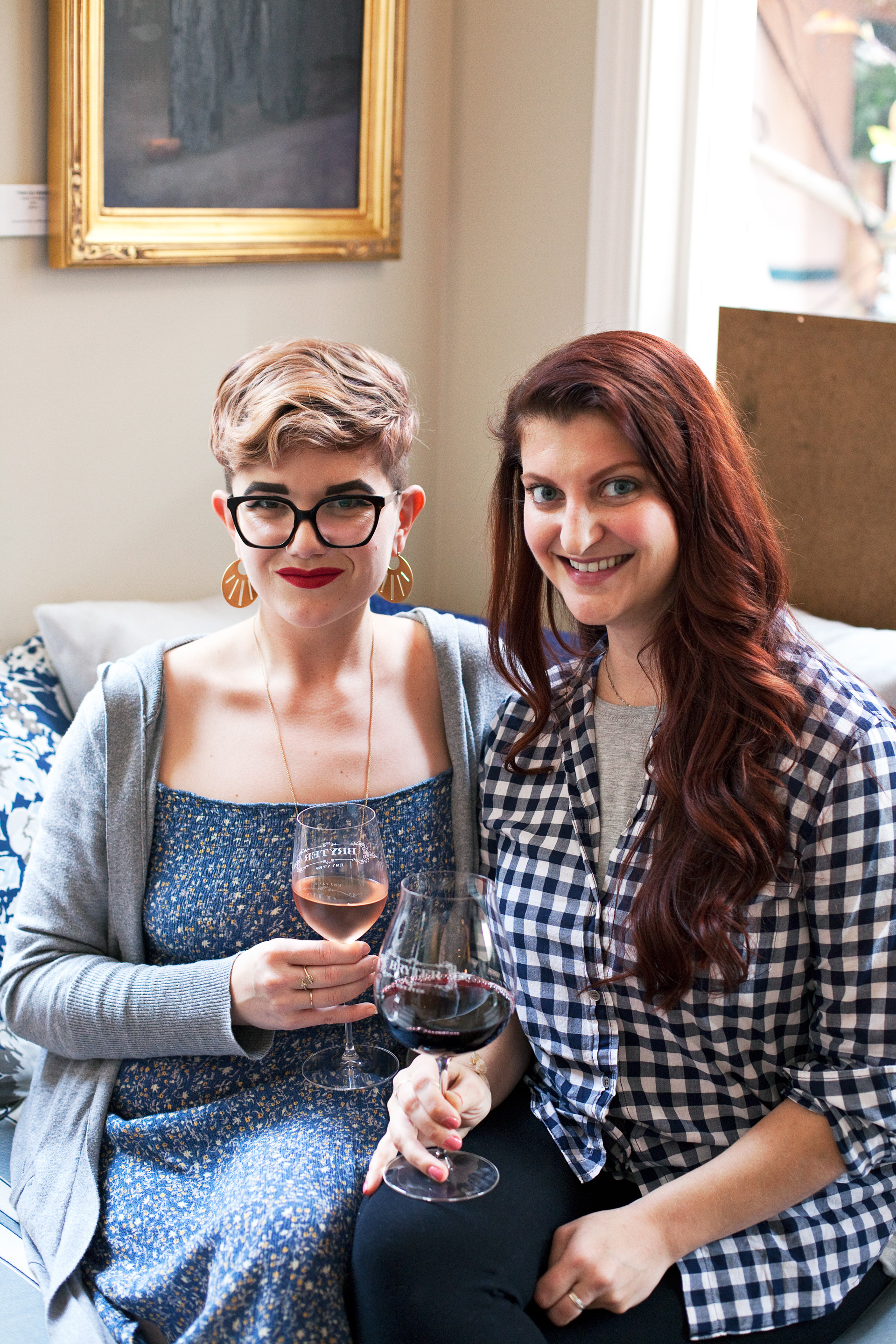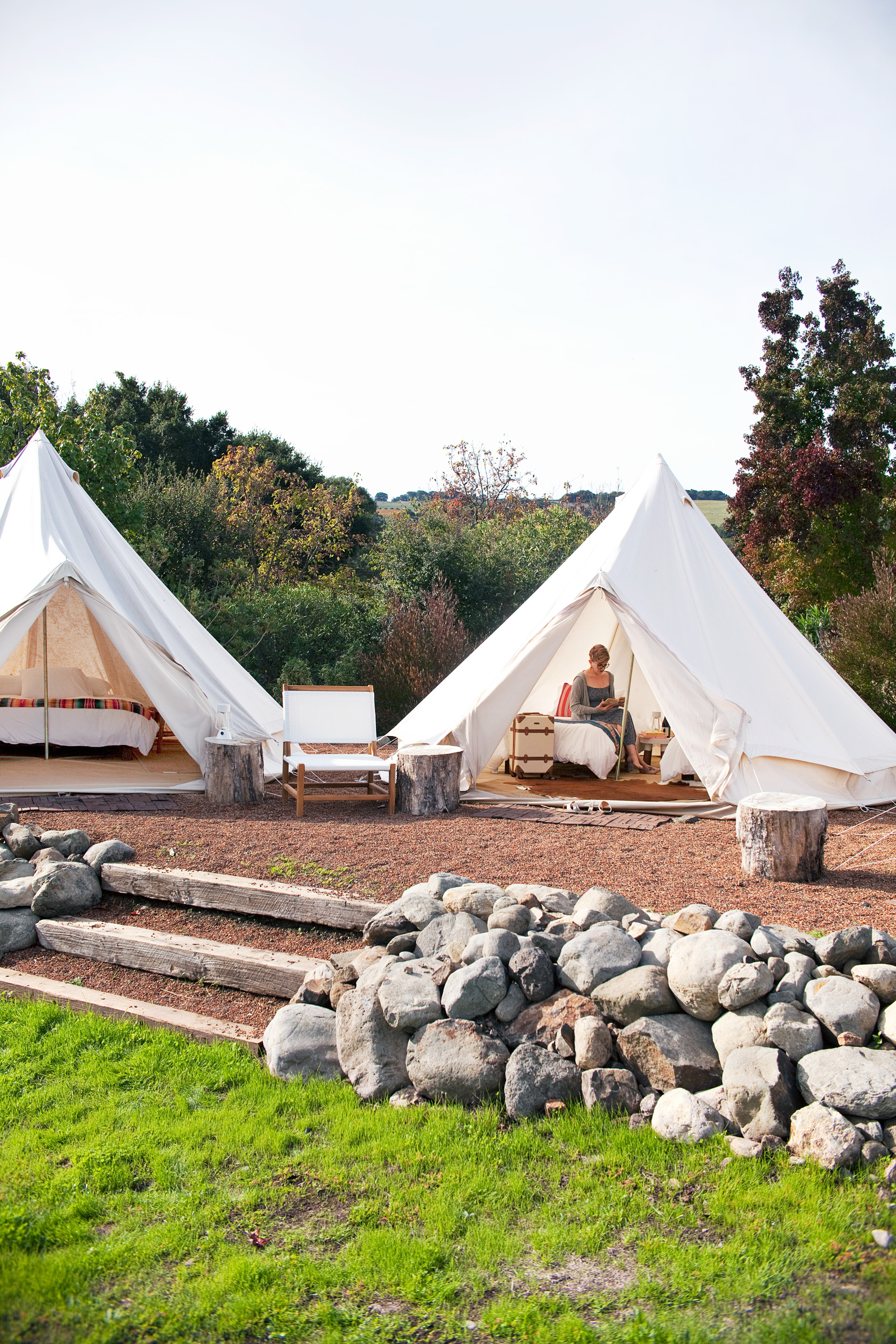 Thanks to Glamping Hub and the hospitable staff at the ranch for hosting me and my friends! I truly cannot recommend this spot enough. Book your own trip in the Sonoma bell tents at the Glamping Hub website right here.