Comfort Works Ikea Karlstad Slipcover Review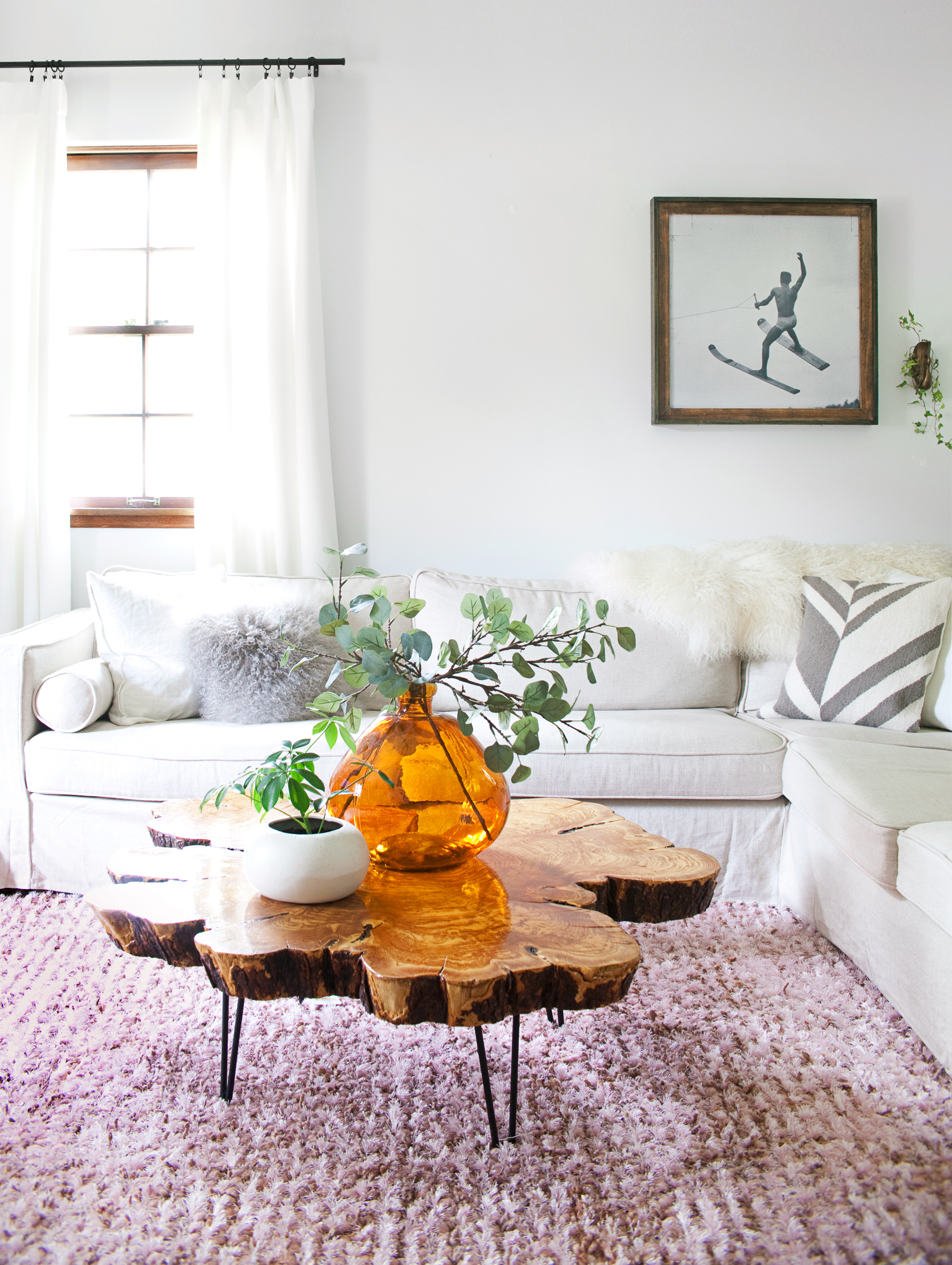 I hope you've been having fun following along with my living room makeover! I've been having a blast over here. The last piece of the puzzle has fallen into place, and I'm so excited to share it with you: The Karlstad 3+2 sectional slipcover! I know before I had said it was the media center, but I stand corrected. THIS is the most dramatic change of the whole makeover. Our living room actually feels sophisticated now!
You may be wondering about the slipcover process, so read on! I put together a review of the Comfort Works slipcover I received for my Ikea Karlstad sectional.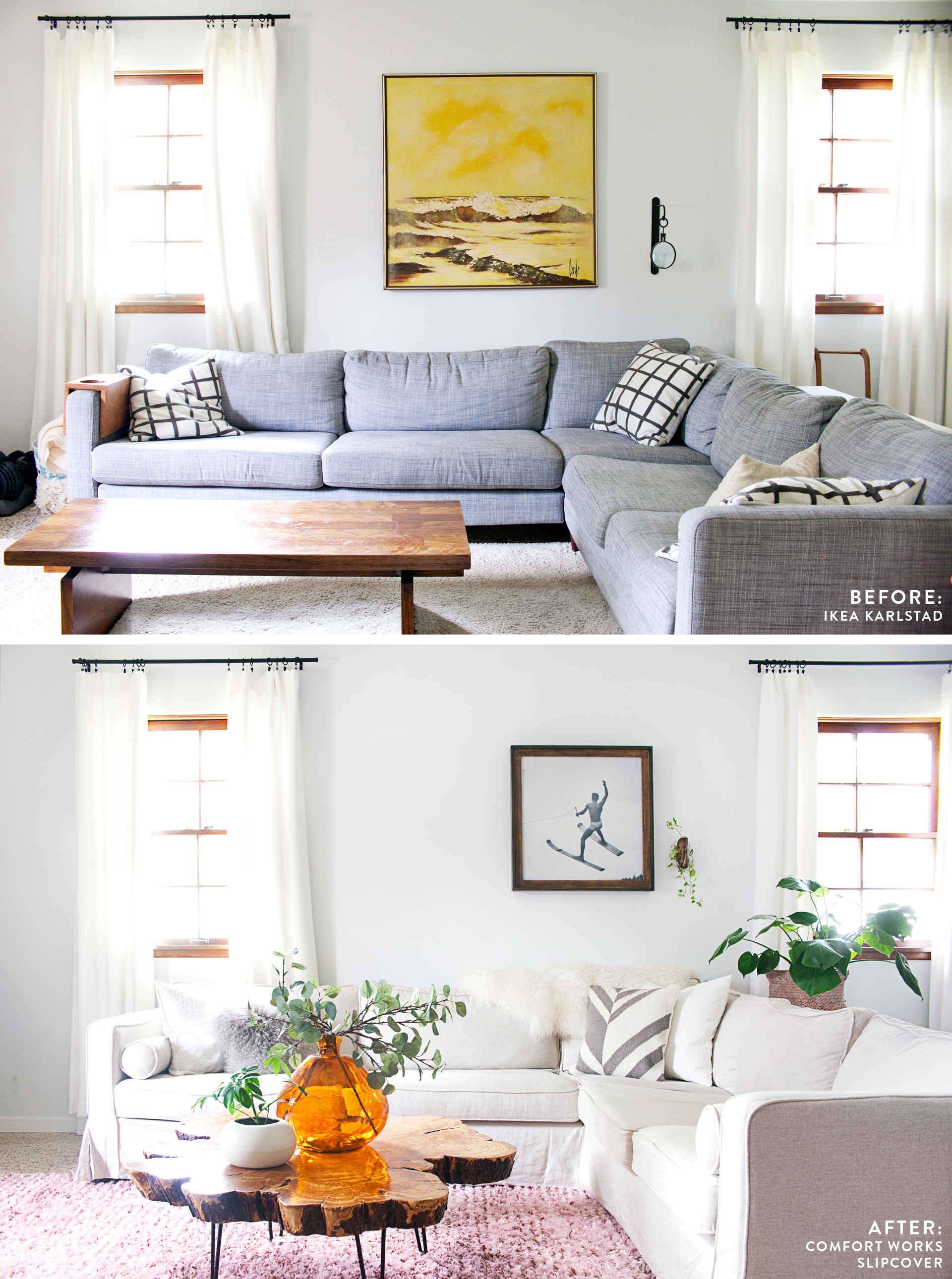 I found Comfort Works after searching online for Ikea replacement slipcovers, and was really excited about the fabric styles available. I didn't like the options available at Ikea, and actually my sofa model has been discontinued since then. Yikes! Thank God for Comfort Works. I knew I wanted something light, neutral, and natural (probably linen), and they had a lot of fabric options to choose from. But not so many that it was overwhelming by any means. I ordered 8 fabric samples, and was able to see their comfort and durability ratings, as well as dump coffee on them to see what happened!
My favorite option was the 20% linen 80% viscose blend— Liege Biscuit. It was soft, had the natural look I liked, and my coffee beaded up and dripped right off when I dumped it. That was reassuring! So I ordered the 3+2 sectional slipcover, and also requested that two bolster pillows be made in the same material. I simply provided them with measurements, and they sent the covers with the rest. (I had to stuff them myself when they got here.)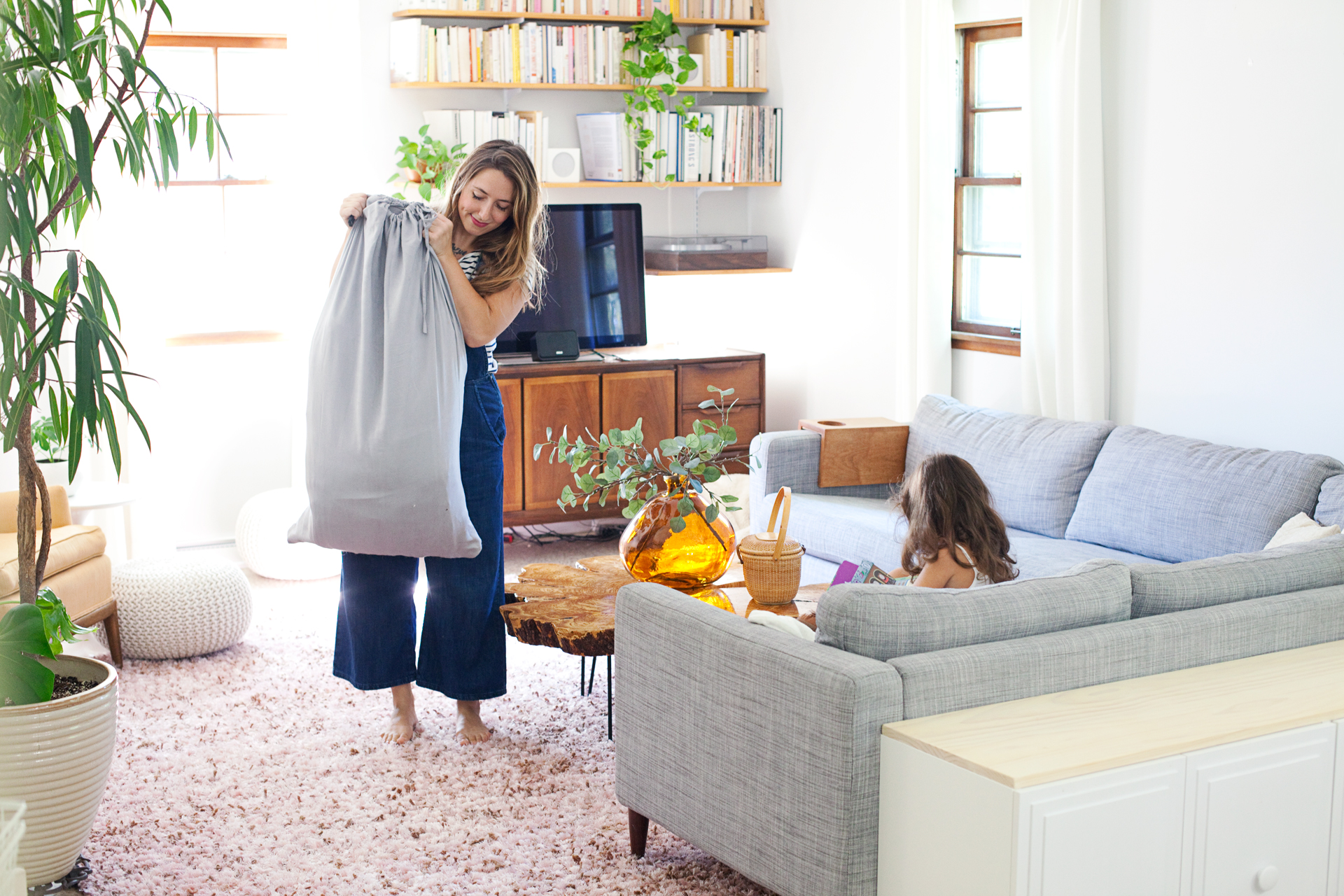 The slipcover arrived in fabric pouch that was shipped inside a medium-size cardboard box. I was actually surprised at how compact it was in there. I excitedly pulled it out, snapped a pic, and put on Tangled to keep Lucy occupied as I set out to slip the new covers over my cushions.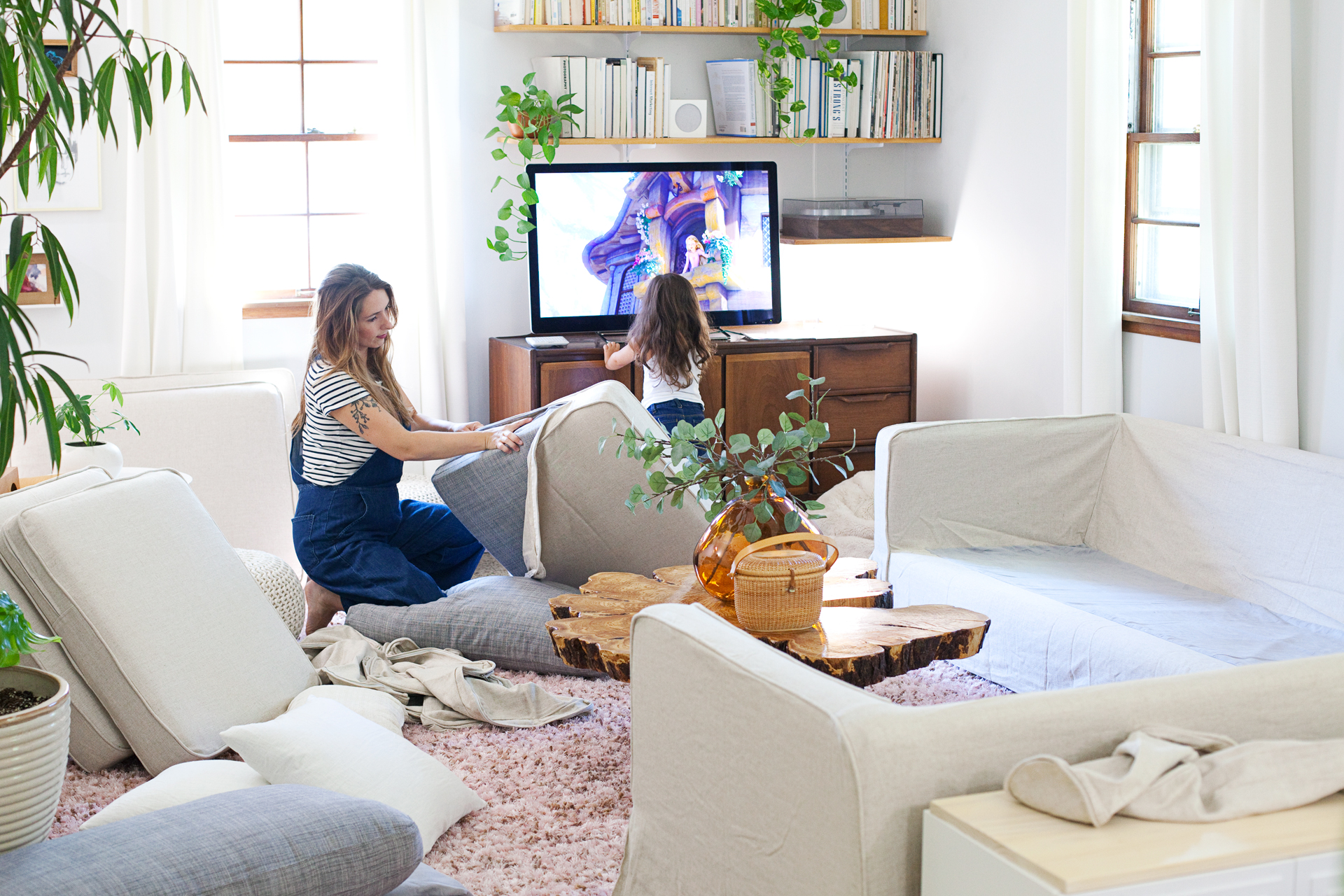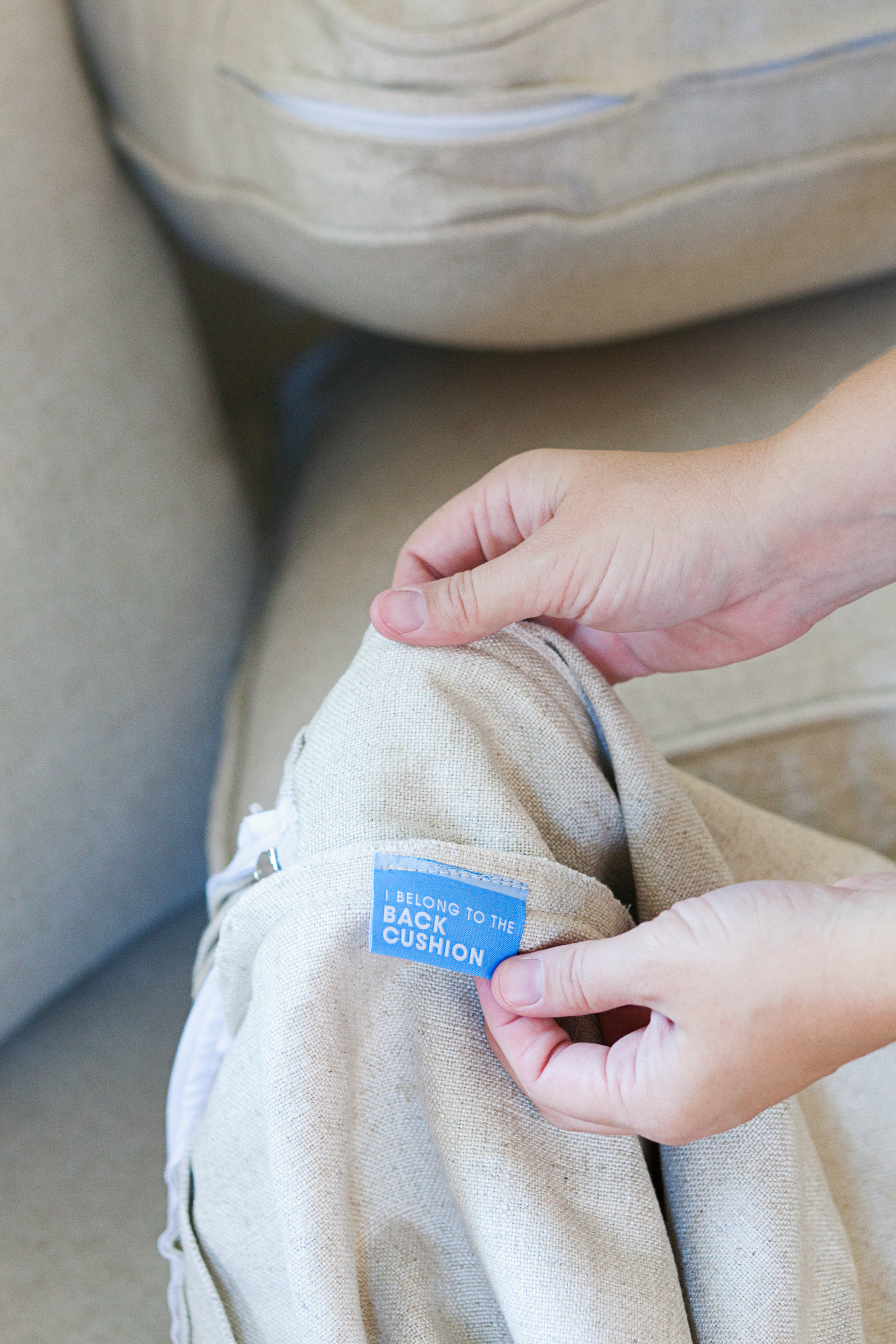 Each of the covers were labeled, so it made it really easy to figure out what went where. The zippers were easy to close, and the covers fit like a glove. Not too tight to zip, but tight enough to to look very tailored.
Of course, because of the linen blend and the compact packaging, the cover had wrinkles after installation. I had thought about steaming it a bit, but then I didn't get around to it, and now the wrinkles have mostly fallen out on their own, with a bit of subtle wrinkling on the skirt portion, which I actually kind of like. I had wanted the natural linen look, after all. What you see below is after the wrinkles had fallen out. I didn't do any ironing or steaming.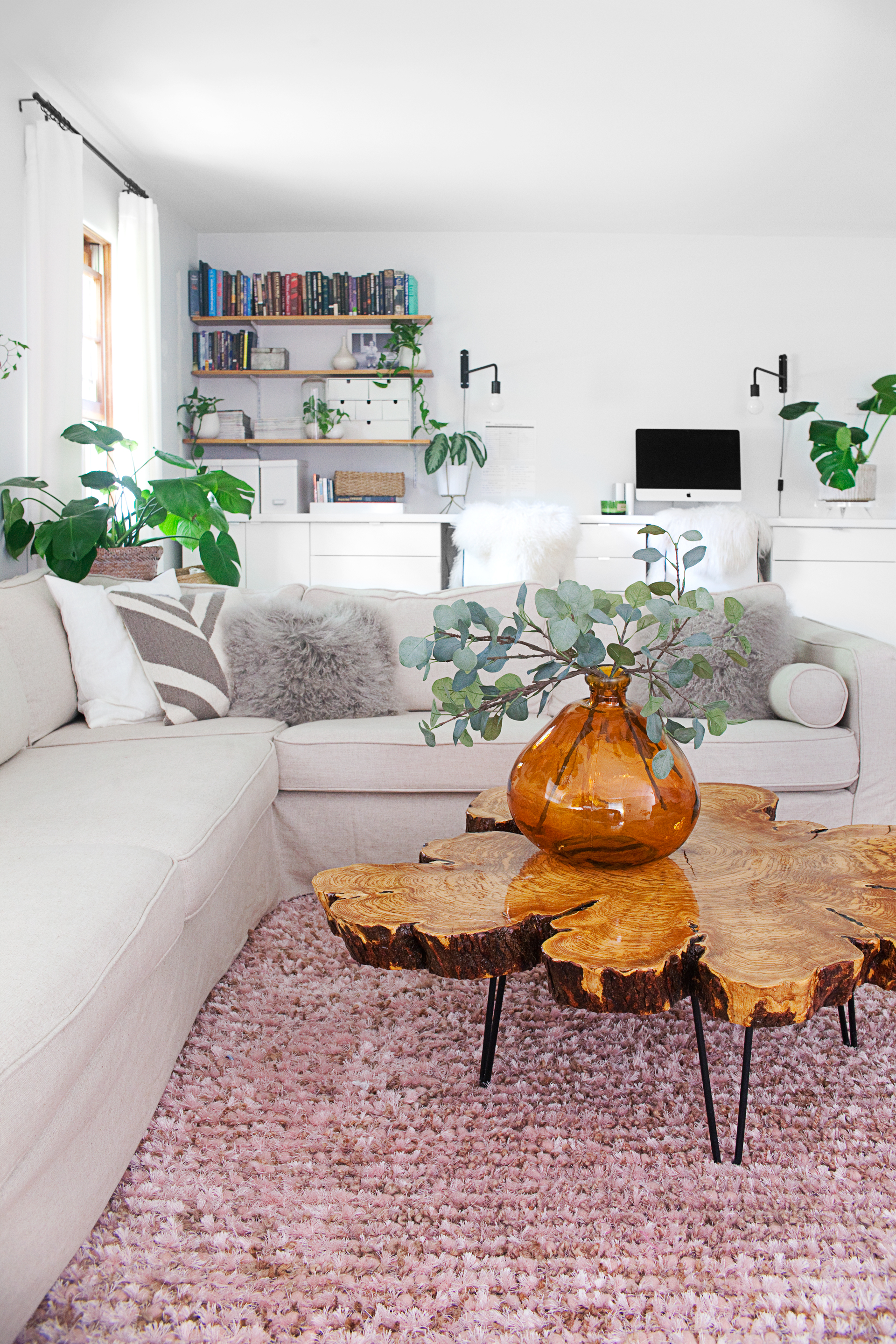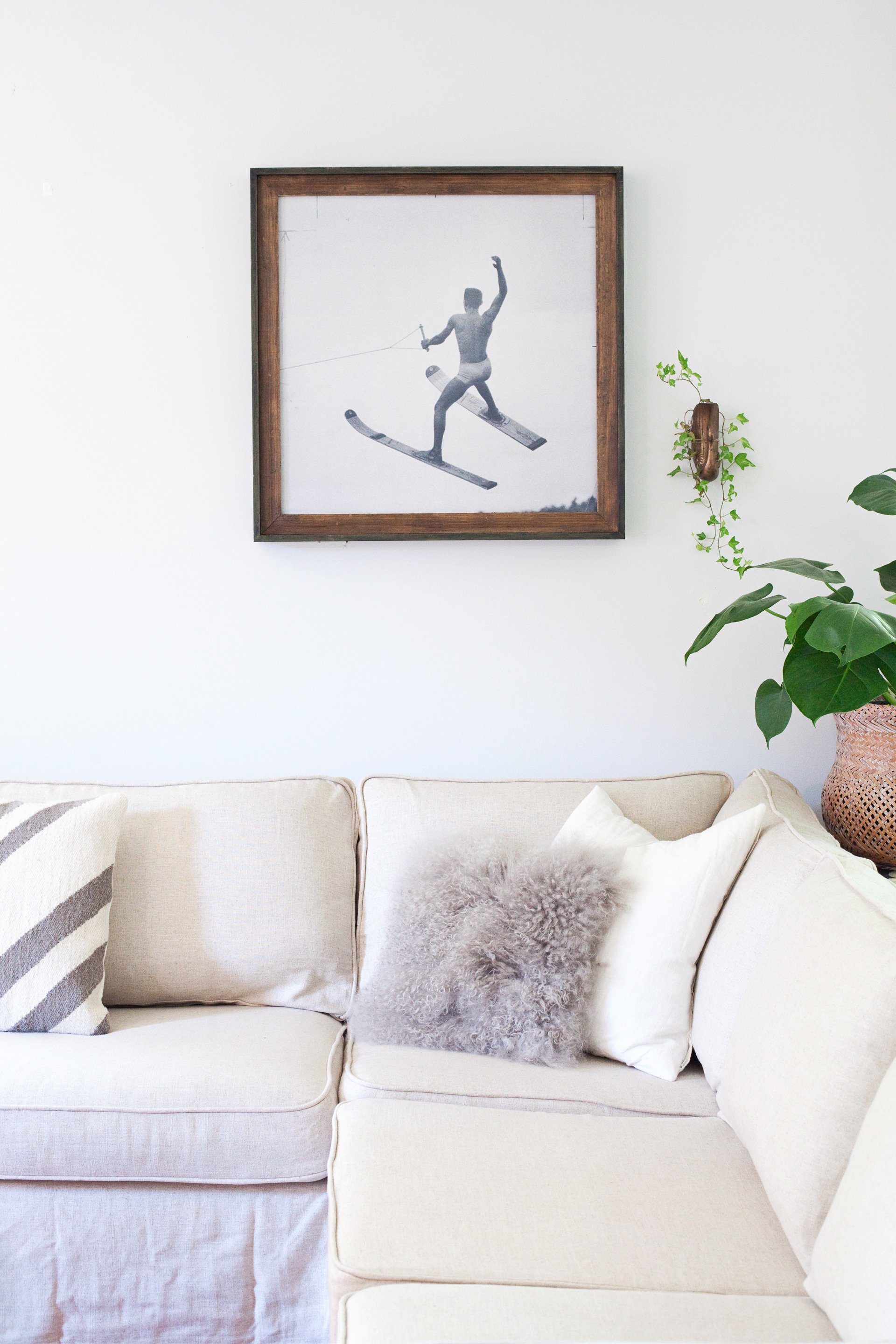 Comfort Works specializes in Ikea replacement covers, but they also do custom covers. You can contact them with your needs and someone will assist you with what measurements you need and pricing information.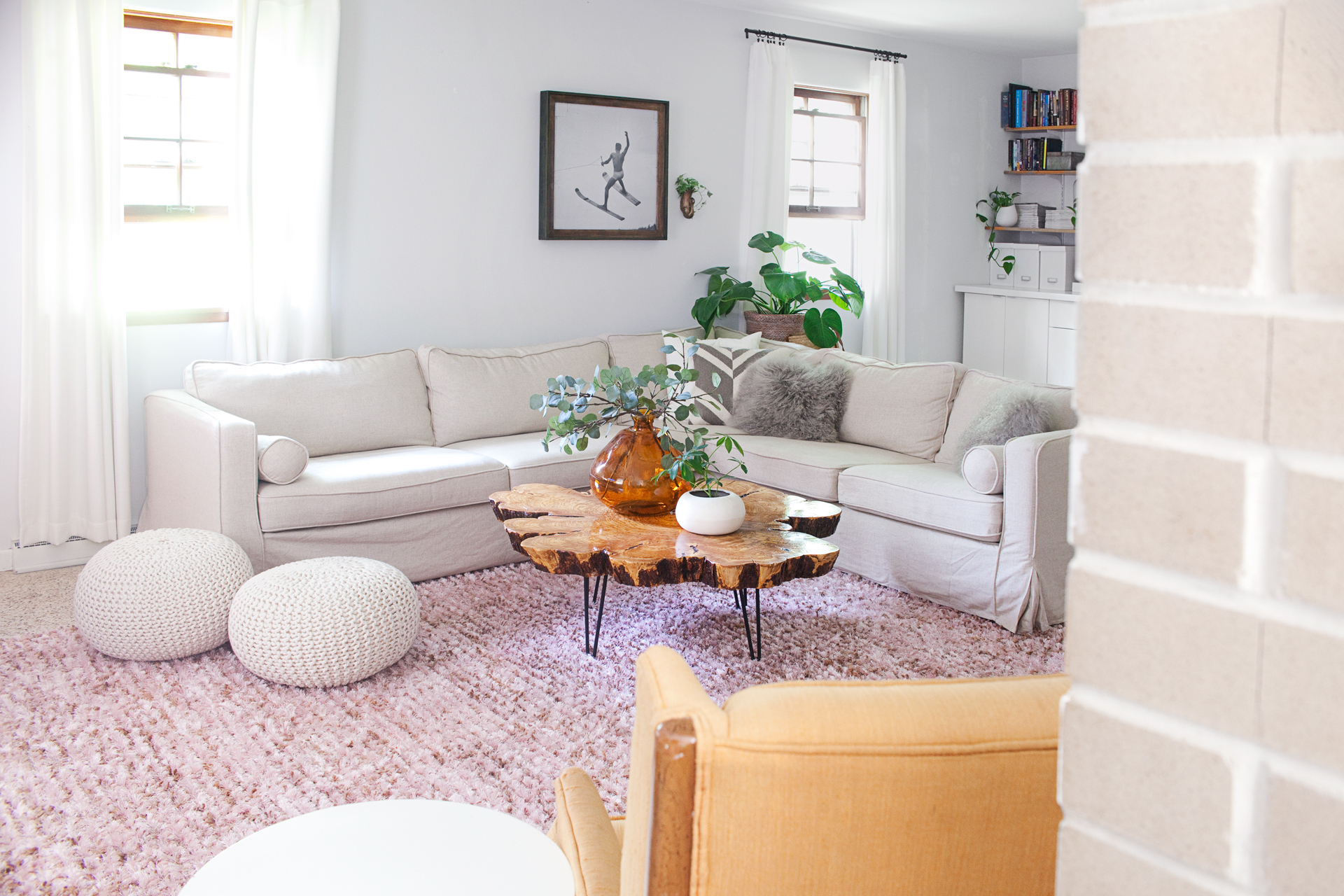 I really adore our new sofa cover, and love the fresh look it's given to this whole room. The piping details, skirt, and bolster pillows make the sofa feel like a brand new piece. It certainly feels much more expensive than what it is. Ikea? What? No way. YES WAY.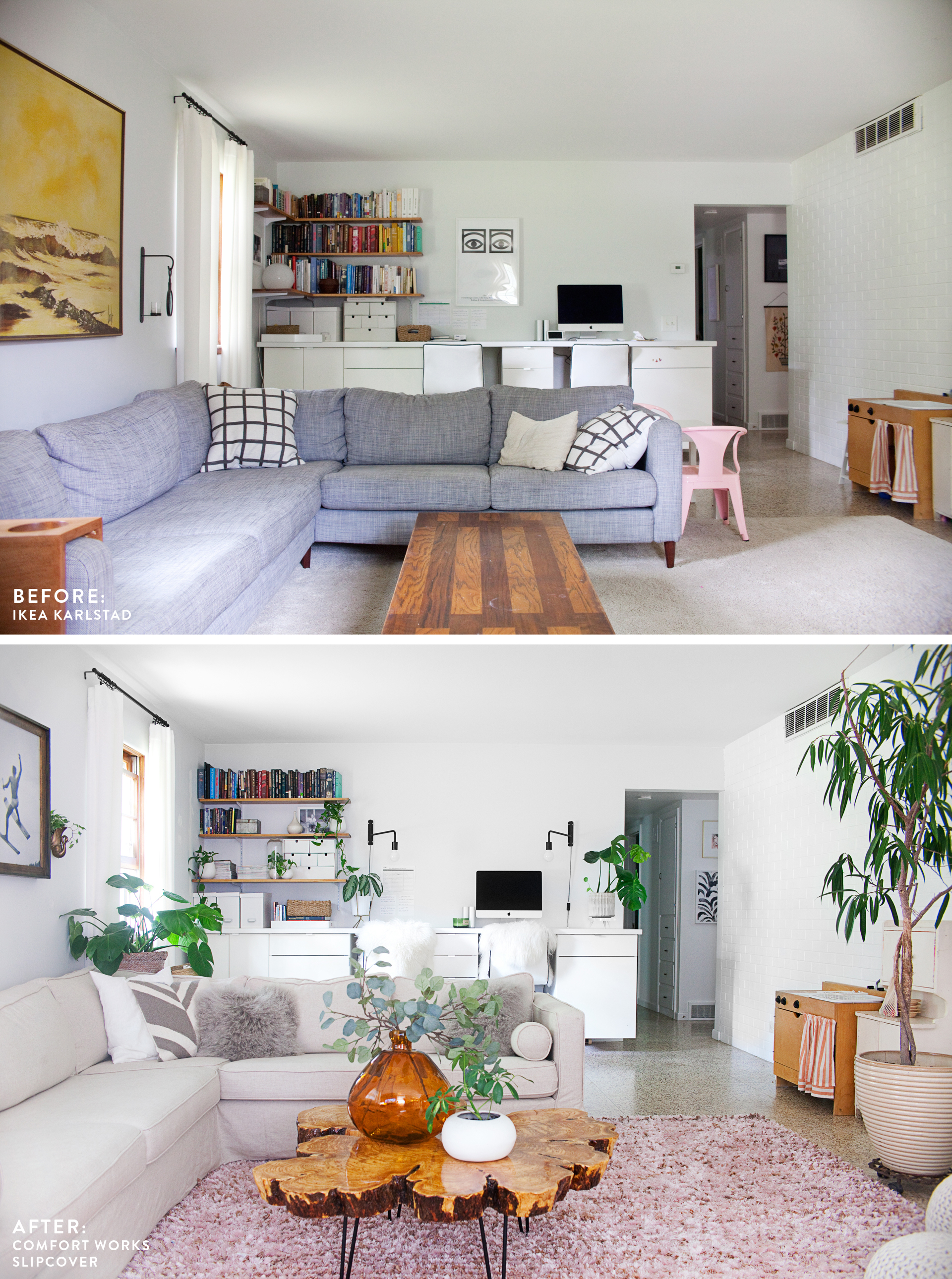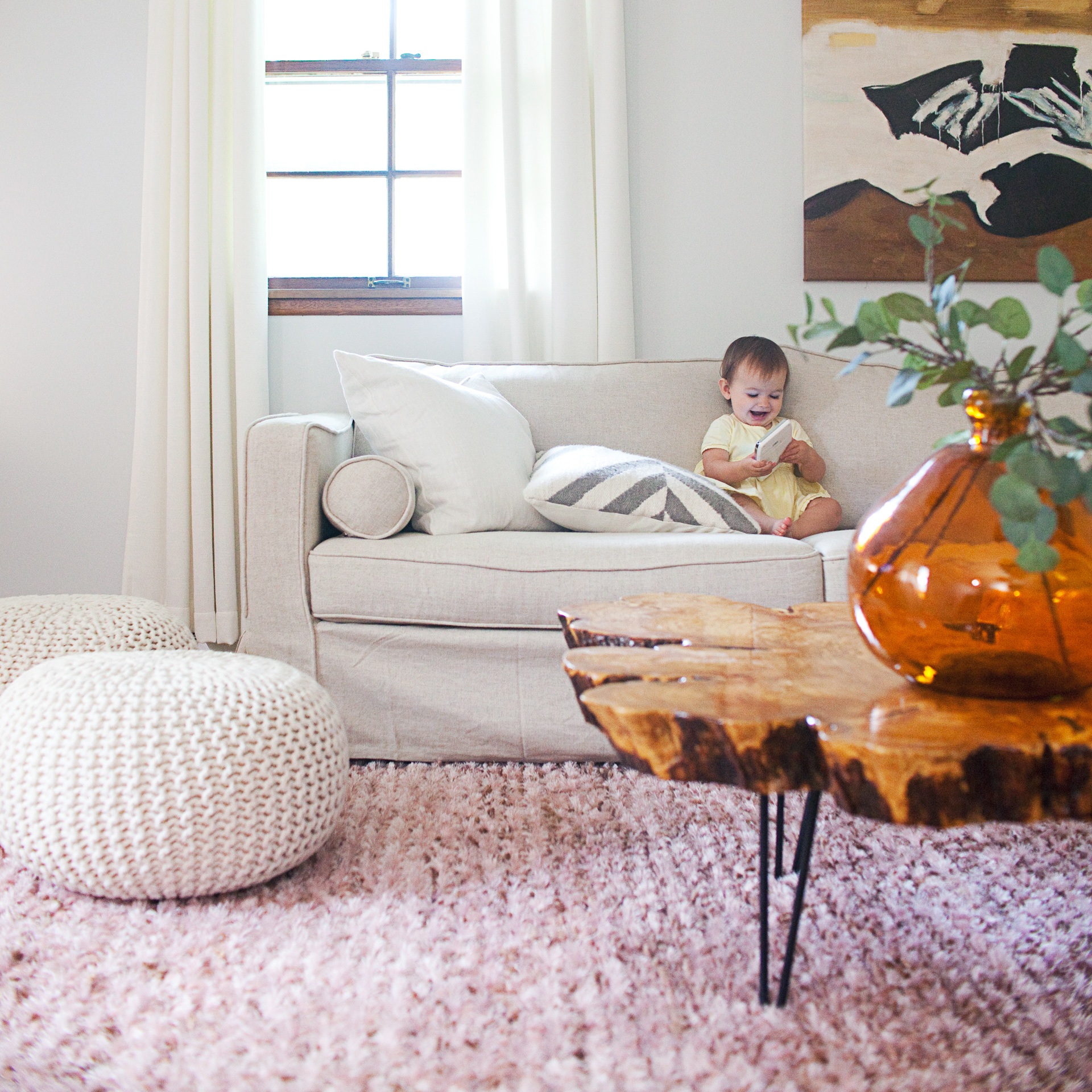 As you can see, the kids are all over this thing. I already had to clean up a couple of food accidents (Cheetos once, chocolate the other time), and it easily wiped clean. Whew! I'm so glad I finally went with the light cover I had been afraid to commit to when I first bought this sofa. I know I wouldn't have been happy with the Ikea ivory cover, so I'm glad I waited until I found Comfort Works. What a dream this baby is!
Comfort Works gifted me with this slipcover to review and share with you all. Everything I shared is honest and authentic, and I couldn't be happier with my new slipcover! I know many of you have Ikea furniture too, so hopefully this was a helpful review for you, and I hope you'll check out Comfort Works if you're looking to up your furniture game a bit. Thanks for following along!