Planning Kitchen Updates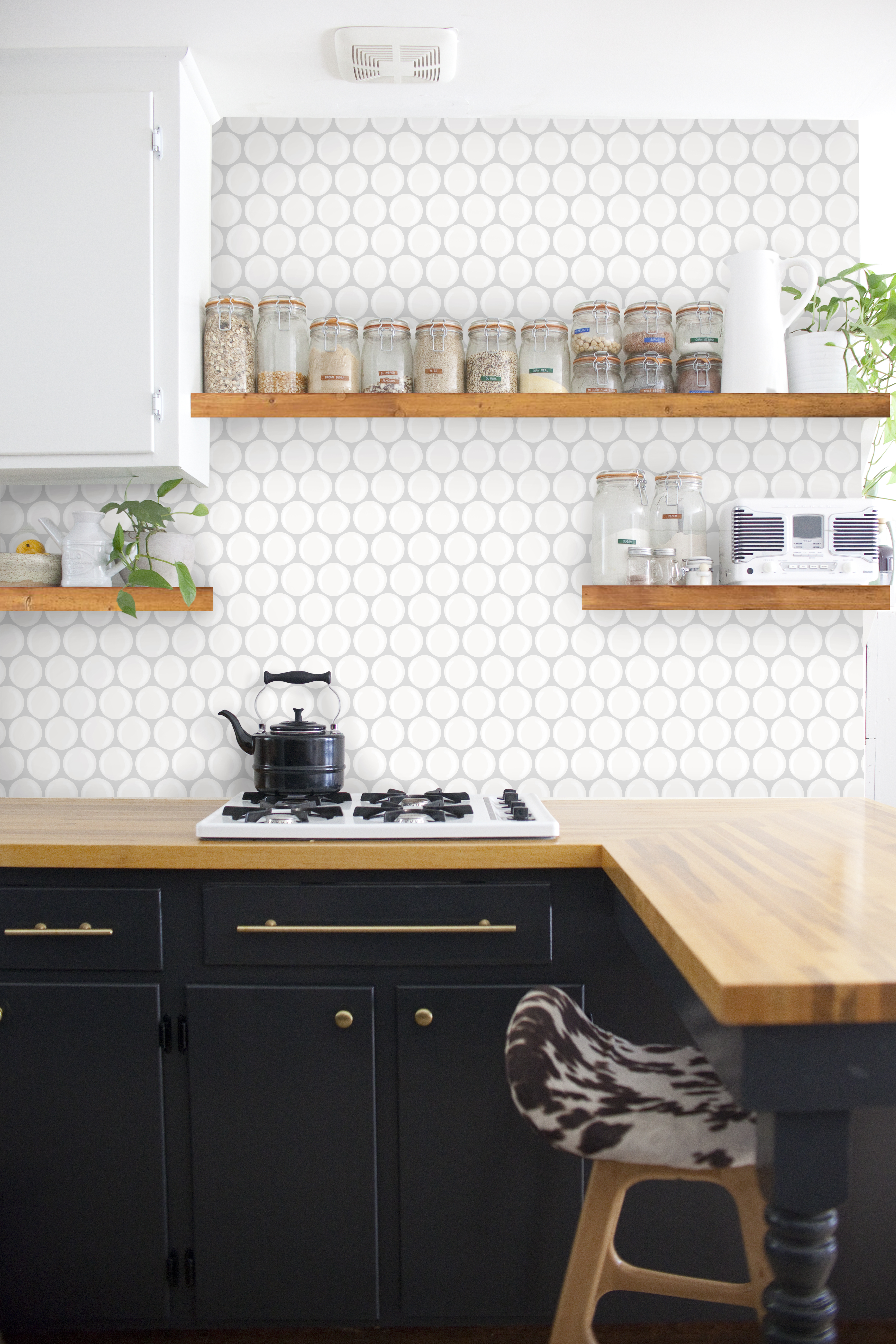 Okay, I know what you are probably thinking… "Update?! Didn't she just give her entire kitchen an update?!" Well, yes, yes I did. But that doesn't mean I don't have the blogger itch to make changes every couple of years! Nothing big this time, but some superficial changes that will hopefully be an upgrade to my inexpensive choices the first time around, and in turn gelling better with the general style of my home. So, yeah! I've got a couple of projects in mind for the month of August! And I wanted to share it with you and get opinions before I throw myself head first into them. (The above image is a rendering of the changes I plan to make.)
First, let's review. My kitchen has been through quite a transformation already! When we moved in, our kitchen looked like the one below.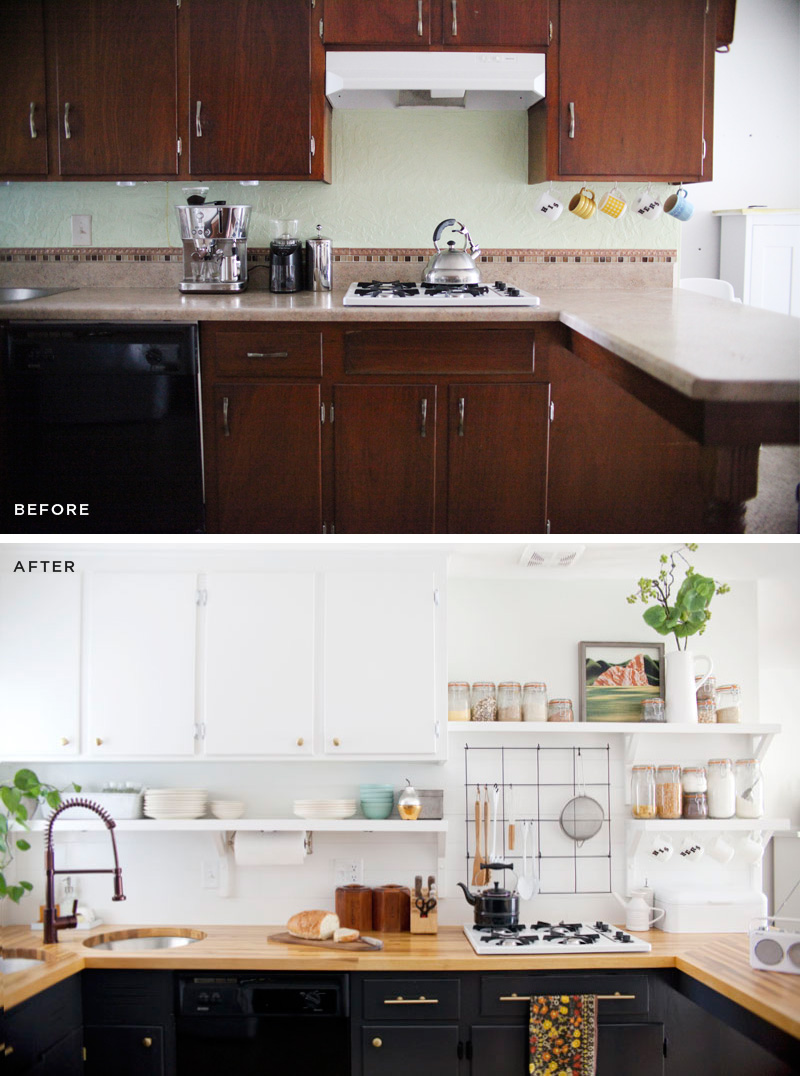 Now it looks like the image above. Much brighter and more fitting to our style. But some of the finishes and installations I had chosen simply for their budget friendliness, and I'm ready to upgrade them now. Check out the link list below to view my detailed posts about each step of our budget kitchen reno. And read on to hear about the new updates I'll be working on this August!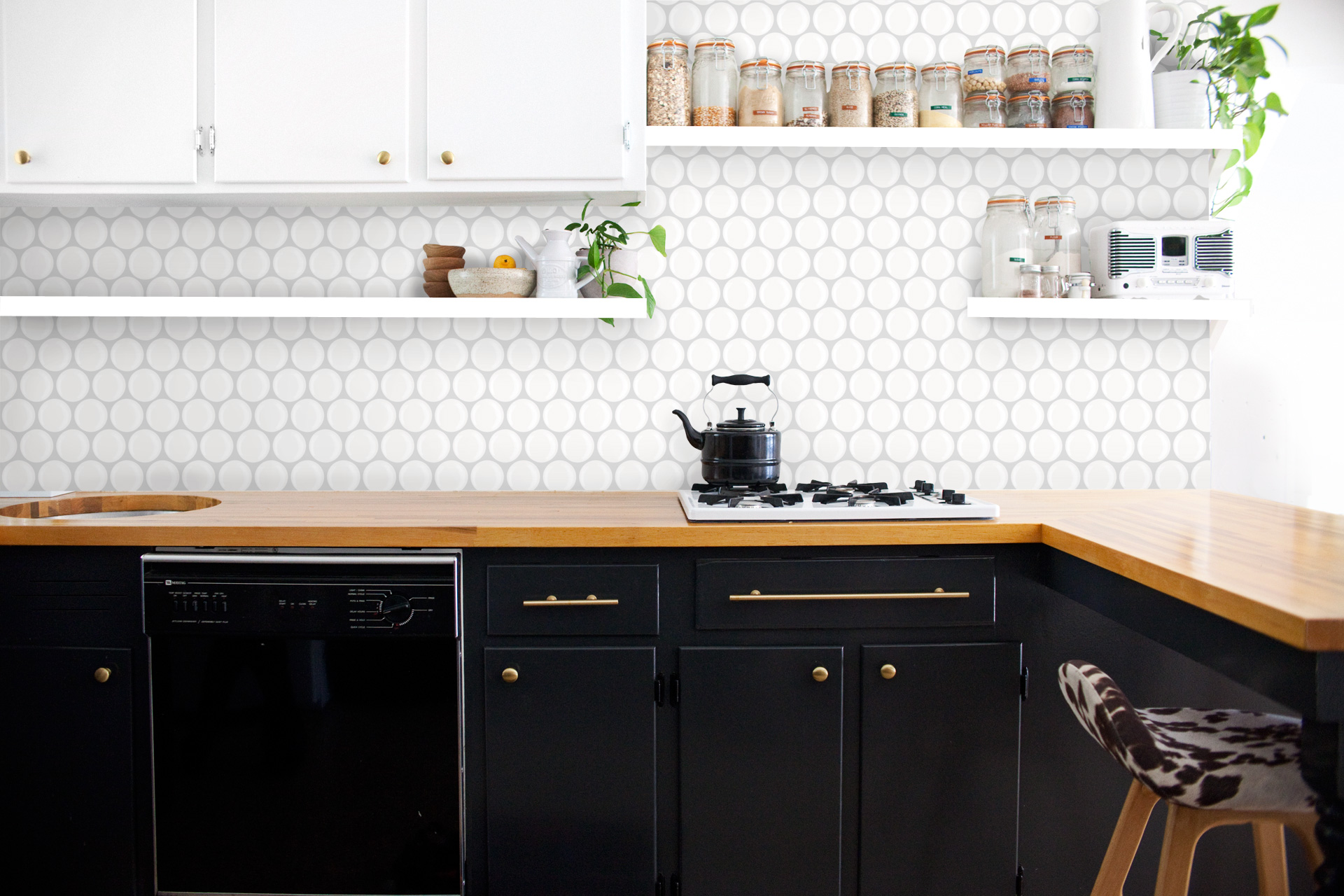 This one is nonnegotiable. I've been wanting to tile my kitchen walls since I first did a facelift to this space two years ago. But instead I chose a shiplap treatment that was incredibly budget friendly, in turn helping my entire ktichen reno log in at under 2K total.(Read about the shiplap process here, with details on the cost of each material used.)
I'm very drawn to the dramatic tile wall trend that's happening right now, in particular, tiles with a sixties modern boho vibe. Jonathan Adler designed a beautiful circle-textured tile for his home that would be perfect for what I envision for my kitchen, but I couldn't find anything like it in my price range. Enter: The DIYer's Solution! You guys, I'm going to use ceramic coasters to tile my kitchen wall. This is a thing that is actually happening. I've ordered the coasters in bulk and am currently waiting for them to arrive. Before I get to work, I'm planning on changing up the shelving situation as well. Let's talk about that next!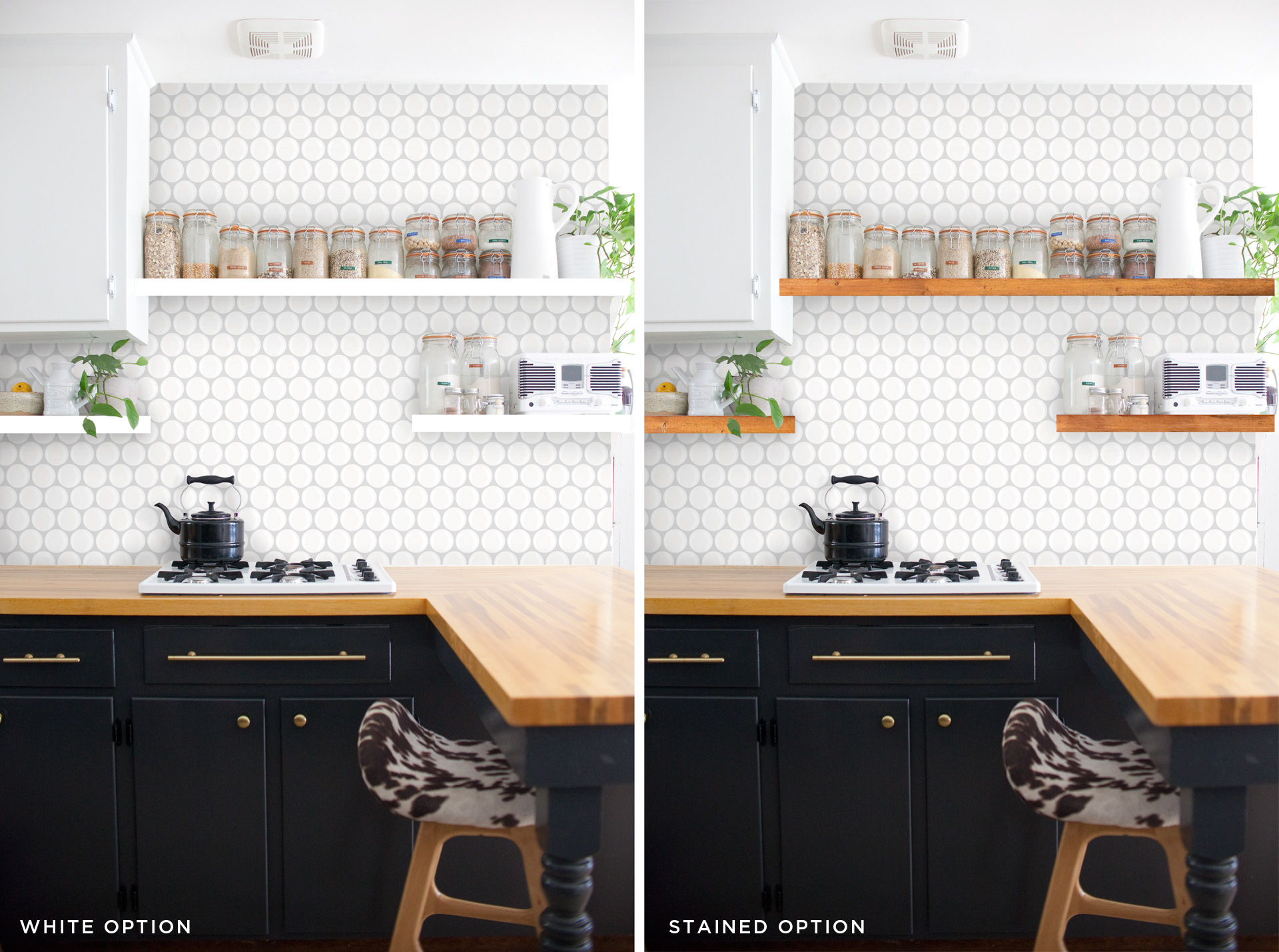 This is actually the first part of the work I will be doing. I decided to instal floating shelves first, then cutting the tiles to instal around the shelves, making the design fully integrated and visually cohesive (no gaps between shelves and the wall). For my first budget kitchen facelift, I had chosen simple Ikea brackets and used 1x10s and 1x8s with a 1×2 front lip that I glued in place to give the shelves a more substantial feel. The end results was a nice, bright open-shelving look, but perhaps a bit more country than I'd like. Not a big deal, but since I'm redoing the wall, I wanted to take this opportunity to change up the shelves as well.
I purchased some 2×6 and 2×4 poplar boards that I'm edge gluing to make them wider and will be installing them as floating shelves, with no visible brackets. I'll share all about the easy process later this month! But for now I'm stuck on deciding if I want to paint the shelves white, or stain them. I had to do a mock-up to see how both ways would look with the new tile I plan to do, but I still can't decide! I love the clean, crisp look of the white. But I love the warmth of the wood too.

I'd love to hear your opinions! I'm very excited to do this little addendum to our kitchen facelift, and am so excited to share the results with you guys! Later this week I'll share peeks at the progress of our little living room facelift as well. So many little changes that are adding up to a big shift in the look and feel of our home. We're lovin' it!