DIY Chokers — Three Ways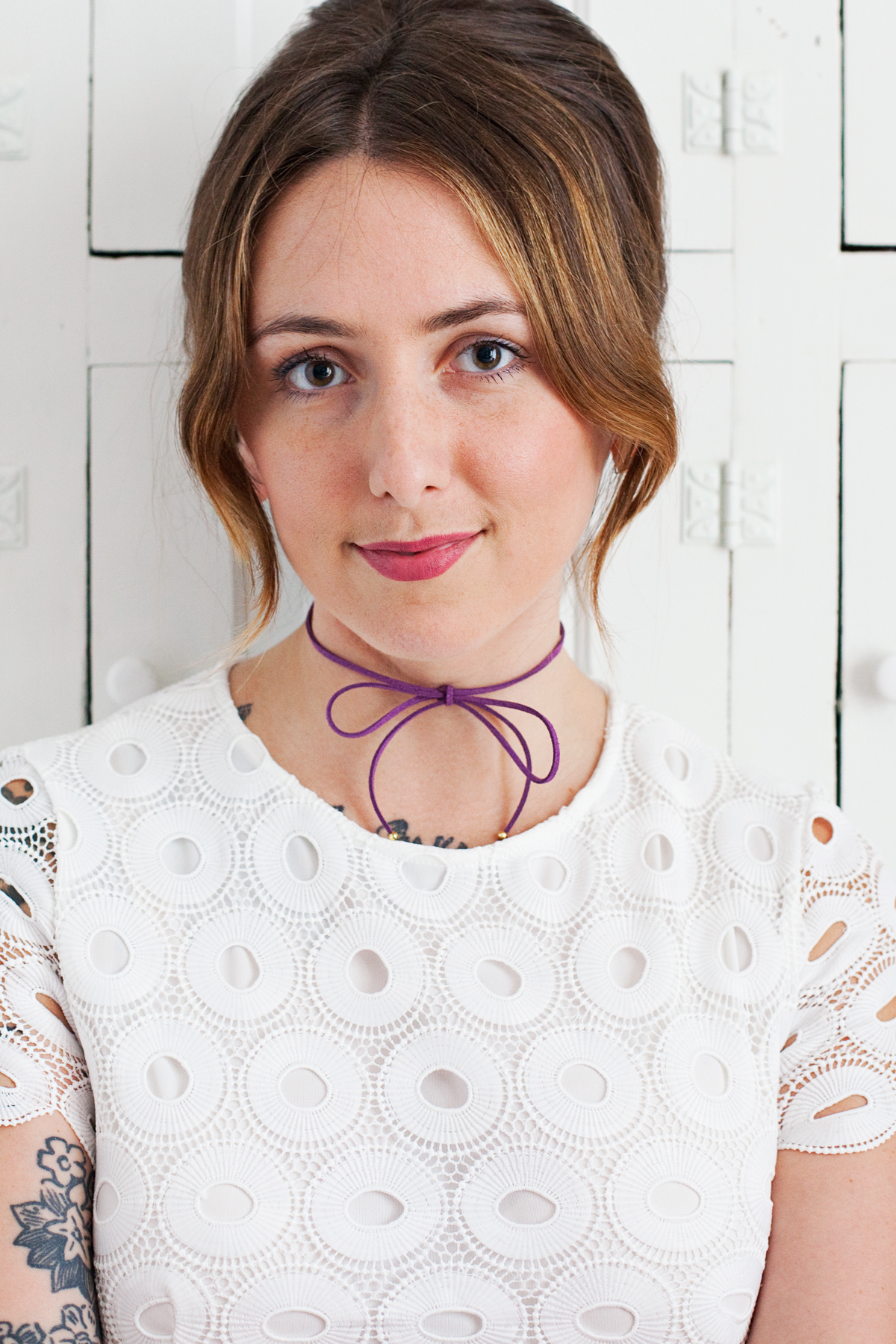 Well, it's official. Chokers have made the leap from trendy teenster fad to full-blown fashion trend! Fresh off the heels of the dainty neckscarf trend of 2015, 2016 brings with it a nice mix of fresh and tired choker styles.
Now this isn't my first time on the choker bandwagon. I distinctly remember crafting my very own black velvet ribbon choker with a little drop pearl right when I was in the third grade. And then in middle school I was all about the stretchy black tattoo choker that I think I got from Fashion Bug. (Fashion Bug!) But this time around I'm more drawn to the early '70s chokers that feel more delicate with a slight sense of boho.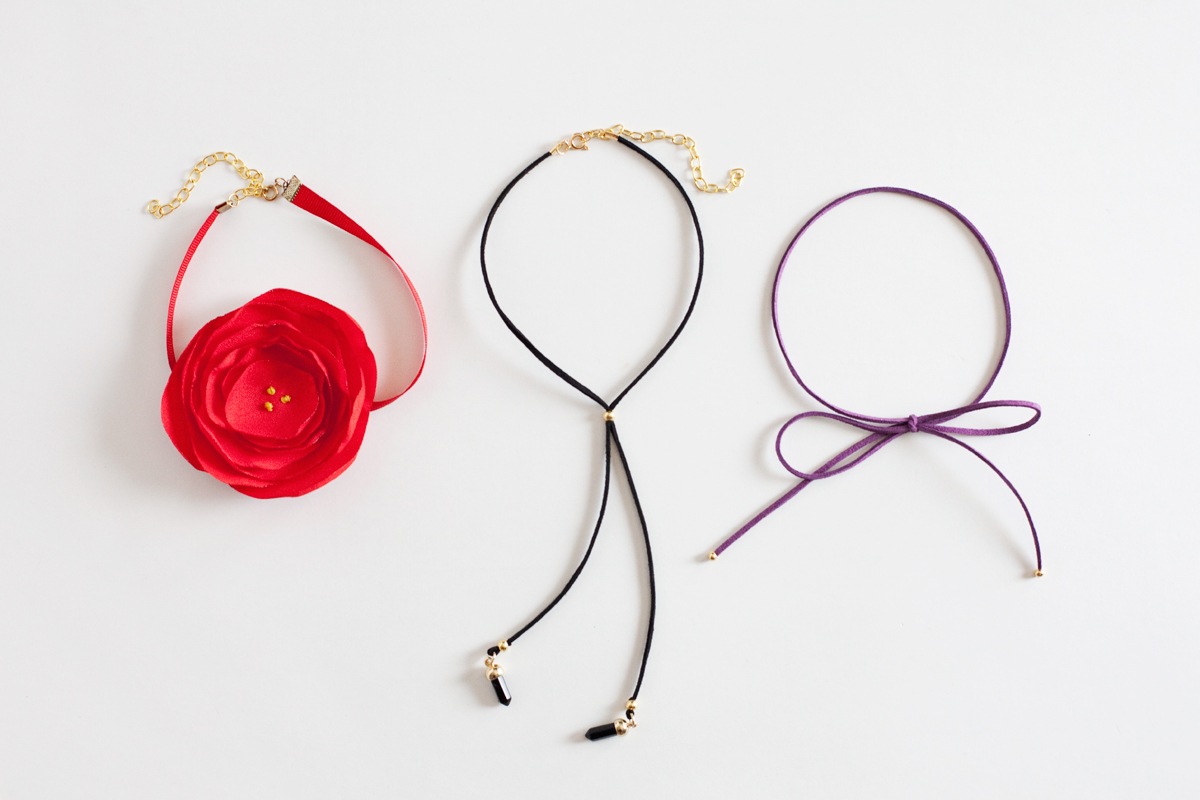 I had distinct ideas about what kinds of chokers I would like to add to my necklace collection, but I had a bit of trouble finding the perfect ones in stores. But I mean, if you're going to DIY anything in your wardrobe— this would be it! They're easy, fun, and completely wearable. These chokers vary slightly in skill more more complex to absurdly simple, but all of them are pretty quick to whip together and look great with lots of different sartorial styles.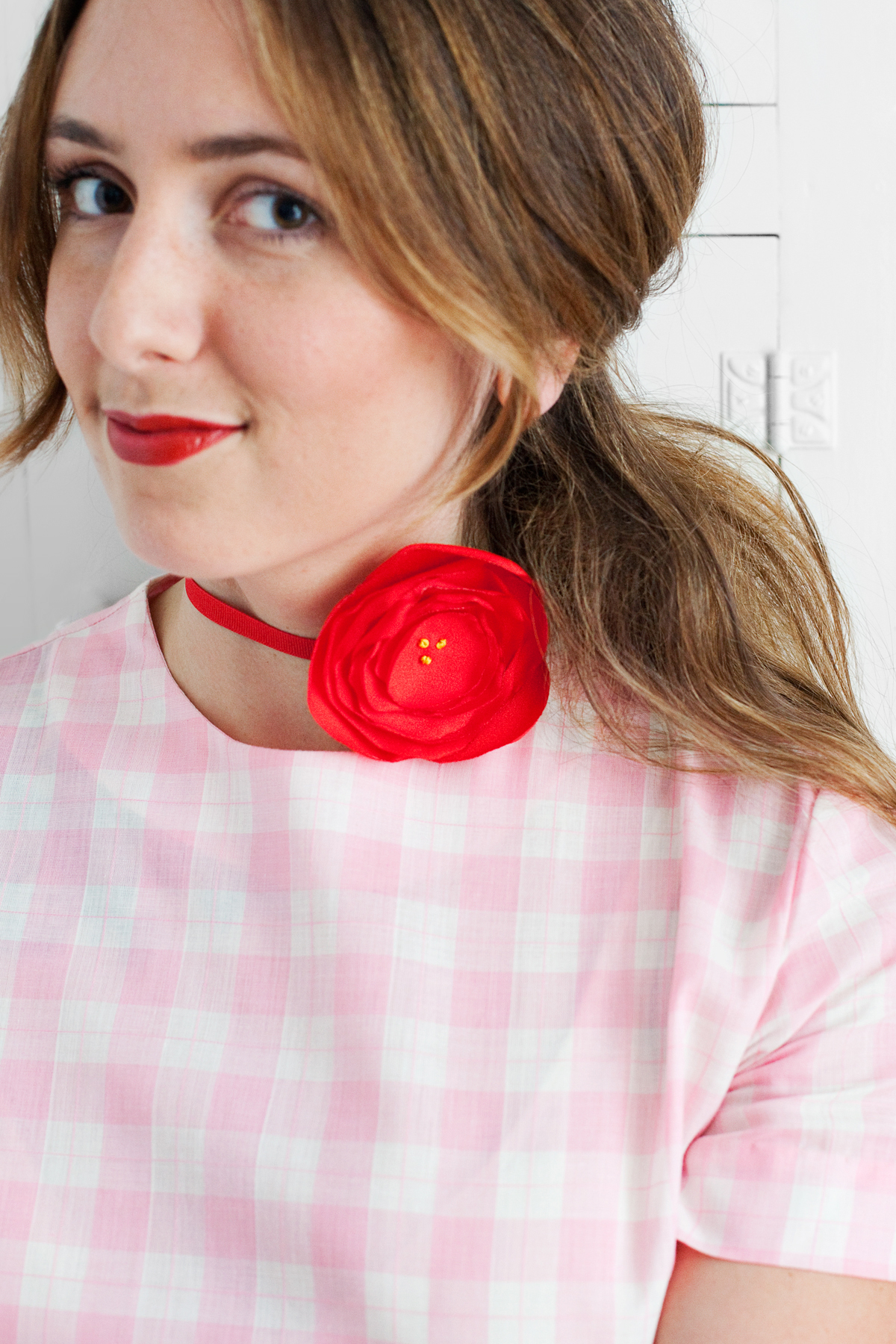 I love the Carrie Bradshaw vibes of this choker. It would fit in with a salsa dancing costume as easily as it would with a button up shirt and jeans. It can also be as bold or as subtle as you wish— just change up the ribbon width, size of flower, and color scheme to suit your own taste.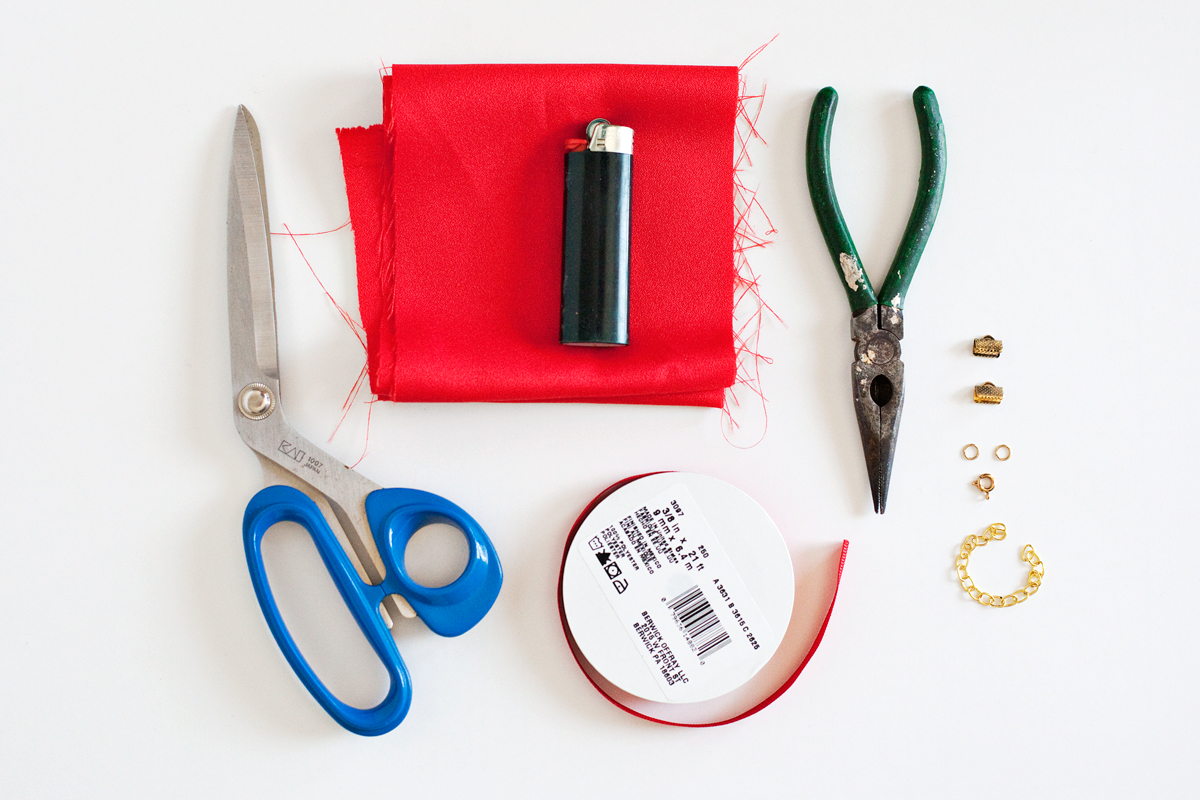 Supplies:
crepe or silk fabric
ribbon
ribbon end crimps (in width to match your ribbon)
two o-rings
one clasp
short chain
fabric scissors
pliers
lighter or candle flame
Not shown: embroidery floss and darning needle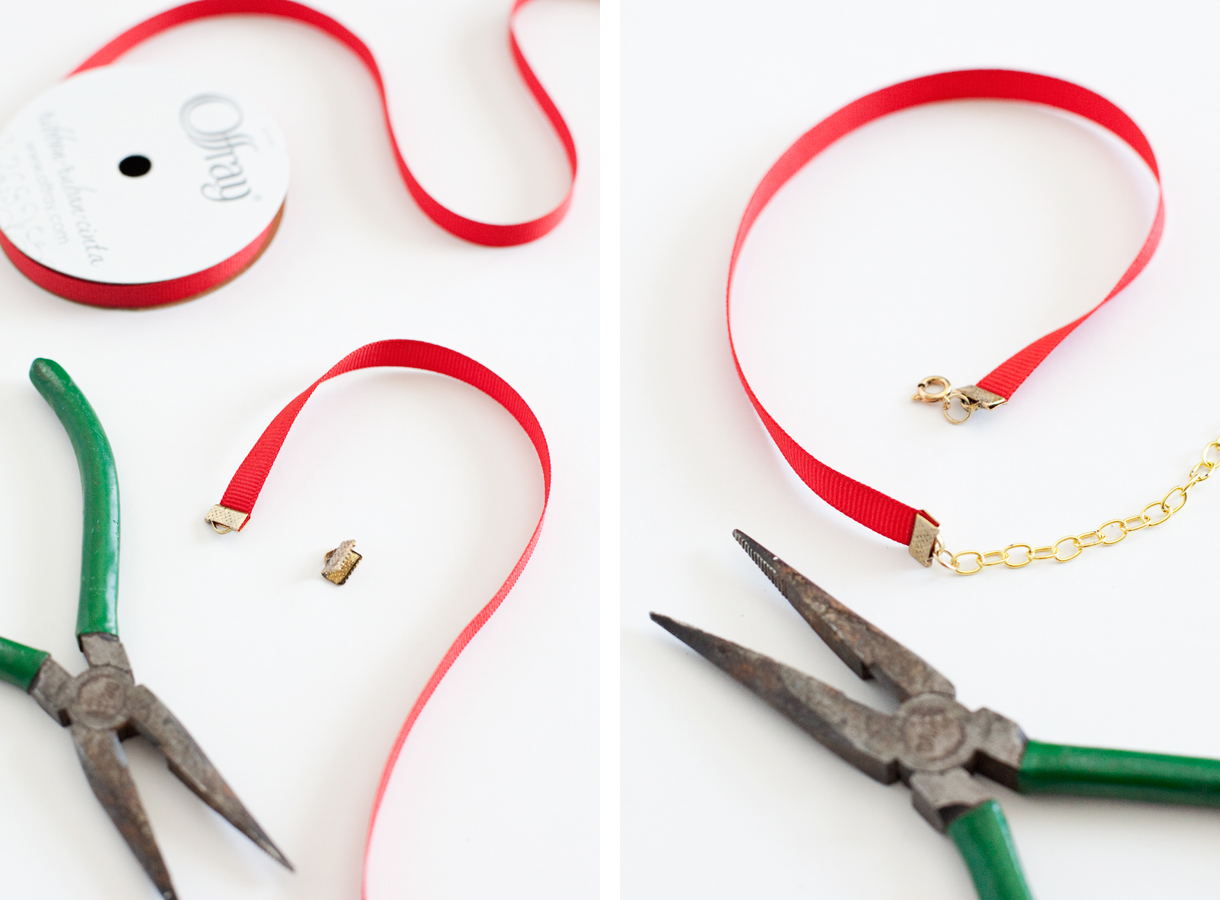 Step One: Cut your ribbon to the length you need (a bit shorter than your neck circumference), then add the ribbon crimps to either end and close the crimps with pliers. Add an o-ring and clasp to one end and then an o-ring and the short chain to the other end.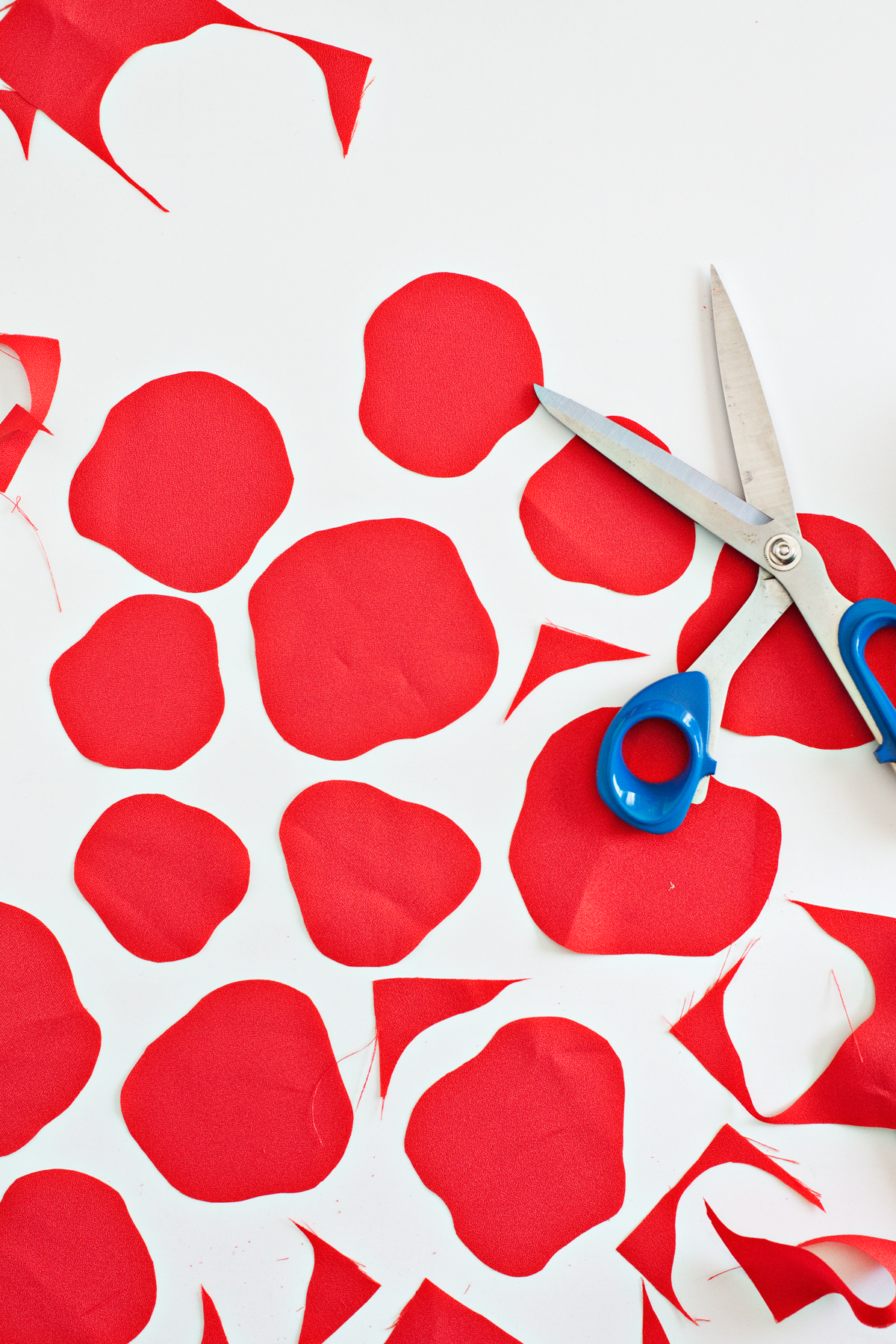 Step Two: Cut your fabric into shapes as shown above in a variety of sizes.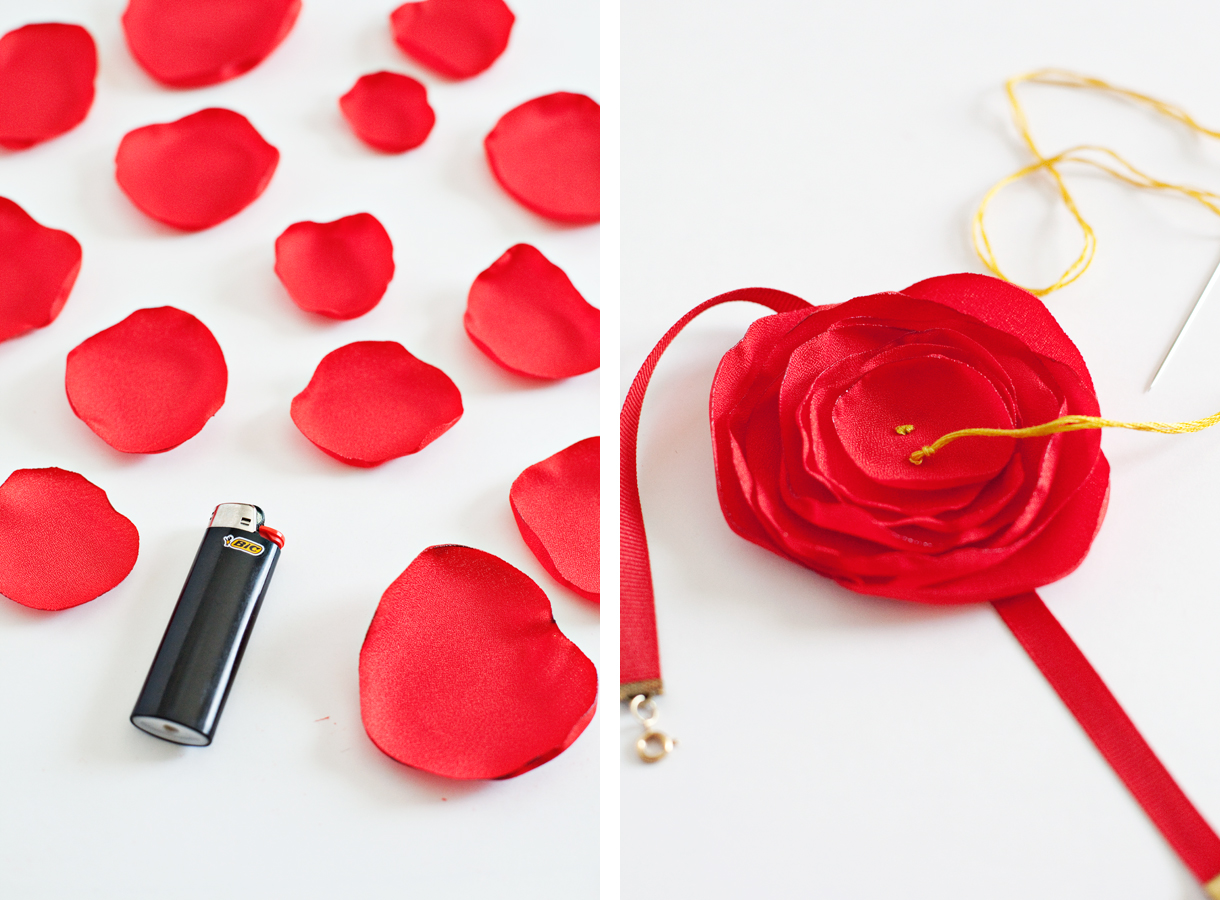 Step Three: Hold the fabric shapes over a flame until the ends begin to curl up. Do not touch the flame to the fabric— just the heat will do the trick. After you've gone around the edges, it will have a petal look to it.
Step Four: Stack the petals you made from largest to smallest and stitch them to the ribbon with embroidery floss. As you stitch, make french knots on the top of the flower. You may also chose to create a fancier necklace by using a bead or some sort of bling for this detail.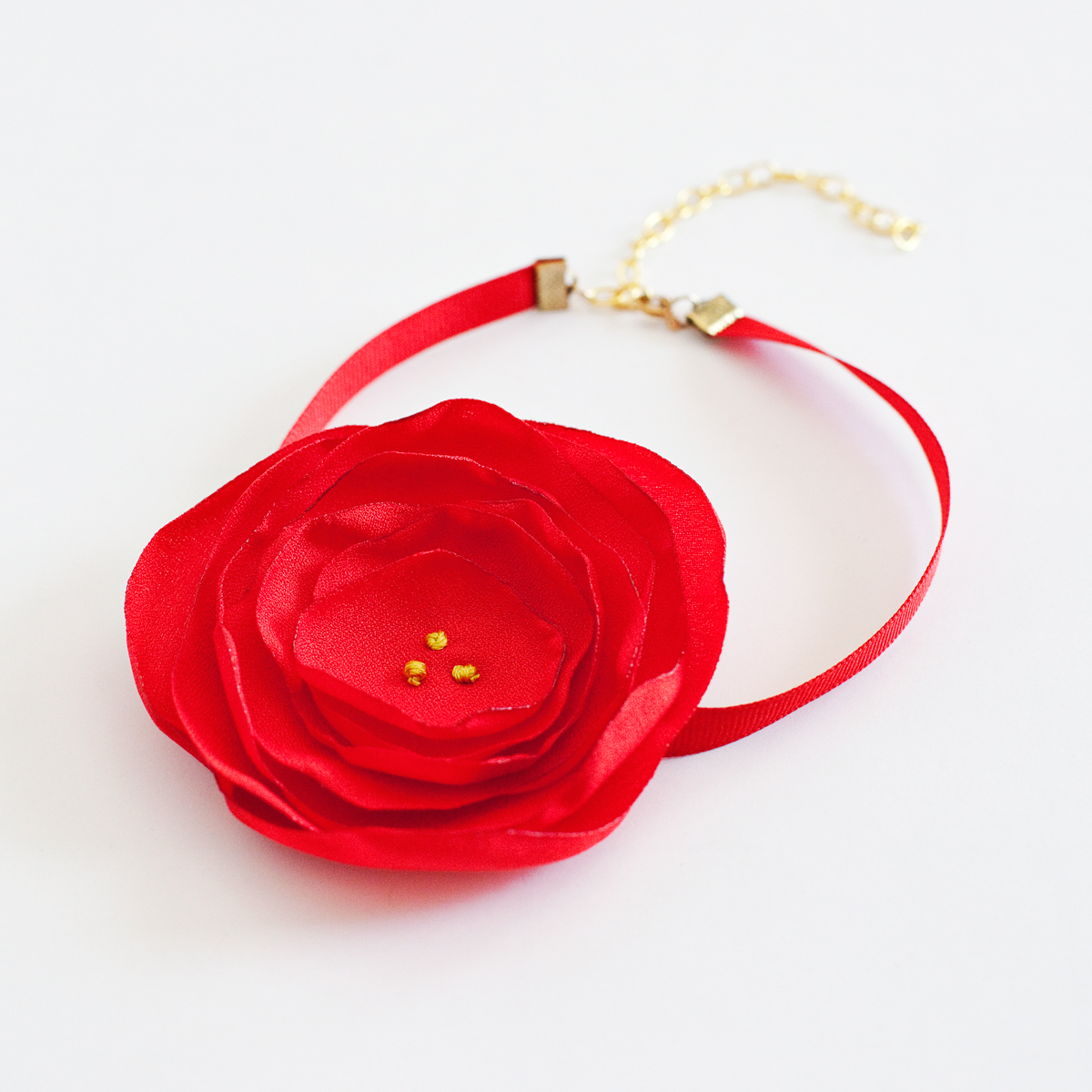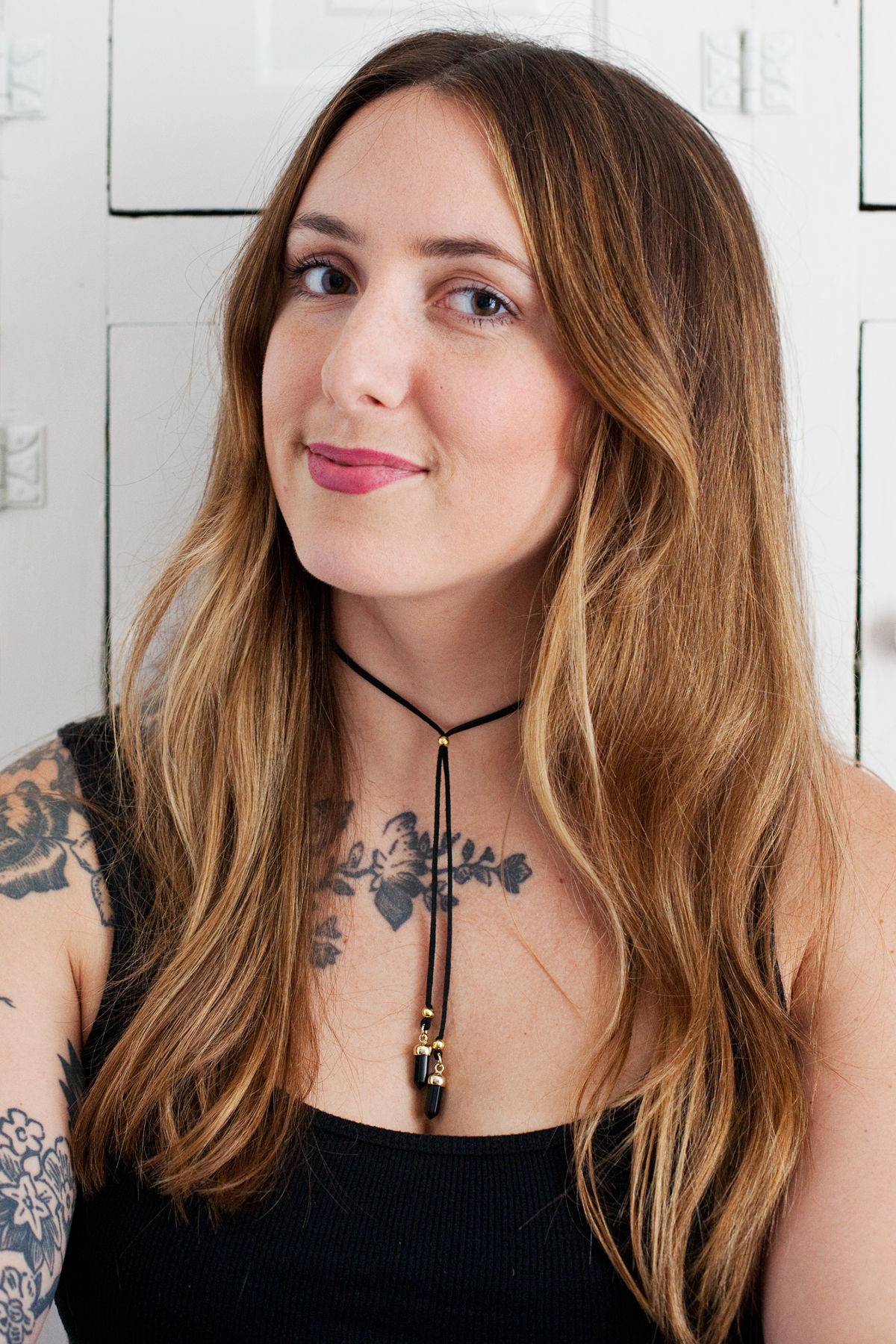 This style of choker makes me feel way more rockstar than I ever will be. It's great with lower cut tops, but also looks cute draping over the front of a high-cut shirt. You can adjust the length of it to your own taste and add charms to the end that fit your personal style.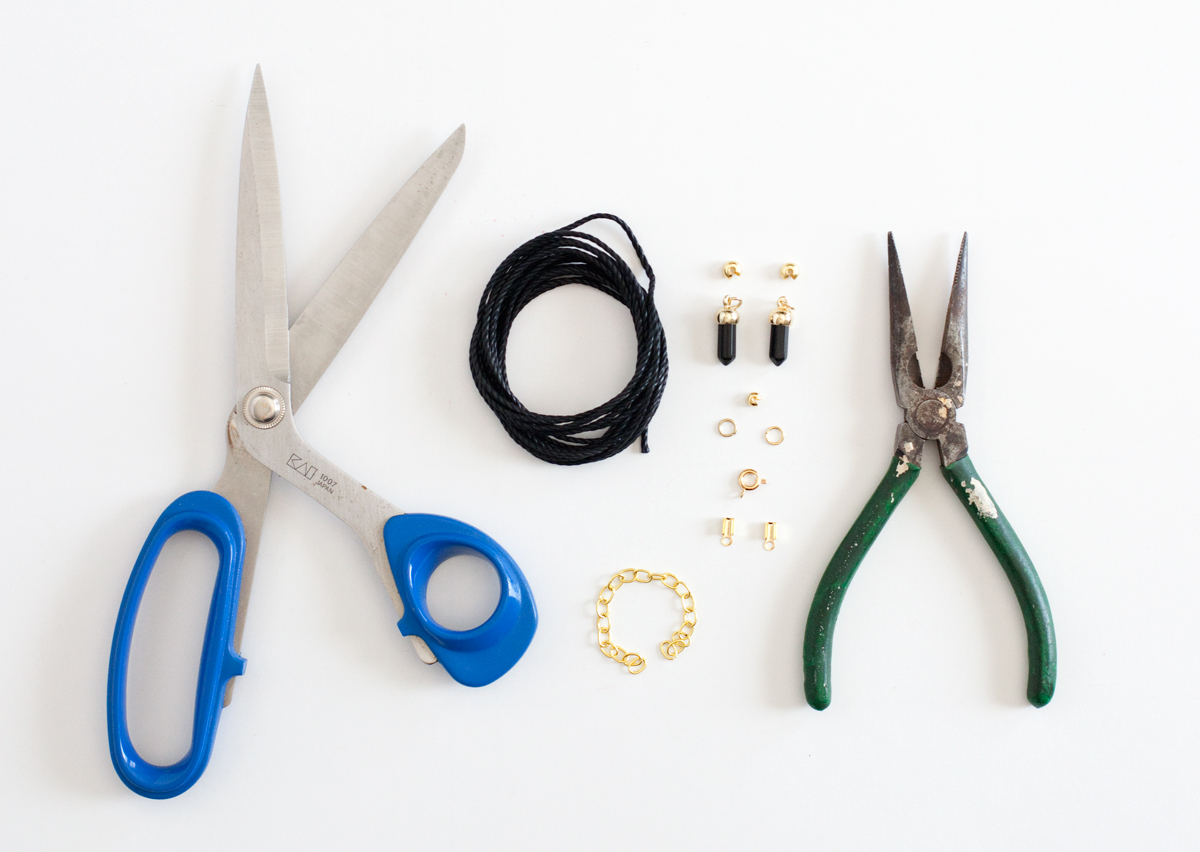 Supplies:
cord
two charms
three crimp covers
two o-rings
one clasp
two crimps with rings attached
fabric scissors
pliers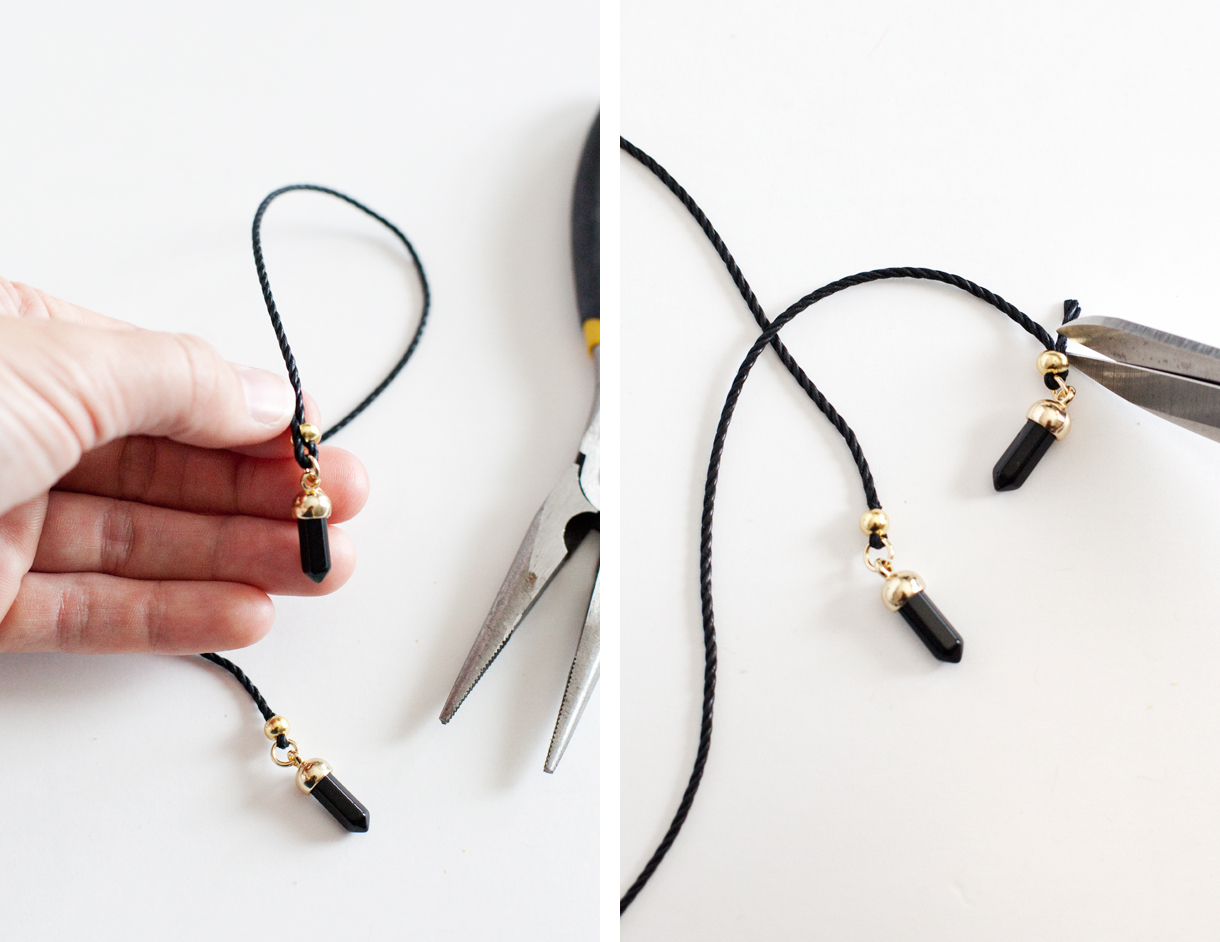 Step One: Cut a length of cord to be about 25-30″ in length then add charms to either end. Do this by looping the cord up through the charm's o-ring then fastening the cord with crimp covers. Then trim away the excess cord.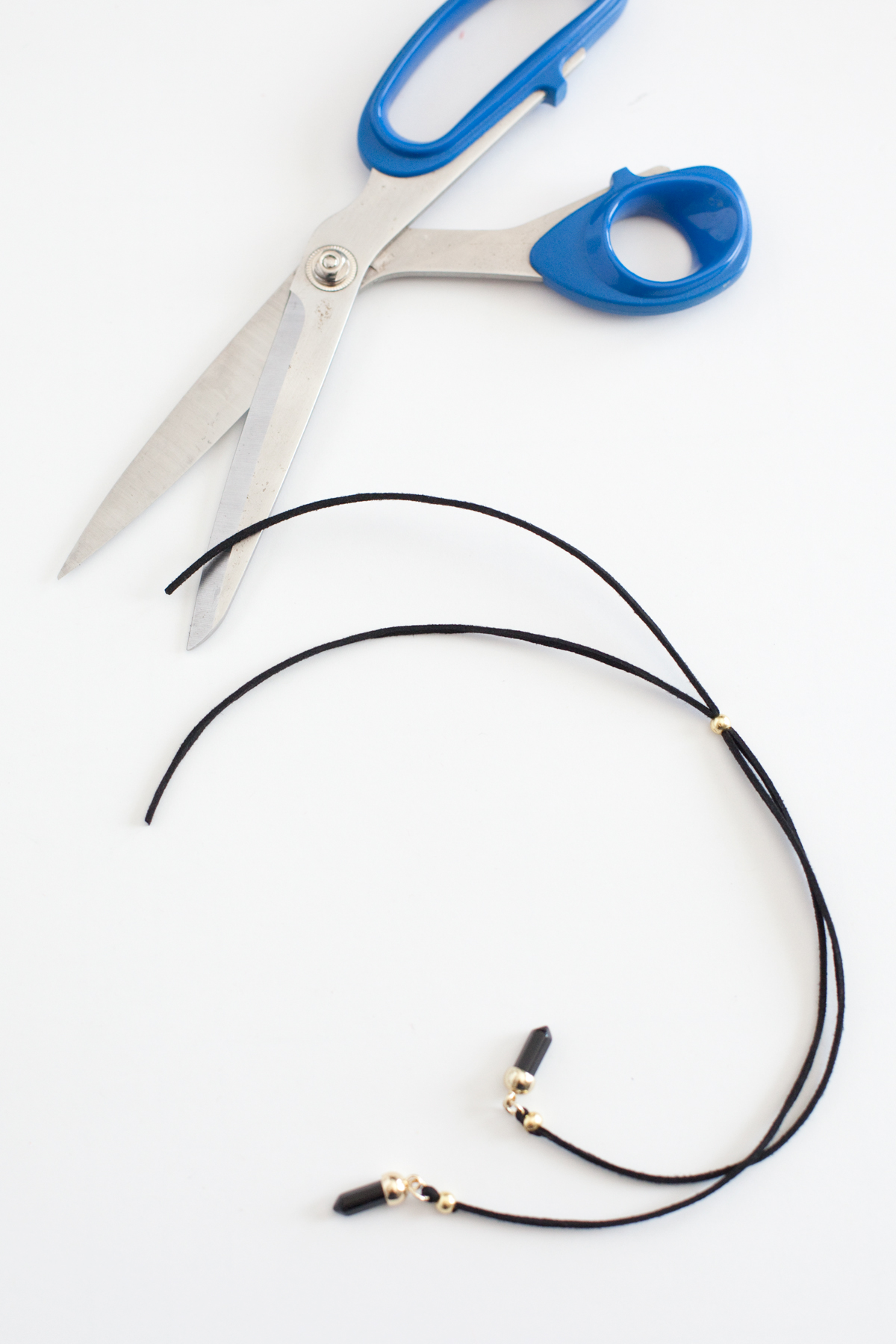 Step Two: Hold the cord around your neck and determine about where you'd like the bolo fastener to be placed. Then use a crimp cover to fasten it. After fastening it, cut open the back so you can next add a clasp and chain.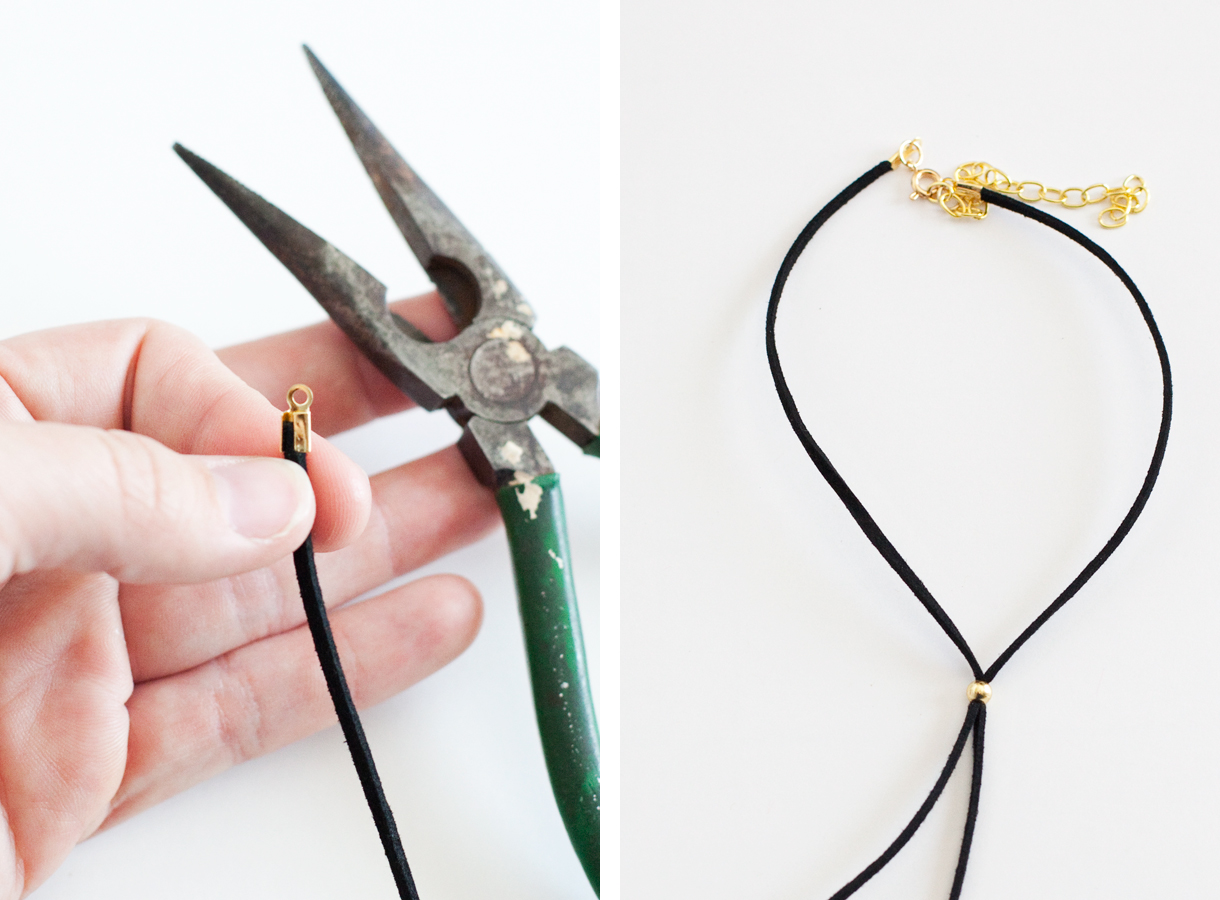 Step Three: After double checking that the neck circumference of the choker is appropriate for you (it should be a bit smaller than your actual neck circumference), add crimps to the end of the cord. Then add an o-ring and clasp to one end and an o-ring and short chain to the other end.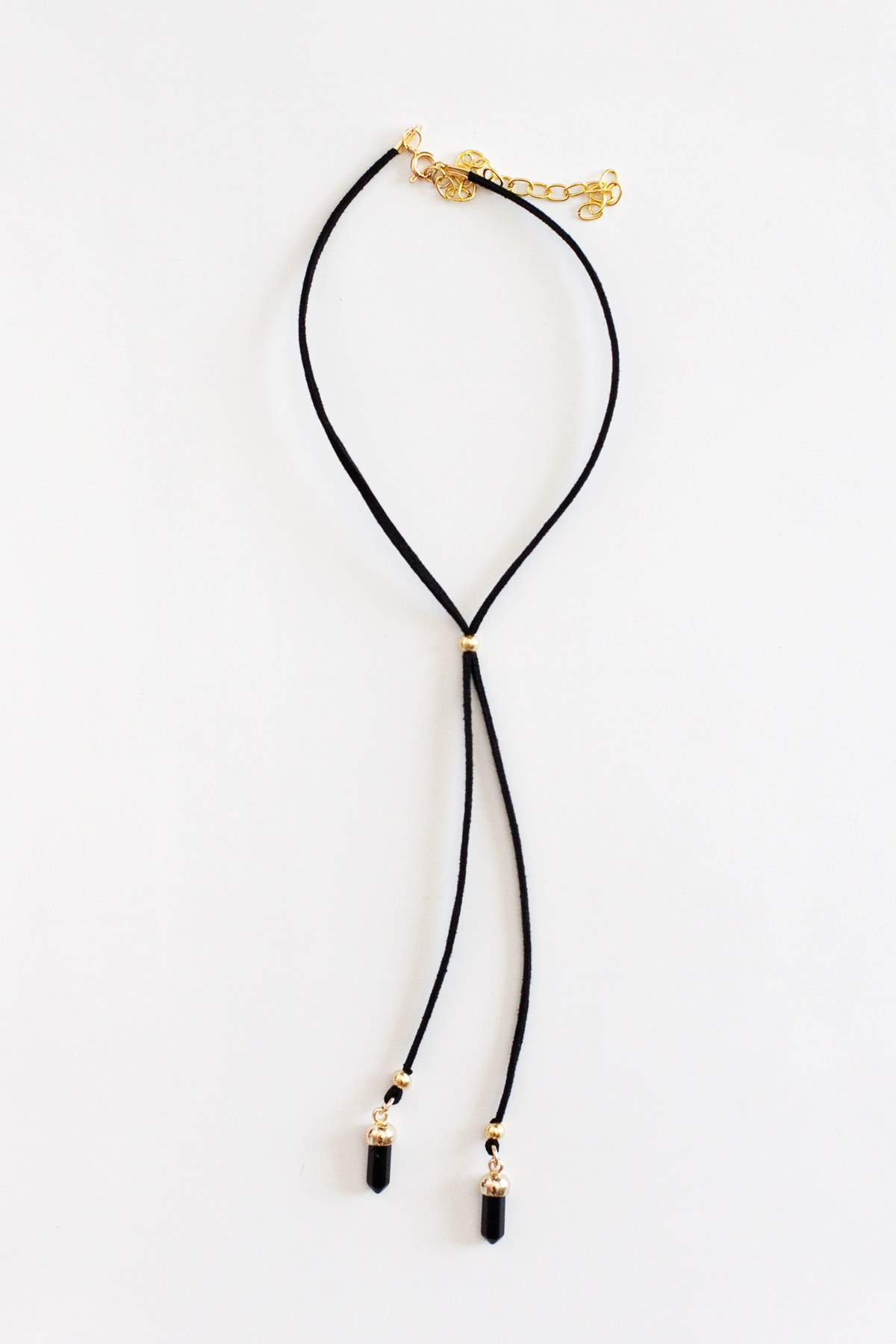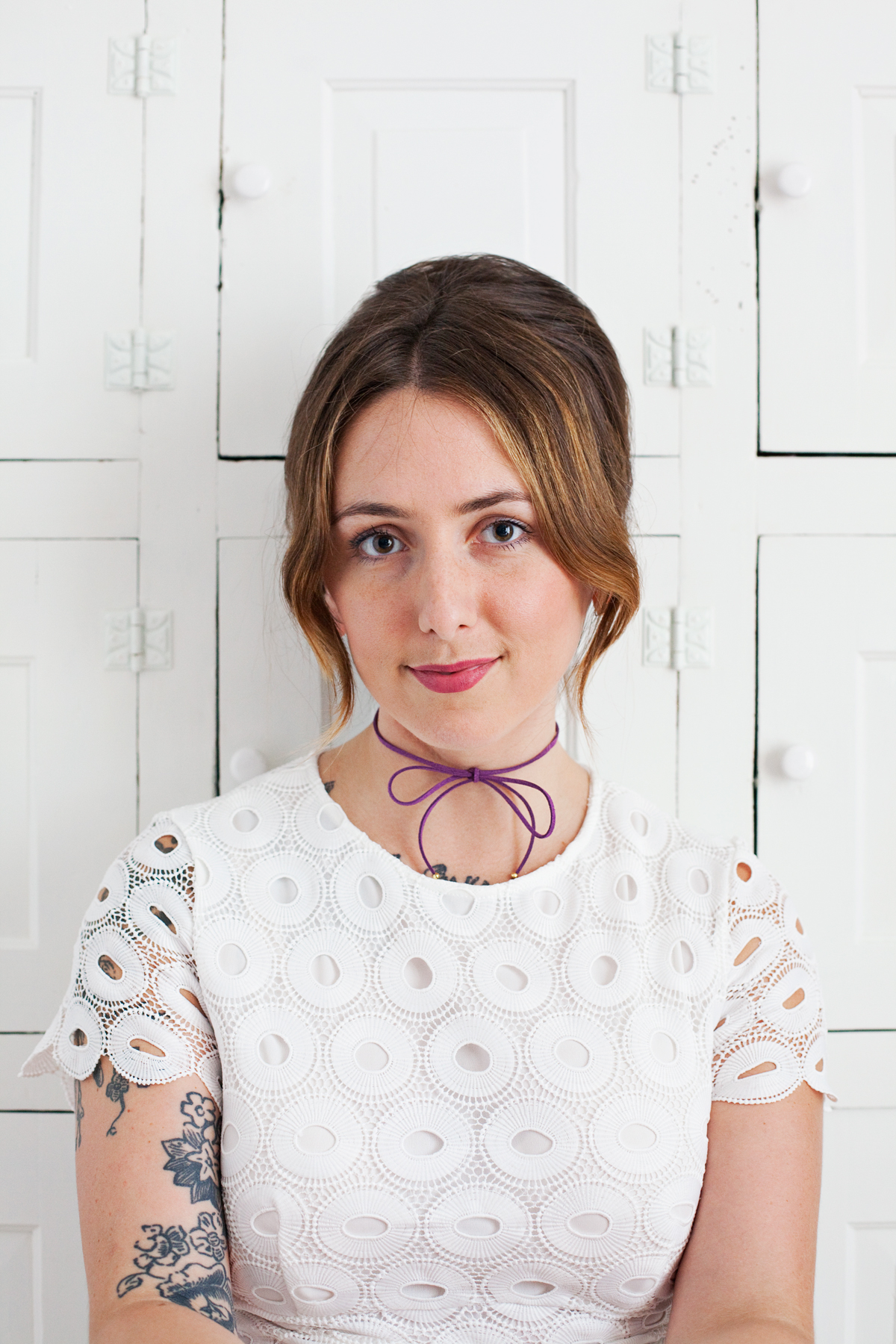 This is my favorite of all the choker styles I'm sharing today, and the simplest to make! I love how delicate it feels, and how easy it is to switch up the style a bit by changing materials (ribbon, satin cord, leather cord, etc..) Adding crimp covers to the end makes it feel more polished, and offers another opportunity to add style details to this choker.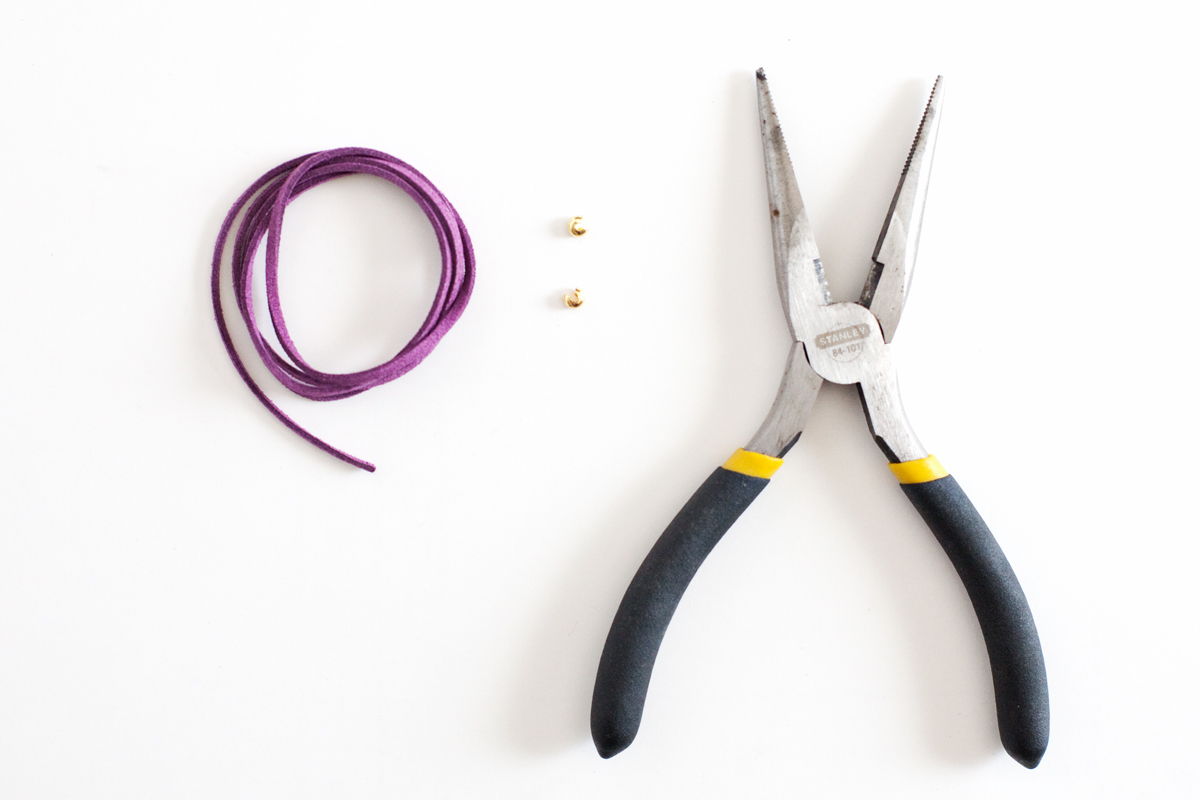 Supplies:
cord (I used faux suede)
crimp covers or any details you'd like to add to the ends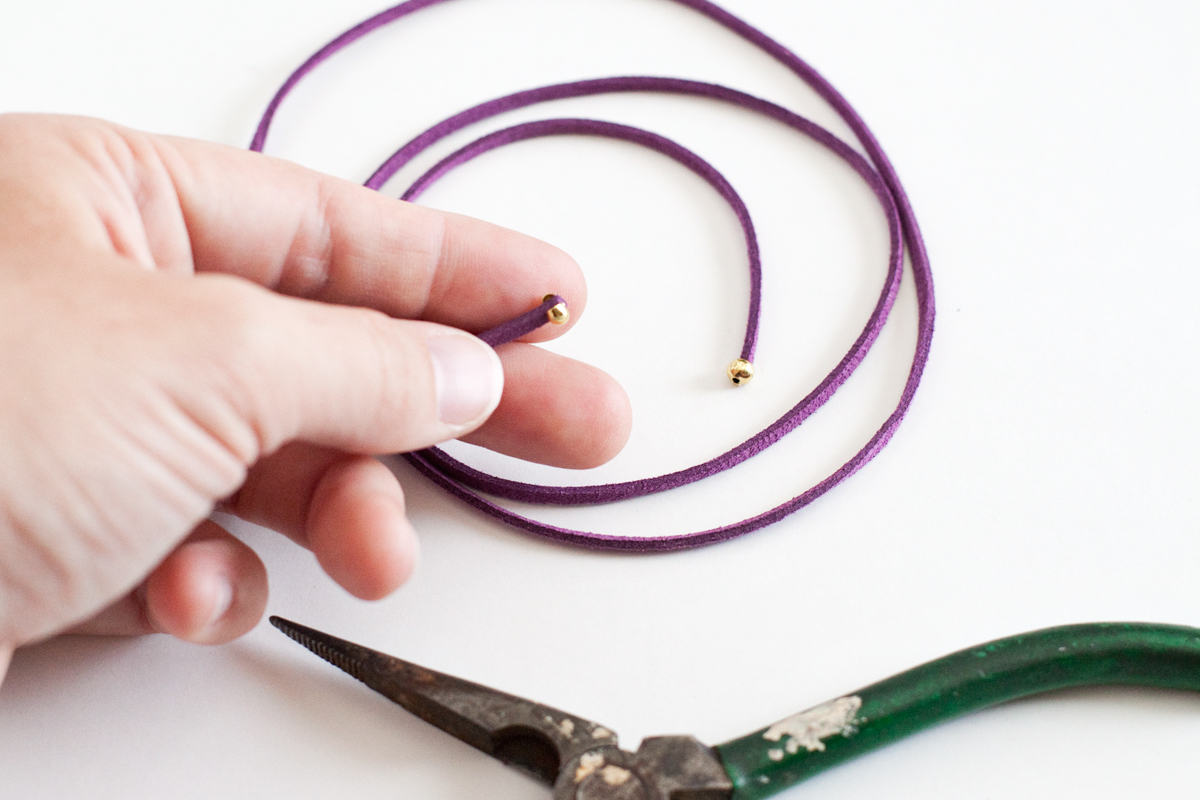 All you need to do to make this necklace is trim the cord to the length you'd like for your bow and use pliers to fasten end crimps to either end of the cord. Then tie it in a bow around your neck and you've made yourself a choker!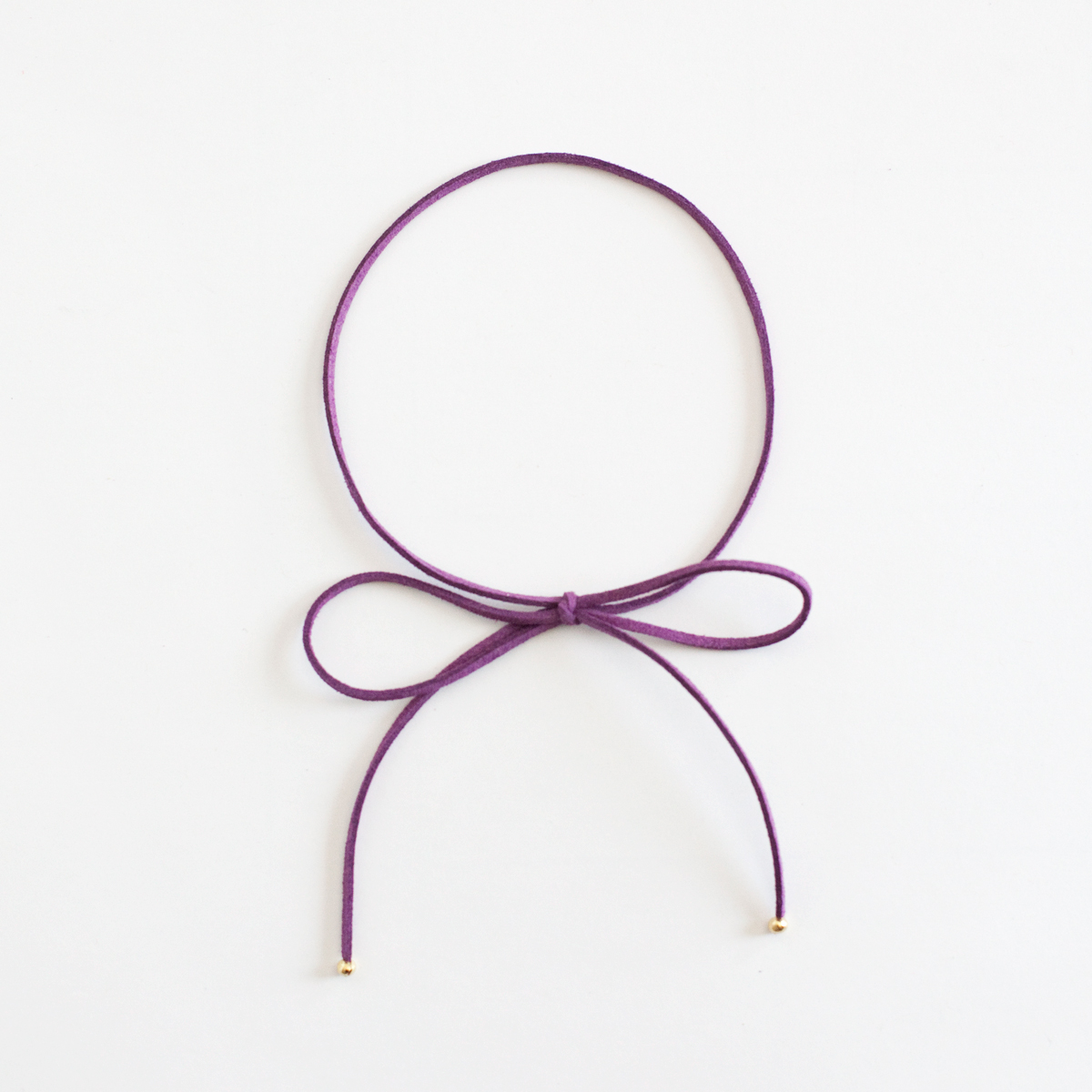 If a choker can make the stretch from 1950s dresses and shell tops to 1970s jumpsuits, I think they've earned themselves a place amongst my wardrobe. I think these DIY versions will be right at home with my style, considering how much wear they've received already. Do you think you'll give making one a try?