Bedroom Makeover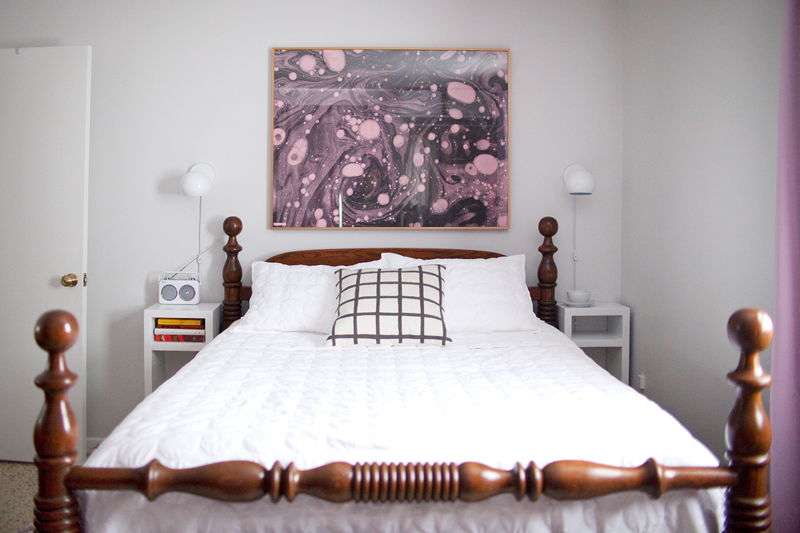 At long last, our bedroom is finally in order! It only took us three years of living in this house to touch this room. Yikes! I can't believe we slept in that green room for so long! But, despite my best intentions, time has been marching on. And regrettably, in my haste to get things going for our little bedroom makeover, I didn't take before pictures! Who am I? Sorry! But try to imagine just a room with green walls and clothes all over the place. A sad, lumpy bed in the middle of the little room under the window. Hodge podge. Nothing nice. You can sort of glimpse the order of things in the two pictures below that I did manage to take. It was so bad in here, I guess I just didn't want to document any of it!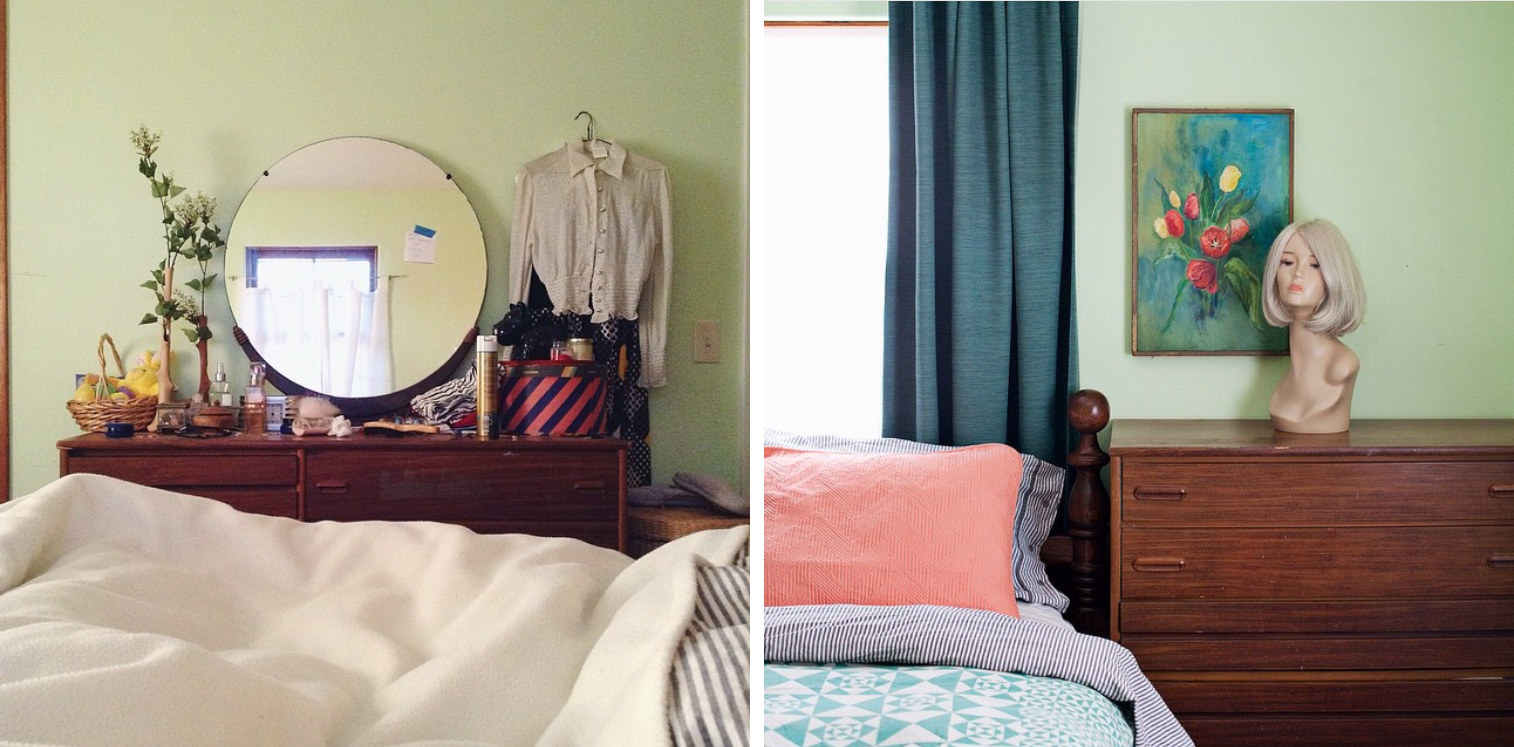 But here we are, on the other side of things. I installed a handy closet system to make up for our lack of closet space. I also designed and built new nightstands to flank the bed that my parents passed down to us. The bed was handmade by my dad, so I couldn't say no! Besides, we had been sleeping on a plain metal bed frame before their gift. So it was very welcome.
You can check out my posts about the closet system and nightstands at A Beautiful Mess, as linked below:
Creating an Open Closet System
DIY Parsons Nightstand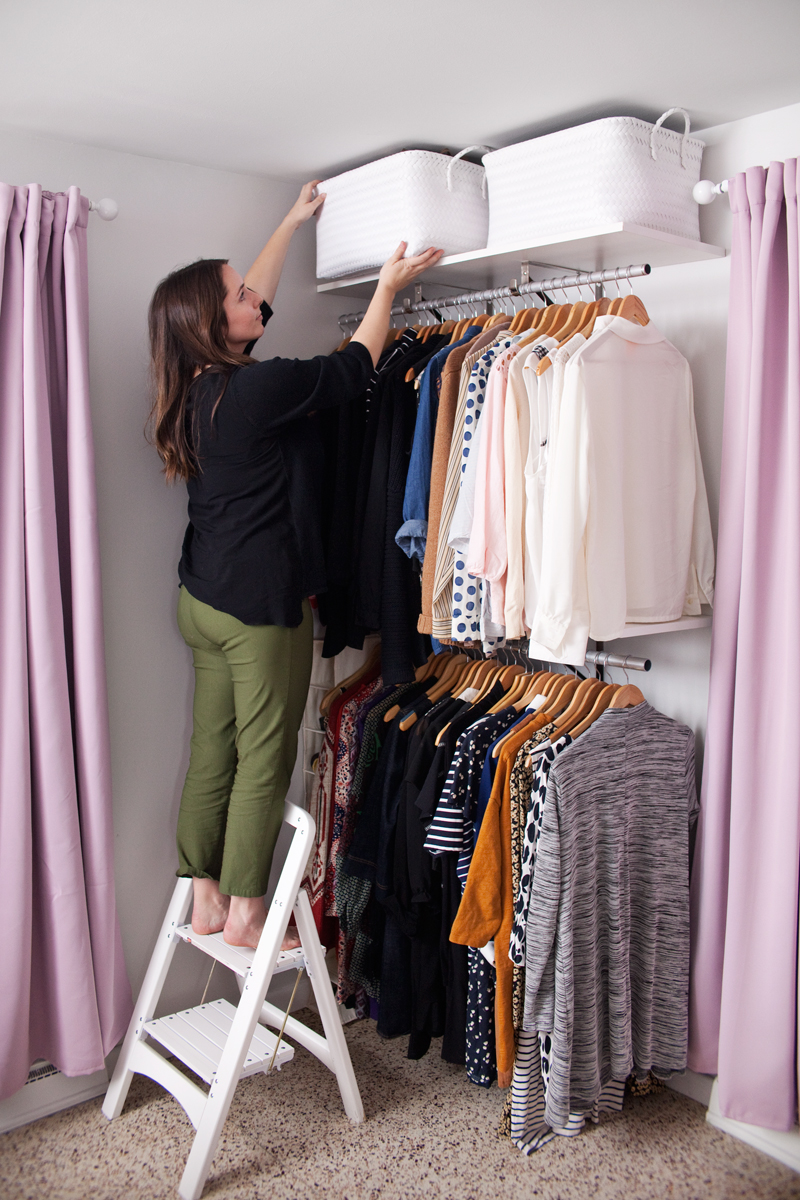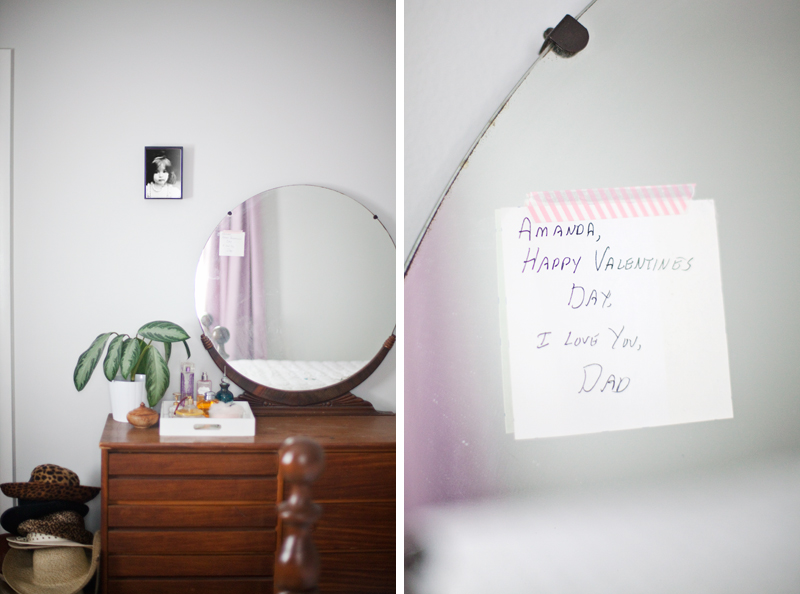 I'm quite sentimental, which explains the random notes from loved ones that I keep taped up around the house. This one (above) from my dad is on my dresser mirror. Also, behold the stack of hats which need to be put away into their boxes. Or else sold off to the highest bidder. I have way too many hats for my own good! But like I said, I'm a sentimental gal. I can't bear to give them up, and besides— Lucy loves playing with them! It would've been my dream to have such hats for playing dress-up as a child. So I keep them around for her sake. (So I tell myself!)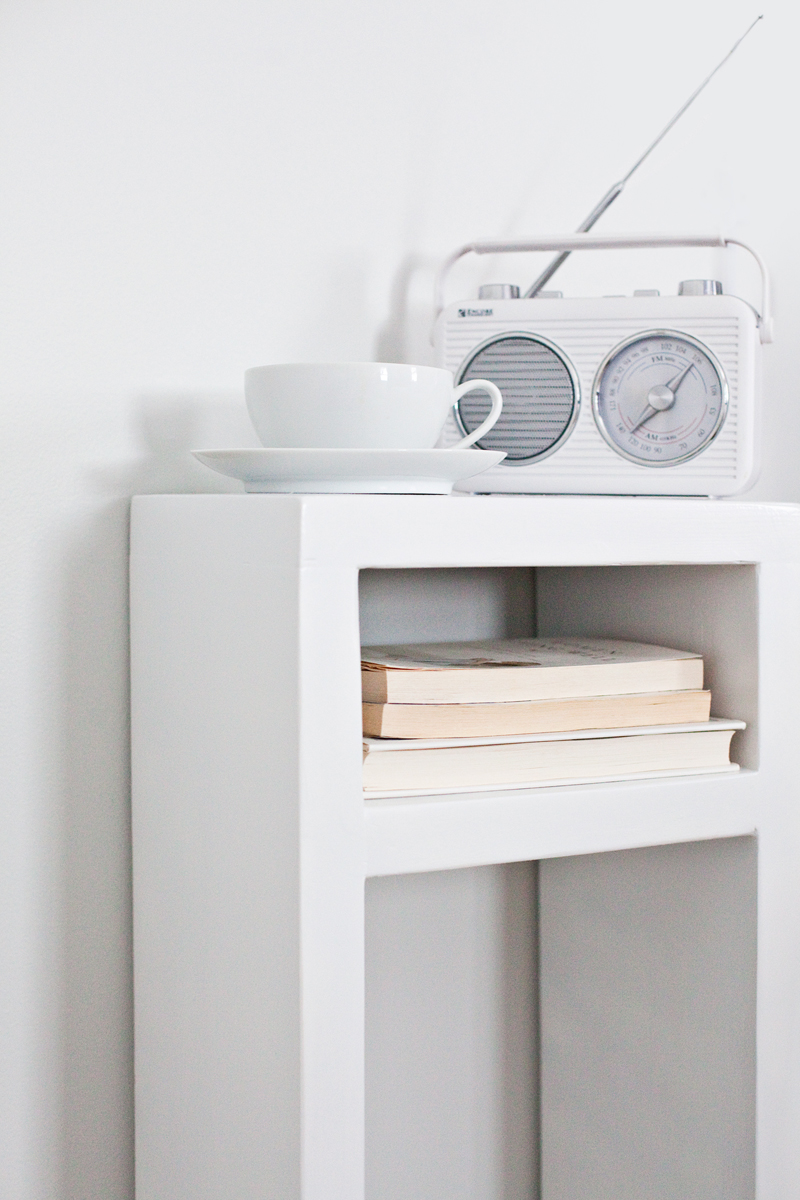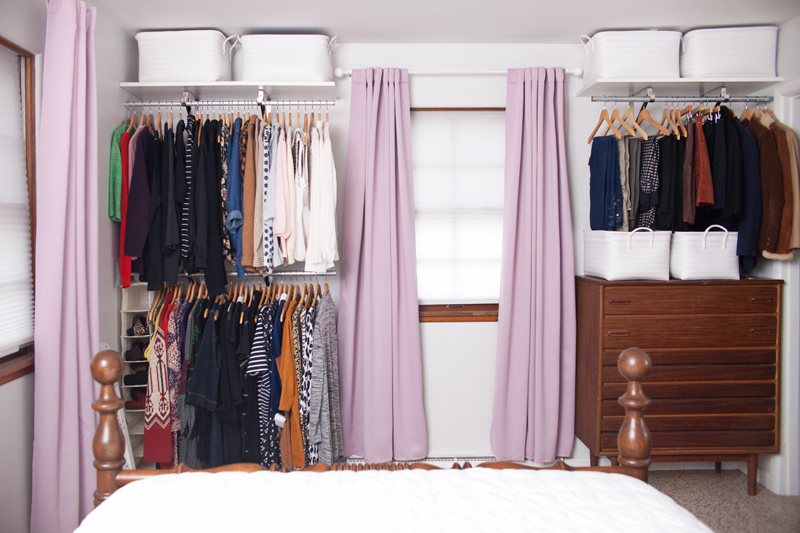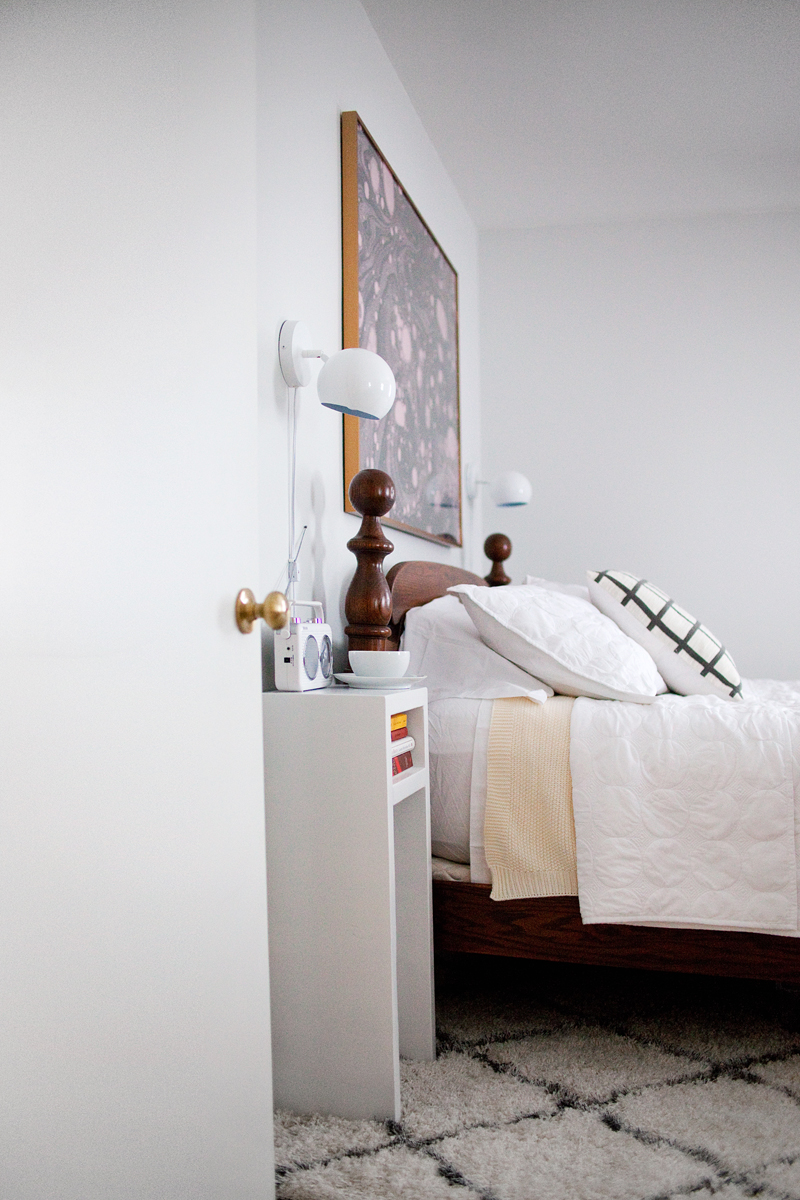 The view from the hallway is much nicer these days! Before, you would be likely to spy a pile of clothes that had no home, or boxes of things we've cleaned up from the rest of the house and decided to dump into our room…. because, well, why not? It was a wreck anyway. Bad, bad habits, I tell ya!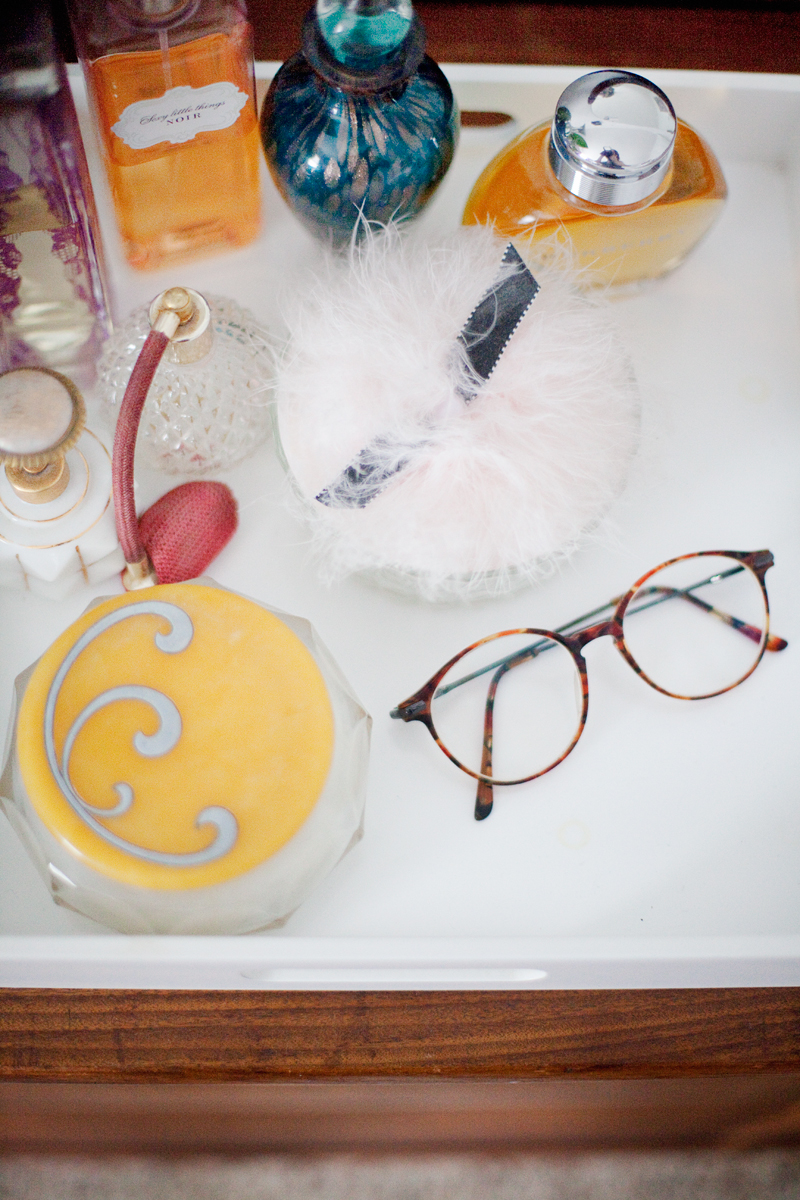 When I first got into antiquing (as a middle schooler!) I started a collection of vintage perfume bottles and vanity accessories. These days I've donated or sold off most of my collection, but I have kept a few things which I keep on my dresser with other usual suspects, like my glasses and perfume of choice (Burburry).
We're enjoying feeling more settled now that our bedroom has finally become a pretty and calm space. And in case you are interested in some of the decorations we've used, I linked 'em up below. Thanks for looking!
Sources:
-Art: Debbie Carlos x Scout & Catalogue
-Lights: Urban Outfitters
-Rug: Amazon
-Radio: Vermont Country Store
-Bedding: Target
-Pillow: West Elm (no longer available)
-Bed: Handmade by my dad (proud daughter!)