The Dollhouse Living Room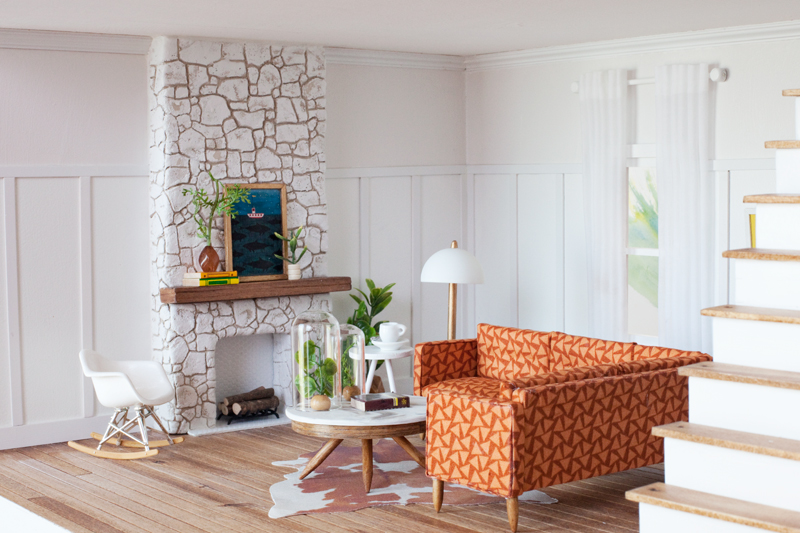 Well, folks, I think it's safe to say I'm hooked on miniatures. I love being able to envision a space in my mind, and then instantly create it with my hands, without much concern for a budget. Things just don't work that way when you're dealing with life-sized home design! Ha! If only I could spend an evening sculpting a fieldstone fireplace for my actual house, and then make a funky orange sectional the very next night. Wouldn't that be a dream? Or maybe if I could just find that one machine from Honey I Shrunk the Kids…? (I mean, if we're dreaming, might as well dream big. Or dream small!)
I'm finally wrapping things up with this dollhouse project, and it makes me a little bit sad. You know I'll be changing things up from time to time, and certainly adding more details. I'd love to make more dollhouses, but I don't have room in our home to keep them, much less work on them. Who knows, maybe I'll be able to turn this new passion into something else— maybe a book about crafting a modern dollhouse? It's something I've been seriously contemplating since diving deeper and deeper into this miniature world. There's so much process to share, not to mention the plans for my handcrafted furniture, but it's pretty overwhelming to think about properly documenting steps just for this little blog. I'd love to have a reason to beautifully present the process more thoroughly, in book-form.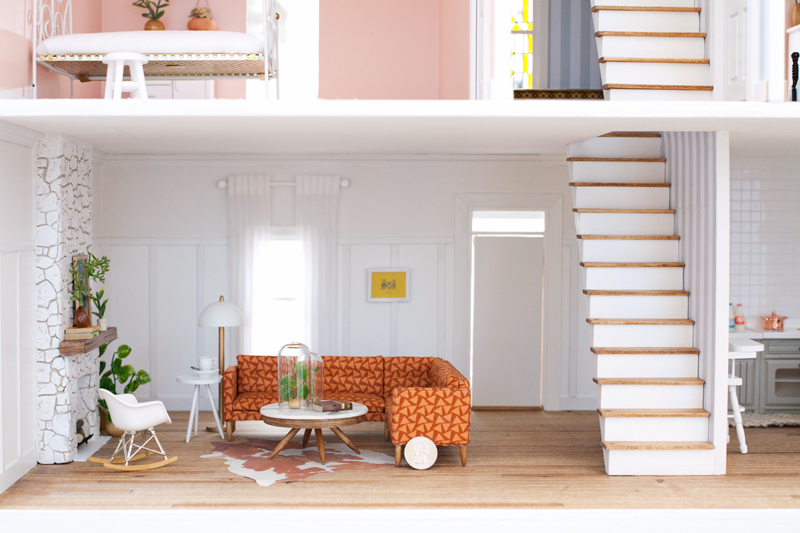 Above you can see the living room with a quarter thrown in for scale. I made the fireplace, curtains (and rod), sectional, coffee table, side table, floor lamp, and frames for the art I printed. The illustration over the fireplace is by Natalie Hughes (used with permission) and the yellow Woodsfolk print is from Stitch Design Co's Dribble. I thought those little woodland creatures would look perfect in a Calico Critters dollhouse. The ship with sharks (above the fireplace) also adds the perfect element of whimsy and humor. I may be a little obsessive about every detail— even the art!
O T H E R S U P P L I E S :
Coffee cup (I found mine at a local craft shop)
Eames rocker – Reac Japan 1:12 replica I found on eBay for about $20— a splurge as far as I'm concerned!
Faux (obvs) cowhide rug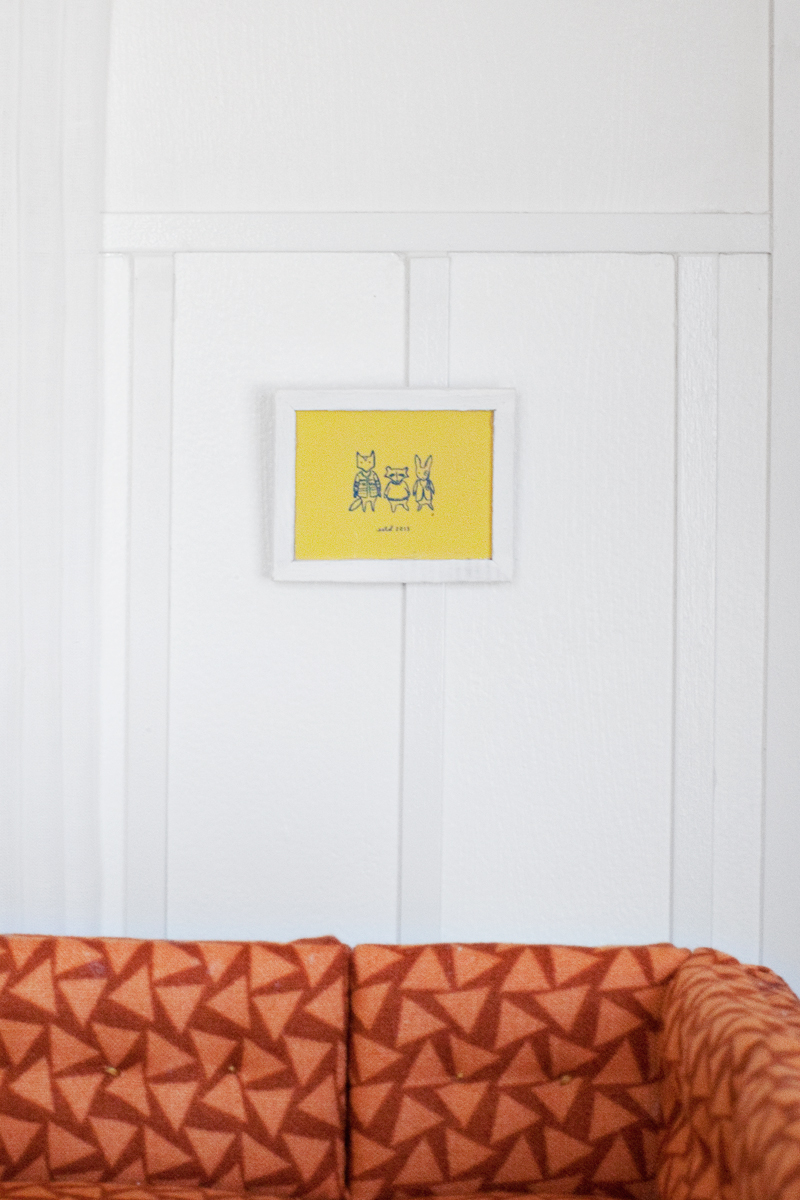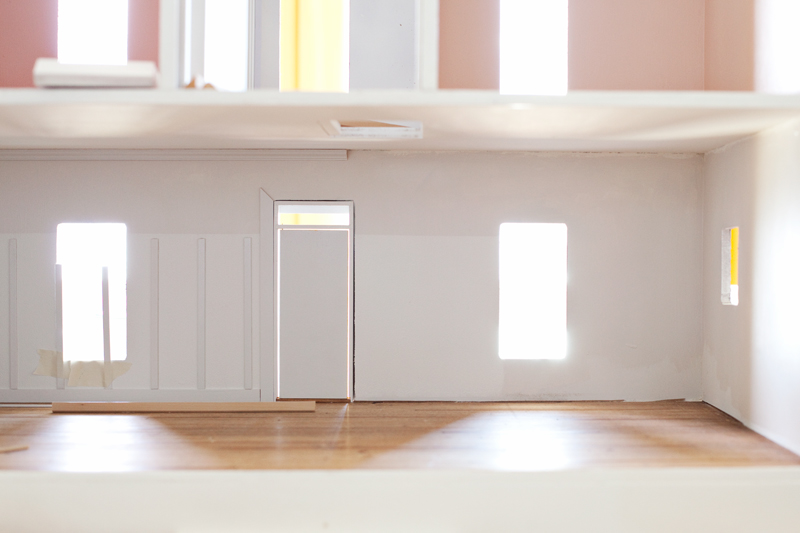 The picture above shows how the first floor looked after the floors were scored and stained and after the walls were painted. You can see I used a slightly different shade of white above the untinted white paneled area. I used wood spaces to evenly place my pieces of painted bass wood trim for the paneling. I glued each little strip of wood with quick grab tacky glue and then caulked any cracks after the glue dried. (Yes I'm insane and I caulked a lot in this dollhouse because even tiny cracks become super obvious when working in 1:12 scale!) Now let's talk about the fun details I made!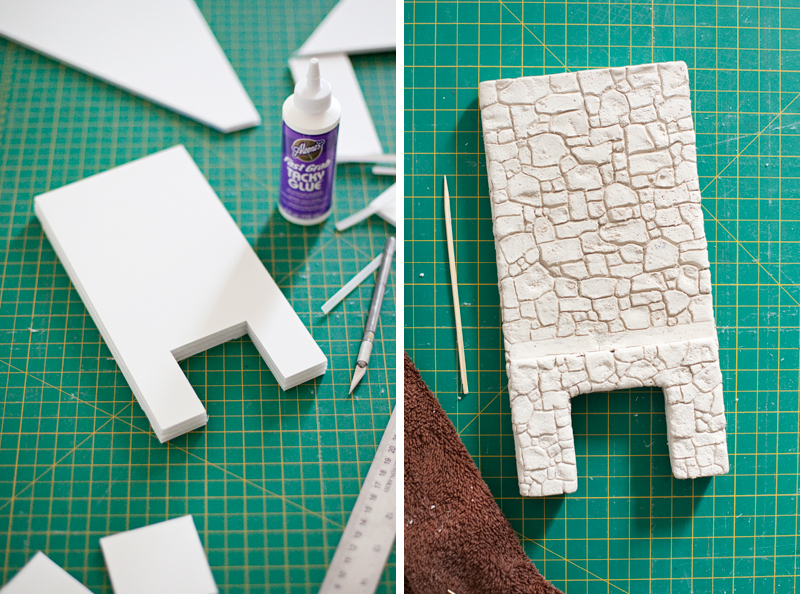 T H E F I R E P L A C E
The fireplace was much simpler than I expected it to be, though I will say it was fairly time consuming. I'm estimating that it took about 3-4 hours of labor to complete. I first made the base with pieces of foam board that I glued together. (I ended up adding a bumped-out portion below the mantle area after I took the above left photo.) Then I rolled out a sheet of air-dry clay to cover the foam board. Before covering the foam board with clay, I brushed it with a liberal amount of tacky glue. Then I draped it with clay and trimmed off any excess. I made my mantle before carving the clay, so I made sure to press it into the clay, marking where I would glue in the mantle after the clay had dried out. To form the fieldstone appearance, I used a bamboo skewer to dent and scrape the clay, keeping the unworked area of clay covered with two layers of damp paper towels so the clay wouldn't dry out. I also used a wash cloth to push in random areas to give the stones dimension, also blotting the entire surface of the stonework with the cloth to add all-over texture. In addition to the cloth, I used a thick bristled hair brush to give the stones a porous texture. I let the clay dry out for two days without handling it much— I didn't want to risk cracking. Then I used a foam brush to dab the surface of the bricks with white primer.
After the paint dried, I added the mantle., which I made with a piece of bass wood that I scraped to give the look of rough sawn timber. I added mitered pieces to either end so the end-grain of the bass wood wouldn't mess up the appearance of my mantle's edges. (End grains soak up stain making them stick out like a sore thumb.) I stained the entire finished piece and then brushed with a light coat of brown acrylic paint to give the color more depth, since bass wood doesn't take stain very well. I also added some extra tile sheeting from the bathroom project in the back of the firebox and as a little hearth. (Yes, I caulked that too!)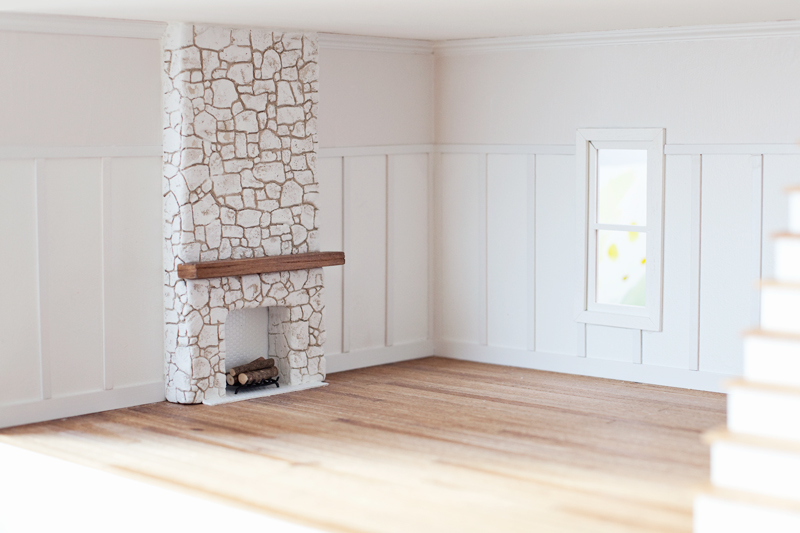 T H E C U R T A I N S
Here is the completed room with all of the architectural details in place. Ready for decorating! First I needed to decide what kind of window treatments to use. I decided on semi-sheer white curtains, just like I have in my own home. It's the perfect choice for those of us who are noncommittal and enjoy a simple design aesthetic. To make my curtain rod, I simply glued a trimmed bamboo skewer to wooden beads and painted it white. Then I glued the rod to the wall at the beads. The bead finials brought the rod out from the wall about 1/8″. Then I glued on each curtain panel, which I made by starching pieces of semi-sheer white cotton. I simply arranged the curtains onto a piece of foam board, using dowels to give it the gathered appearance, and straight pins poked through the fabric and into the foam board to keep everything in place before spraying with a generous amount of starch. After it dried, I removed the pins and dowels and had perfectly crispy curtain panels that were glue-ready.
I know the curtain-making procedure might be difficult to picture, so if you don't follow me on Snapchat (mandimakes), you might not have seen the video I posted when I was making the curtains. This is exactly why I'd like to put all of this stuff into a book! So much to say… so little space on this blog to say it. (I'm trying not to turn this place into a DIY dollhouse blog.)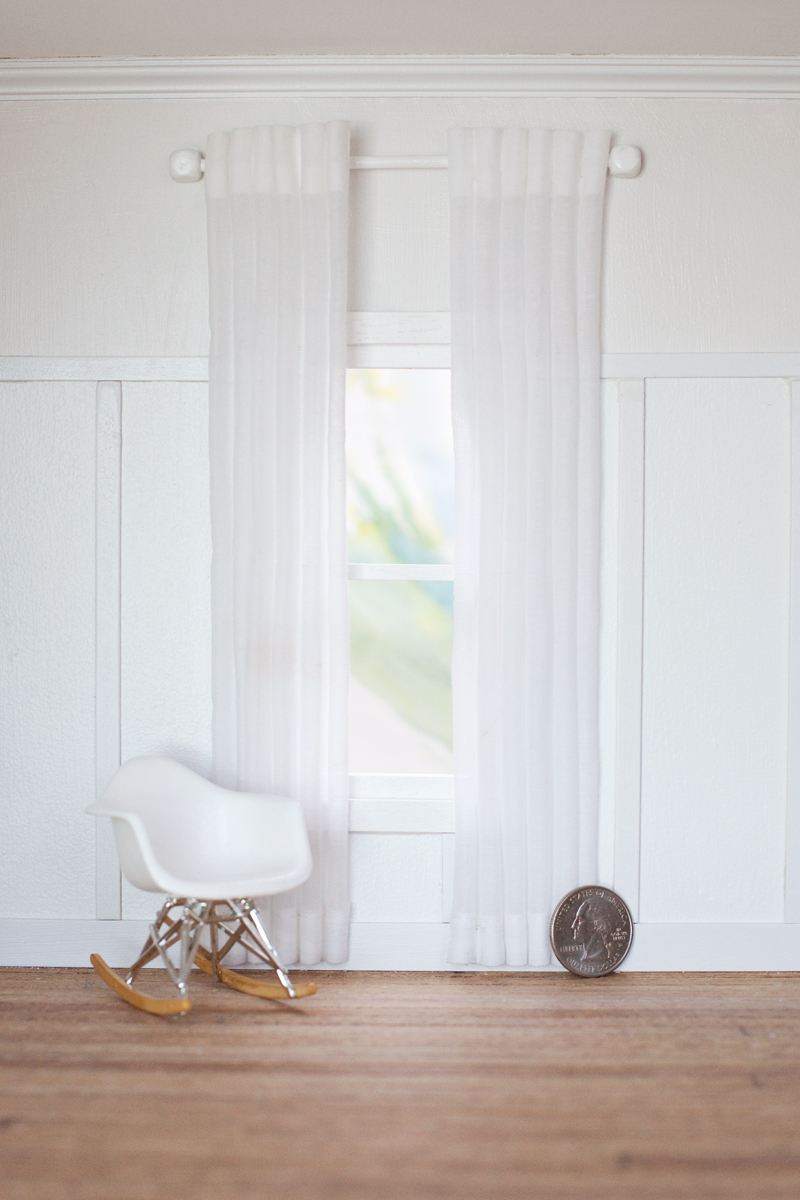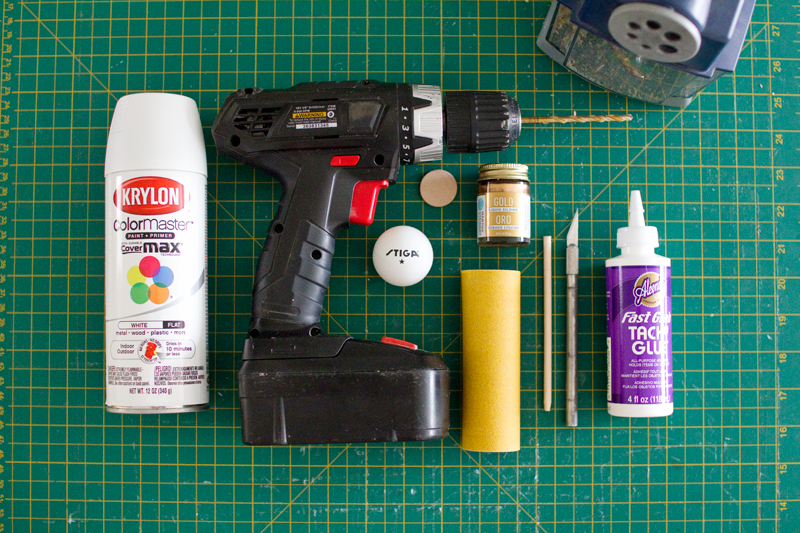 T H E F L O O R L A M P
No step-by-step pictures for the curtains, but I did manage to snap a few shots of the making of my attempt at a Panton floor lamp replica. Here's what I used to make it— all of these items I already had on hand. Floor Lamp Materials:
ping pong ball
small dowel (I forget the diameter I used, but something skinny)
small wooden coin
primer
sand paper (something around 180-220 grit would work well)
Tools:
power drill
Xacto blade
glue (your preference)
pencil sharpener (optional)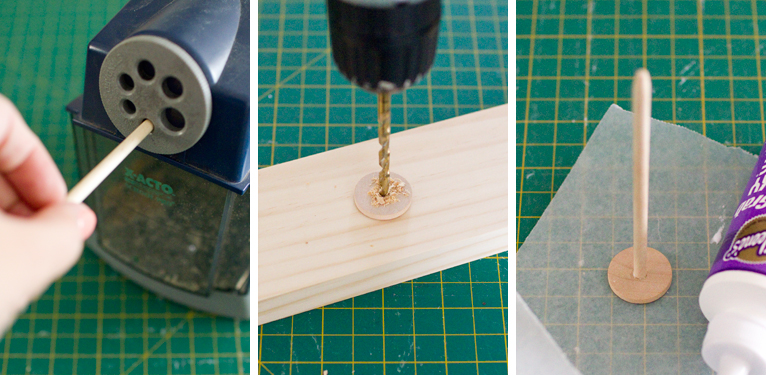 Step One: Cut your dowel to the desired height of your floor lamp. Then sharpen one end with a pencil sharpener or with sand paper.
Step Two: Drill a hole in the very center of your wooden coin. This should be a hole perfectly sized for your dowel diameter.
Step Three: Glue the dowel into the hole of your wooden coin.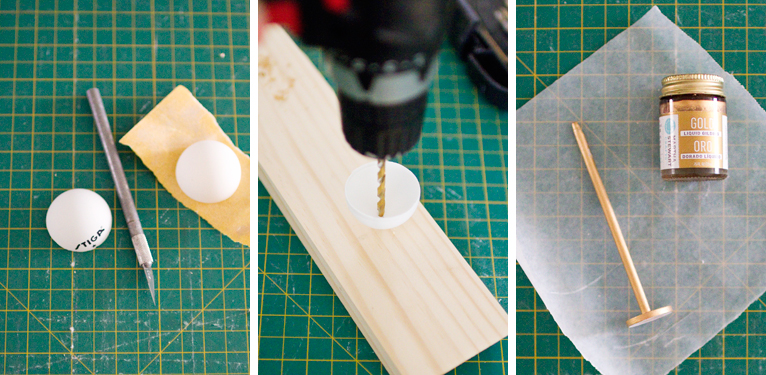 Step Four: Cut your ping pong ball in half with a sharp Xacto blade. This is easy to do, as the blade easily will follow the seam in the ping pong ball. Sand down the cut edge so it is very smooth and even.
Step Five: Drill a hole into the very center of the ping pong ball half. This should be a bit smaller than the diameter of your dowel. Step Six: Prime and paint the base of the lamp— the dowel and the wood coin.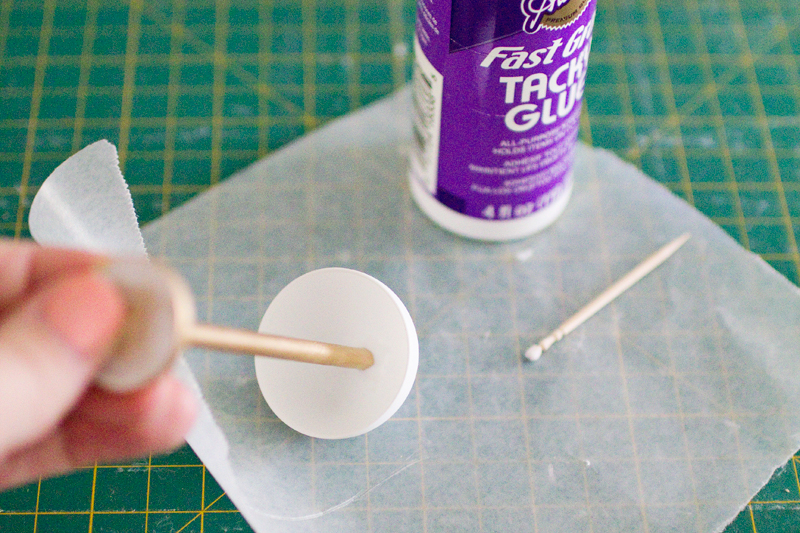 Step Seven: Glue the ping pong ball shade onto the base of the lamp.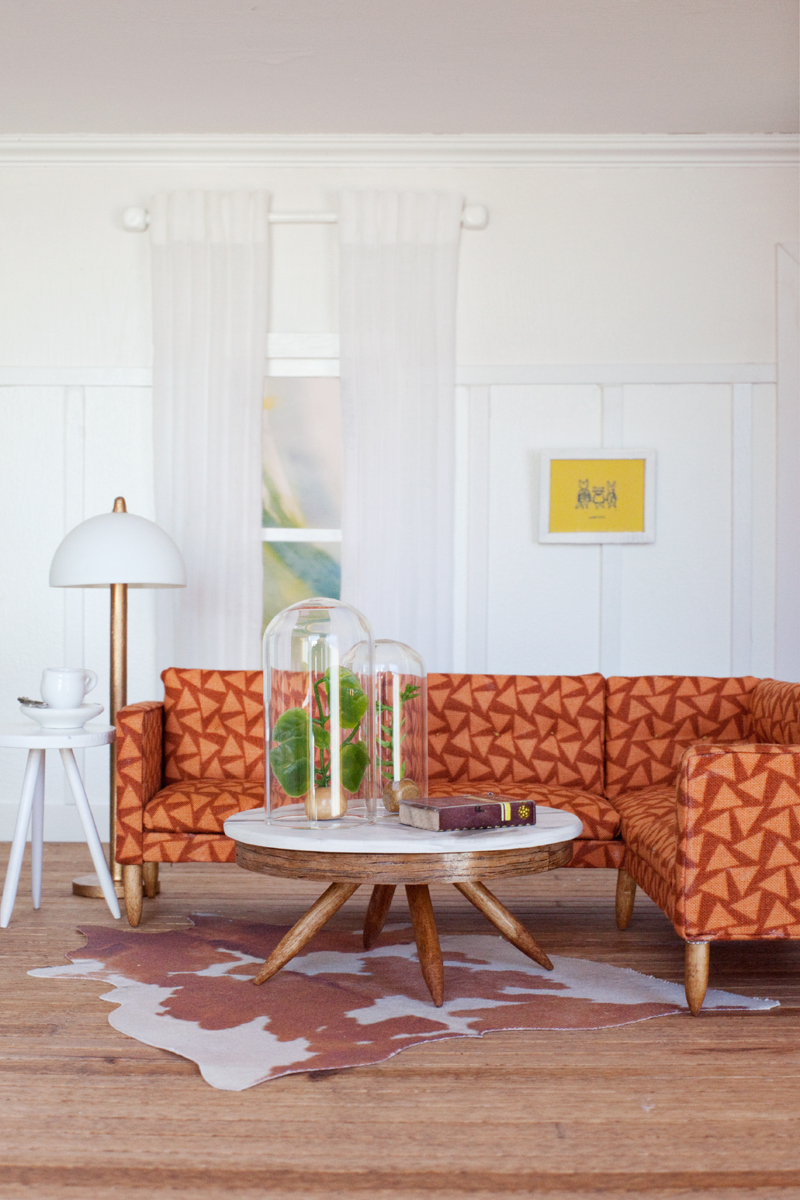 That's it! I had to stop myself from putting a glamorous little floor lamp in each room!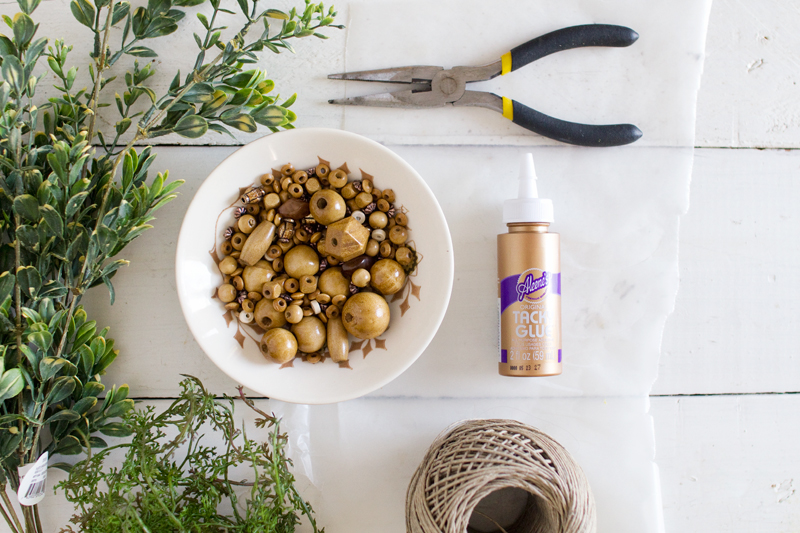 I also made tons of little house plants using beads as vases and trimmed pieces of artificial floral materials. I sanded down the bottoms of the beads so they would sit straight on flat surfaces without falling over. To make cylindrical vases, I stacked together small beads, as seen on the right side of the fireplace mantle. I found a set of mini glass cloches (which I used my 60% off coupon for at JoAnn) which I placed over smaller houseplants on the coffee table for a nice little display. Making houseplants was one of my favorite little dollhouse projects!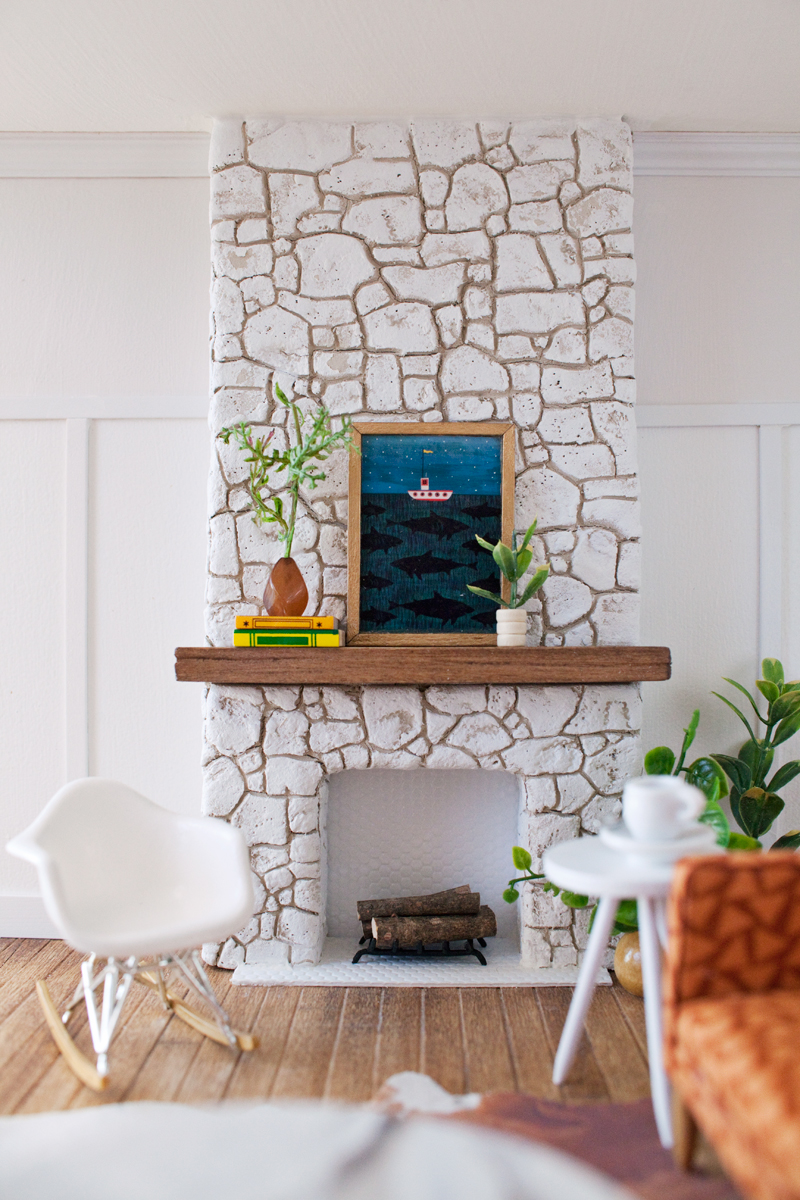 I do still have to add the stair rail, which I hope to do in time for Christmas, because I definitely bought some tiny garland that I'd like to drape on the handrail. Because I'm a crazy person! And also because I don't have a real-life stair rail to decorate, so this is the next best thing. If not the better thing.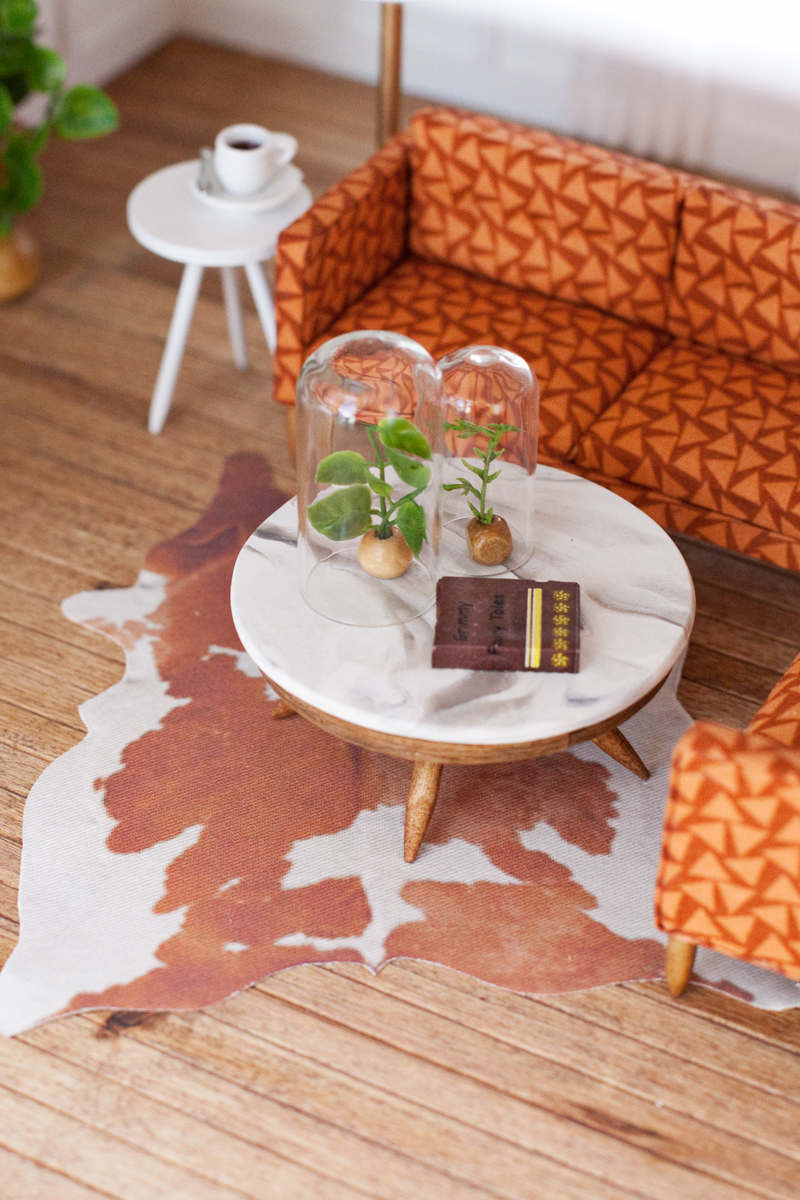 Thanks for following along on this process! I get so excited to share each little detail with you, and hope that I can inspired some of you to begin your own miniature journey. And no— you don't need kids as an excuse to do this! It's probably easier if you don't have children, actually, because then you don't have to share your toys! :) Next up I'll be sharing the kitchen. You may have caught a sneak peak of that on my Instagram. Tomorrow I'm making the vent hood and open shelving for display tiny dishes! If you don't hear back from me, it will be because I died from the cuteness of it all.