The Dollhouse Bathroom
Well, I didn't quite get this dollhouse finished by Thanksgiving, as I'd hoped. Those who follow me on social media might know that my dad's been in the hospital for the past week, and might be facing open heart surgery this Thursday. Still not sure what's happening with him, but things got really scary last week, and so the dollhouse (and everything else in my life) was neglected while I hung out with my pops. Anyway, before that happened, I had finished the top floor of the dollhouse.
I decided to stick to a relatively limited color palette for the entire dollhouse: orange, yellow, and pink. Of course, accent colors and neutrals will be thrown in here and there, but I decided it should all look cohesive when viewed as a whole, rather than doing different colors in each room. Then each floor would also have a main color theme. The top floor is gold, the middle floor is pink, and the first floor and upstairs hallway is mostly neutral with pops of color here and there.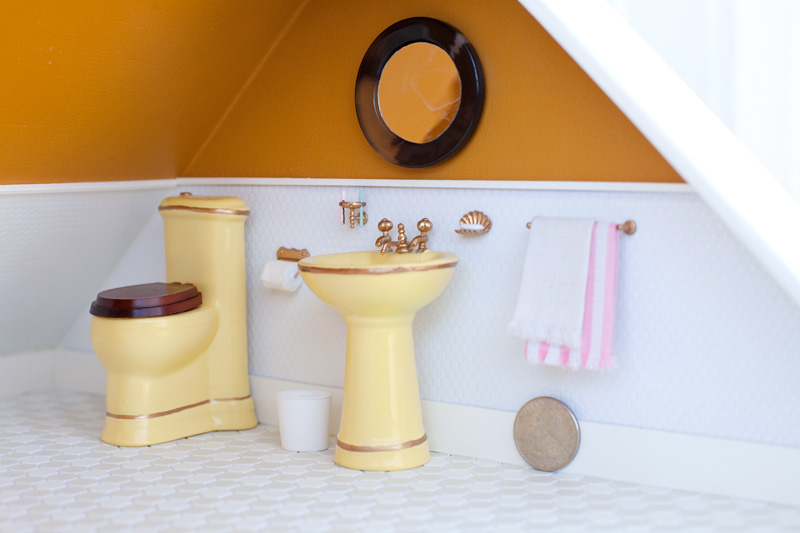 Here's the bathroom with a lovely '70s color scheme. It was just going to be a bright white space, but then I got carried away with details, as I usually do, resulting in the look you see above. I painted the bathroom fixtures (as shown later in this post), glued together accessories and painted them gold, used tiny scraps of fabric for towels, and a button and handcut mirror sheet for a vanity mirror. Everything is linked to at the end of this post.
Here's what the room started out like: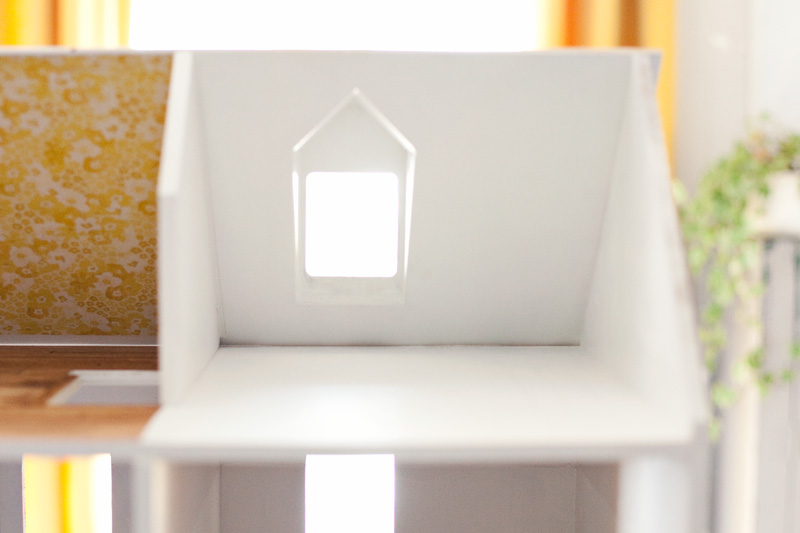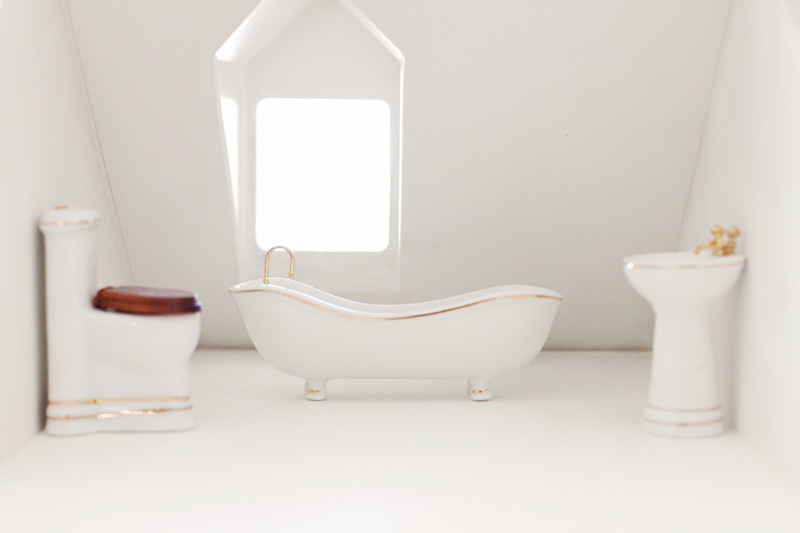 I sanded down the porcelain bathroom accessories with 320 grit sandpaper, and painted with several light coats of this citron spray paint. Then I finished with gold striping and then a few light coats of high gloss polyurethane.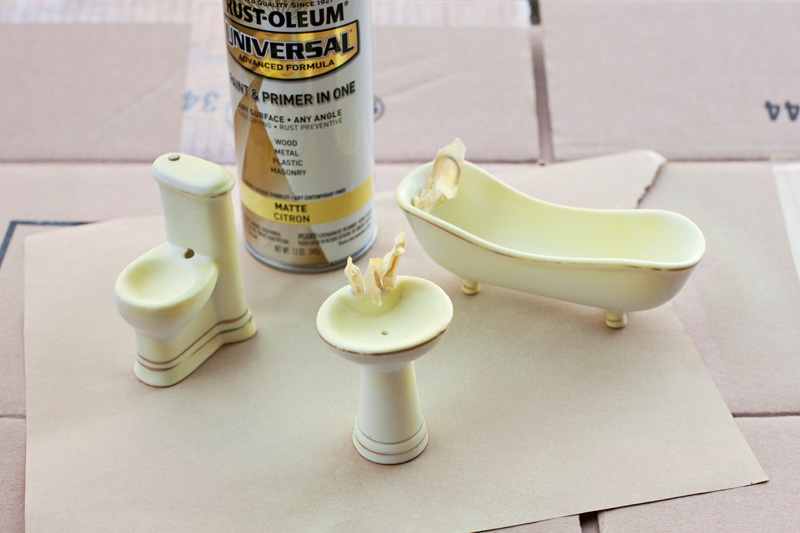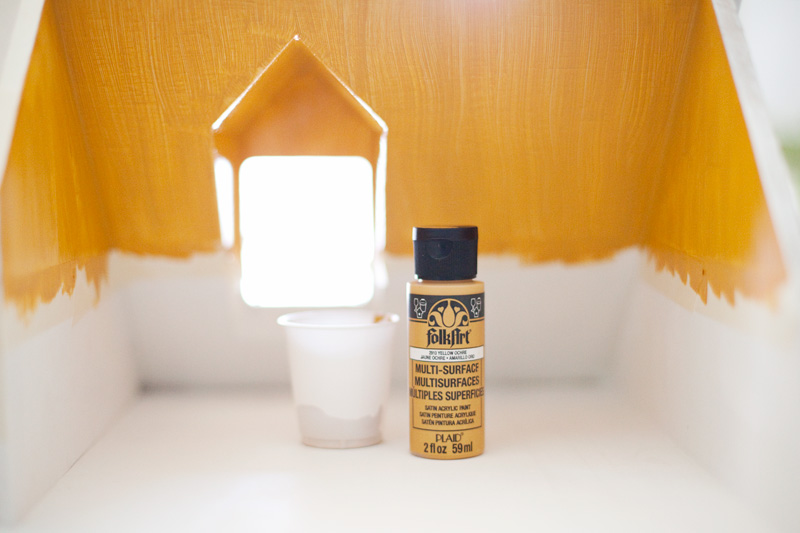 In between coats of paint on the bathroom fixtures, I painted the top part of the walls in the bathroom. Then I added tile sheets to the walls and floors and tiny wooden trim between the paint and tile on the wall.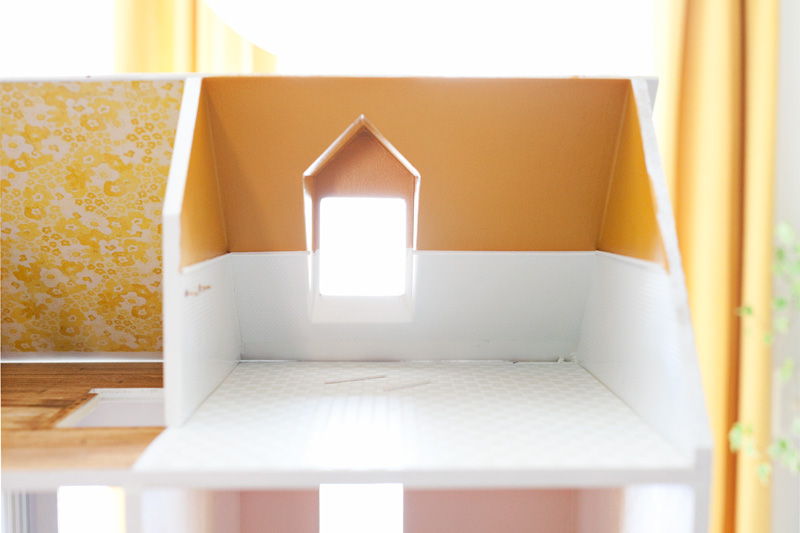 Here it is with everything inside. It's difficult to get a photo after I added the roof edges to this side of the dollhouse, since the roof edge kind of blocks the view of the camera with a straight-on shot. I still need to add some kind of rug, and haven't decided if I'll add window treatments to this room. Not that the dolls are exhibitionists, but I'm just pretty proud of how my dormers turned out, and don't know if I want to hide all the hard work I did carefully cutting the holes for the dormers and filling and sanding it perfectly smooth. When things go wrong in my life, I want to be able to walk over and check out the dollhouse dormers and feel good about something! Haha! (Only partially kidding.)
So what do you think about rug options? I'm thinking maybe a circular white fluffy rug? Originally I was going to do something like jute, but this room is a little too fancy pants for that kind of rug now, in my opinion.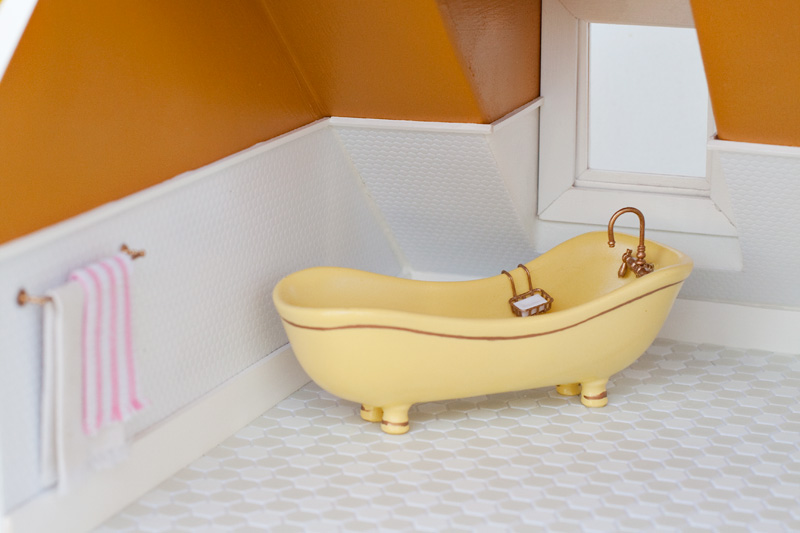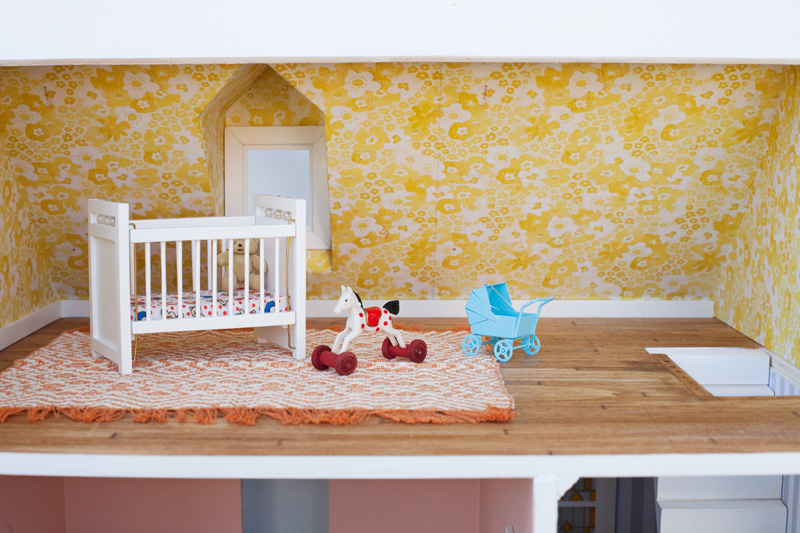 While we're looking at the bathroom on the third floor, I thought I might as well show you the other side— the nursery! This room is pretty sparsely decorated as of now. It's difficult to arrange furniture in here because of the 45 degree angle of the outside wall. I also don't have much furniture for this space, since I moved other nursery items (dresser and high chair) into different rooms of the house. I also don't know about window treatments in this room.
I still need to add the stairway details (railing, treads, carpet), so part of the nursery will still get a railing and finished baseboards. And speaking of details, I think I'm going to add a little pom pom garland and wall art in this room. Maybe a rocking chair with a side table and lamp too! We've got time to think about those things later, though. Now I'm just trying to finish up the rest of the house in time for Christmas. Thank God I started this project early!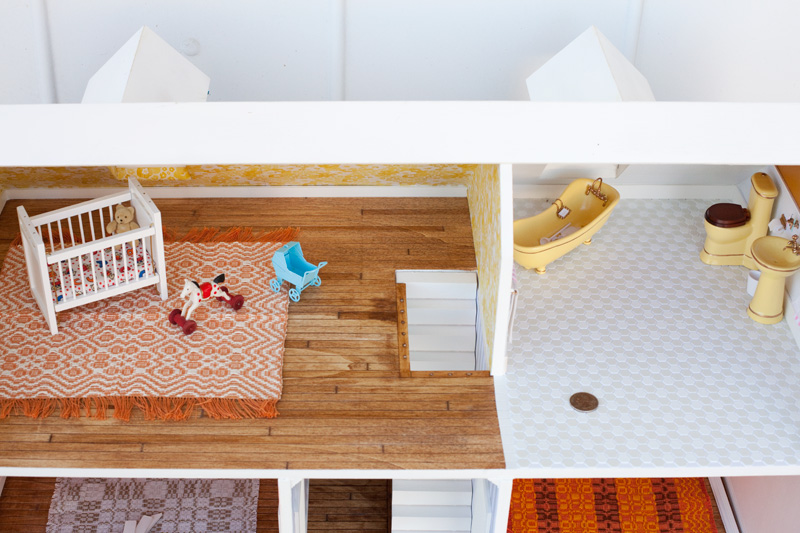 S O U R C E S :
I'm really chomping at the bit to finish up this house, but I guess all good things come to those who wait! Right now we'll just be spending a lot of time together as a family, and then at night when I have a spare hour or so, I'll work on finishing up details here and there. But it's so exciting to see it coming together!