Baked Chocolate Cherry Doughnut Hearts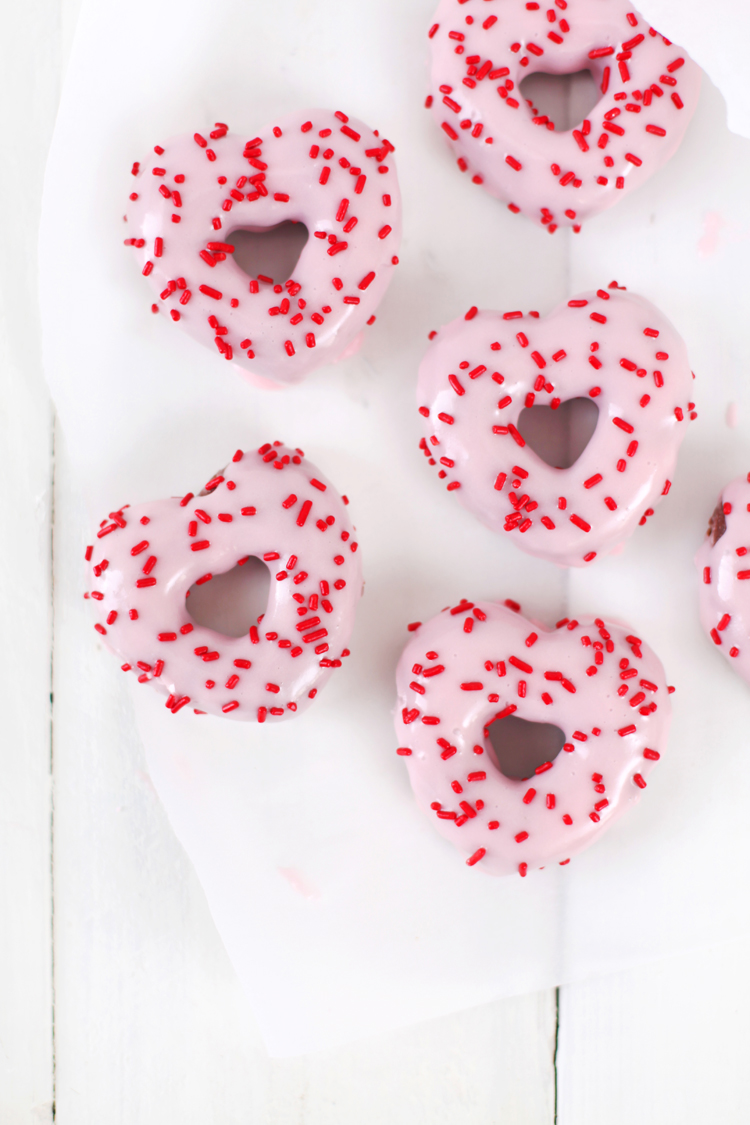 Valentine's Day sure comes at a funny time, doesn't it? We're all still reeling from the overindulgences of the holiday season, and then BAM! Here comes the holiday marked by rich chocolate bon bons and red velvet cake. Last year I shared a healthier Valentine's Day treat idea, but this year I'm making exactly what I really crave (each and every day, not just on Valentine's Day). Chocolate doughnuts! But not just any chocolate doughnuts- chocolate cherry glazed donuts baked in my new heart-shaped donut pan.
Besides the yummy chocolatey taste, the great thing about these doughnuts is that they're not quite as unhealthy as traditional doughnuts, because they're baked instead of fried. So, basically health food… ahem. I added some cherry flavoring to the chocolate doughnut batter, and also some cherry syrup to to the glaze, giving it a pretty pink color and a subtle cherry flavor. The taste is divine! Check out my printable recipe below.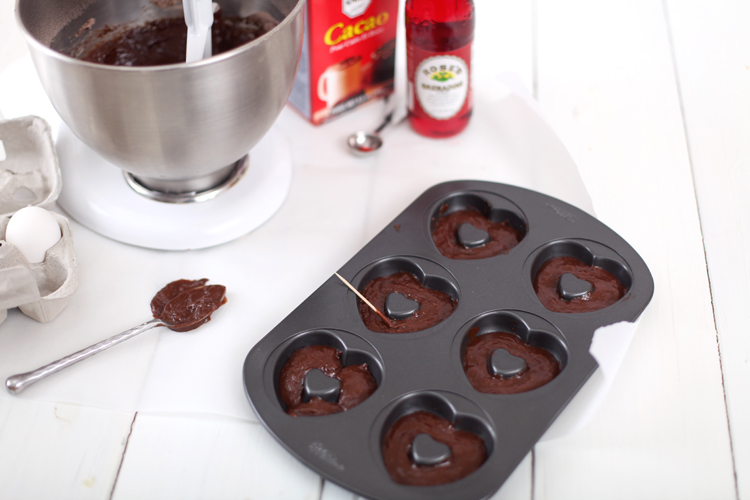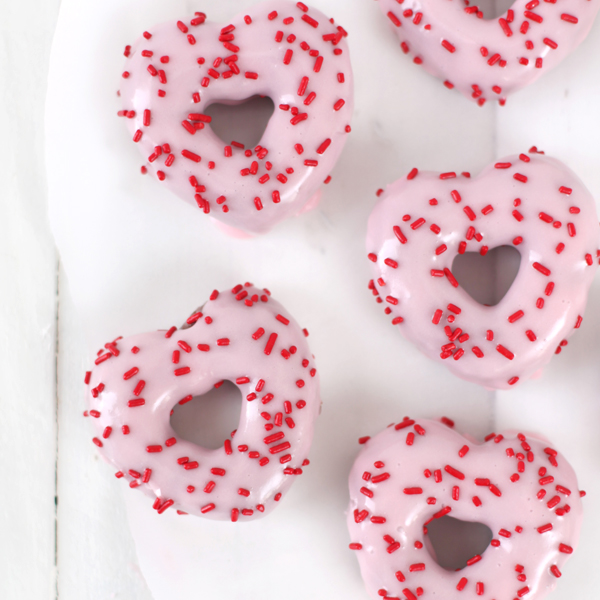 Baked Chocolate Cherry Glazed Doughnuts
2014-01-24 13:18:44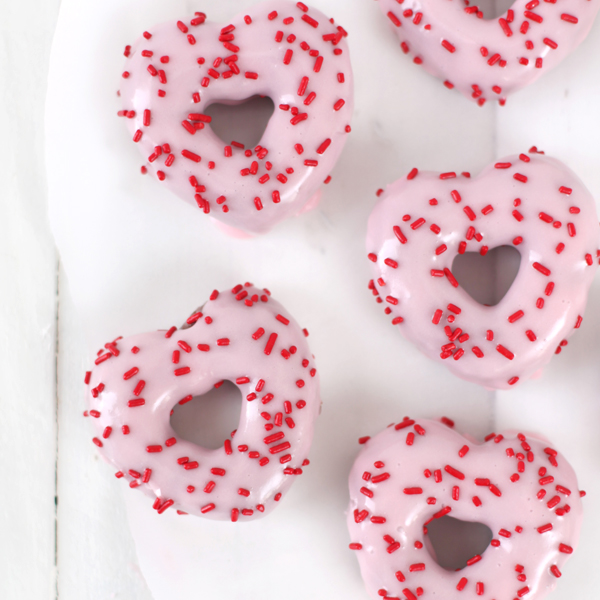 A light, fluffy baked chocolate glazed donut with a subtle cherry flavor.
Nutrition Facts
Amount Per Serving
* Percent Daily Values are based on a 2,000 calorie diet. Your Daily Values may be higher or lower depending on your calorie needs.
Donuts
2 Cups all-purpose flour
3/4 Cup white sugar
1/2 Cup cocoa powder
2 teaspoons baking powder
1 teaspoon salt
3/4 Cup buttermilk*
2 eggs (beaten)
1 Tablespoon grenadine syrup
1 teaspoon pure vanilla extract
1 tablespoon of melted shortening
*A buttermilk substitute can be made by adding 1 Tablespoon of vinegar to 3/4 Cup milk and allowing the mixture to rest for ten minutes until sour.
Glaze
3 Cups powdered sugar
1/4 Cup (or more) warm milk
2 teaspoons grenadine syrup
Instructions
Preheat oven to 325 degrees F and lightly grease your donut pan.
In a large bowl, mix together flour, sugar, baking powder, and cocoa powder until all of the cocoa powder lumps are gone. Separately, beat together the eggs with the vanilla, grenadine, and melted shortening. Add the egg mixture and buttermilk to the flour mixture, mixing only until just blended. Do not over mix, or the doughnuts will be dense and tough, instead of light and fluffy.
Fill the donut pan halfway full, dragging the batter with a toothpick to make sure its surface is nice and smooth. Bake for 9 minutes, or until an inserted toothpick comes out clean. While the donuts bake, beat together the ingredients for the glaze. Start with less milk, and add more as necessary until the glaze reaches a somewhat runny consistency, but thick enough to coat the mixing beater when pulled from the glaze.
Allow the freshly baked doughnuts to cool for a couple of minutes before removing them from the pan and placing on a cooling rack. Dunk the tops of the warm donuts into the glaze, place onto the cooling rack with paper underneath to catch the glaze runoff. Wait 5 minutes and dunk again, this time decorating with red sprinkles immediately dunking.
Notes
These doughnuts taste like a cross between a chocolate cake donut and a chocolate cupcake. They don't have the crunchy outer that a fried cake doughnut has, but the doughnut shape and yummy glaze add enough of the doughnut aspect that this recipe is a winner in my book!
Making Nice in the Midwest http://makingniceinthemidwest.com/