Dining Room Before & Afters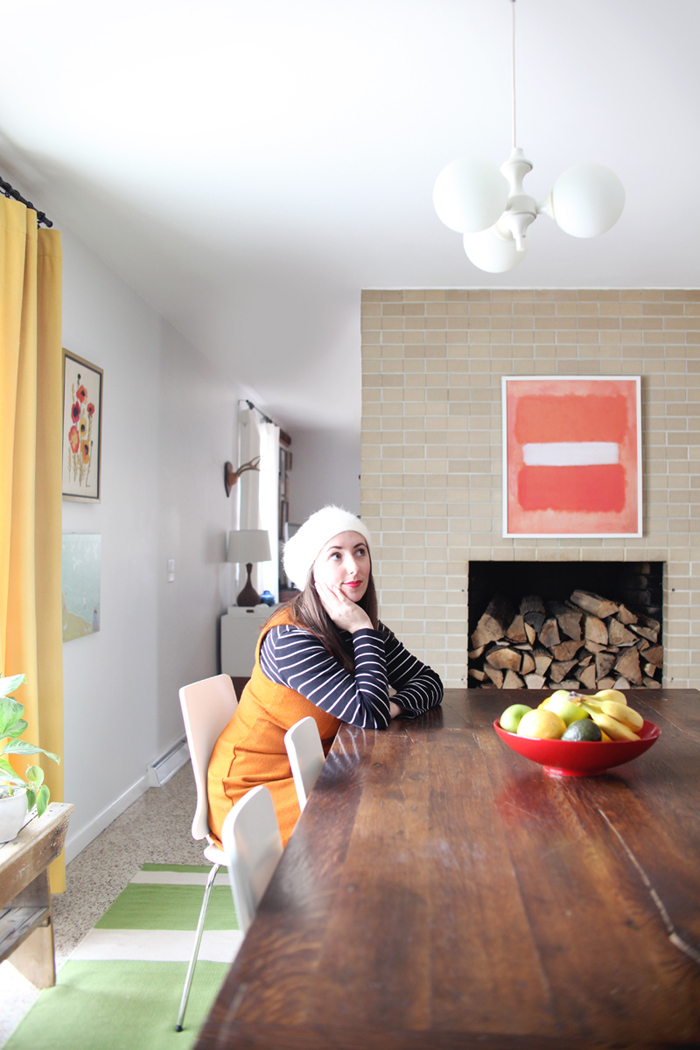 Phil had just returned from a day in Columbus, cheering on our Ohio State Buckeyes as the snow piled up around him and countless other fans who braved the weather for the sake of their sport. I, however, was cozied up at home, braving an altogether different task- painting the walls and baseboards in both our living and dining rooms with a hyper toddler afoot. It's a difficult task, without ending up with baby foot prints tracked around our home with fresh paint. But I did it! And when Phil returned, I was still on my home makeover high, so I convinced him to tackle our ugly fireplace for a fun date night activity. What can I say? The man loves me. Now that the fireplace facade is gone, I'm feeling the momentum to finish up the plans I've long had for this space. Poor Phil. If he'd only known, he probably would have never known that helping me with the fireplace would get him more than just a trip to Funkytown, but also a trip to Ikea, CB2, and the antique mall.
Well, since I'm obviously excited about the changed we've been making in our home, I thought I'd share the progress we've made in our dining room, and then share my plans for the near future! Check out the before and during photos of the fireplace below, and see how it originally looked in the first photo I took of this home before we ever purchased it.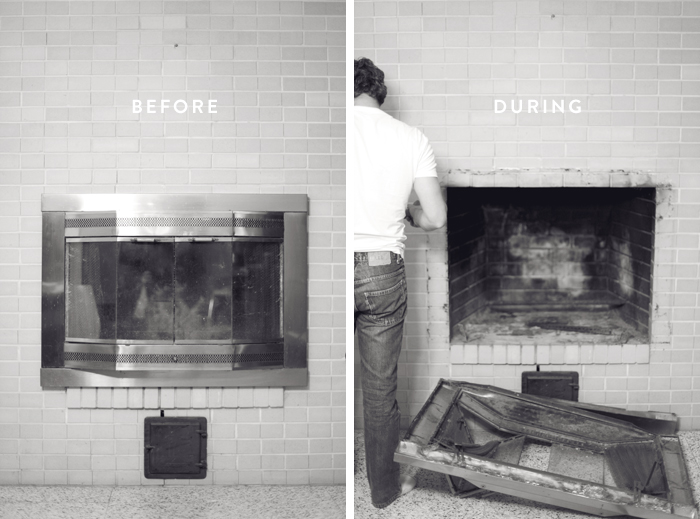 When we initially had the home inspected, we learned that one of our two fireplaces (the one in the dining room) needed a lot of expensive work done to the cap, flue, and lining. Since money is something we have very little of, unlike patience, we just ignored it until that one fateful day this winter when I just couldn't take it any more. Our plans are to have a professional install a set of gas logs which will look nice and also put out heat in the space. There's a gas line in place (the pipes will need replaced, though), and we can just block off the flue instead of repairing it.
The fireplace facade was easier to remove than I thought it would be, though Phil did all of the muscle work. The initial surround was bolted on from the inside, and we used a crow bar to pull it off the wall after everything was unscrewed. There are still holes where it had been bolted on, but I can live with that for now until I learn how to weld, and then I'll make a new, minimalistic surround to cover up the holes. It looks much better now, though I can't wait until the day when we can use gas logs and a new surround, designed by yours truly.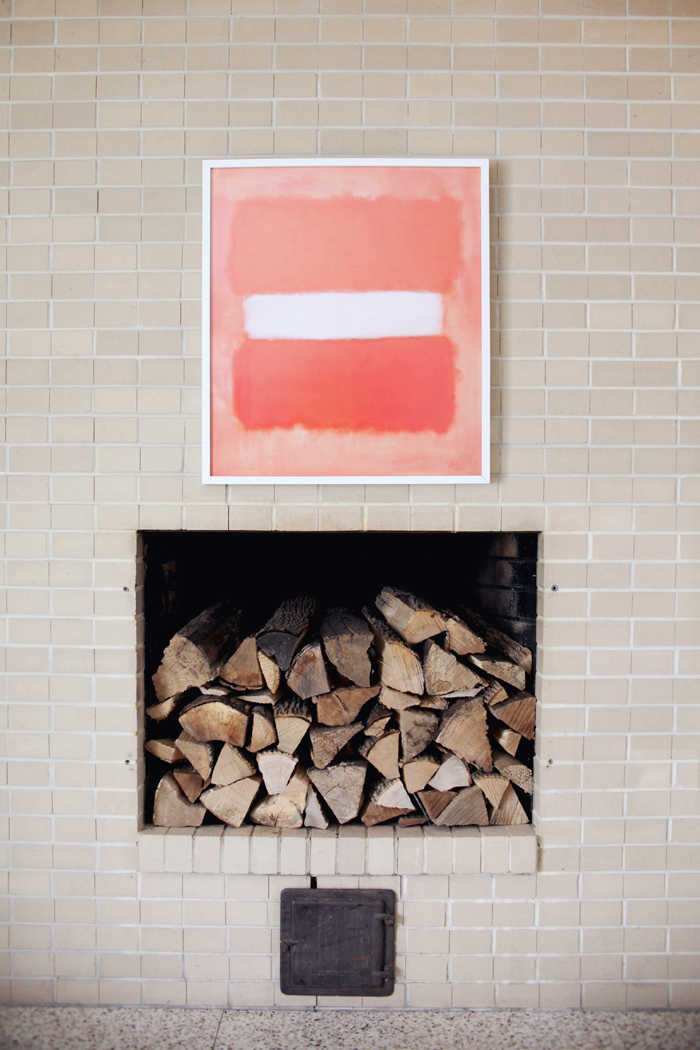 When we moved into the home, it was all painted in an awful sea foam green- a color I left in our bathrooms where it looks nice, but promptly covered up in the rest of the rooms. In my haste to have the dining room and living room painted while I was pregnant and escaping the fumes at my parents' home, I made the mistake of choosing a color I really ended up hating and living with anyway for two years. You can read all about it and see these photos below in color right here.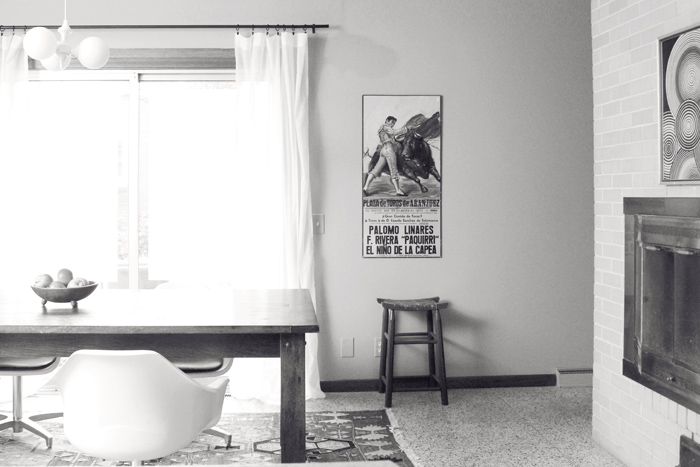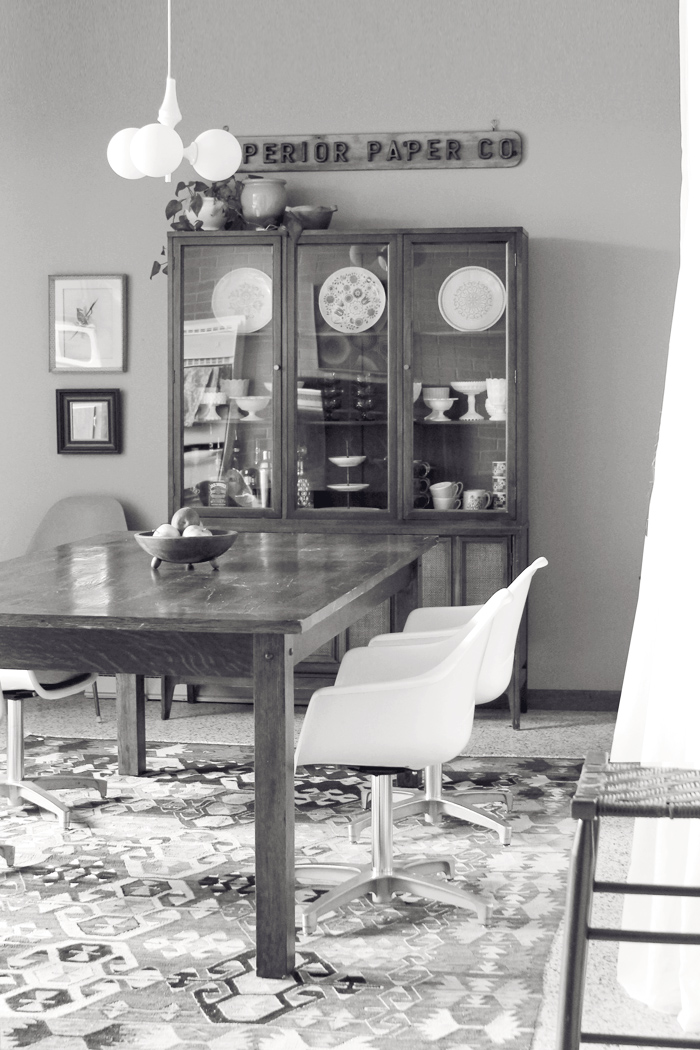 For Christmas this year, my mother-in-law gave me these pretty yellow curtains that I had found on Amazon (right here), which so nicely replaced the makeshift sheers that have been hanging on our windows for far too long. Since the photos above were taken, I also replaced the busy kilim rug with a 7-year-old West Elm rug I had in storage, added some plants from our patio, and replaced the chairs I had been so giddy about finding last year with our old Ikea ones we've had since we were first married almost 7 years ago. Why did I do that? Well, because I'm selling them on Craigslist so I can put the money towards a set of dream chairs! The problem is, I just can't decide which chairs are my dream chairs. Because I like them all. Ahhhh!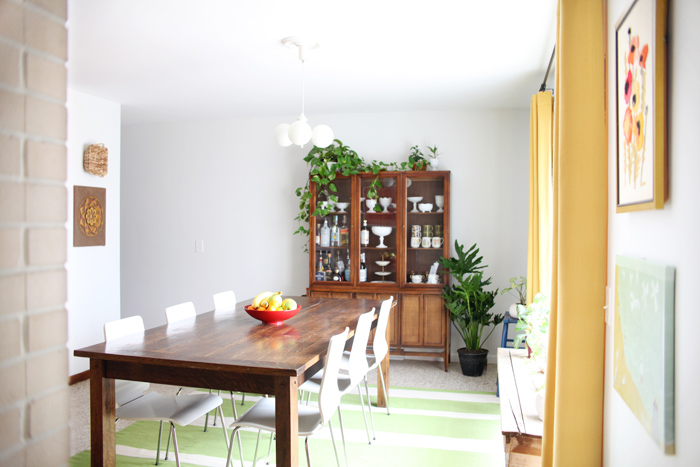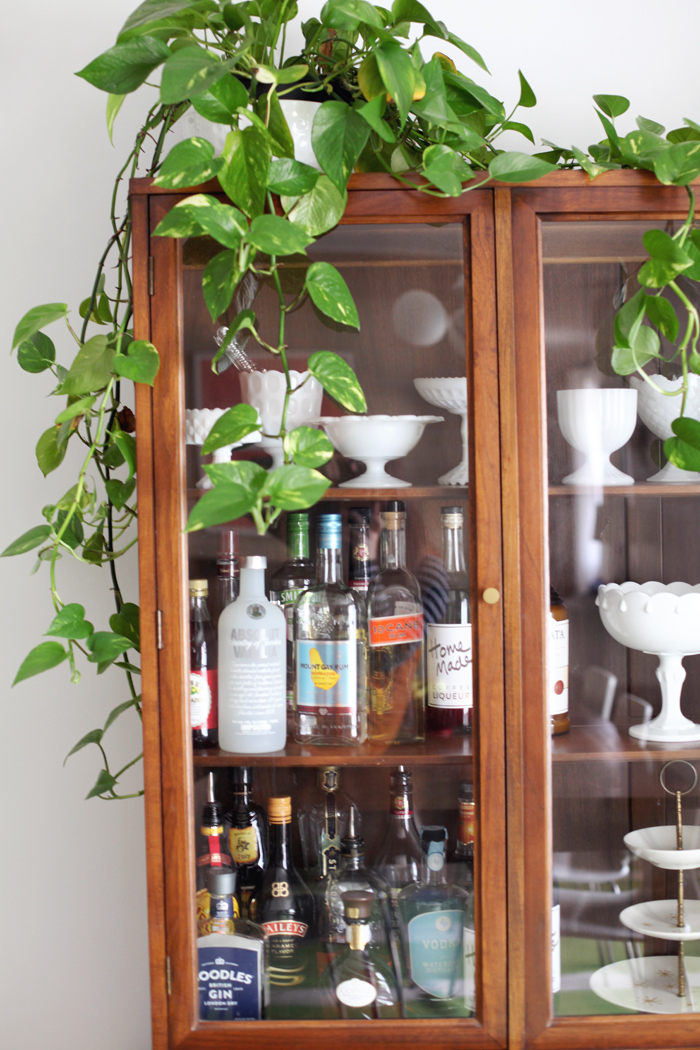 To complete the room, I'd like to get new dining room chairs, a new light with more of a presence (we'll move this one into the kitchen, close to the ceiling), and a new hutch (this is one I thrifted years ago as a placeholder). I've been really drooling over this globe chandelier at CB2, and I think that it would match the curtains I have up. I can get a little color crazy, but I'm trying to keep it simpler in the dining room. As far as a hutch goes, I'd love to get something primitive looking (like this one), and paint it a bold black, or a crisp white. I found a huge one I loved at a local antique mall last year, but it was $500, and not in my budget.
As far as chairs goes, I was so close to buying option A below, but then it occurred to me that if I get new chairs, they should be ones I'll keep for a very long time- like maybe a lifetime- and according to the reviews, though the price is unbeatable ($113 for a pair), the quality is not. So, I thought maybe I should just spring for my forever love- the tulip chair (option C below). I could get a set of two from Amazon here for $239. Not too bad! Especially for a new set. I can't even find used ones for that price. But if I'm being realistic, $478 for four chairs is still a lot of money for my little family. So I'm beginning to think that this wire Bertoia style chair (option B below) might be the ticket. It's a beautiful chair that I lived with at my brother's house for two years, and though not the most comfortable chair in the world, they'll last forever, and are classic pieces that I think are just beautiful. Plus, I can get 4 chairs for $389, which is really affordable for a design classic like this. I sound like I'm talking myself into making the purchase, don't I? Maybe it's true love after all.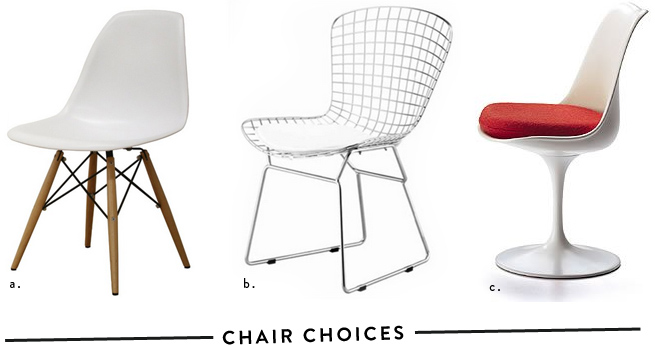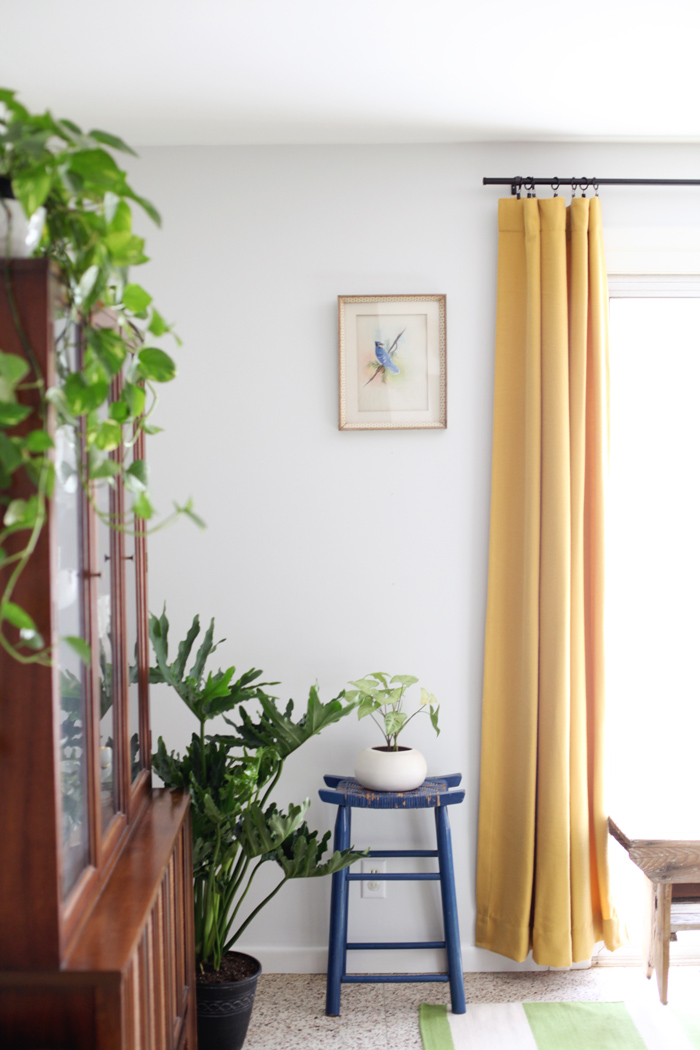 Framed poster above fireplace: Art.com
Crewel art right of curtain: vintage
Beach Painting right of curtain: Encore Editions
Bird drawing left of curtain: vintage
So that's all for now, folks! I'm working on making some plants stands in the near future to spruce things up even more, and you better believe I'll be back to share all of my progress as time goes on!