Real Estate Realities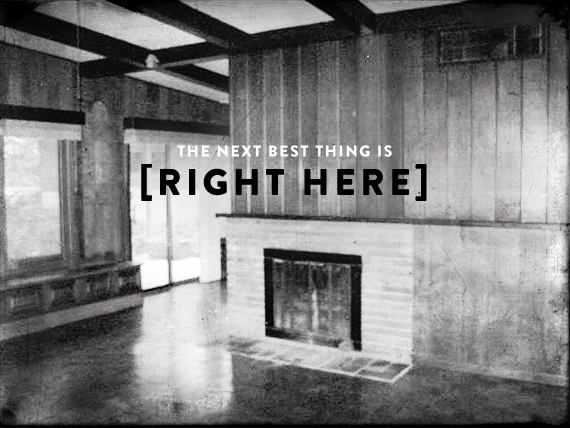 I don't know how it started. Somehow I got sucked in, and the next thing I knew, it was one in the morning. And I was glued to my computer screen looking at real estate websites, seriously considering what it would take to sell our house and buy a new one across town. This was only last week, but after a lot of soul searching, I've come to my senses. I think. You see, during that whirlwind romance with one special mid century modern home five miles away, I discovered a few things about how the culture around me has affected the way I view life. Maybe you feel the same.
The home I was admiring from in front of my computer was something we could easily afford, and it could use just the right amount of work, but not too much to intimidate someone like me. It had a sunken living room- something I'd always dreamed of, and have become increasingly obsessed with since Don and Megan Draper's apartment in season five of Mad Men. I was literally laying awake thinking about how I would arrange the furniture, and what kind of flooring we would instal. After two days of this, I realized I had sunken back into my old habit. It was a bad habit that I thought I had outgrown when I learned I had cancer last year.
Facing your immortality after a cancer diagnosis can be a really great thing. You start analyzing your life, focusing in on things that are really important, and cutting out a lot of the stuff that just takes up extra space. I got real with myself and considered how much energy and hopes I tend to put into planning for my future. A future which isn't even guaranteed to me. I spent many of my thoughts planning on what I would buy next, how we would decorate our living room when we had the money, how I would style my hair when it finally grew out, what clothes I would enjoy wearing when I lost weight, and how fun life would be when we started having children. So much of my life was wrapped up in planning for things, that I failed to fully enjoy the things that were happening right then.
Last week when I found myself unrealistically planning another house move- what could have been the fifth move in six years, I realized I was settling into my old ways of thinking. I had stopped enjoying our house, because I wanted to start planning out a new one. I was ready for the next project, a new challenge, and certainly a bit of an upgrade. Have I become addicted to redecorating and home planning? Has reading too many design blogs made me unhappy with the little home that we already have? Good golly, I think these are real issues that weren't exactly deleted with my cancer-self-discoveries.
These days, with the influx of design blogs, accessibility to so much inspiration on Pinterest and elsewhere, it's become increasingly normal to lead a discontented lifestyle. I'm not willing to give up on Pinterest or blogs altogether, but what kind of habits can I get into that will help me deal with my urges to upgrade and renovate? I don't have the money for that kind of lifestyle, and it's certainly not a healthy state to live in, emotionally speaking. For one, I've decided to stay off of real estate websites until we're actually planning on making a move and the money's in the bank. I don't even want to be tempted, as fun as it is to see what's out there. And something else I'd like to do is to enjoy time in my home, without looking around and thinking about what I want to change. It will take a lot of mental control to stop those thoughts from clouding my mind, but I think the effort will be worth it in the end.
So we'll be in our house for a few more years at least. And I'm going to work on loving what we have, and admiring beautiful homes in magazines without allowing them to make mine feel inadequate. We don't live in a magazine, and that's okay. Our home is where life happens, and that's why it's special.