WHAT I WORE: Black and Brown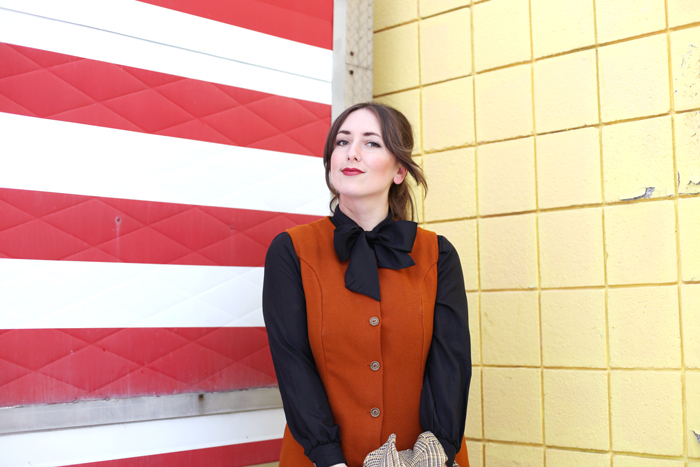 When I finally graduated from my private high school, I quickly purged my closet of almost all of the button-up collared shirts I owned. I know- it wasn't my smartest idea! But I had just been through 4 years of uniforms, and I was definitely ready to get a little creative with my wardrobe. It's funny how once you've been forced to wear something for a required activity, like school or work, you basically never want to wear it again.
When I started working at Starbucks back in August, I went to the thrift store in search of black and white shirts that buttoned up to my neck to cover my tattoos. This black ascot blouse was one of my finds, but because I purchased it with work in mind, I never considered wearing it without a green apron while I wasn't making lattes. But good news! I finally got past my mental block and now I love layering this black ascot blouse underneath sleeveless dresses and jumper to keep warm on the blustery days we've been having. It's certainly a versatile blouse, and I'm glad I found it!
O U T F I T D E T A I L S :
dress: I Love Vintage Stuff on Etsy / coat: The Classic Butterfly on Etsy
socks: Urban Outfitters 2009 / shoes: ASOS 2011 / blouse: thrifted