WHAT I WORE: Red on Red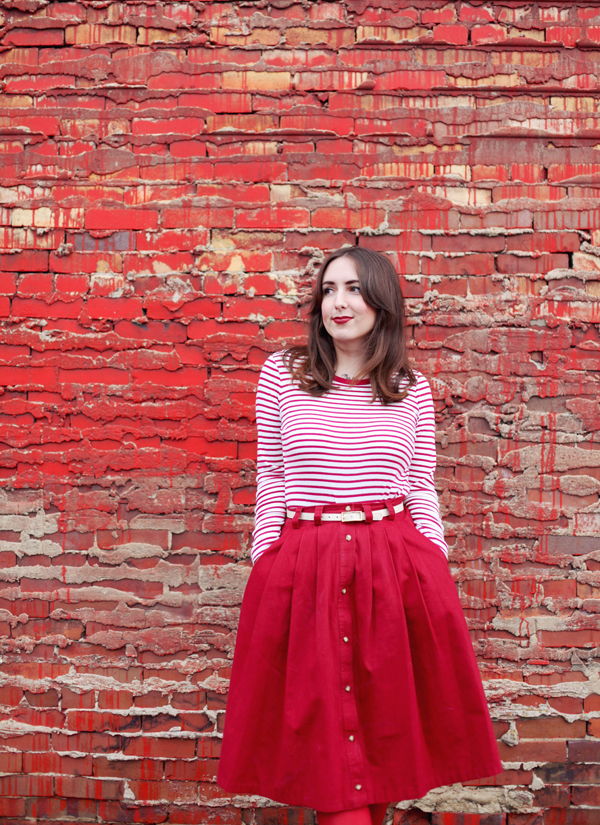 Before the days of blogs, I would spend hours pouring over fashion magazines, annoyed that most of their content was just ads. But now that I'm all grown up (Ha!), I've realized that the ads are half the fun! Such thought goes into styling each ad campaign in fashion magazines, that it's pretty easy to look past their motives and just enjoy them from an artistic standpoint. I mean, it's not like I can usually afford what they're shilling anyways!
The most recent ad campaign that took my breath away was the partnership with Cole Haan and Tavi Gevinson. I just love how old-Hollywood chic Tavi looks, and the red-on-red look is absolutely stunning. Something I definitely want to try out for holiday parties. But I just couldn't wait for a fancy opportunity to try out the look, so I tried a casual version of Tavi's ensemble for Thanksgiving. Plus, this thrifted midi skirt has an elastic waist. Made for Thanksgiving day, methinks!
O U T F I T D E T A I L S :
top here / tights here / similar shoes / skirt & belt thrifted