A New Season of Life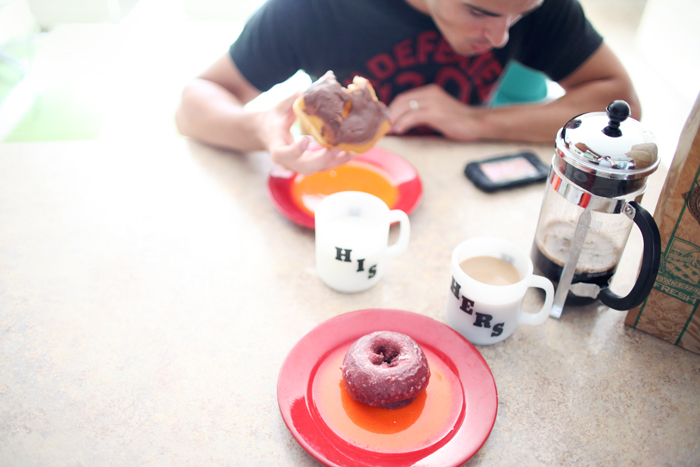 The Johnson family has was catapulted into a season of change when Lucy was born and I got my cancer diagnosis. 2013 seemed like the year our lives were thrown into the air, while we stood on the ground and waited to find out where the pieces would fall. Well, the year's almost over, and finally we're beginning to settle into a new season of life, and it feels pretty darn good.
This year I've been working on a lot of odd jobs, and began to really think about what kind of work would make me the happiest. I was doing photography, web design, blogging, selling on Etsy, writing for Babble, and balancing it all was exhausting! I came to the conclusion that I needed some kind of job outside the home. A job that didn't require me to manage my productivity, e-mails, client demands, and that sort of thing. So when a friend of mine left her job at Starbucks, she offered to hook me up with her old position. So I said yes! It felt incredibly impulsive, but it turned out to be exactly what I needed. I only work about 15 hours a week there, just enough that the paycheck is helpful, but I don't dread heading in to each shift. In fact, I sometimes look forward to it! And I love my coworkers and actually getting to be around real live people, without a computer screen in between us. It was a good opportunity that came along at the right time.
Also, after years of shooting photos for this blog, Phil finally joined me in my photography business this past Summer! I've been shooting freelance for a few years now, but now we shoot together as husband and wife, and the amount of stress that's lifted from my mind is immense. I always know who my second shooter will be now, I know he's great with people, and I know all of our equipment is compatible. Ahem. ;) We rebranded our business and created a new website for our photog biz called Ohio Fresh Photo.
In addition to photography, some of you might remember that I have worked with Freckled Nest doing web design work for a few years now. After my surgery in March, I slowed down my client load, and really enjoyed time away from client work. Freckled Nest is moving in a new direction, so we've all decided to move on to do our own things.
Writing for Babble was another job that came along at the right time, when I was finishing my cancer treatment and was spending a lot of time recuperating at home. It allowed me to work in my pajamas if necessary, and take care of Lucy and things on the homefront. It was a great opportunity, but when I was approached by the girls at A Beautiful Mess to become a contributor for their website, I had to say yes! I've always loved getting crafty and styling shoots, but this personal blog of mine never took off in a way that made such endeavors financially feasible. So working with Elsie and the gang is a dream come true!
It's always a little awkward when I meet new people and they ask me what I do. My friends joke that I wear lots of hats. Literally and figuratively. But I'm beginning to start taking off some of those preverbal hats and streamlining my life a bit. I'm hoping to close down my Etsy shop, Fine & Dandy Vintage, to make room in our home and my life for other things. And after doing that, I'll only have three jobs to lay claim to: Barista, photographer, and project creator for A Beautiful Mess. Whew! Ch-ch-changes! But I'm feelin' good about it all.
Check out my first project for A Beautiful Mess- DIY Porcelain Holiday Tree Lights. They look so cute lit up in our home, and Lucy loves them!