Happy Birthday, Lucy Jo!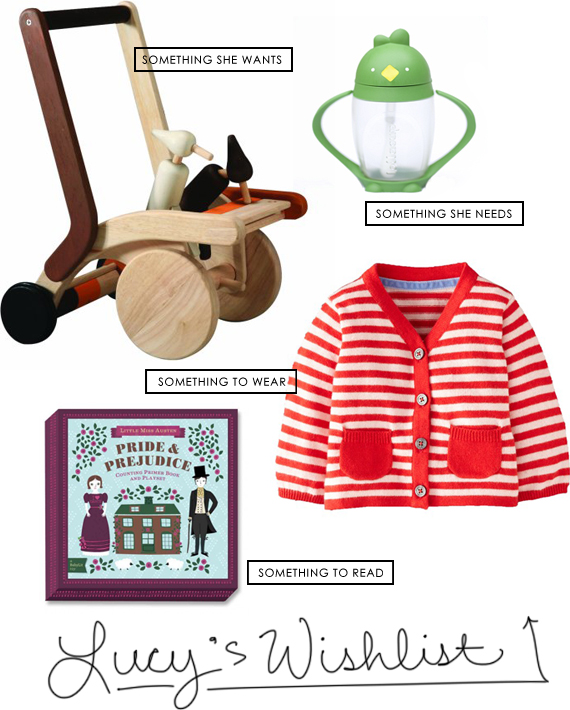 I can't believe Lucy is one year old today! It seems like just yesterday I was sitting in a cafe looking at a picture of a gummy bear sized baby, texting Phil to see what he thought of the name Lucille. Now that little gummy bear has developed a silly, rambunctious personality and a definite appreciation for banging on everything and eating bananas.
Putting together a wishlist for your own kiddo does sort of seem like cheating, but since Lucy can't speak up for herself yet, we went by some cues she's been giving us this past month. Lucy started crawling at around 10 months, and now she's starting to pull herself up on furniture- and my legs- which is the cutest, by the way. I think she's probably ready for this wooden walk behind toy right about now! In addition to exploring her environment, sipping on my straws is probably her favorite thing. She gets extremely anxious when she sees them, practically unable to contain her excitement. The hard plastic ones are her favorite, because they make the greeeeatest noises, apparently. I think now that she's one, she's probably earned a cute little straw sippy cup of her very own! And to keep her warm this Fall, the red striped infant cardigan was basically a no-brainer! Stripes are a classic favorite, also right on trend at the moment, and this bold red version will work if Lucy has a little brother in the future. Lastly, a beautiful, educational little book will hopefully instill a love for the classics in our baby girl. A Pride & Prejudice counting primer and board book!
Phil and I agreed to stick to the basic 4-gift-rule for our children (and plus, it rhymes, so that's fun!), and we're also conscious of buying things that we can mostly reuse with future kiddos. I hope Lucy likes her birthday gifts as much as I do! Or at least I hope she enjoys pulling the wrapping paper off the boxes tomorrow at her birthday party. That will be the best.
this post contains affiliate links