WHAT I WORE | Fringe Benefits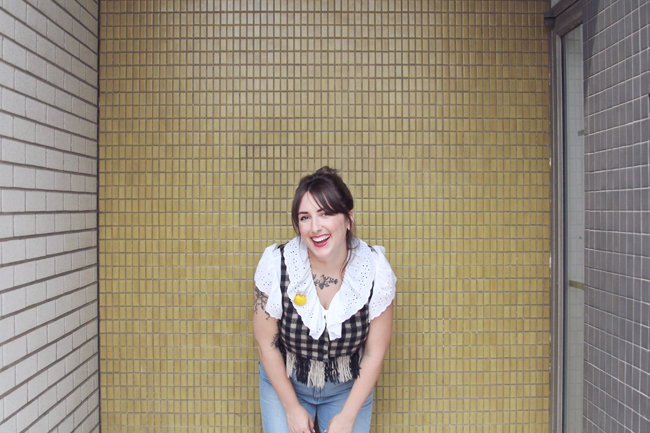 I've come to a crossroads. A decision must be made- keep my fringe, or grow it out? Every Summer, the more time I spend outside in the hot and humid air, the more I get the hankering to grow out my bangs and just be done with the whole sweaty mess on my forehead! I've been mentally making a pros and cons list, and the biggest pro seems to be that bangs are just so fun! I feel like a boring fuddy duddy without them. But oh man- my little mobile baby is rivaling the time they demand every morning. Bangs don't just magically fall perfectly into place, although if that's the allusion I portray, then please allow me to take a bow. Well done, self! But seriously… as much as I hate to admit it, becoming a wash-and-go type of gal becomes more appealing with each day that passes and with each step Lucy comes closer to taking. Redeeming the time in my days might just mean growing out the fringe. Gulp.
But hey. If I decide to nix the fringe on my face, at least I can always wear fringe on my clothes!
O U T F I T   D E T A I L S :
jeans: Topshop | top: thrifted | vest: available at Fine & Dandy Vintage
brooch: Flower Child | shoes: Angel Soft | belt & purse: thrifted
photos by Phil