Paper, Glue, and a Big To-Do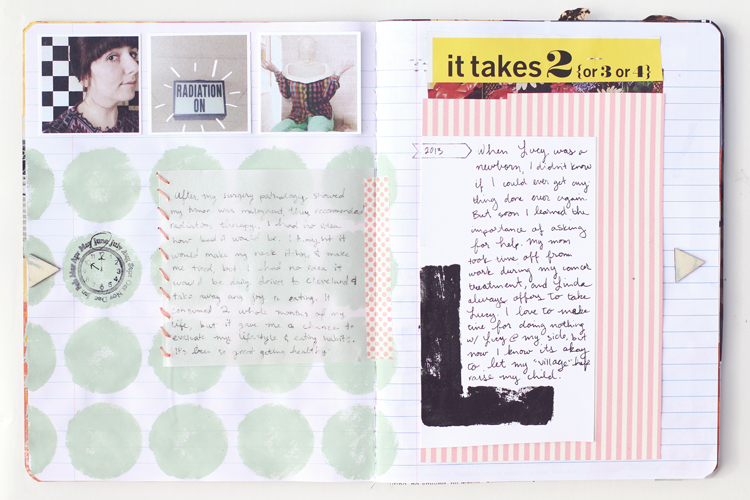 It's always amazing how picking up some paint and a pen can clear my head. But the problem is, I never seem to be able to clear the table long enough to spread out my endless supplies and really delve into an art journal. It always seems like such a big under-taking, though getting back into the habit of journaling has been on my to-do list for an embarrassingly long time. The last time I really worked on a book was in 2011, and while I've dabbled since then, nothing compares to opening up a composition book and filling it with bits and pieces of paper and thoughts.
My scrapbooking friend Vanessa came to visit for a long weekend, and since she brought along her supplies, I felt encouraged to embrace the creative mess and begin an art journal. I'm really excited about keeping up with a book where I can record the little details of my life, from mundane things like shopping lists and frequent dinners to personal thoughts about being a mother and dealing with cancer. I enjoy the creative outlet of putting together little messy spreads with magazine clippings, Instagram snaps, and whatever else I feel like adding to the mix. Nothing about this book will be complicated or intimidating for me- at least, that's my goal. I'll just be adding to it whatever strikes me as important at the time. It'll be fun to see how this book fills out as the year goes on!