Timeline for a Tragedy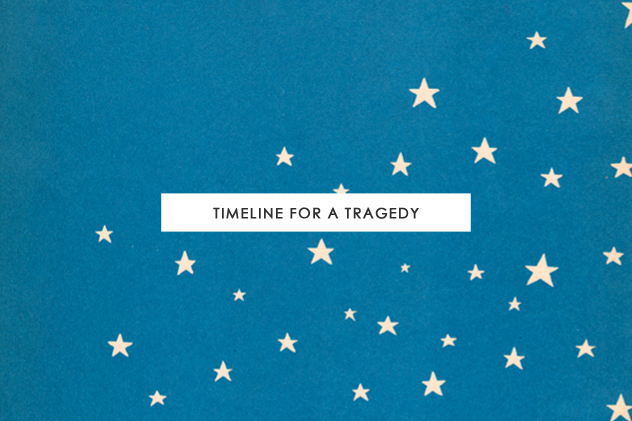 As the shocking news of the Boston Marathon bombing filtered through social media, so did the criticisms for those who continued tweeting and blogging as if nothing had happened. Some were outraged at the insensitivities, while others were ready to give the benefit of the doubt. Maybe they haven't heard the news? But soon it was inescapable. Everyone on social media must have head about it, and while many people were struck with the urge to go hug their brothers, unplug from the internet, and take time out to just enjoy being alive, there were countless other people who had to return to work. They wondered when it would again become appropriate to tweet about the mundane sales their shop was offering, or share photos promoting their recent blog post. For those who were close to the tragedy, whether they were Bostonians, marathon runners, or they were actually there when it happened, the readiness to return to normal activities might take a long time to happen. Perhaps things will never seem the same, though gradually a sense of normalcy might return, and it happens at different times for different people.
Those who have lost loved ones in senseless tragedies like the Boston Marathon bombing and the Sandy Hook shootings will always look at the world differently, and will struggle with anger or impatience for people who chronically complain about the silly things, or #firstworldproblems, like a sniffly nose or a husband's lack of interest in closing cabinet doors after opening them. While I haven't been closely involved in a tragedy, I have been diagnosed with cancer and struggle with the same disconnect from the otherwise healthy and blessed community I'm surrounded by. Sniffly noses and lazy husbands? My reaction is usually not empathetic. I usually think that one should be grateful for the breath that sniffs a runny nose and for the fact that a husband is still around to forget about closing cupboard doors. But if I'm honest with my feelings, this judgmental attitude isn't a more evolved way of looking at life. It's a peculiar mix of a gratefulness for life and a jealousy for those whose problems are smaller than my own. I'm quite certain, though, that anyone who goes through hard times, or witnesses them via the media, has probably experienced similar feelings.
There seems to be an unknown timeline for tragedies. The public is expected to limit and consider what they say on Twitter or Facebook in the light of horrific events. Maybe they should stay silent and disconnect from social media altogether. But for how long? How long do you disconnect from the day-to-day activities that had been a part of your everyday life? And how long do you look at the world with a different perspective forced upon you by an unexpected act of violence or a terrifying medical diagnosis? The answer is different for everyone. For some people it's just a brief moment. For others, it may be the rest of their lives. We all have a different timeline, and I'm still trying to figure out my own.
Do you remember how you felt when you read about the Boston Marathon bombing, and then scrolled through Twitter to see people still complaining about being stuck in traffic or posting ridiculous selfies taken in their bathroom mirror? Did it strike you as disrespectful and trite? When did you decide that it was okay for people to start sharing the parts of their lives that had seemed insignificant after the tragedy had struck? There are people in parts of the world that experience tragedy every day. When do they decide it's appropriate to enjoy and partake in the meaningless details of life after their child dies, or a neighbor is shot down in the street? Should we all live our lives every day in awareness of the fragility of life, or would it cripple our ability to enjoy it? These are all the questions that many Americans were contemplating after the bombing, and they're questions I've been grappling with ever since I prepared for my surgery in March.
I have been given a new perspective on life, only it hasn't faded away with media coverage. If I forget for a moment that I have cancer, I'm reminded when I wake up in the morning and drive an hour for my radiation therapy. Or maybe I'm reminded when I glance at my mounting hospital bills, or see a missed call from the hospital. How do I continue living my life, washing the dishes, taking out the trash, and tweeting about shoes, when I'm now aware, 24-7, of the fragility of my life and the urgency to hold close my family and friends? When do I start regularly blogging again? When will I even care about regularly blogging again? I've been considering the timeline for my own little tragedy. I have been keeping an upbeat spirit, but have yet to figure out how to reconcile my new perspective on life with the realities of my life as it was before my health problems arose. I do enjoy doing crafts. I really love sharing fashion insights. Sure, those are meaningless things, but they add some excitement and joy to my life, so I'll definitely be indulging in them once again. But at the same time, I have gained a fresh perspective on life in general, and I certainly feel it permeating every aspect of my mind and body's activities. I'd like to do more with this space than just adding to the clutter of the internet. So now I just need to figure out how my own personal timeline will unfold.