Jeepers Creepers, Check Out My New Peepers!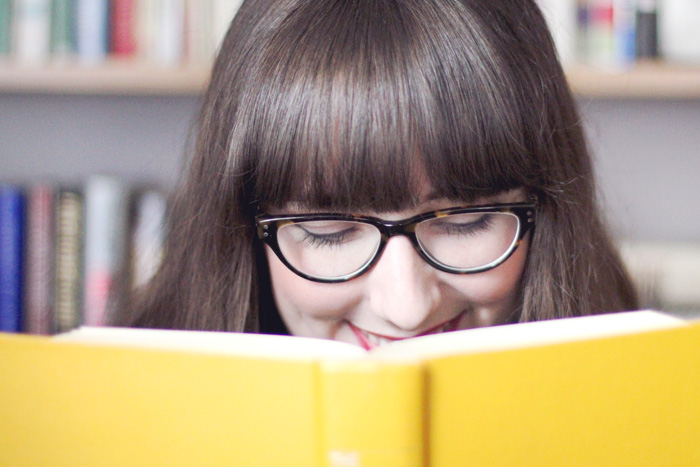 In the contest between cateyes and wayfarers, I decided to call it a tie with a pair of eyeglasses that were a bit of a compromise. GlassesUSA.com has a great collection of men and women's frames for affordable prices, so many nice styles, in fact, that I was afraid I wouldn't be able to choose just one pair! I started out my search by checking out their vintage revival glasses, browsing through frames that were priced between $38 to $254. I ended up loving four pairs of glasses (these, these, these, and these), so I took them all to the virtual try-on page to see what they looked like with my face shape.
The virtual try-it mirror at Glasses USA is helpful, but not perfect. It's difficult to get your face to be the appropriate size comparatively with the glasses, but it at least allows you to see what the frame shape looks like with your face shape. I recommend making sure you get a straight-on shot of your face, and if you have a camera on your computer- it's much easier. And don't worry- if you receive buy glasses and don't like them- you can return them for free!
In the end, I selected this pair, and after having some trouble checking out with PayPal, I called the customer service line, got through to a representative right away, and was able to order the pair I wanted with minimal fuss. Since I checked out over the phone, I had to e-mail them my prescription, and about a week later, my glasses arrived at the door in a nice case with a cleaning cloth to keep them nice and clear. I've really been enjoying these prescription glasses, and feel pretty sophisticated when I wear them. Sophisticated enough to pull out a couple of my old textbooks and take pictures with them! I'm so studious like that.
Receive 30% off your Glasses USA order and enjoy free shipping
with the discount code: MARCH30FS
This is a sponsored review for Glasses USA. For product review opportunities, contact me for a media kit. Photos by Phil Johnson