Thoughts on Facing Major Surgery in March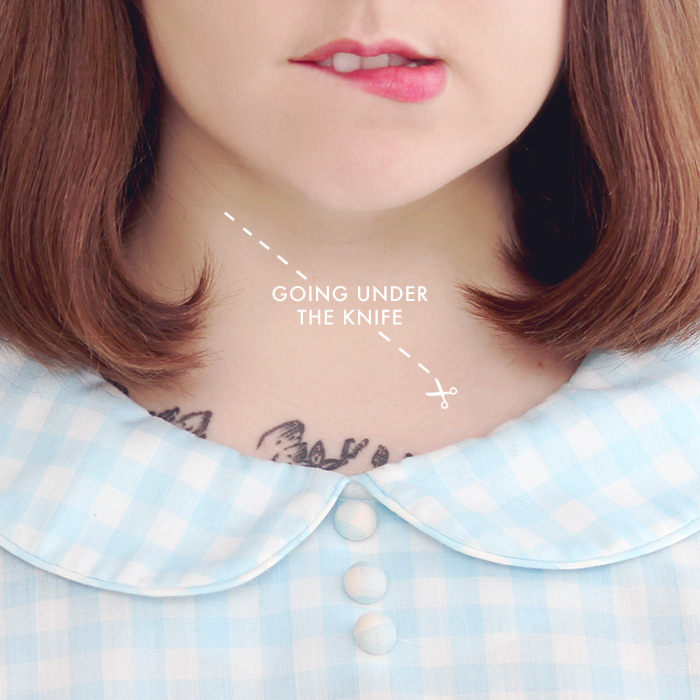 Needles? I can handle those. Between IVs, epidurals, and tattoos, I'm quite a big girl when it comes to facing discomfort. But knives? That's a different matter. I'm no stranger to surgery, but in March I'll be undergoing the scariest procedure of my life.
One morning last April, I swung my feet out from under the covers of my bed, but when I tried to plant them on the floor, I knew something wasn't quite right. I couldn't gain my balance, and I was afraid I might actually tumble to the ground. Hmmm. This isn't normal, I thought. But I tried to go about my day as usual, hoping I would soon feel fine and that the world would stop spinning around me. But I didn't get better, and that night I began a week-long stay at the hospital that ended with a discovery of a Paraganglioma, or a carotid body tumor, that was growing in the right side of my neck. At the time, I was just happy to discover this hidden problem, but due to my pregnancy, the doctors decided to wait to take action, and so I pushed my worries to the back of my mind and focused on the excitement of the new life growing inside of me.
Well, recently the time came to finally deal with my tumor, so I began making trips to Cleveland to meet with specialists, to get tests done, and to discuss my treatment options. After becoming educated about Paragangliomas and joining an online support group for people with this rare tumor, I decided against radiation in favor of a less risky treatment option- surgical removal. In the surgeon's office, I felt very matter-of-fact about the whole prospect. I have a tumor that probably isn't cancerous, and they're simply going to take it out. That's all. It will all be fine. But once I stepped out of the hospital, I began to slip into a bit of a depression.
The removal of Paragangliomas is certainly not without risk. My tumor is about the size and shape of an egg and is nestled behind a bundle of cranial nerves where it's pushing apart my carotid arteries amongst blood vessels that are feeding it. The tumor might be growing into my carotid arteries, and there's a chance that the carotid arteries may need repaired, removed, and maybe replaced during surgery. My surgeon comforted me that he had never had anyone die during this procedure, but there's risk of stroke, cranial nerve damage, not to mention my lingering fear of death, as unlikely as that might be.
I spent many sleepless nights staring into the face of my sleeping baby girl, wondering what her life would be like with a mom who couldn't talk or eat normally. Would I still be able to take care of her like I should? What if I had a stroke and couldn't hold her any more? Or even worse, what if I died, and she grew up only knowing me through stories and pictures? I certainly hyped up the risks in my mind, and needed to snap out of it, because I was slipping into a depression, and I was having trouble focusing on work and enjoying my life.
Thanks to Facebook, I became involved with a support group where people just like me from all around the world shared their experiences and encouragement with me. I met people who had recovered from their surgery pretty well, and after a week, were even able to return to work as usual. I even met new moms who were able to continue nursing after their recovery. Some people shared their stories of dealing with the side effects of the surgery, and they seemed to be coping quite well. Some people were living with a permanent feeding tube, and some were living without their carotid arteries on one side, but they were living. I felt like I could deal with whatever would happen, and I could finally come out of the fog of self-pity and fear.
Health crises always make you think more about what you can do to take better care of yourself. At least, they should. We've been eating healthier in our home and considering consuming fresher, whole foods. I've been told time and again how much worse the outlook for my surgery would be if I were a smoker. Well, the thing is, I was a smoker. For about two years before I became pregnant. And if there was any doubt before, I know now that I definitely won't be going back to that bad habit. The fun of smoking isn't worth the crazy effects it has on every aspect of my health.
Facing major surgery has also forced me to look inward at my emotional and spiritual health. It's caused me to want to live every day with more of an eternal mindset, and to trust in God's plan for my life and for the life of my little family. Sometimes, though, I honestly don't know if God has a plan for my life. I believe in a powerful God, and after looking at the intricacies of my body on the MRI results, I can't deny the existence of a purposeful creator. I believe, too, in the Bible, but I've wrestled with how to apply its promises to my life in this modern age. But one thing I do know is that life is short, no matter how you look at it. Whether you're having surgery, or just getting into your car on the way to work, no day is guaranteed. I believe that putting stock in whatever the world has to offer won't give me much of a return when those things fade away. I thank God for putting encouraging people into my life who are helping me deal with my questions and who are helping me enjoy this time of stillness before the surgery.
So, now I wait. My surgery is scheduled for March 19th, and it's happening locally at the number two hospital in the country for this type of procedure. The head of vascular surgery at The Cleveland Clinic will be in surgery with me! What a comfort! In the meantime, I've been working diligently and scheduling blog posts now so that I can rest and recuperate after going under the knife without worrying about what's happening here on the ol' blog. I'll spend a few days in the hospital, and when I come home, Phil will be on Spring break from teaching, so he'll be able to help Lucy and I get along while I heal and hopefully get back into the swing of normal life. There's a chance I'll need therapy for nerve damage, and there's a pretty good chance I'll have some trouble performing normal functions like talking, swallowing, moving my shoulder, dilating my eyes, and even smiling, as my nerves recover from the shock of surgery. But we'll deal with that if it happens. In the meantime, I'm just trying not to worry too much and just enjoying each day with my little family!