At Home with A Beautiful Mess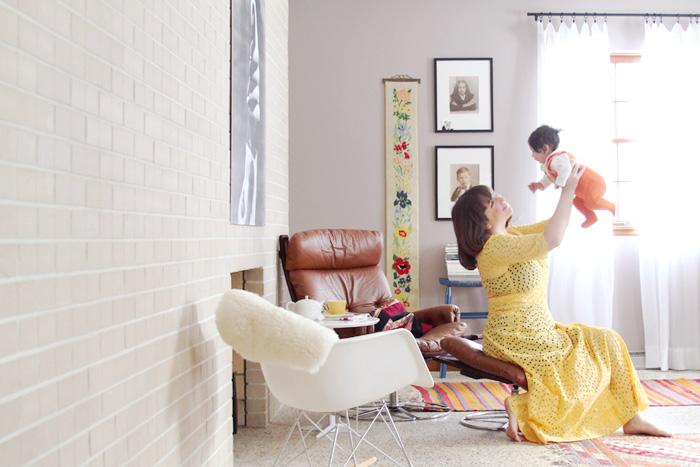 Elsie and the gang at A Beautiful Mess have featured our living room as a part of their "At Home With" series! I appreciated the reminder to capture our home at this moment in time, as this place is like a living creature- constantly changing as the days go by. Head on over to my interview at A Beautiful Mess to see more photos of our living room and to read a bit about our home and my favorite treasures.
L I V I N G   R O O M   D E T A I L S :
Mostly everything in our living room is second-hand or homemade, so I don't have sources for you to find your own. But I did find a similar coffee table here, our shell chair rocker can be purchased here, the ice cream poster can be found here, and the photo frames here. I bought my kilim rugs from eBay and can recommend this seller and this seller. If you're ever in the Canton area, you can shop some of my favorite sources for affordable second-hand home decor- the Route 43 Antique Mall (in Cairo near Hartville), the Medina Antique Mall, and Stagecoach Antiques (Akron).
Our bookshelves were made with poplar wood (7″ pieces at the top, and 14″ pieces at the bottom) and were mounted using standards and brackets that can be purchased at any hardware store. I did have to special order 6″ brackets from here, though. I used brackets that were smaller than the width of my shelves, and on the bottom of the shelves  I used a dremel to notch out the space for the raised bracket edges to fit together with each shelf. If you have any questions, I'll answer them in the comments!