Lessons Learned from My Hero, My Dad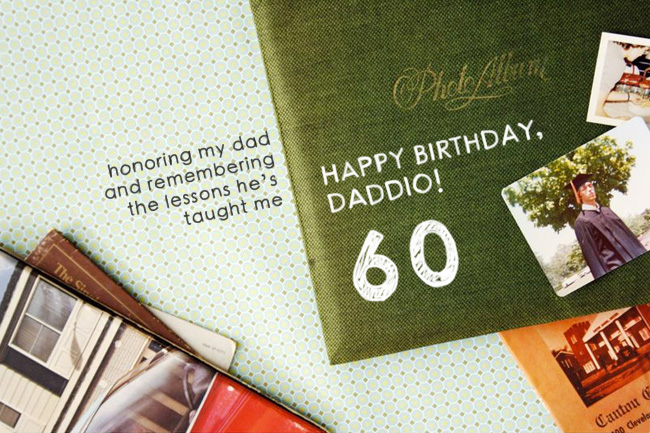 Always persevere and endure- even when all of the odds are stacked against you and you just don't think you can go on. You can. My dad had an undiagnosed brain tumor that made him miserable for ten years, and most of my childhood. Even though he didn't want to face another day, he would rise early in the mornings, make his kids breakfast, go to work, and take on projects to help out the church. Now he is tumor free and appreciates his health every day. If he could work as hard as he did through such sickness, what's keeping my healthy self from giving my all each day?

Just showing up isn't enough. If you're going to begin a project, make sure you set out to do it right. Dad is infamous for beginning what should be a small project, and turning it into a huge to-do. This is because he knows the value of not cutting corners, of paying attention to the details, and of valuing your handiwork. Sure, lots of dads are handymen, but nobody is as meticulously handy as my dad. He makes me want to learn how to master new skills every day.

I'm always so proud when I meet people who know my dad. You can see the respect written across their face. But there's a good reason everyone respects my father. He's the kind of guy who loves his wife and praises her in public, he always offers a helping hand to anyone who needs it, he's really good at everything he does, he doesn't run his mouth or show his anger, he follows through with his word, and he shows respects to other people in his life. This man has never had trouble getting a job, because everyone he's worked with highly recommends him. Seeing how people look up to my dad makes me want to work for other's respect too.

My parents have been married for over thirty years. When Phil and I were still dating, my Dad sat down with me and talked about commitment. At the time, I was confused about love and was afraid of making the wrong decision about who I was meant to be with. He told me, you'll never find the perfect person for you. You should find a good person for you, be a good person for them, and commit to that relationship. There will always be someone better out there, in one way or another, but you have to commit to who you're with, or you'll always be looking. It completely changed my perspective on relationships and prepared me for a successful marriage with Phil.
Ten years ago, my dad was given the opportunity to move across the country and keep his beloved job of twenty-five years, or risk getting laid off if he decided to stay. I remember how torn he was about the decision. He loved his job and it allowed him to comfortably provide for his family. But a move would mean giving up the chance to be with family. He lived within twenty minutes of his parents, most of his cousins, aunts, and uncles. In the end, he decided to stay, because a good relationship with family was more important to him. He kept his job for a short while longer, but when looking for a new job, he still decided to take a lower pay so he could stay around family. Friends come and go, but a good family is a blessing that lasts forever.

Sure, my dad isn't mute, but he's certainly not a chatterbox either. Well, that is, unless we're talking about the subject of a documentary he's watched recently or about a design project he finds interesting. My dad just isn't the kind of guy who's always giving out advice. He rarely criticizes, gossips, or talks negatively about people. This means that when he does have something to say, you better believe I'm listening. James 1:19 says be quick to listen, slow to speak, and slow to become angry. That's my dad!

Dad isn't a time waster. He rises early, works on a lot of extra projects, and is efficient about accomplishing everything on his to-do lists. But he always has time to enjoy a cup of coffee, sit down with me to watch an old movie he's already seen a hundred times, play in a volleyball league with his son and daughter (me!), suggest going out to ice cream at every opportunity, and host card parties at his house. He's taught me that as hard as you work, you should also relax and enjoy the wonderful things in life.