WHAT I WORE: White Lapel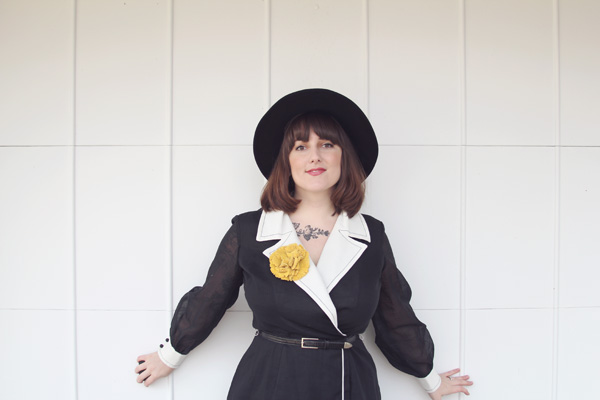 Sometimes people ask me for advice on how to dress for your body type. I have mentioned once or twice that I tend to be a bit headstrong about what I wear, taking no heed of social norms or fashion faux pas. But if I'm really honest with myself, there are certain cuts and styles that flatter my body type, and I do feel better when wearing them. Right now a big thing for me is playing down my bust and hips.
I don't really know the rules of how to dress for my body type, but I've certainly had a lot of trial and error, and I can certainly say that this dress makes me feel great! And I think I've figured out why. I think the large lapel helps to balance out my larger bust, and the large flower also draws the eye up and away from my boobs. The a-line skirt is also flattering because it accentuates my true waist and doesn't hug my hips at all. Makes me feel confident enough to trump around in polka dot tights and a big, black hat!
O U T F I T   D E T A I L S :
hat: Avenue Antiques (Canton, O.) | flower: Secret Past (Cuyahoga Falls) | belt: my grandmother's
dress: Olive You Vintage on Etsy | tights: ASOS | shoes: Clever Nettle on Etsy