Funny Face 1957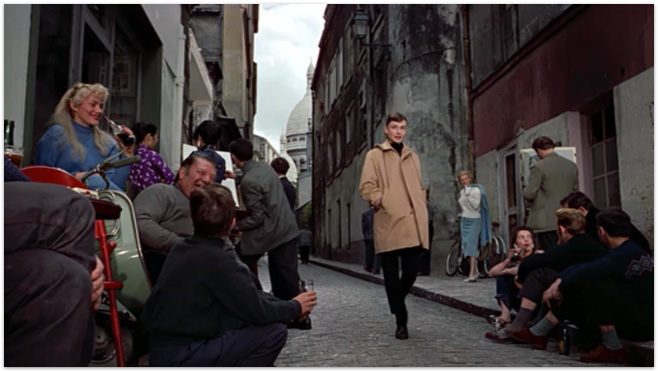 There's something so magical about musicals from the '50s that instantly makes my heart feel light and pushes any of my worries out of my mind. Maybe it's the technicolor scenery, the Gershwin tunes, or the fact that even Fred Astaire can still play a leading man after 25 years in show business. But I'll tell ya- this stuff is as magical as it gets!  I hadn't seen Funny Face in many years and had forgotten what a delight it is. From the opening credits to even Audrey Hepburn's solos, I adore this movie!
Dick Avery (Fred Astaire) is a seasoned fashion photographer working for a leading women's magazine, Quality. But the newest issue of Quality Magazine seems to be lacking something, and the editor isn't sure what. They try taking the models out of the studio and into a bookstore for a change of scenery, turning the place upside down and infuriating the skinny little shopgirl, Jo (Audrey Hepburn), who has to clean up their mess. Dick stays to help her and becomes impressed with Jo's "funny face" (give me a break, right?!) and sharp mind. When the editor decides the magazine needs to find an every day women to be the face of the magazine, or The Quality Woman, Dick suggests Jo for the part.
But Jo has no interest in fashion, as she would rather have her head stuck in a philosophy book. They finally convince her to model for them by promising her a trip to Paris, where she can have the chance to meet the French philosopher she idolizes, when she's not working at a photo shoot. Dick and Jo begin to fall in love through the coarse of their photo shoots, but things start to go wrong when Jo finally meets that French philosopher, and finds that he's actually a younger, quite good looking man. And she won't believe Dick when he says that the philosopher is interested in more than her brains.
I think I first fell in love with Funny Face as a little girl, because the dramatic Cinderella makeover plot always fascinated me. Of course, it's really  a little silly, because Audrey Hepburn never looks dowdy even before her couture makeover. But as My Fair Lady proves, it's hard to resist an Audrey Hepburn makeover story, right? Now that I'm older, I still enjoy a Cinderella story, but I was pleased that while Jo dons pretty dresses for the magazine shoots, she doesn't give up who she was, and even a 1950s movie doesn't make bookish women appear undesirable.
One of the main draws of Funny Face is the impeccable styling of each scene, and, of coure, the fashion! Oh, the fashion! It's such fun. I also enjoyed the cultural comedy, pitting the French beatniks against the corporate couture-pushing Americans. There's a lot of humor to be found in that- humor that's still relevant today! (Think: hipsters and yuppies collide!) It's a great movie, fun for the whole family, and even if you've seen it before, you should watch it again!