Risking a Blog Relaunch & Selecting a Platform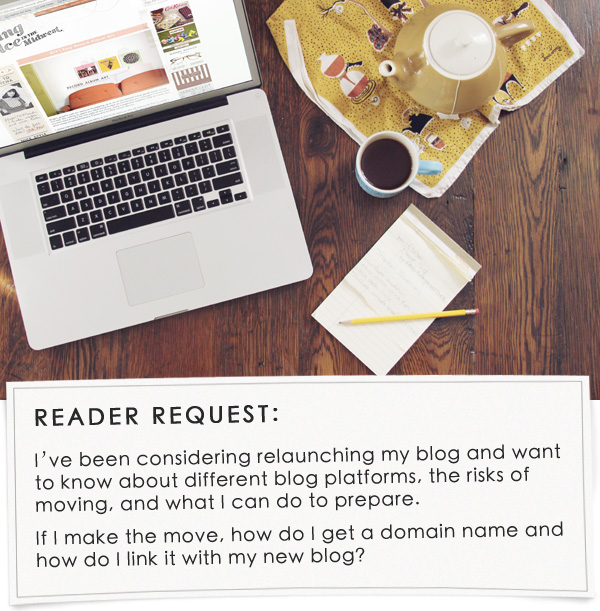 I had been wanting to do it for over a year, but it took the exciting rush of a creative conference to really get my wheels spinning. Should I actually completely uproot my blog? Would I lose my readership base and my subscribers? Would it really be wise to start over after four years at the same blog? But I was itching for a fresh start. I had outgrown my old blog- its design needed reorganized, my content had shifted drastically, and I was giddy over the chance to revise my blog's entire image.
When I finally made the change, I received a lot of e-mails from people who wanted to do the same kind of relaunching of their blog, but had a lot of questions about how they should prepare and how to go around the technical aspects. It's a lot to tackle, and even I didn't do it all without a lot of help.

I had been blogging for four years at Here's Looking at Me, Kid (the old design has been taken down but you can be see bits of it here), but as my content was changing, things began feeling disjointed, and quickly got to the point where I definitely needed a redesign to reorganize  This entailed a piercing review of my old content and lots of brainstorming and serious thinking about new content. I realized what I was headed for was actually a huge overhaul, not just a simple switching of design graphics, so I got this crazy idea to abandon my old blog and start fresh. And then, I did it! What. A. Rush.
After the move, I felt a renewed sense of excitement about blogging, and an ambition that I hadn't experienced at my old blog. With my new organization and brainstorming, I have more structure to my blog's content, I always have a rough schedule in mind, I easily prioritize categories, and I am happy with the overall aesthetic. Starting fresh was such a good decision, I can't believe I had put it off for so long! Sure, I did lose followers in the move, but  I also gained a lot of new ones. Those who left? Well, we had simply grown apart as my blogging metamorphosed into something different than it had been. That is to be expected. But the sad part is, I know my old blog gets a lot of traffic from links around the web to popular posts that still live there. I could go into each individual post and link to where they can be found here at Making Nice in the Midwest, but I just didn't want to deal with the hassle. I decided to just let it go and use that as motivation to create new content here that is even more appealing than what people are checking out at my old blog.
So if you're considering making a clean break and relaunching your blog, I would consider a few things. Have you outgrown your old ways of blogging and feel like your current blog is bringing you down? Do you wish you had chosen a different name, any other name, for your blog? Do you need to completely reorganize and rebrand your current blog? If you answered yes to those questions, then I'd say a move is in order! Sure- you have concerns too. What about losing followers and links? Well, unless you're already a very successful blogger, your popularity is less about staying somewhere familiar to your current readers, and more about the quality of your content and marketing of your content. Take the energy from worrying about losing followers and put it towards working on fabulous new content that will make their move worth it and make them want to share your new blog with their friends!

When I first started blogging, I had no idea what I was doing. I had only created a Blogger account so I could comment on other blogs, but then I found that sharing my own stuff was pretty fun. Five years ago, bloggers I admired were using Typepad. I didn't think too much about it- I just liked their blogs and so I decided to move from Blogger to Typepad. I spent many late nights figuring out how to customize the least expensive blog package Typepad offers and was really happy with that until I had all of these new fancy ideas that required custom CSS, which meant getting a pro account, and thusly, paying more money. That's right- blogging isn't free! After I started designing blogs for people who had a variety of blog platforms, I started to learn the ins and outs of all of them and decided I liked WordPress best of all. But here's a little bit about the three I worked with and what I like and dislike about them.

 Blogger is great first and foremost because it's free. But because it's free, it's not going to have all of the bells and whistles of a service you pay for. Customizing a blogger template is possible, but working on your own you'll probably have to keep it simple, unless you are really handy with CSS and html, or unless you are working with a designer. I have mentioned before that it's nice to keep your blog's design simple anyway, so this isn't necessarily a deterrent. But because you're not in control of hosting your blog, its load time can be slow, and sometimes unpredictable. Also, I've heard (on Twitter) of Blogger deleting posts or just not working sometimes. That's gotta be frustrating when you're trying to prepare a post for the morning!
When posting full-width images on Blogger, you will need to enter custom html and host your images elsewhere to get them the size you like, because Blogger will shrink and center them, depending on the template you are working with. It's a hassle to upload your images elsewhere and write the html to get your images to appear nicely, when platforms like Typepad and WordPress will do that for you right within their editors.

 I really liked the years I spent with Typepad. They have good customer service and launched new features occasionally that made it easier for me to do what I needed to do. Organizing all of my sidebar content was much easier than with Blogger's design templates, and changing up widgets was no problem. Posting was super easy, reviewing my drafts, seeing when posts were scheduled, and everything to do with editing a post was wonderful. But Typepad started losing points with me when I began designing blogs for other people using WordPress.
Unlike WordPress, if you want to have a design more complex than simple sidebars, header, and post body, Typepad requires complicated CSS that doesn't allow for easy editing of the layout as time goes on. If you have to change things about your sidebars or navigation bar, it's you'll have to wade through the custom CSS and hope you don't delete something important.

 When I first used WordPress, I was a little confused about where everything was, only because I was used to Typepad. But I learned about my dashboard really quickly. It seemed intuitive, and after a little playing around, I felt very confident. I worked with a developer in putting together this blog, and we found plug-ins that could customize my post editing features, dashboard items, back-end userability, and all kinds of other fun things! It was like if I wanted to do something I didn't think was possible, I could suddenly do it with a new plug-in. I felt no design limitations at all. And since my design launched, I've been able to easily change things around without ruining any lines of confusing code.
WordPress offers two types of services- a dot com and a dot org service. The dot com is free, but you can't upload your own template and since it is hosted there, if you have high traffic, your blog might load really slowly or even be down. If your blog is just starting out, and you just want a simple template that you can tweak, the dot com service is great. But you can't host your own domain with it.
I use WordPress.org, and can host my site and domain affordably with Jaguar PC while having all of the customization of design and ease of use that WordPress.org's software offers. The dot org version of WordPress also has wonderful plug-ins you can use that make possible pretty much anything you want your blog to do. I never feel restricted when designing a blog with WordPress.org, and I love that even a complex design can grow with a non-tech savvy user because of how the widgets are easily laid out in WordPress's software. I have no problem manipulating my sidebars and swapping out content, and there's no fancy codes I need to look through to do so.

When I decided to rename and move my blog, I first had to search to see if the domain was available. I did this using GoDaddy, because that's where my old domain was hosted. But after I found out www.makingniceinthemidwest.com was available, I consulted with my developer about hosting it, and she recommended using Jaguar PC, because of it's affordability and her good experience with it. I pay an annual fee for my domain name, and about eight dollars a month for them to host my website at WordPress.org. You can buy web hosting packaged at Jaguar PC according to how much traffic you receive or how much bandwidth your site will use.
Purchasing my domain name and web hosting package at Jaguar PC was really easy, and I was even able to speak with a customer service representative to make sure I had done everything properly. After making the purchase, I was at a loss as to linking everything up with my WordPress.org account. It was making my head ache, and I preferred to focus my energy on my blog's content for launch, so I left all of those details up to my Freckled Nest developer who was helping me with back-end work. She not only transferred all of my archives from my old Typepad blog, but she also did all of the domain mapping at WordPress.org so I wouldn't have to. Such a relief!

Preparing everything for the relaunch of my blog was so overwhelming! So I broke it down into smaller, more manageable tasks that weren't so intimidating.

First I created a rough design for my new blog and a logo for the new name. This was really exciting and motivated me to do all of the organizational work before I refined my design. For those of you who don't know, I do blog design work at Freckled Nest, and create fully customized blogs. Designing my own blog, though, was so tricky! I have a friend who says to never design your own identity. So. I considered farming it out, but in the end finally settled on a design that I love. I tried to keep it simple, but tucked away fun little details that make my new design memorable, yet a bit more professional than my old scrapbook-styled design.
The design aspect was more than just designing and putting together graphics. I had to decide on what elements were important to be seen, how they should be grouped, and where they should be for easy navigation. I thought since you read left to right, I wanted my most important first impression stuff there- minimal social media links, an about-me, and my major categories. The navigation bar at the top would be just for functional links not pertaining to my blog content. And the right sidebar would be to feature advertisers. I did add two more fun elements that I thought would engage readers- featured posts at the top right, and reader favorites at the bottom. This is great for first-time visitors to see other content that might interest them, besides what's on the front page.
Sizing details shouldn't be decided on haphazardly either. I kept in mind an overall width of my blog's page (975px) for easy viewing on mobile devices, and then decided on my post body width (570px) for images that were big enough to be the central focus of my blog, but not so big that a vertically oriented image couldn't appear on one page without a reader needing to scroll to see the rest of the image. After that, I decided on sidebar widths, and began creating my images for sidebars and special pages. If you're unsure of what width to make your sidebars, you should know that there are some standards that advertisers often use (try checking the widths of ads on popular blogs you read). And for non-sponsored sidebar content, just remember to keep it simple, not too big, and not too wordy. You want your content to shine!

The biggest benefit of relaunching is the opportunity to step back, review, and organize your content. I literally reviewed every single one of the posts in my archives, which was absolutely exhausting, though admittedly really fun to reminisce at times. It took about a week to review all of my archives (over 1,000 posts), and during this time, I deleted old embarrassing posts and took notes  on what kind of content hasn't worked for me in the past, and which ones I should continue and build upon.
Relaunching is a great chance to refocus your content! What kind of features are you really good at and enjoy doing? These will be your most frequent posts, so you should give them a prominent place in your blog's layout. This is is why  revaulating your blog should be done before you get to work on a design. For my blog design, I have headings for each major topic, with specific category links below them. Some just link to all posts that are tagged with that category, while my most popular and plentiful topics have directory pages. It can be really difficult for readers to explore your old content without directories, because it means scrolling through pages and pages of posts.
For my directories, I settled on a page with tiled images that linked back to my old content. To determine the size of the images that would be tiled, I took the width of my page (570px), subtracted the width of the buffer space in between the images (about 8px in between each, so 16px), and then divided by three. I created thumbnails for my directories, adding text to some (like my Movie Monday directory), creating mouse-hover text on others (like my DIY directory), and leaving others with just text-less images (like my Wardrobe directory). Each thumbnail links to the post that corresponds, so readers can quickly and easily decide what they want to look at, without having to scroll through pages of my archives. This also lets them see, at a glance, what kind of content is actually available. Maintaining directories is work, because you have to create thumbnails for each new post in that directory, insert them into the page, and make sure it links correctly. But if you do this once a week, it doesn't take long and is really great for your blog's navigation!
Relaunching your blog is the ultimate opportunity to be well organized, to create a clear vision for your blog, and to rebrand your blog's aesthetic. It's a lot of work, it's intimidating, but coming from someone who took that risk- it can be totally worth it! If you like the idea of relaunching your blog, but know you're not up to all of the work of designing and organizing your content, I and the other ladies at Freckled Nest would love to assist you on your journey to creating the blog of your dreams! And don't forget, if you have questions, because my rambling blog post confused you, just pop them into the comments section below and I'll chat you up.