WHAT I WORE: How This Girl Wore a Turtleneck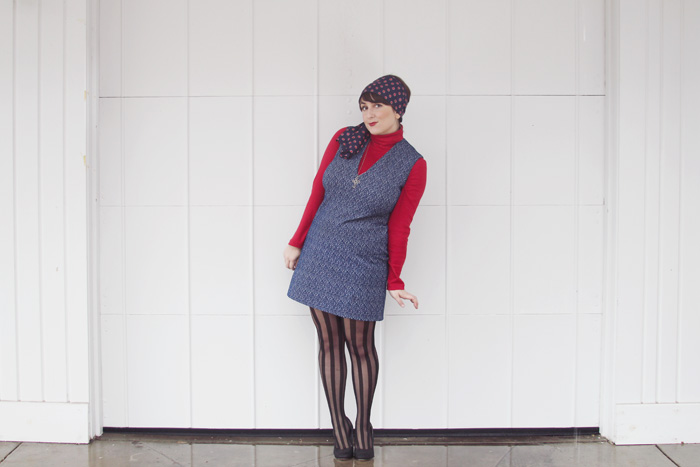 So, I guess turtlenecks are back in?! This is good news for people with poor insulation who live in the north. (Me! Me!) Although I'm pretty into vintage fashion, I'm still somewhat swayed by modern trends. As an avid blog reader, I'm inundated with posts from fashion weeks all around the globe as well as collection reveals from designers months before they're scheduled to be released in stores. This means I've been seeing turtlenecks for a while now, so maybe through osmosis my brain started to think to itself NEED TURTLENECK(S).
So now I have two turtlenecks! Wonderful. But with my larger bust (Hello breast milk factories. Ugh.) and recovering postpartum waistline, I wasn't ready to sport my new turtlenecks with just a skirt or pair of trousers. That just wouldn't have been flattering at all. (Believe me, I tried. And almost cried.) So, I headed out to the thrifts and found one flattering scoop-neck jumper for two dollars (yippee!) and then stumbled on this particular vintage blue jumper from Thrifty Vintage Kitchen on Etsy (the shop owner, Christy, is a Making Nice in the Midwest blog reader!). The v-neck is perfect to balance out my bust and the height of the turtleneck. So hooray for me! I can wear a turtleneck and feel good about myself. And warm.
On a side-note, Phil and I realized just how poorly insulated out attic is. We were the only house on our street with melting snow on our roof. I guess that explains our gas bill! Oops!
O U T F I T   D E T A I L S :
turtleneck: Macy's (grab one- they're on sale!) | jumper: Thrifty Vintage Kitten | tights: ASOS
shoes: ASOS | necklace: family heirloom | scarf: hand-me-down from my "second-mom"