A Fashionable Resolution: Wear Hats with Confidence!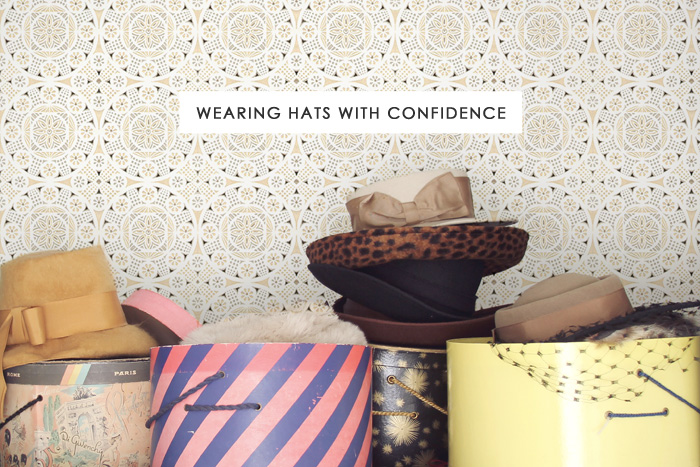 I felt all eyes on me the first time I wore one. Sure, I had worn winter caps and slouchy berets before, but the first time I took a real chance and wore a vintage hat in public, I was terrified. Would I look like a goon? What would people think? But it was 2010, and this was the year I had firmly resolved to wear more hats. Although stepping away from the mirror and stepping out in public, I was so close to giving up on the whole silly New Year's resolution.
Maybe it was the fear of what horrible hat hair laid beneath, but I resisted the temptation to leave the hat in my car, and to my surprise, I received so many compliments and delighted looks throughout my whole day! When I got home and put my hat back into its box, my feelings of insecurity had been changed into the heroic sentiments of a do-gooder. Really, wearing hats does make the world a bit of a better place!
It's true that wearing a hat these days can take quite a bit of courage. They're an endangered species, so wearing a hat will steal your anonymity and invite attention from strangers. But if you're like I was, always admiring women who wear hats and wishing you could pull it off, you might decide to make a fun resolution this new year and commit to giving hats a chance. What's there to lose? Okay, so there's a little at stake. You don't want to waste your hard-earned dollars on something you might never wear. So you'll want to find a hat that you can wear with confidence. One that seamlessly blends in with your wardrobe and makes you feel like Audrey Hepburn reincarnate. Or Anna Karina. You just want to exude awesomeness. So let's talk about some guidelines and tips that will get you to Awesometown.


Some might say the most important thing to consider when choosing a hat is your face type. But I believe the most important factor in hat selection is your personal style. When I first started wearing hats, I had a variety of styles that I would wear, depending on my outfit, but now that I've refined my personal style, I seem to go for the same type of hat over and over again. My style is preppy with plenty of 1960s influence, and after browsing fashion photos from that era, I found that I really liked the look of a rolled brim schoolgirl hat. If you already know your personal style, I have some ideas for hat types that might fit in nicely with your wardrobe.
Bohemian: slouchy berets, floppy wide brims, large fur hats, wide brim fedoras
Preppy: structured wide brim hats like picture hats, bretons and boaters, structured berets, cloches, fedoras
Tomboy: newsboy cap, fedoras, bowlers, boaters, ball caps, beanies
Vintage glamour: smaller pill-box types, fascinators, structured wide brims, wide-brim cloches
Grunge: bowlers, slouchy berets or beanies, structured rolled wide brims, ball caps

When I cut my hair, I was surprised to find that most of my hats looked better without long locks hanging limp past my shoulders. When it was really short, picture hats and cloches worked great, with little bits of hair peeking out around the crown. And when my hair was longer, I found that my vintage styled hats looked great when I wet set my hair and styled it in an vintage fashion (like here and here). I believe that hats can work with any face shape you have, but your hair style really plays a big part in making them work. I suggest finding a hair stylist trained to find a style suited to your face type, but while considering what hat type to go with your current hairdo, just remember that balance is key.
Long bohemian hair: beret. fedoras, floppy, bowlers
Pixie cuts and bobs: cloches, picture hats, bretons, rolled brims, floppy wide brims, some pill box styles
Shoulder-length: cloches, wide brims of any kind, fedoras, pill box styles (better with curls), boaters, bowlers
Bangs: hats that go up away from your forehead, or if they do come down, are wider, like a wide-brim cloche

I think any hat-wearing rules based on face shape are trumped by proper hair styling techniques. I also think that trial and error is the best way to find a hat type that will work with your style and facial appearance. Nevertheless, there are some set millinery standards for matching hat styles with your face shape.
Round: Look for wide brim hats, angular hats, and cloches that balance out the soft shape of your face with harder angles.
Heart & Triangular: Try wide brim hats, picture hats, rounded styles, and styles that go up and away from your forehead.
Square: Soften the hard angles of your face with rounder styles, and stay away from brims that come out from the side of your face, like a fedora or boater worn straight.
Long: Look for hats that come down onto your forehead, or style them so that they do. Tilt wide-brim fedoras over your forehead, utilize floppy hats, and try cloches.

This one's kind of a no-brainer, but still, it's something that should be considered with choosing a hat. Wool and fur hats are great for the wintertime, whereas straw and floppy hats are typically reserved for the summertime- although sometimes you can find wool hats in a floppy style too. There's no need to over-think this when selecting a hat- just don't wear a wool hat in the Summer, or you might melt away.

If you're still unsure about wearing hats, don't give up yet! Something as simple as finding the right size for your head can make you love or hate wearing a hat. A too large hat will not only look silly, but might keep falling off, causing a lot of stress to the wearer. When my hats are too small, they also fall off, which makes me feel anxious the whole time I'm wearing it. Not worth it. So, find a hat that fits!
How you wear your hair will also affect how hats look on you. Lots of '40s to '60s era hats were designed to be worn with more elaborate up-dos than we typically do in our modern culture, so they might look out of balance if you have straight hair, especially if it's long. Something as simple as a side chignon might help, but if you really love older hats, you might want to experiment with some vintage hair styles (like this one, perhaps?). You might also try pinning back your bangs for styles worn low on the forehead, or part them off to the side.
Smaller hats, like a pillbox style, need the assistance of pins to stay in place. Even larger hats can benefit from the use of a hat pin, especially if the crown is shallow. I wear a pin mostly every time I wear a hat that isn't super snug. To wear a hat pin, you'll need to have a foundation to pin it in, so if your hair is down, use hairspray and tease the hair at the place you wish to pin the hat (usually at the base of your head, or wherever works to keep the pin in place). If your hair is up, you'll probably also want to have it teased, and sometimes even just having bobby pins in place can create a great place to slip a hat pin. To use the pin, pierce one side of the hat, then put the hat on your head, push the pin through the teased hair or bobby-pinned area, and out the other side of the hat.
One last tip I have is for those who may be a bit shy about wearing hats in public. Especially for the bolder hat, I suggest pairing it with a simply styled outfit. A basic black dress is nice on its own, but worn with a stylish hat, your simple dress can become a really chic outfit, and nothing to be shy about!


Would you believe I've never been to a millinery shop? I live in a smaller city, and have never come across a hat shop for women. But I do know that larger cities have millinery shops where you can buy quality hats that are handmade and sized perfectly to your head's shape and size. Keep in mind that a new hat from a millinery shop will be an investment, so make sure you know what you want before making a purchase.

I bought my first nice hat at a vintage shop. Usually you can find lots of different styles and sizes at a well stocked vintage shop, and it's lots of fun to try them all on and experiment with different styles. Depending on where you live or depending on the particular store, vintage shops can be a pretty affordable place to get a hat. In the northeast Ohio area, you can find a hat anywhere from $10 to $100, depending on the quality (minor flaws are expected with worn vintage) and depending on if you're looking at a designer item. Most of my hats from vintage shops were purchased for around $10 to $30. If you're a regular visitor to your area vintage shops, you could probably score a return customer discount, if you charm the local shop ladies!

I wouldn't recommend buying hats online until after you've found a style that works for you and you know your hat size (or head circumference). I have never bought a new hat from shops like Topshop or ASOS, because they are usually one-size, and not all heads are the same size. If you have an average head size, maybe you won't have any trouble. But I didn't know I had a larger head until I started trying on hats at a vintage shop. Once you know your size and style, the best way to find a hat on Etsy or eBay is by searching for a specific style or decade, and then reading each item's description to check out the size. Most sellers don't put sizes in the title, so don't bother searching for sizes- you might miss out on some great hats that way! Also, be aware that a lot of sellers don't know hat terminology or dating, so if you have some time, you should look through results for broader search terms like "wide brim hat," "black hat," or "round hat."


I'm usually the first person to ignore rules when it comes to fashion. But if you have a hat you really love, you'd better take care of it! Many hats aren't made to be worn in rain or snow, so pay attention to the fibers in your hat when deciding what to wear for the weather. Wool will resist water for a short period of time, but then will soak it up, possibly resulting in shrinking or reshaping. Leather and fur could also be damaged by water, so be careful! Besides the weather, you should also consider the design of a hat when deciding how to wear it. For instance, if a hat has an elastic band, most likely the band is meant to be worn behind the neck under a fashioned hair style. If you wear the strap under your chin, you risk damaging the strap or even causing it to pull a hole through your hat.
Be mindful of how you store your hats when they're not on your head. Sometimes I hang my hats on the wall and change them out with the seasons, but if you are storing your hats in a room with sunlight, you will definitely want to keep them in hat boxes to avoid the fading that will occur with sun damage. Boxes also keep your hats dust-free and safe from getting crushed. If your hat did get crushed somehow, try using steam to soften the felt or straw of the hat and work with your hands or a form to reshape it.

As you all know, I'm not one for rules in fashion, but hat etiquette is about being polite to those around you, not about following rules. Women are lucky in that they can wear hats indoors for almost any occasion (fashion hats, that is, not unisex hats like ball caps). But you should remove your hat when participating in audience events, like concerts or sporting events, where your hat might block someone's view. If your hat is small enough not to block anyone's view, go ahead and leave it on. You'll also not want to wear a hat when working indoors or when hosting a party in your own home. But at all other events, even during the playing of the national anthem, women need not worry about removing their fashion hats.