Vegan & Gluten-Free | COCONUT BROWNIES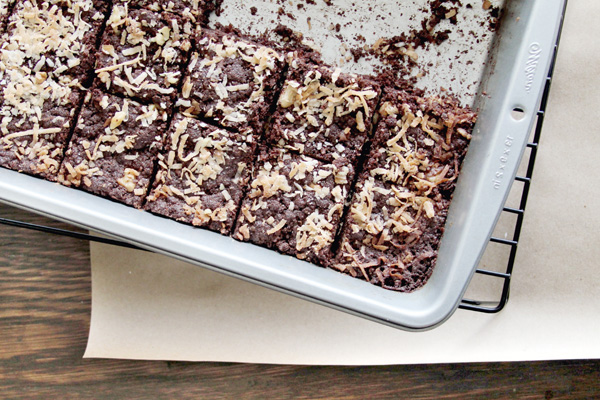 After inadvertently going a whole month without chocolate (!?) I needed just the right fix. Buuuut something without flour, dairy, or eggs, thanks to the diet I'm on for baby Lucy. Well, that made things interesting! But with a little help from my friend, Bob (of Red Mill fame), I concocted this semi-homemade vegan/gluten-free version on my favorite chocolatey standby. Oh, and I was delighted to find that these coconut brownies tasted even better the next day!

2 Tablespoons of milled flax seed
6 Tablespoons of water
2 teaspoons of vanilla extra
3/4 Cup of vegan butter spread (like Earth Balance)
1 Cup of shredded coconut (sweetened or not – your preference)
optional: 1/2 cup of chopped walnuts

First you'll need to make your egg substitue, which is done by combining the milled flax seed with the water and simmering the mixture on the stove for five minutes. The egg-like result is kind of amazing! Now melt the butter spread and add to it the flax seed mixture, vanilla extract, brownie mix, and 3/4 of the shredded coconut. Blend with an electric mixer until just combined. The batter will be super thick. Now hand stir in the chopped walnuts and then press the batter into a 9×13 pan. Top with the remaining 1/4 cup of shredded coconut and lightly press into the batter. Bake at 350 degrees for 20 minutes.
Be very careful not to overbake the brownies! After baking, allow the pan to cool for only a couple of minutes and then cut out square pieces with a plastic knife. They will be very sticky, so be sure to really grease up the pan before baking or line it with parchment paper. And as I mentioned before, the brownies are even better the next day! Breakfast? I won't tell!