DIY | Perfectly Fluffy Pom Poms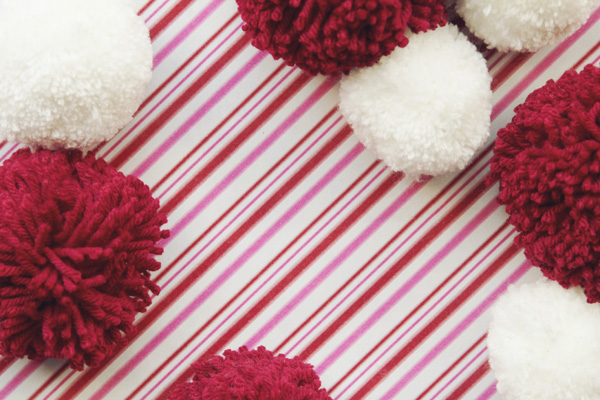 The perfectly fluffy pom pom can be a frustrating thing to make! I've done my fair share of pom pom making, and finally discovered the perfect way to make them- without even needing to shape them with scissors at the end. Finally! Another multi-tasking craft to do while watching Netflix in the evenings.
I used my pom poms to make a garland over our windows and to decorate wrapped gifts. (I'll show you those later!) But for now, here's how you can make your own- and if you're interested, here's the video I watched to learn how to make them.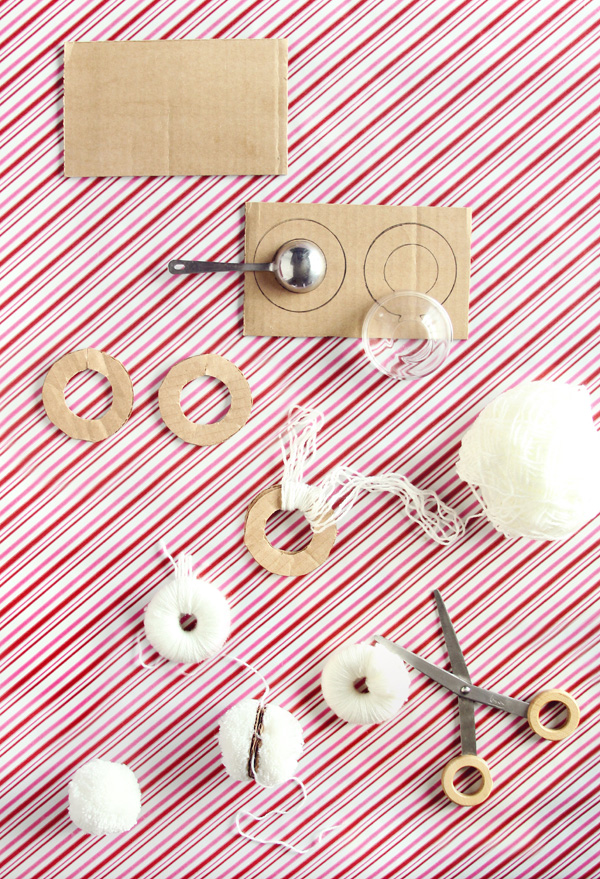 Find a small piece of cardboard (I used a flap from a cardboard box) and trace a circular object from around your home, and a smaller one inside of it. Do this twice and cut out around the circles and inside of them. It's okay, and even helpful, to have a slit on your circle in order to cut out in the inside.
Next, stack the two circular pieces of cardboard on top of each other and wrap with lots and lots of yarn. I wrap 6 strands of yarn at once, to save time and joints while wrapping- this is the most time consuming part. After you've wrapped it so much that you can barely wrap any more, cut the yarn around the edges, sliding your scissors in between the two pieces of cardboard to make sure you're trimming it on center. After trimming, slide a long piece of yarn in between the two pieces of cardboard and tie very tightly, double and triple knotting it to keep the yarn secure. Now pull off the cardboard, and your pom pom is complete! So fluffy, and no extra trimming necessary!
Tip: A lower ply yarn (I like the 3 ply soft baby yarn for this) makes a more sumptuous pom pom. It will take longer to wrap, so you will want to warp about 6 strands of yarn at a time.